This image by William Fox Talbot, showing Nelson's Column under construction in 1844, brings history to life in 2015. It features in Salt and Silver: Early Photography 1840-1860, which runs at Tate Britain in London until 7 June [Photo credit: © Wilson Centre for Photography]
 UPDATE 13 AUGUST 2015: HOW PHOTOGRAPHERS ARE GEARING UP TO AVERT DIGITAL DISASTER
That's the stark warning from the Royal Photographic Society (RPS) and Photo Marketing Association after Google vice-president Vint Cerf recently warned of a 'digital dark age' where data stored on computers will be lost for ever.
Speaking at a meeting of the American Association for the Advancement of Science in San Jose, California, Cerf said last month: 'When you think about the quantity of documentation from our daily lives that's captured in digital form, like our interactions by email, people's tweets, and all the World Wide Web, it's clear that we stand to lose an awful lot of our history.'
Turn the clock back 175 years when the emerging photographic trend of the day was more salt-print than selfie. Photography pioneer Fox Talbot was busy churning out prints from the earliest form of paper photography.
Yet, Fox Talbot's work lives on today, bringing history to life in an exhibition at Tate Britain that documents daily activities and key moments of the mid-19th century, such as the building of Nelson's Column.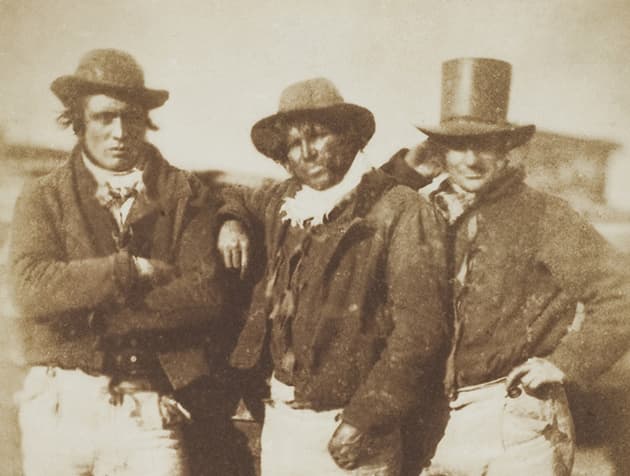 Newhaven Fishermen, c. 1845 by David Hill and Robert Adamson. A salted paper print from a paper negative, from Salt and Silver: Early Photography 1840-1860, now on at Tate Britain  [Photo credit: © Wilson Centre for Photography]
These days, zillions of photos languish unsorted on computer hard drives and mobile phones in danger of being lost for ever if not properly archived.
Such concerns have been collectively voiced by the photographic industry for years. But the message carries extra resonance now that a Google big gun has fired a warning shot across the digital bows.
'Cerf highlights a real concern for historians,' observes RPS director general Michael Pritchard.
'We are still looking at Talbot calotypes from the 1840s and I suspect we will still be able to enjoy these and today's photographs, if they have been properly printed, in another 200 years.
'I would be much less confident about anyone being able to view most amateur digital files, created today, in 200 years.
'How we archive, preserve and make available digital images (and other digital files) for the future is a real concern for organisations such as the British Library and the National Archives and should be a matter of concern for all digital photographers.'
Pritchard points to three areas that pose a threat: the durability of today's storage media – 'Will media survive in their environment?' he asks; secondly, the accessibility of storage media – 'Will they still work when played?'; and thirdly, Pritchard questions whether machines of the future will be able to play back digital files, rendering them obsolete.
'The best estimates suggest that magnetic media [such as computer hard drives] have a lifespan of 10-20 years and CDs/DVDs around 10-25 years, and USB flash drives perhaps 10,000 plus read/write cycles,' he asserts.
The typical lifespan of an SD card is '10 years or more' with current technology and normal usage, according to the SD Association
Pritchard's view is one echoed by Georgia McCabe, CEO of the Photo Marketing Association, a trade body based in the United States. McCabe recently warned that 'the most photographed generation will have no pictures in 10 years', and called on the photo industry to 'figure out' a way to convince the public that their photos must be properly stored.
Though she does not go so far as advocating 'everyone print everything', she says mobile phones are particularly vulnerable, especially where the user has changed phone or accidentally damaged it without saving their images elsewhere.
And what happens if 'your hard drive goes kaput?' she asked rhetorically during an interview published on the PMA website last month.
Digital photos under threat
Even if your hard drive is fully fit, McCabe stresses that new gadgets bring design changes that are not all good.
The latest Apple MacBook Pro, for example, comes without a built-in DVD drive, unlike older models – rendering a DVD useless as an accessible storage medium unless you buy an external DVD drive.
'How many people remember VHS?' wonders McCabe.
'One thing that has maintained consistency for hundreds of years, and that is something you can hold in your hands, put on a wall or even stick in a shoebox – something that is not subject to technological change…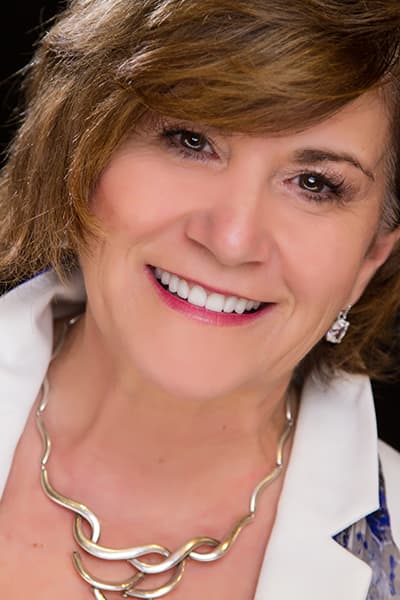 Photo Marketing Association CEO Georgia McCabe

'Some kids today have never held a print in their hands…'
McCabe worries that precious photos of her granddaughter will one day be lost in cyberspace, never to be seen again.
She explains that her son has 2,000 pictures of the child 'but they are in the cloud' and she is afraid that companies operating cloud storage services will not be around for ever.
'I asked my son, "What happens if [the cloud] just blows up?" He replied, "Come on, Mum, Apple is not going away."'
But McCabe is fearful. 'Did you ever think we'd drive down Lake Avenue and see Kodak buildings that have been dynamited?
'Did we ever think that the 58,000 who were employed there would be down to 3,000-5,000 people? Never.
'No one could have ever imagined that a name and a company that led this industry would be where it is today.
'And so, for me, these moments in time are precious.
'I'm just scared that a savoured memory is going to be in a digital landfill in the sky.'
Printing may be one answer, but even prints are not future-proof.
On its website, London lab Metro Imaging tells customers that Fujicolor Crystal Archive paper, for example, has a stability of more than 200 years, though only when kept in total darkness, in ideal atmospheric conditions.
The RPS's Michael Pritchard points out that a number of organisations now make 'traditional prints of key digital assets because black & white silver-gelatin prints are still seen as the best medium to preserve images for the long-term'.
But he cautions: 'Obviously, not all traditional processes are stable, with the best example being colour C-type prints, which have frequently faded or colour-shifted even in 20-30 years.
'Even new methods of printing, such as inkjet prints, only have limited lifespans.'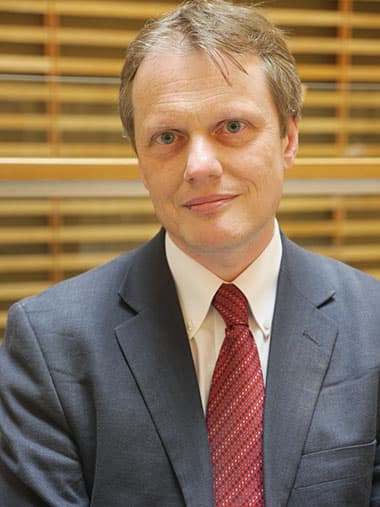 RPS director general Michael Pritchard

The prophecies of doom over digital storage have not bypassed traditional film and paper suppliers.
Firstcall Photographic, a UK supplier of darkroom kit, has gone back in time, offering a service to convert digital images to black & white film, colour negative or colour slide film.
'This niche service has proved extremely popular with a resurgence of interest in analogue, and people understanding the seriousness of future-proofing their images,' wrote the firm's sales director Rodney Bates in a letter to Amateur Photographer, in reaction to comments by Google's Vint Cerf and PMA's Georgia McCabe.
'The conclusion from these two highly experienced and eminent experts in their field is that we are sleepwalking into a photographic Armageddon,' he claims.
'The housekeeping of digital images is often despised by photographers, as backing up is time-consuming and often overcomplicated by device manufacturers.
'This results in many photographers simply leaving their images on hard drives or entrusted to third-party cloud-storing service providers.'
Printing out your photos or transferring them to film delivers a sense of permanence in the same way that a self-winding, fully mechanical watch may be a safer option if you still want to tell the time in years to come.
Less could be said of the tech-heavy Apple Watch, for example, which is dependent on yet more existing technology for it to work, namely an iPhone.
• Salt and Silver: Early Photography 1840-1860 runs at Tate Britain until 7 June 2015. For details call 0207 887 8888 or visit www.tate.org.uk
RPS advice on archiving your digital photos
Edit down your digital files to a small number that you really wish to preserve. Ideally, make traditional black & white prints (even from digital files) and ensure the prints are properly processed and washed and then store them in archival boxes, in a controlled environment at less than 21° C and in a relative humidity of 30-50%. Realistically for most of us: make prints using good-quality inks, on the best-quality rag paper and store them in archival sleeves and boxes away from extremes of heat/cold and in a dry environment, with pencil captions on the back (remember the [image file] metadata is important) too.
Digital to film option
Firstcall Photographic operates a digital to film service. Customers can send in up to 36 digital images as TIFF or JPEG files, on a CD, for transfer to film and return by post. It costs £22.50 for a roll of b&w film, £25 for colour negative and £30 for recording on colour slide film (students can claim a £2.50 discount). For details visit the Firstcall Photographic website
• In a strange quirk of fate, the computer used to write this article crashed spectacularly before completion. An ominously large question mark flashed on the screen and all computer keys froze without warning. This forced the writer to ask himself the inevitable question, 'What did I back up and when?' Fortunately, Amateur Photographer's miracle-working IT man was able to rescue the hard drive from the brink (and physically install it into another machine) but not before a traumatic few hours of uncertainty over the welfare of its digital contents