Advertisement feature with Zno
It's good to see that the wedding and portrait photography businesses are pretty much back to where they were pre-Covid, giving serious photographers plenty of opportunities to make money while also delivering precious memories to customers.
Setting up online galleries and image-download services can be complicated and time-consuming, however, but there is a much easier solution.
With Zno, you can easily set up an online client photo gallery to share photos with customers, enabling them to select their favourite images and download different image sizes. It looks way more polished and professional than simply sending them a Dropbox or Google Drive download link.
You as a photographer will also benefit by setting up an online store with Zno. As well as selling images for download, you can sell print products with partnered labs, through 'automatic' or 'self fulfilment.'
How does Zno's client gallery and online store work together?
You upload your photos of wedding or portrait session, for example.
You invite your customer to view the gallery via email.
The customer clicks the email link to view the photos and selects their favourites.
They can then buy print products of their chosen photos.
You then collect payment based on the profit margins you have set.
What makes Zno's online photo gallery unique?
Using this service, you can get 25% off selected Zno print products, including attractive boxed print sets – there is no commission charged by Zno, even on the free plan. What's more you can apply any store credits or any email or sales promotions you have set up for the orders.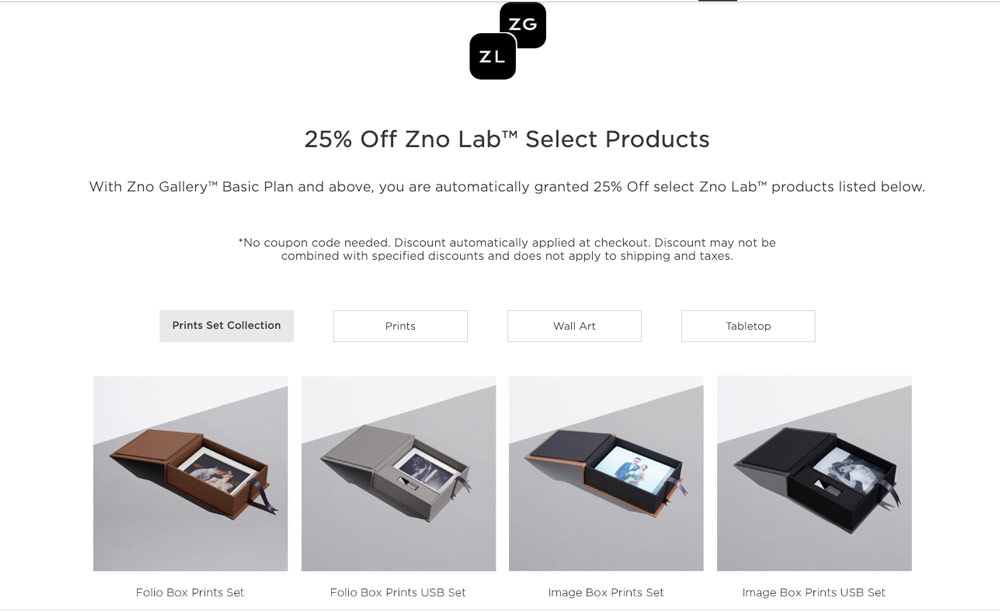 Unlike Pixieset, Pictime or Cloudspot, Zno does not charge 15% on the free Zno Gallery plan. If you are just starting out as a commercial photographer, you need all the profit you can get, and not having to worry about having to pay 15% commission can make a big difference to your bottom line.
Applying store credits or promotions to orders via Zno's online photo gallery
Since Zno is also a printing lab, it allows photographers to apply Zno lab discounts to sales from your client gallery. Let's look at these two scenarios to see how it works:
If you are are also subscribed to Zno's Pro Plan, then you can apply store credit. This can be combined with the 25% discount for select products.
If you see a special discount listed on a page like this, you can apply that same special discount to your sale.
For example, if Zno is having a Father's Day sale, adding a 20% discount to anything over $199, you can apply this discount to your sale while still selling at the full price their client bought it for. 
One complete photography software system – the Zno advantage
The four key apps of Zno's photography software system – Zno Gallery, Zno Designer, Zno Slideshow and Zno Retoucher – are easily accessed via the cloud, along with other useful tools. There is no hunting around on your computer to find the applications.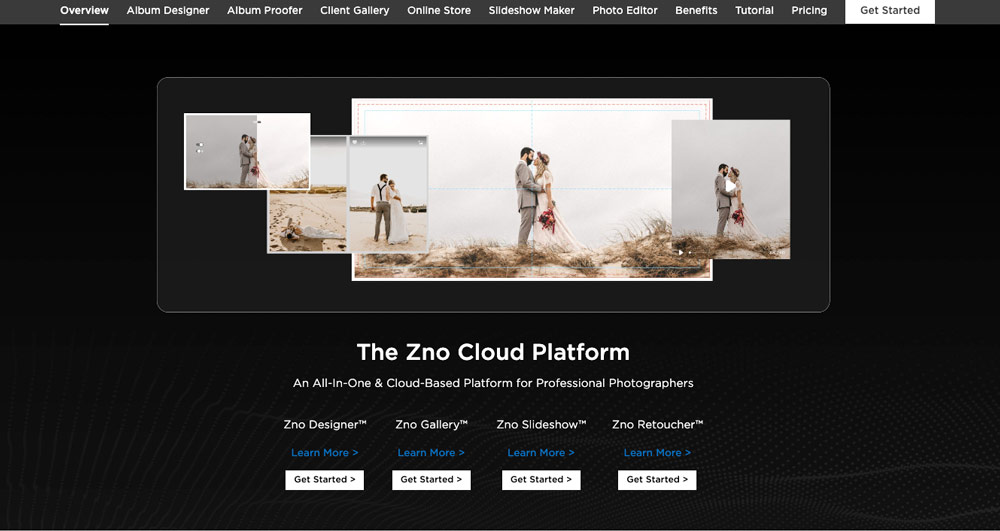 You pay just one app subscription to access everything, which means there are less log-in details to remember, and all of Zno's apps 'talk' to each other.
You can upload photos to Zno Gallery and then pull them from Zno Gallery when designing an album in Zno Designer, for example. There is just the one dashboard for accessing all your apps, and you can select this package to get a deal on everything.
Don't forget, Zno is also a lab
Nearly all of Zno's competitors partner with labs, but are not labs themselves. Because Zno is a lab, it enables you to sell albums (this isn't available with all online stores like Zenfolio and Shootproof), while also getting discounts on print products.
How does Zno compare on price?
As you can see below, you can save a significant amount of money with Zno, rather than the main competitors.
Pixieset

Shootproof
Zenfolio

Pictime

Cloudspot

---
Further reading
Check out this intuitive, cloud-based album creator