Advertising feature
As we've seen in our round-up of the best photo-editing software, Luminar Neo is one of the best packages and it's evolving, with the goal of being the finest AI-based editing tool on the market. As well as packing in the latest AI technology, Luminar Neo is easy to use
Luminar Neo – the perfect companion for your summer photos
Thanks to a very wide selection of tools, Luminar Neo makes it easy to edit the best photos from your summer holidays, be they landscapes or portraits. Its AI tools greatly simplify the photo-editing process.
Self-explanatory tools such as Power Line Removal or Sky Replacement enable you to perform tedious and time-consuming tasks with a single click. With Mask AI you can mask a person, a mountain, a road in just one click and then apply your changes.
With Relight AI you can adjust the lighting in a photo and strongly emphasise a person or an object, and will save you hours of editing time.
You will also find numerous presets for improving your photos in one click. Presets are like filters with edits preinstalled to make your image look great. Once you open the desktop software, Luminar Neo will analyse the photo and suggest presets based on the photo – portrait presets for a person image for example, and landscape presets for scenic shots and city scenes.
Then there is Face AI. Under the Portrait menu you will find some great tools to make your portrait photos stand out. Using Background Removal AI you can also change any background or put yourself in a scenic location.
Use Bokeh AI to add attractive background blur around the portrait subject and make the person stand out. Or use Skin AI to soften the skin and Skin Defects Removal to remove anything you don't like from a face in a single click. When finished, simply export the image and you are done. Try Luminar Neo here.
Luminar Neo for landscape photographers
One of the most celebrated tools in Luminar Neo is Sky AI, and it can really help landscape photographers get the results they want. With Sky AI, you can change the sky in just a click, and there at least of different skies to choose from.
Cloudy, sunset, sunny, it's up to you – simply choose the right sky, adjust the haze and blur as desired and the results look very realistic. If there are water reflections in the photo, Sky AI will match the new sky with the reflection in the water, so it's totally seamless.
In the past year, Skylum has released a bundle of seven extensions to simplify photo editing and make your images look as good as possible.
HDR Merge creates stunning HDR images
Noiseless AI removes the noise from your photos
Upscale AI and Supersharp AI makes your images as sharp as those taken by a pro
AI Background removal changes the background in a click
Focus Stacking makes it easy to add this effect for stunning results.
This July, the Panorama extension for Luminar Neo arrived, which makes it easy to create a great looking panorama with the minimum of fuss.
The Panorama extension can stitch up to 100 photos, and you can even create a panorama photo from a video by selecting the subjects that you wish to use in a still image.
Luninar Neo – big fall/autumn update
This month, Skylum has announced another series of AI-based updates or autumn/winter 2023. Generative AI technology will be added to Luminar Neo, and Skylum has announced an impressive array of new AI-assistive tools to help photogrpaphers with scene manipulation, removing unwanted objects and expanding the canvas of a photo.
Here is what Luminar Neo users can expect this autumn.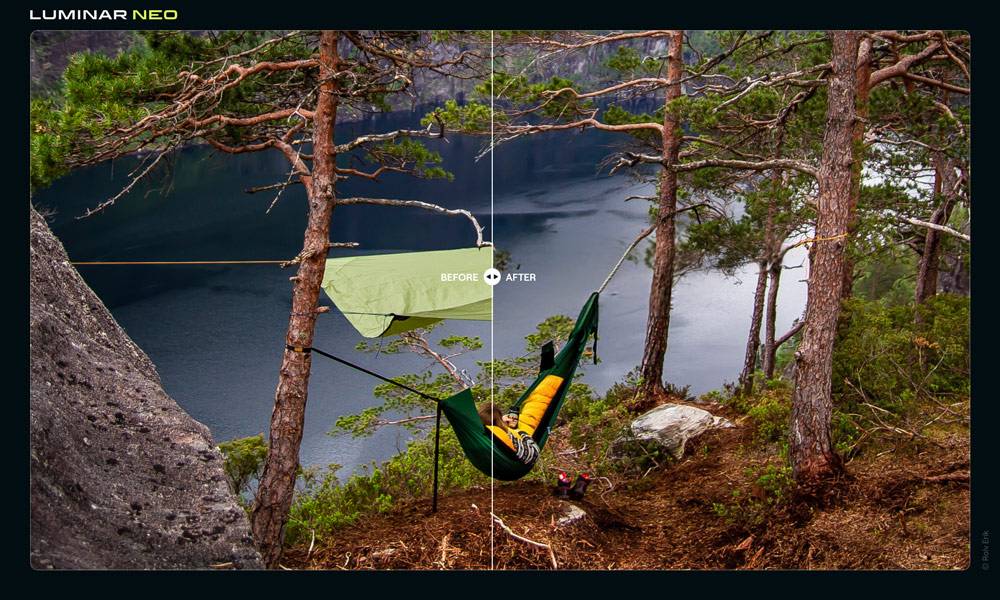 ● GenErase
This next-generation Erase feature not only removes unwanted distractions from your images but also replaces those areas using content-aware tools, providing a focused and distraction-free composition. This feature preserves the integrity of your photos by intelligently filling in the gaps with textures and other elements to match the surrounding area. GenErase can seamlessly remove objects like rubbish bins, street signs, vehicles, graffiti and more to preserve the beauty of the composition.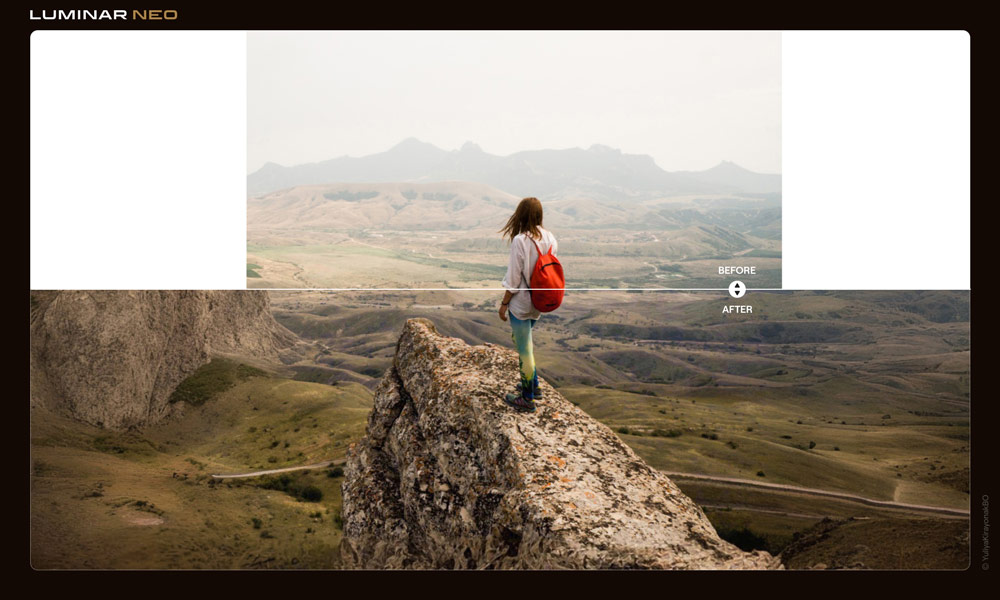 ● Scene Expand
This enables you to extend the boundaries of your photos, adding a new dimension to the original composition. Whether creating panoramic landscapes or adding breathing room, SceneExpand lets you break free from traditional aspect ratios and unlock new creative possibilities.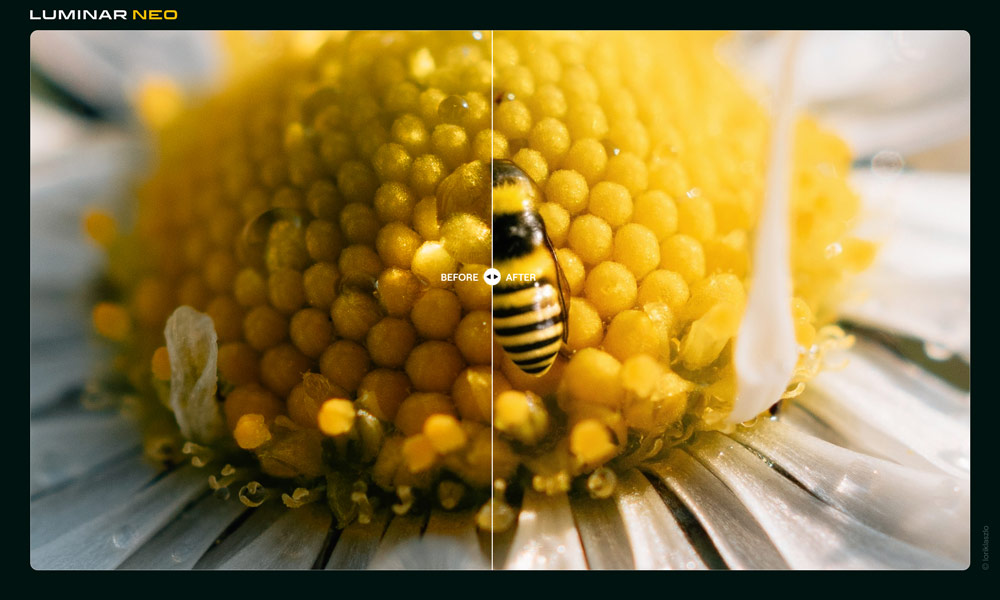 ● SceneSwap
With this, you can replace specific elements – such as the sky or foreground – with high-quality, AI-generated visuals that blend seamlessly with the rest of the photo. Imagine a stunning sunset replacing a dull, overcast sky or crystal – clear azure waters instead of a murky pond.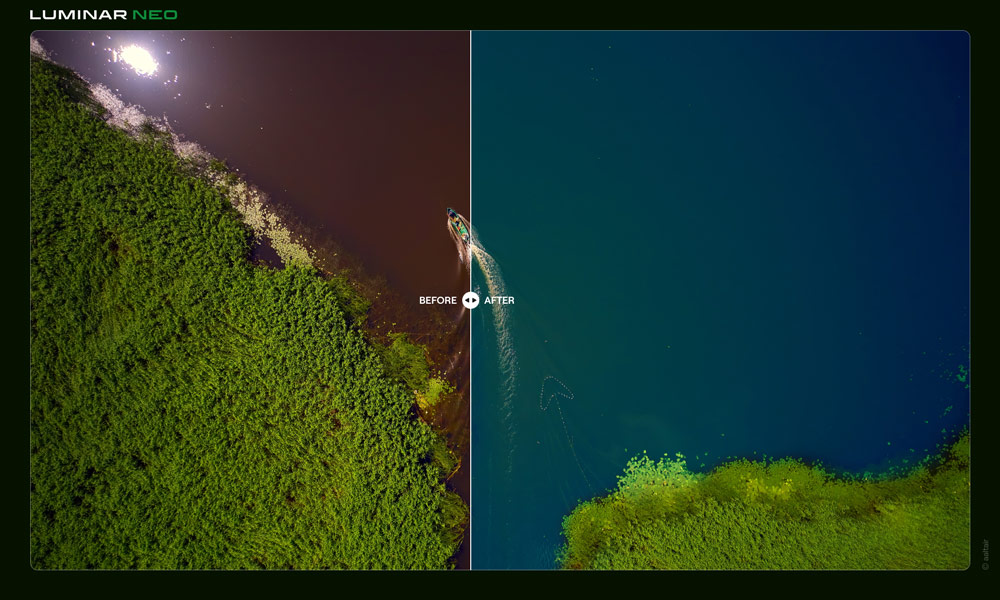 ● Water Enhancer
This is designed to make any water in your scenes look as good as possible, giving landscape photos much greater visual impact.
● Studio Light
This is a creative tool for portrait photographers that faithfully replicates the lightning effects usually achieved with expensive studio equipment. It also breathes new life into older photos. With Studio Light, you can easily add a whole new dimension to your portraits.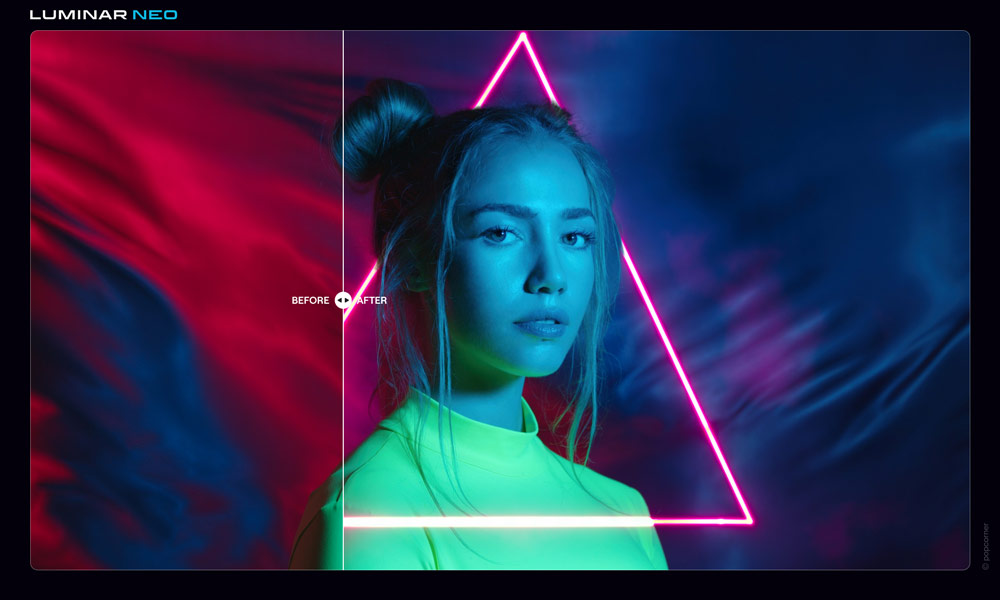 ● Neon & Glow
This tool will allow photographers to overcome the challenges of poor light, and seamlessly blend visually striking neon elements into your composition, making them even more intriguing.
'As photography keeps evolving, AI should be seen as an opportunity and not a threat' said Skylum CEO, Ivan Kutanin. 'Think about what makes a photo special – the creative ideas behind it, the personal touch, the experience of taking that image. AI cannot replace any of those things, but it can serve as a powerful assistive tool to expand the realm of photography, making it easier for everyone.'
As part of its commitment to keep Luminar Neo intuitive and easy to use, Skylum will also introduce a Refreshed UI Design and Navigation. This update will freshen up the interface and improve the overall user experience.
So, to conclude. Skylum's next-generation, AI-powered photo editing technologies, new post-processing tools and extensive usability improvements are making Luminar Neo even more powerful and more intuitive than it was before. That is no mean feat.
Luminar Neo – pricing and an exclusive discount!
Luminar Neo is available on a subscription basis for £99 a year or £149 for a lifetime licence. From August 16th to 27th, you can get £10 off these prices by using the promotional code AP10.
---