First up will be the Summilux-SL 50mm f/1.4 ASPH, which Leica claims will set a new standard in the market. This is due out in January 2017.
This release will be followed by the APO-Summicron-SL 75mm f/2 ASPH (in summer 2017), APO-Summicron-SL 90mm f/2 ASPH (in autumn 2017) and Summicron-SL 35mm f/2 ASPH (in spring 2018).
Also on the horizon is the Super-Vario-Elmar-SL 16-35mm f/3.5-4.5 ASPH that boasts a 'spray and dust sealed construction'. This is due to arrive in the winter of 2017.
Leica has today launched a handgrip for the SL, priced £600, designed to make it easier to shoot portraits. It features a shutter release, two control dials, a joystick controller, plus space for an extra battery.
Leica launched the SL system almost a year ago.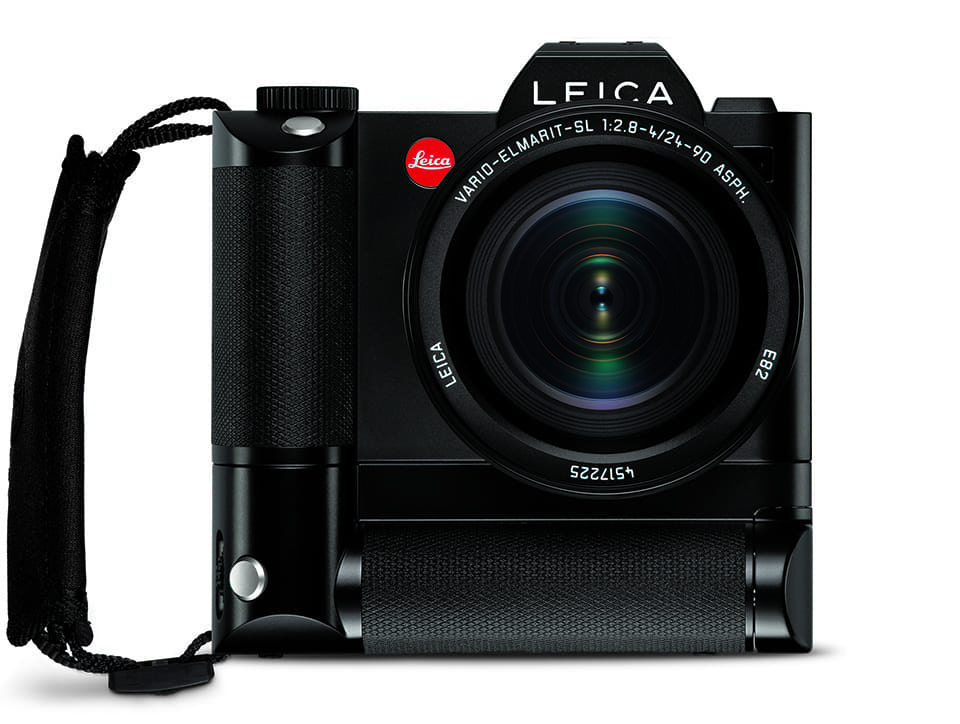 The Leica SL handgrip
Press release
Leica Camera has revealed the forthcoming lens line-up for its innovative Leica SL mirrorless camera system. Within the next 18 months, Leica SL photographers can look forward to the expansion of the SL lens portfolio with the addition of an ultra-wide zoom and four prime lenses, suitable for shooting in an extensive range of photographic situations.
The Leica SL-System, which was successfully launched in October 2015, reinforces Leica Camera's position as a premium manufacturer of professional tools and services for all genres of photography. Its impressive electronic viewfinder features EyeRes technology, a concept developed by Leica specifically for this camera. With a barely perceptible latency time, an impressive resolution of 4.4 million pixels and magnification comparable to a medium format camera, this electronic viewfinder offers an entirely new visual experience.
Whether shooting still pictures or Cine 4K video, the 24 MP full-frame sensor delivers consistently excellent image quality. Furthermore, the Leica SL has raised the bar with its intuitive handling, as well as its logically positioned, individually-configurable controls and outstanding versatility.
The Leica Summilux-SL 50mm f/1.4 ASPH. is the first prime lens for the Leica SL-System and sets a new standard in the market. Its large maximum aperture makes this high-performance lens perfect for shooting in challenging lighting conditions and enables the use of shallow depth of focus as a creative tool. The fast, precise and reliable autofocusing guarantee that photographers can concentrate fully on composition and creativity, rather than searching for optimum sharpness. The imaging performance of the lens fulfils the most stringent standards. In particular, when shooting at maximum aperture, the combination of its resolving power and soft bokeh in unsharp areas clearly isolates subjects from their surroundings. Thanks to uniform contrast rendition throughout the focusing range, this applies at all distance settings.
Furthermore, Leica has employed the latest manufacturing methods, testing technologies and quality assurance controls in the production of its three additional SL prime lenses: the Leica APO-Summicron-SL 75mm f/2 ASPH., Leica APO-Summicron-SL 90mm f/2 ASPH. and Leica Summicron-SL 35mm f/2 ASPH. The outstanding construction and design clearly illustrate the next step in the development of Leica SL-System lenses, resulting in more compact dimensions, significantly lower weight, and exceptional performance that even surpasses that of existing lenses in terms of resolution, colour and contrast rendition – as well as consistent centre-to-edge sharpness at all aperture settings.
A further highlight is the significantly shorter closest focusing distance that allows photographers to get nearer to their subjects. The fast maximum aperture enables use in challenging lighting conditions, delivering perfect imaging performance when shooting wide open. With the Leica APO-Summicron-SL 75mm f/2 ASPH., Leica APO-Summicron-SL 90mm f/2 ASPH., and Leica Summicron-SL 35mm f/2 ASPH., stopping down becomes merely a useful tool for creative photography.
The Leica Super-Vario-Elmar-SL 16-35mm f/3.5-4.5 ASPH. ultra-wide zoom completes the current range of two zoom lenses, and offers a zoom range ideal for a multitude of genres, from landscape and architectural photography, wedding, event and concert photography, to reportage and documentary. In addition to its high quality and imaging performance, the spray- and dust-sealed construction of this zoom lens make it an ideal companion in unfavourable shooting conditions.
Leica SL-System and TL lenses
The Leica SL and Leica T share the same L-Bayonet, enabling the two systems to use both ranges of lenses without the need for an adapter. As a result, Leica SL owners can benefit from the advantages of the current range of six TL-Lenses: the Summilux-TL 35mm f/1.4 ASPH., Leica Vario-Elmar-TL 18–56mm f/3.5–5.6 ASPH., Leica Summicron-TL 23mm f/2 ASPH., Leica Super-Vario-Elmar-TL 11–23mm f/3.5–4.5 ASPH., Leica APO-Vario-Elmar-TL 55–135mm f/3.5–4.5 ASPH. and the new Leica APO-Macro-Elmarit-TL 60 mm f/2.8 ASPH. This once again underlines the company's fundamental principles of system-compatibility and sustainability, and offers users access to an even more diverse portfolio of Leica products.
A wide range of dedicated Leica Adapters also allows the use of the Leica SL with the company's S-System medium format lenses, the legacy lenses of the analogue Leica R-System, and the legendary precision lenses within the Leica M rangefinder system. Indeed, the exceptional compatibility of the Leica SL-System grants photographers access to almost all Leica lenses ever made. Further adapters from third party providers also allow a wide range of lenses from other brands to be mounted on the Leica SL bayonet.
Available from today, a new Leica SL Handgrip makes camera operation and handling more comfortable in portrait orientation and features a shutter release button, two control dials and a joystick controller, providing access to all essential functions of the Leica SL. The handgrip also offers storage space for an extra camera battery, considerably extending the time available for photography before batteries need to be replaced or recharged.
Availability and pricing
The Leica SL Handgrip is available now in the UK at a suggested retail price of £600 including VAT.
The Leica Summilux-SL 50mm f/1.4 ASPH. is scheduled to be available in January 2017 at a suggested retail price of £3,850 including VAT. This will be followed by the Leica APO-Summicron-SL 75mm f/2 ASPH. in Summer 2017. The Leica APO-Summicron-SL 90mm f/2 ASPH. and the Leica Super-Vario-Elmar-SL 16-35mm f/3.5-4.5 ASPH. are scheduled for Autumn and Winter 2017 respectively, followed by the Leica Summicron-SL 35mm f/2 ASPH. in Spring 2018. Pricing will be announced nearer to each launch date.