Lenses from Swiss/Korean optics manufacturers Irix are now available to purchase in the UK, with their manual-focus 15mm f2.4 leading the charge after being announced at Photokina earlier this year in Cologne.
Available in two versions, Blackstone and Firefly, the 15mm f/2.4 features 15 lens elements in 11 groups and two glass aspherical lenses which should promise high levels of image quality. The aspherical build should also improve image brightness at the edges of the frame, while minimizing aberrations and distortions. 9 aperture blades and a minimum focus distance of 0.28 metres ought to go a long way to providing nice and smooth out-of-focus areas in shots, too.
On the exterior are a number of features designed to streamline the manual-focus experience, such as 'focus lock', 'infinity click' and 'hyperfocal scale'. 'Focus lock' enable users to lock the focus ring at any time to ensure they keep their chosen settings. The 'hyperfocal distance scale', meanwhile, provides information about the accessible range for depth-of-field for a given aperture. When the focusing ring is set in the "infinity" position, there is a noticeable click ('infinity click'), making it easier to find the value without looking.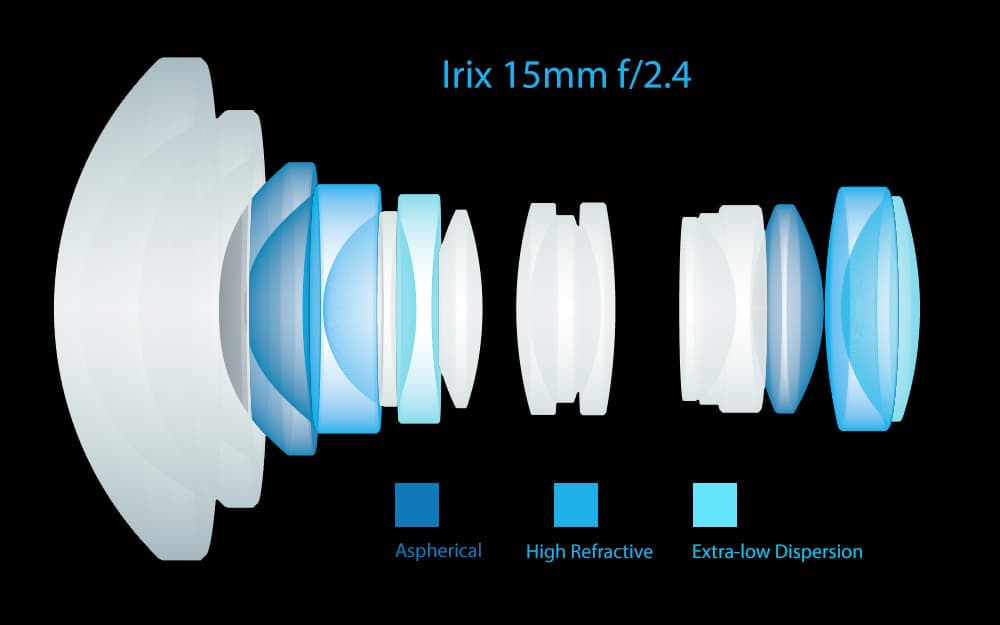 Despite both sharing the same optical design on the inside, the two versions do have a few differences in build.
The Blackstone model is billed as the sturdier of the two, with a sturdier but heavier aluminium and magnesium body for extra weather- and scratch-proof hardiness in the field, even in more extreme conditions. It also features engraved fluorescent markings to help reflect the light when working in low-light conditions.
The Firefly, on the other hand, is made with lighter-weight plastic and features an ergonomic focusing ring, with more of a focus on high maneuverability and speed when in use. Irix claim it be the lightest lens in its class, weighing in at roughly 590g compared to the Blackstone at 660g.
Both lenses are currently available through Amazon UK for Canon EF, Nikon F and Pentax K mounts for around £580 and £400 respectively. www.irixlens.com