Korean lens maker Samyang is celebrating its fiftieth birthday this year, and to celebrate has unveiled its first ever zoom lens. Designed primarily for use on Sony full-frame mirrorless cameras, the Samyang AF 24-70mm F2.8 FE is a large-aperture standard zoom that's said to be optimised for both stills and video shooting. It can also be used on APS-C E-Mount cameras, offering a 36-105mm equivalent range.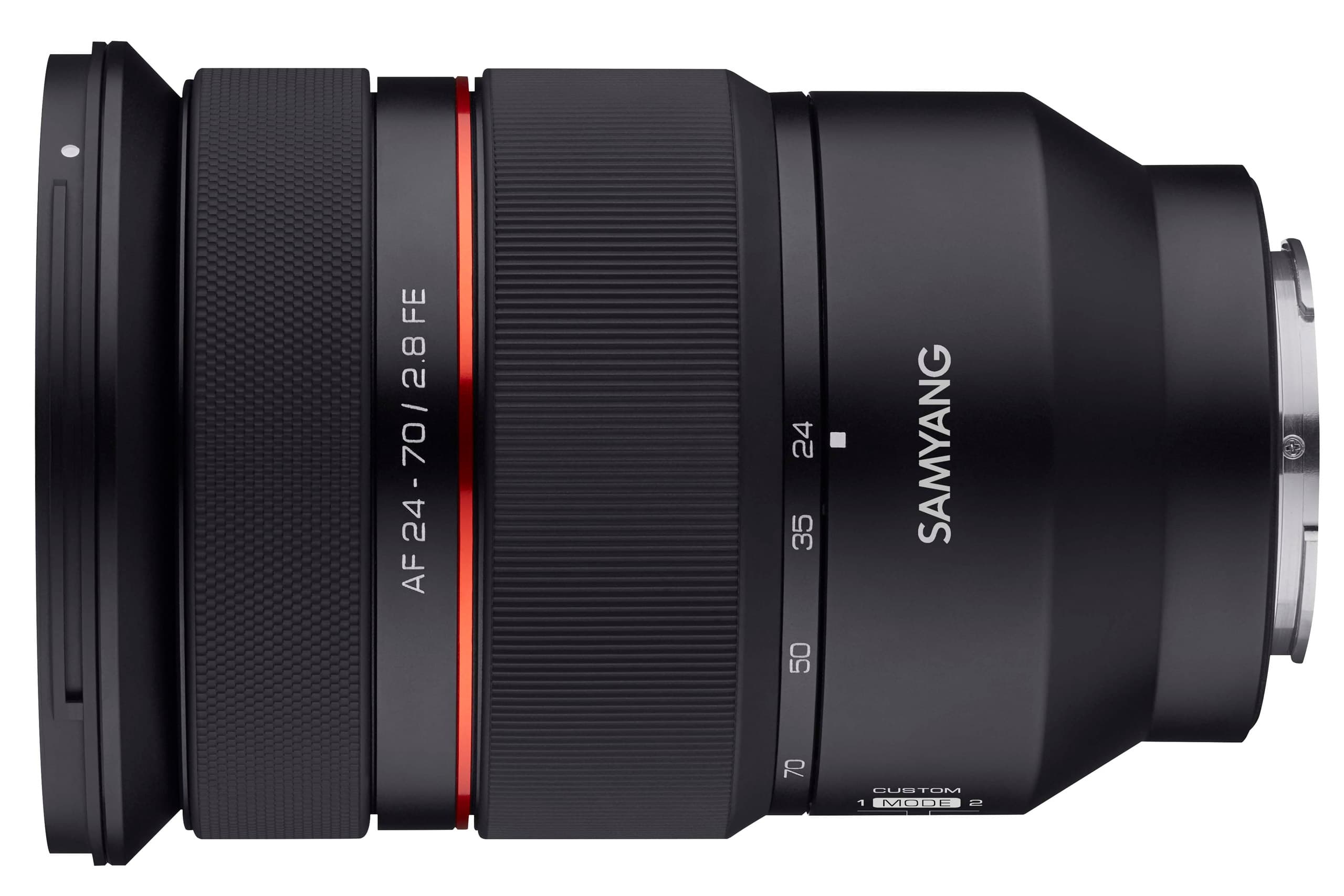 Key features include a linear stepper motor for fast and quiet AF, weather-sealed construction, and a minimum focus distance of just 35cm. A switch on the barrel allows the manual focus ring to be re-purposed to control the aperture instead, with Samyang promising that other options will be added in future firmware updates. For video, the lens has a par-focal design that maintains focus on a subject when zooming, and a linear manual focus response. A Cine Kit consisting of focus gearing, follow focus and tripod mount will be available separately.
The Samyang AF 24-70mm F2.8 FE is due in the shops in early November and will cost £828.
From Samyang / Holdan: Samyang launches its first zoom lens
Exclusively distributed in the UK and Ireland by Holdan, the new AF 24-70mm F2.8 FE is a wide-angle to short telephoto lens designed for E-mount mirrorless cameras.
Manchester, United Kingdom – Tuesday 19th October, 2021, Holdan, a specialist distributor to the professional video, broadcast and photography sector, has today announced Samyang's first zoom lens is exclusively available to them in the UK and Ireland.
Samyang's new E-mount standard zoom lens AF 24-70mm F2.8 FE, is designed for E-mount 35mm full-frame and APS-C mirrorless cameras.
Samyang Optics' first zoom lens
This year, Samyang Optics is celebrating the 50th year since its foundation and is marking the landmark occasion with its first ever Zoom model.
Originally a manual focus lens specialist, Samyang expanded its line-up to include autofocus models during 2016, whilst celebrating its 45th anniversary. After 5 years of in-depth research and communication with customers, Samyang has now decided to take a step closer to the mass market and meet more photographers' needs, with the launch of an all-in-one Zoom.
Lens standards are constantly changing and Samyang is launching this AF 24-70mm F2.8 FE lens as the most versatile and universal lens of all time. Some may consider that the market is filled with similar focal lengths already, however Samyang has taken additional steps to innovate:
It has developed an all-in-one zoom lens, suitable for taking outstanding still images as well as video and added several features, optimised for video shooting, to a photo zoom lens. This effectively captures the trend change of users who need the flexibility of not only photography but also video shooting.
In addition to a zoom lens that reflects consumer needs for video shooting and video-specialised functions, Samyang exclusive accessories allow users to further enjoy functions available on existing professional Cine lenses with this new Samyang zoom lens.
David Fidler, Divisional Director, Holdan commented: "We are incredibly proud to represent Samyang as their exclusive distribution partner in the UK and Ireland. Their lens technology has been built over 50 years and today's announcement is another clear indication they will continue to push the boundaries of innovation within our competitive marketplace."
Samyang AF 24-70mm F2.8 FE Key Features
Features optimised for video shooting
1) Par-Focal: This function maintains focus on the subject when zooming in and out. It is a feature optimised for video shooting and normally seen on very expensive cine zoom lenses.
2) Cinematic Video AF: As the AF speed is carefully controlled during video recording, focus wobble is reduced, so very stable video recording is possible.
3) Linear MF Focus Control: Provides convenience to video shooters by matching the torque of the focus ring as closely as possible to that of a manual focus lens when shooting video in manual mode.
4) Cine Kit: A Samyang 'Cine Kit', consisting of focus gearing, follow focus and tripod mount, is available separately. This allows system exchange at the same time as lens change (with small configuration), so manoeuvrability is very good. In addition, a mount kit and follow focus are provided, allowing essential elements of video shooting at the same time.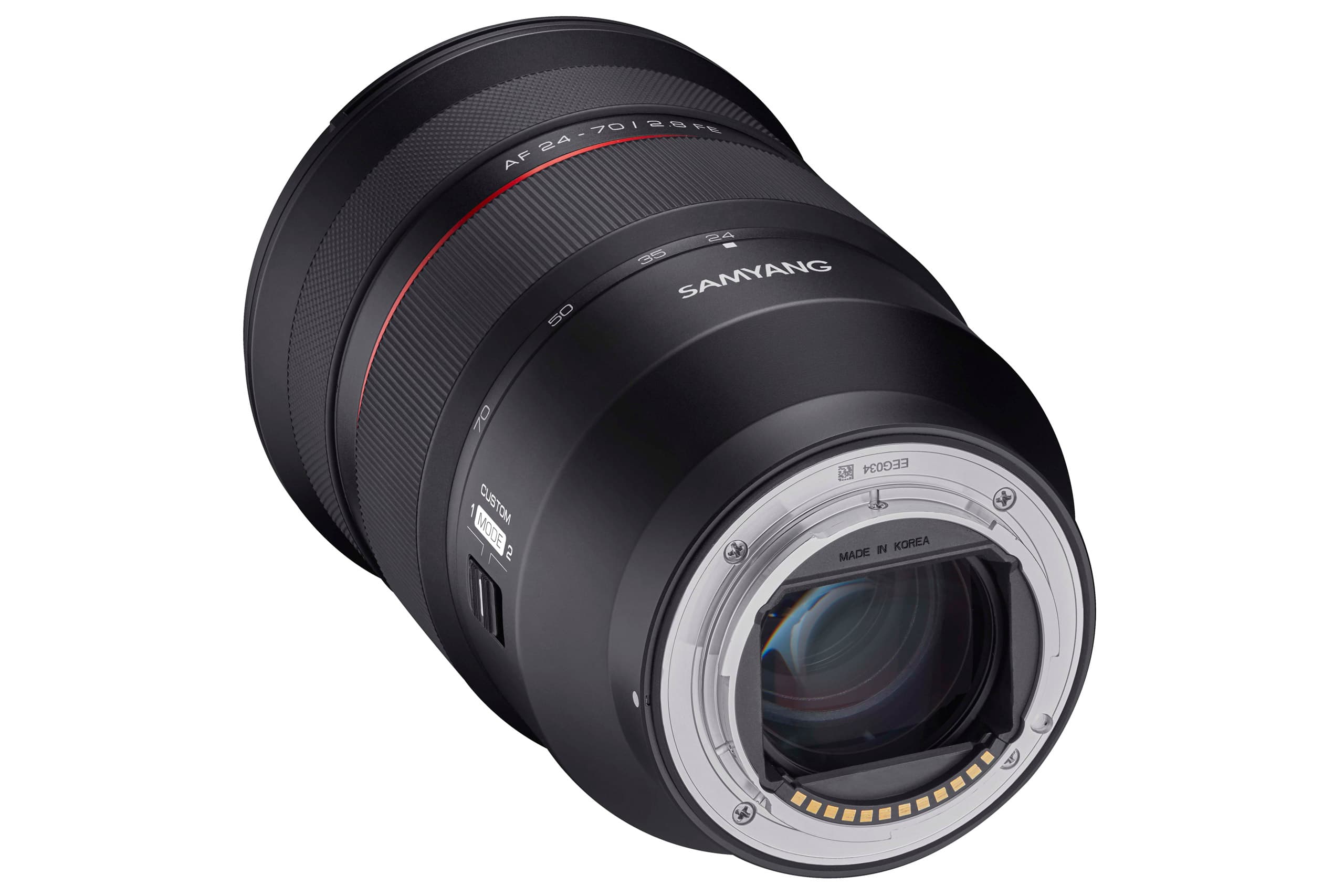 Excellent resolution in all areas of the image
This zoom lens delivers a 24-70mm (wide-angle to short-telephoto) angle of view and a bright maximum aperture of F2.8 throughout the entire zoom range, as preferred by full-frame camera users. In particular, optimum resolution is achieved through the optical design of 17 elements in 14 groups (2 ASP, 1 H-ASP, 3 HR and 3 ED). Combined with Sony's full-frame image sensor, this zoom lens delivers superior sharpness and contrast in all areas of the image.
Impressive background blur and bokeh with bright F2.8 aperture
The AF 24-70mm F2.8 FE zoom uses a large-diameter aperture to provide smooth background blur. It effectively separates the subject from the background, using a shallow depth of field to capture a unique image of an ultra-wide angle in which the background is compressed. The 9 diaphragm blades create smooth and natural bokeh with light splitting.
Enhanced usability with custom switch
There is a custom switch, which can be set allow adjustment of the aperture by rotating the focus ring. Using the optional Lens Station, you can setup the mode to suit your own preference*.
* More functions will be added through firmware updates in the future
Fast and quiet AF performance
Tracking the subject accurately and quickly, the AF also operates quietly and smoothly when shooting video. Samyang's Linear STM (Stepping Motor) satisfies both photographers and videographers with quieter and more accurate control of the larger and heavier focusing lens groups which occur in zoom lenses.
Short minimum focal distance
The minimum focal distance is just 35cm, so it is versatile and possible to produce a unique perspective close to the subject. It makes it easier to take portraits with exaggerated features, food on tables and interior shots in narrow spaces.
Weather-Sealing design
The usability of the AF 24-70mm F2.8 FE lens has been developed and enhanced, taking into consideration not only the design but also the user's shooting environment. It has a micro-patterned rubber focus ring, so feels great to operate and weather-sealing also protects the lens from light rain, snow and dust.