EISA Awards 2015-16 – Europe's Best Products
As cameras, photographic equipment and consumer electronics in general get better and better, choosing the very best becomes ever more difficult. But that is the task undertaken every year by the European Imaging and Sound Association (EISA), an association comprising 50 special-interest magazines in audio, home theatre, in-car electronics, mobile electronics, photo and video, from 20 European countries. Within this group sits the Photo Panel, composed of the Editors of Europe's 16 best photographic magazines, including AP.
Each year the EISA members get together within their panels to determine the very finest products released during the previous 12 months. Here we present the 19 products chosen by the Photo Panel as being the very best in their class. In more than half of the categories the choice was unanimous, so emphatic is the superiority of the winning product. In other categories the winner was chosen after lengthy discussion and debate about each product's relative merits.
AP is respected around the world for its thorough testing processes and EISA's other members are also chosen for the rigour and integrity of their own reviews. This means that you can be confident that the following products are worthy winners of a prestigious EISA Award.  Nigel Atherton, Editor
EISA Photo Panel Members
Best product awards 2015 – 2016
European Consumer DSLR Camera 2015-2016
Nikon D5500
The D5500 is a compact, lightweight, but very capable DSLR with an easy-to-handle body. Its 24-million-pixel sensor offers class-leading image quality, with excellent resolution due to the lack of an optical low-pass filter, and huge dynamic range especially at low ISO settings. Its 39-point autofocus system surpasses the competition, particularly when tracking moving subjects. The monocoque body design provides an unusually comfortable grip for such a small camera, and the fully-articulating touchscreen swivels and can be used for self-portraits. With extensive manual controls and built-in Wi-Fi, the D5500 includes everything enthusiast photographers need to make and share superb images.
European Prosumer DSLR Camera 2015-2016
Canon EOS 7D Mark II
The Canon EOS 7D Mark II is one of the best APS-C DSLRs ever made, offering features normally only available in professional full frame models. The 65-point AF system gives fast and responsive focusing in a wide range of conditions, even when tracking fast moving subjects. It can shoot at 10 frames per second, with a huge buffer even when shooting in Raw. The build quality is superb, with full weatherproofing that can cope with almost any conditions. Overall the 7D Mark II is perfect for sports, action and wildlife photographers who like to capture the most fleeting moments.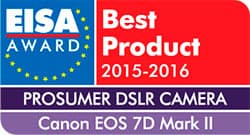 European Professonal DSLR Camera 2015-2016
Canon EOS 5DS/5DS R
The Canon EOS 5DS and 5DS R are the highest resolution full frame DSLRs on the market. The two models give photographers a choice: the EOS 5DS includes an optical low-pass filter to suppress digital imaging artefacts, while the EOS 5DS R cancels its effect for the sharpest possible images. The 50.6-million-pixel sensor, dual DIGIC 6 processors, reduced mirror vibration and reliable metering deliver superb image quality, while the 61-point AF with 41 cross-type points ensures reliable and fast AF performance. These two cameras are the perfect choice for professional photographers for whom ultimate image quality really matters.
European Consumer Compact System Camera 2015-2016
Fujifilm X-T10
The Fujifilm X-T10 includes the best bits of last year's award-winning X-T1 at a much lower price. It has top-plate drive mode, shutter speed and exposure compensation dials, and aperture rings on most lenses. The 16-million-pixel X-Trans CMOS II sensor offers excellent image quality, with particularly attractive JPEG colour output. A newly-developed autofocus system is now capable of tracking moving subjects, wherever they are in the frame. This is all wrapped up in a compact, lightweight SLR-style body with an excellent 2.36-million-dot electronic viewfinder, built-in flash, and Wi-Fi for sharing images. It's a great, lighter-weight alternative to a DSLR.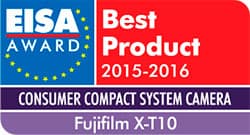 European Prosumer Compact System Camera 2015-2016
Olympus OM-D E-M5 II
The Mark II sees the popular E-M5 refined to being a really serious photographic tool. The superb electronic viewfinder, fully articulated touchscreen, quiet shutter, and extremely effective 5-axis in-body image stabilisation system combine to make an exceptionally capable camera. The autofocus is extremely fast, and continuous shooting is available at up to 10fps. The innovative 40-million-pixel high resolution composite mode is capable of image quality close to that of high resolution full frame DSLRs for static subjects. Much-improved movie features also make the Mark II very interesting to videographers. Overall the E-M5 Mark II is one of the finest CSCs currently available.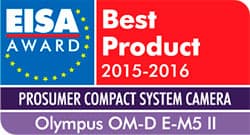 European Professional Compact System Camera 2015-2016
Sony α7 II
The α7 II is a full frame CSC of true professional quality that brings strong competition to DSLR systems and offers huge imaging potential in a lightweight body. The 24-million-pixel full frame sensor brings excellent dynamic range coupled with low noise at high ISO settings, and the hybrid AF system gives fast, accurate focusing. The magnesium body and new hand-grip revolutionises the feel and operation over its predecessor, while the built-in 5-axis image stabilisation is extremely advantageous if you shoot handheld, especially with close-ups and slow shutter speeds. This all makes the α7 II a serious alternative to a full frame DSLR.
European Premium Compact Camera 2015-2016
Leica Q
The Leica Q is a hugely impressive camera that combines state-of-the-art technology with traditional design. The 28mm wide-angle lens is incredibly sharp and the fast electronic shutter, means you can shoot wide open at f/1.7 even in bright sunlight. The 24-million-pixel full frame sensor gives superb image quality, even at high ISO settings, and the traditional control dials give intuitive shooting. The 3.7M-dot electronic viewfinder pairs well with the smoothly-damped focus ring for manual focusing, while the touchscreen makes autofocusing away from the centre of the frame easy. These elements all combine to make the Q the best digital camera Leica has yet made, despite its high price.
European Travel Compact Camera 2015-2016
Sony Cyber-shot DSC-HX90/V
The Sony Cyber-shot DSC-HX90/V is the world's smallest super zoom compact camera with a built-in electronic viewfinder. The Zeiss Vario-Sonnar T* lens offers a powerful 24-720mm equivalent range that covers a full range of travel situations. The EVF allows eye level shooting and is especially useful in bright light, and retracts into the camera body when not needed. The LCD screen tilts 180°, promoting creative shooting from different angles. Video can be recorded at 1080/60p with very high quality, and the HX90V has a built-in GPS, and Wi-Fi with NFC. It's an excellent, pocket-sized travel camera that can be carried with you anywhere.
European DSLR Lens 2015-2016
Sigma 24mm F1.4 DG HSM | Art
The Sigma 24mm F1.4 DG HSM | Art is a superb lens, combining exceptional resolution with very low distortion and chromatic aberration. However it's not just the incredible sharpness of this large-aperture wide-angle lens that's impressive, but the overall look of the images, including the smooth, attractive rendition of out-of-focus regions. The construction is excellent too, with an ergonomic design and smooth manual focus ring, and autofocus is fast and silent. Available for the most popular DSLR systems, the SIGMA lens is exceptional value compared to its direct competitors, and most importantly produces consistently attractive pictures with the minimum of fuss.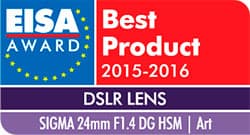 European Professional DSLR Lens 2015-2016
Canon EF 11-24mm F/4L USM
With the 11-24mm F/4L USM Canon's engineers have constructed one of the best wideangle zooms ever made. The world's widest rectilinear zoom provides class-leading image quality, with exceptional sharpness at all settings even on high resolution sensors. Distortion, chromatic aberration and vignetting are all kept reasonably low. Construction is superb, with weather sealing for outdoor use, and the autofocus is fast and silent. Full-frame users specialising in landscape, architectural or interior photography who demand exceptional optical performance need look no further. It's bulky and expensive, but for those who can afford it, it's an absolutely outstanding piece of glass.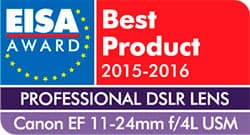 European DSLR Zoom Lens 2015-2016
Tamron SP 15-30mm F2.8 Di VC USD
The Tamron SP 15-30mm F2.8 Di VC USD is quite simply a revolutionary design, being the first wideangle zoom to combine a fast f/2.8 maximum aperture with optical stabilisation. It covers a focal length range suitable for landscape photography, interiors and architecture thanks to the low optical distortion, but can also be used for street photography and atmospheric portraits. The optical performance is exceptional and provides a high level of contrast and detail. The autofocus and image stabilisation systems are highly effective, too. Build quality is high, with moisture resistant construction. It's a large and heavy lens, but great value for money.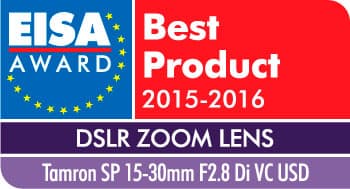 European DSLR Telephoto Zoom Lens 2015-2016
Sigma 150-600mm F5-6.3 DG OS HSM | Sports
Specially designed for wildlife and sport photographers, this state-of-the-art lens is a new standard for telephoto zooms. Build quality is exemplary, with dust- and splash-proof construction for use in the great outdoors, and the zoom can be locked at all marked focal lengths. Images are very sharp, aided by an improved Optical Stabilizer (OS) that helps to avoid blurring from camera shake. Autofocus is fast and quiet, and compatibility with the SIGMA USB DOCK gives scope for user customisation of settings, along with the possibility of firmware updates. For sports and wildlife photographers it's in a class of its own.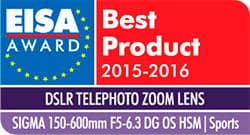 European Compact System Lens 2015-2016
Sony FE 90mm F2.8 Macro G OSS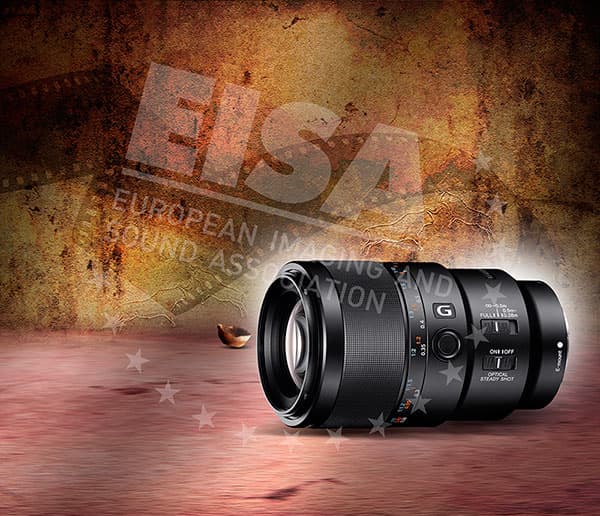 European Compact System Lens 2015-2016 – Sony FE 90mm F2.8 Macro G OSS
The Sony FE 90mm F2.8 Macro G OSS is probably the best lens of its type, giving some of the finest test results EISA's experts have ever seen. It is incredibly sharp, even into the corners of the image at maximum aperture, and has minimal distortion or chromatic aberration. The level of contrast it produces makes for some great pictures and at f/2.8 it produces beautifully rendered bokeh, with smooth tonal gradations, thanks to the rounded aperture blades. With sturdy build quality, silent focusing and effective optical stabilisation, it's a lens of the very highest quality.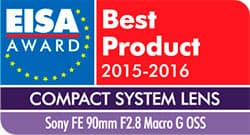 European Compact System Zoom Lens 2015-2016
Fujifilm Fujinon XF 16-55mm F2.8 R LM WR
The 16-55mm F2.8 is a near-perfect general purpose lens, with image quality that can normally only be achieved by using primes. It's exceptionally sharp at all focal lengths and apertures, with extremely low distortion, chromatic aberration and vignetting. Autofocus is very fast, almost completely silent, and consistently accurate. The 16-55mm is a large and heavy lens, with weather resistant build quality matching that of the solidly built Fujifilm XT-1. The only missing feature is the omission of optical stabilisation, but the exceptional image quality is a worthy trade-off.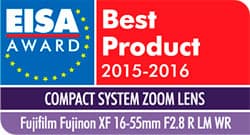 European Professional Compact System Lens 2015-2016
Olympus M.Zuiko Digital ED 40‑150mm F2.8 PRO
The M.Zuiko Digital ED 40–150mm F2.8 Pro covers the same picture angles as an 80–300mm lens for full frame, but in a much smaller and lighter enclosure. With a large and constant F2.8 aperture, the zoom range easily replaces almost any fixed focal length lens in its range, and yields outstanding sharpness and optical correction even at full aperture. The build quality is also exceptional, allowing professionals to use the lens under challenging conditions. Add to that super fast performance, supported by the class-leading autofocus and image stabilising features of compatible pro range cameras, the Olympus M.Zuiko Digital ED 40-150mm F2.8 Pro stands out as a must-have lens for sports, adventure and press photography.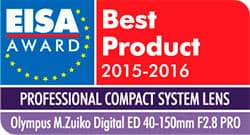 European Photo Innovation 2015-2016
DxO ONE
The DxO ONE is a truly innovative product that uses cutting-edge technology to improve mobile photography with an iPhone. With a 20-million-pixel 1-inch sensor and f/1.8 lens it produces much higher image quality than conventional phone cameras, yet can still take advantage of the device's connectivity for posting images to social networks. But with DNG raw and DxO's own SuperRAW format, which combines data from four exposures, it's capable of even higher quality when the image files are imported to a computer using the DxO Connect software. The DxO One brings a new approach to mobile photography, with top quality images from a very portable device.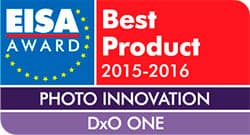 Combined Award with HT Video & Display Expert Group
European Photo & Video Camera 2015-2016
Panasonic Lumix DMC-G7/G70
The G7 is a true video + stills hybrid camera that brings internal 4K video recording at a very affordable price. This is backed up by a full range of video features including microphone input and a focus peaking display. Stills photographers are not neglected, with a 16-million-pixel Four Thirds sensor, 2.36-milliondot electronic viewfinder, ISO 100-25600, continuous shooting at 8 fps, and a silent electronic shutter with speeds up to 1/16000 sec. The large grip, twin control dials and fully articulated touchscreen give excellent handling. For amateur filmmakers in particular, the G7 is a game-changer.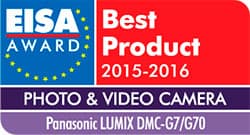 Combined Award with Mobile Devices Expert Group
Europen Smartphone Camera 2015-2016
LG G4
For the serious snapper that doesn't want to have to carry around a camera in their pocket, LG's G4 ticks all the right boxes. Its 16-megapixel 1/2.6-inch sensor combines with 3-axis optical image stabilisation to ensure that all handheld shots are rock solid and free from camera shake. The speedy F1.8 lens is perfect for tricky low-light conditions, while the super-fast laser autofocus locks onto the subject with unerring speed and accuracy. Completing the package, ColorSpectrum technology is on hand to adjust the white balance to suit ambient lighting conditions in order to capture more realistic and vivacious colours. Finally, that beautiful curved design and supreme 5.5in Quantum IPS display with QHD resolution makes the G4 a sensational tool for other jobs aside from photography.
Other 2015-2016 EISA Awards
Hi-Fi
European Loudspeaker – B&W CM6 S2
European High-End Amplifier – Mark Levinson No585
European Usb Dac/Headphone Amplifier – Oppo Ha-2
European High-End Loudspeaker – Focal Sopra No2
European Amplifier – Hegel H160
European Compact Hi-Fi System – Naim Mu-so
European Headphones – Sennheiser MOMENTUM 2
European Turntable – Pro-Ject RPM3 Carbon
European Network Media Player – Marantz NA8005
European Multiroom System – Denon HEOS
HT Audio
European HT Receiver – Pioneer VSX-930
European HT Solution – Philips Fidelio B5
European HT Soundbase – Sony HT-XT3
European HT Soundbar – Canton DM 90.3
European Ht Speaker System – Klipsch Reference Premiere RP-280 Home Theatre System
European Best Value Ht Speaker System – JBL Arena Cinema 5.1
European Ht Subwoofer – ELAC SUB 2070
HT Audio/HT Display & Video
European Blu-Ray Player – Pioneer BDP-LX88
European HT Streaming Solution – Netflix
HT Video & Display
European Home Theatre Projector – Epson EH-LS10000
European Best Buy TV – Philips 55PUS7600
European Home Theatre TV – LG 65EG960V
European High End TV – Samsung UE65JS9500
European Smart TV – LG 65UF950V
European Camcorder – Panasonic HC-WX970
European Design TV – Sony KD-65X9005C
In-Car Electronics
European In-Car Head Unit – Kenwood DNX7150DAB
European In-Car Amplifier – HELIX P SIX DSP
European In-Car Speaker System – Hertz MLK 1650.3
European In-Car Subwoofer – Focal Performance Expert P 25 F
European In-Car Processor – HELIX DSP PRO
European In-Car Premium Upgrade – Alpine X701D-A
European In-Car Smart Upgrade – MOSCONI GLADEN PICO 2
European In-Car High-End Component – Ground Zero GZPW Reference 250
Mobile Devices
European Advanced Smartphone – Samsung Galaxy S6 edge
European Consumer Smartphone – Huawei P8
European Multimedia Smartphone – Sony Xperia Z3+
European Mobile Headphones – AKG N60NC
European Mobile Speaker – JBL Xtreme
European Tablet – Lenovo YOGA Tablet 2 Pro
European Wearable Device – LG Watch Urbane
What is EISA?
The European Imaging and Sound Association is a collection of photographic, audio and video magazines in which  members pool their skills and knowledge to award the best products in a wide range of categories each year. The awards  are intended as a guide for specialist consumers. Only one magazine from each country may belong to any panel.  Amateur Photographer, a founding member of the association, represents the UK for the photographic section of the awards.
Learn more about EISA at www.eisa-awards.eu