It's impossible to escape the fact that Christmas is well and truly upon us. If you've yet to send out your Christmas cards, and you're thinking of doing something a little different year, why not think about using your own photos as Christmas cards?
There are a number of ways you could go about doing this. You could print your own at home, but if you've got a lot to send you're going to need a lot of ink and card resources – check that you have the right kind of card for making cards before you print.
An alternative solution is to use one of the many bespoke printing services on the market – of which there are many available. It's not always the cheapest method, but you get the satisfaction of knowing that the Christmas cards your friends and family receive will be truly unique.
We've tested out three of the services currently on the market to get a feel for how the process works, as well as checking the quality and service provided. There's lots more out there, but we've used Moo, Vistaprint and Jessops.
What are the best images for Christmas cards?
Of course, you can use whichever images you like for your own Christmas cards, but you may want to think about anything you have which is particularly seasonal.
If you don't have anything to hand, you could even create your own still life scene. It's a great weekend project, and you can find inspiration from all around you. Christmas decorations make for great macro subjects, while mince pies and other festive foods can also work well. Luckily at this time of year, such subjects can be found in abundance.
Alternatively, you can draw on images you've taken in the past which work. For our test, I've used some images I took several years ago of Cardiff on a snowy winter's day. The images are "winter" rather than inherently "Christmas", but of course there's something about snow which suggests the festive season anyway. It also meant I could have ordered the cards back in July if I'd wanted to.
A further alternative choice is to use a photo which celebrates a milestone you may have celebrated in the past year. For example, a wedding, a new baby, a big birthday or anniversary celebration.
---
Best online printing services for Christmas cards
Jessops Photo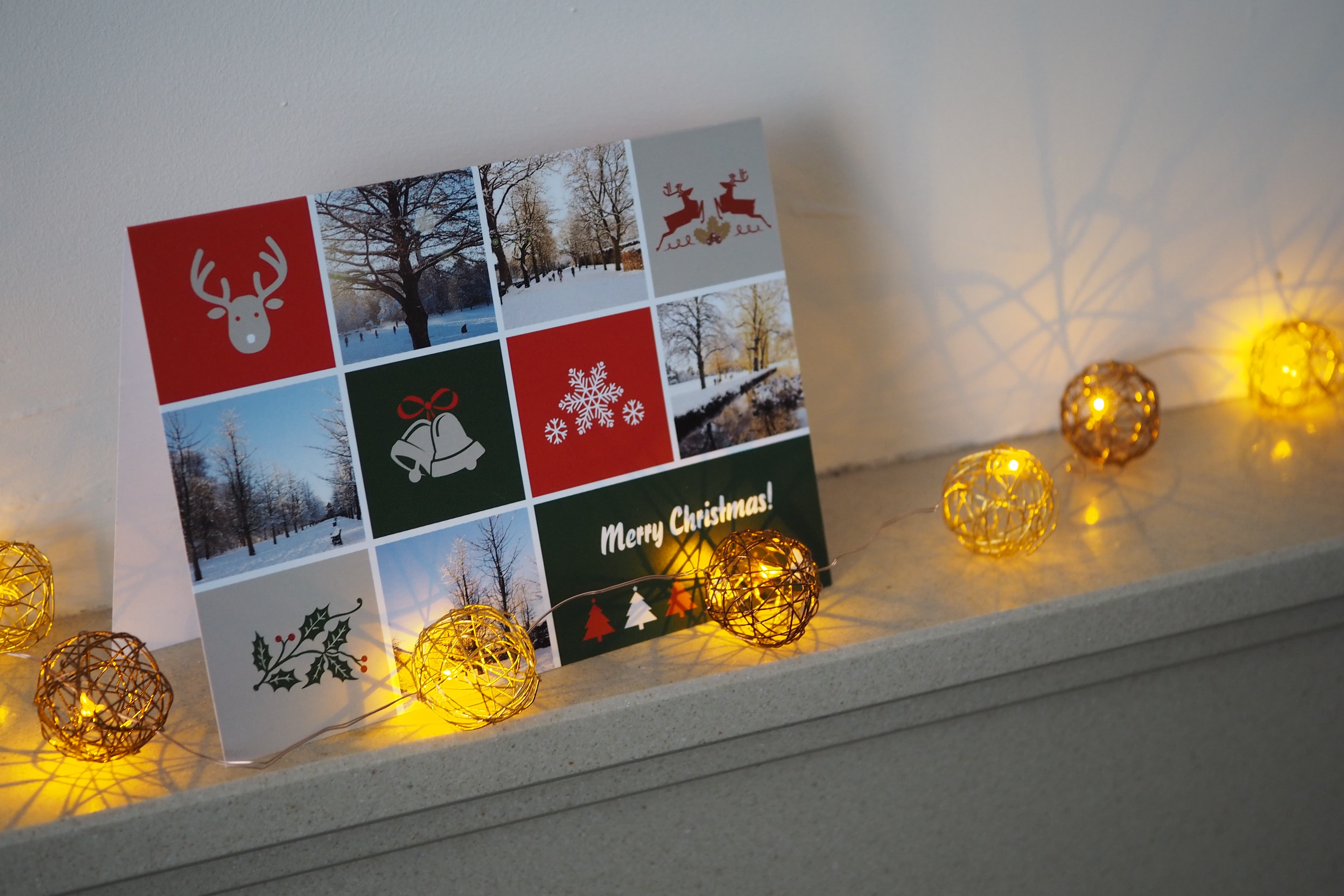 There's lots of options to choose from with Jessops. The great thing here is that you can be quite flexible about your design, and you don't have to just stick to one image. If you have just one image that you want to use, you can choose "no design", but if you have several, then there's different options available to fit into pre-made templates. 
Fun and seasonal designs can be used, with graphics and fonts to give a more traditional look to your Christmas cards.
In order to create your cards, head to the Jessops Photo website and click the Cards option, followed by the Christmas cards option. You can narrow down your options by choosing the format (landscape or portrait), how many pictures you want to include, the style of design, the colour/finishing or by which cards are best-sellers.
When you upload your images, you may want to switch the "image optimisation" switch to off, especially if you've already edited your photos in your own photo-editing software. You can edit photos, cropping them or adding effects, if you like.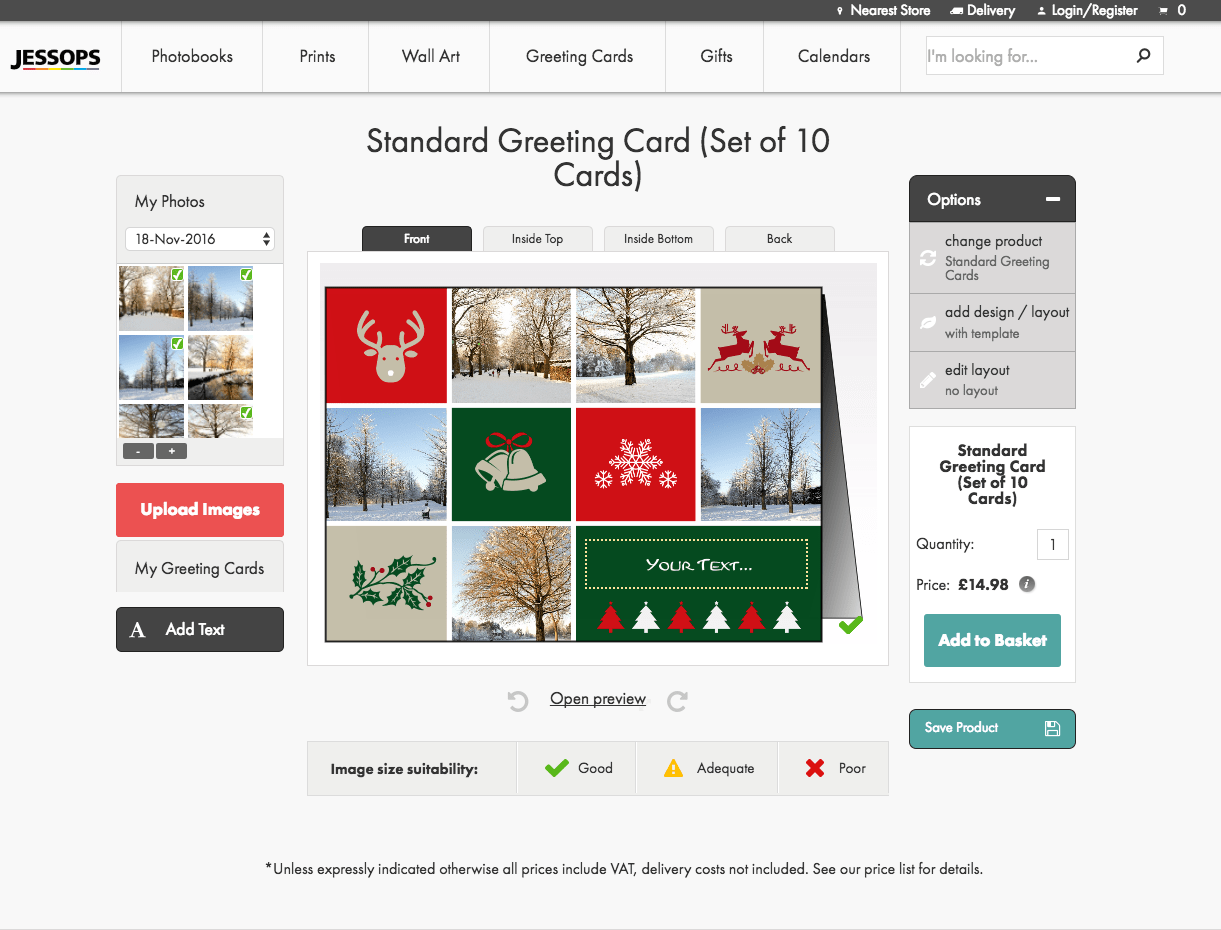 Once you're happy with the front design of the card, you can add text to the inside, adding your own personalised Christmas message. The base price includes white envelopes, but you can choose a different colour for additional cost if you like.
We chose a design which included five photos for this test, which are surrounded by Christmas graphics. The overall finish is attractive, but the card could perhaps do with being a little thicker for a truly premium effect. Still, for the price and flexibility, it's a good option.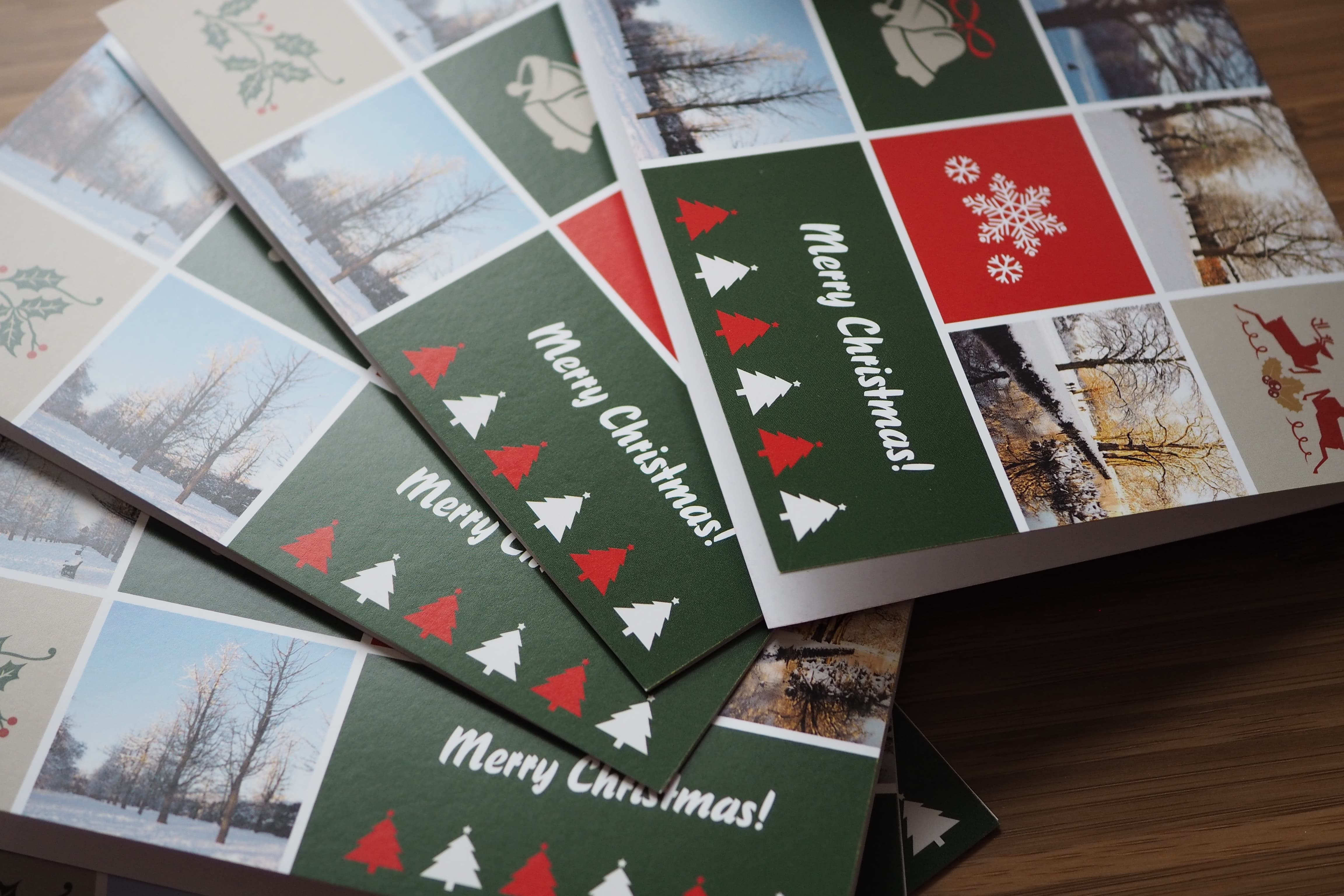 Vistaprint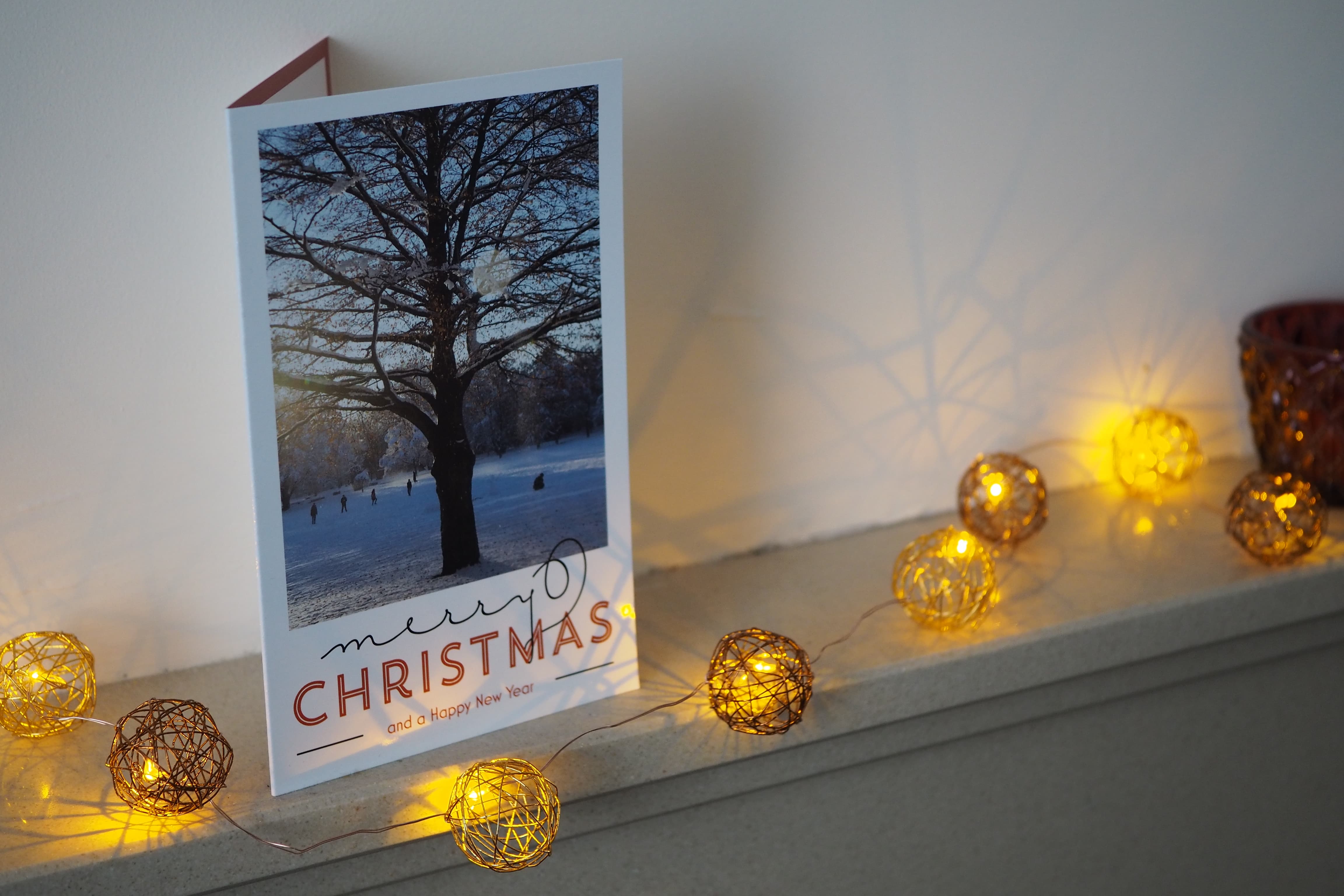 Like Jessops, Vistaprint has dozens of different Christmas designs and options for you to choose from.
To get started, head to the Vistaprint website and click "Christmas cards and gifts". Select Christmas cards and you can browse the various options the site has to offer.  The more cards you order, the cheaper the per card price will be.
Click the "get started" button and you can begin choosing between the different options. A great feature here is the ability to preview all of the designs with your own photo. Click the "add image" button to the left hand side, and your image will appear on the preview thumbnails on the cards.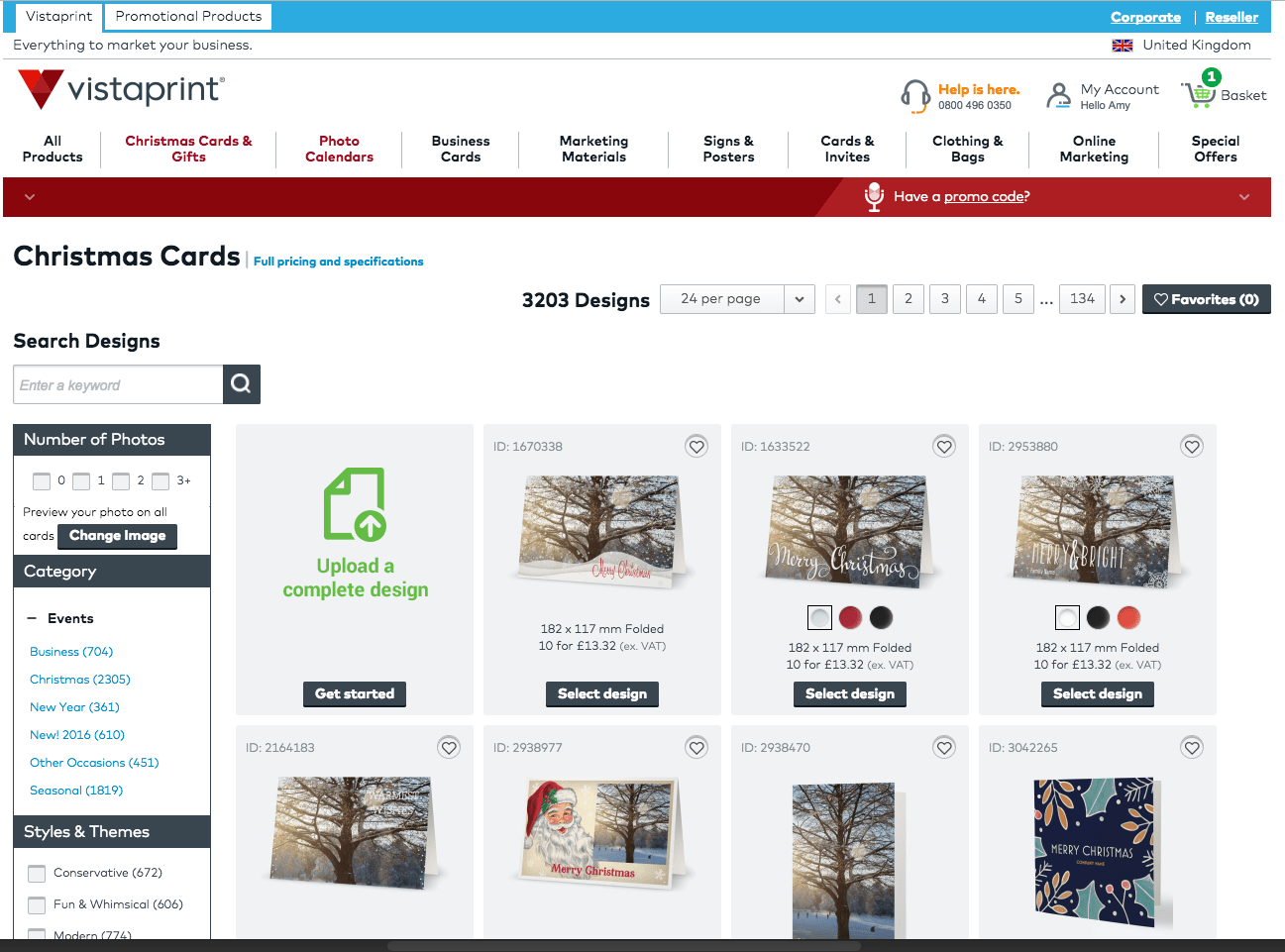 If you prefer, you can upload a complete design you've made yourself – perhaps if you've created something in Photoshop or InDesign which includes the exact layout you want.
In terms of editing your photo, you can crop and rotate, but nothing more – it's best to have your photo exactly as you want it in photo editing software on your computer before you upload. Again, you can alter the text on the inside of your card once you're happy with the front design. Once you're done, your finished card will be previewed so you can make sure you're completely happy with the design.
You can choose between different paper stock with Vistaprint. The standard included in the price is "Standard Glossy", but you can upgrade to options including Premium Glossy, Premium Matte and Linen Finish, each with an additional cost. We went for the Premium Glossy option in our test. You have the option to add a sheet of "envelope seals" for another extra cost if you wish.
As standard, you will be given white envelopes, but you can add personalised matching envelopes if you want to spend more money again. 
The overall effect of our finished card is very good – we'd recommend spending the extra to get the Premium card stock, especially if a special offer is currently in operation. The card is nice and thick, giving an air of quality and our image looks great on the front. Colours are accurate, while the glossy effect works well for a Christmas card.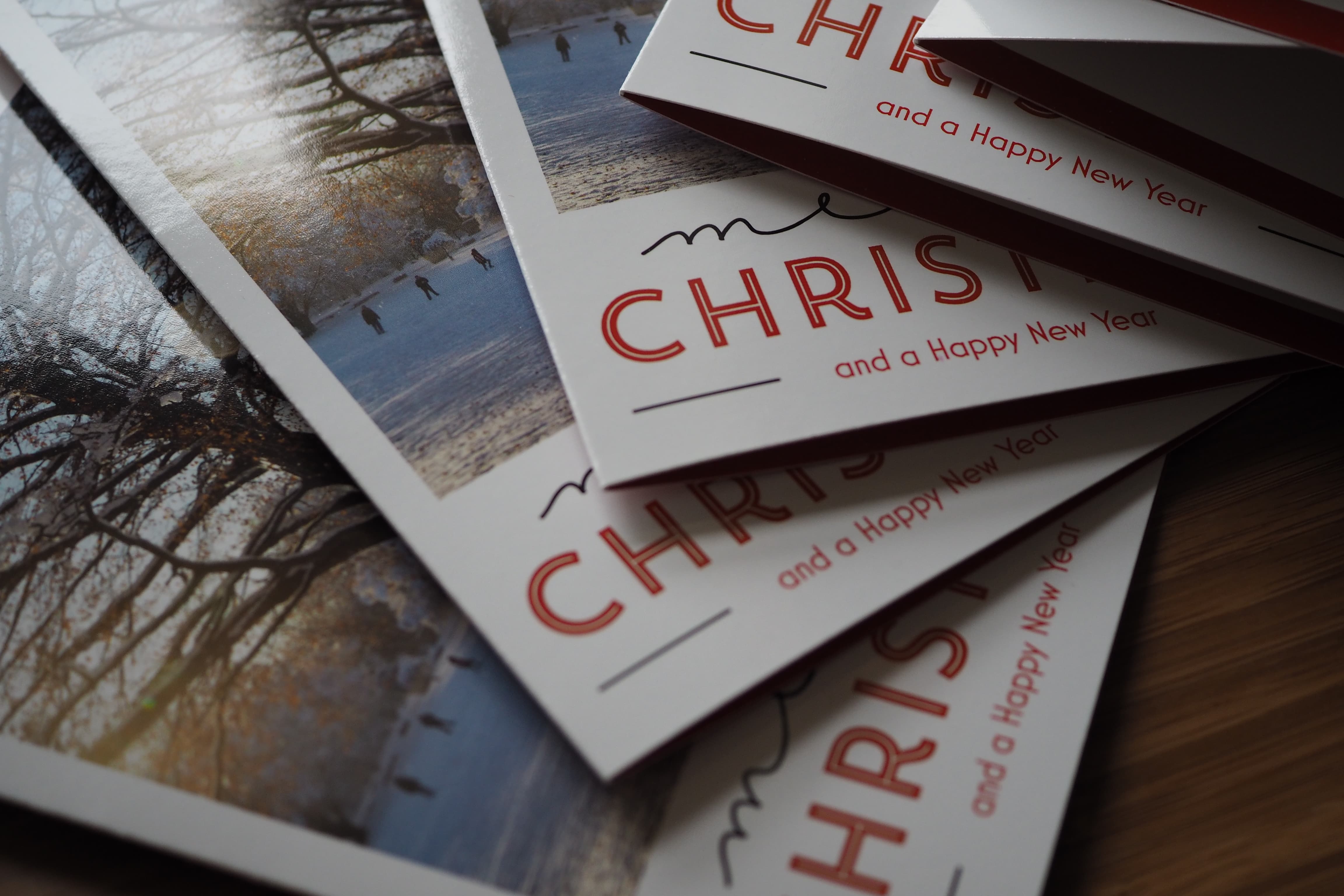 Moo.com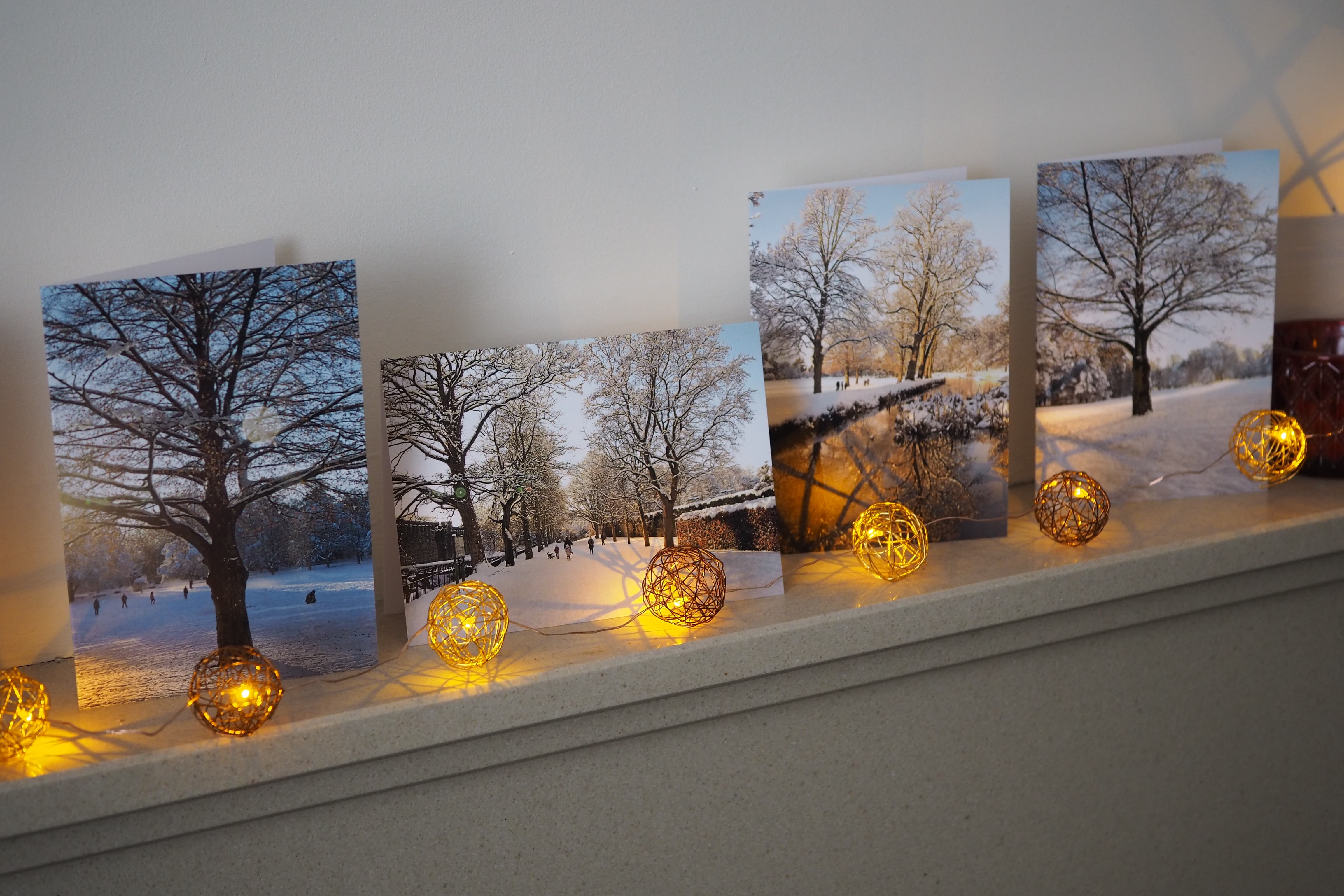 One of the best things about Moo is that you can upload lots of different designs and receive a pack which features all of your designs – something the other two in this test don't offer. If you order a 25 pack, you could have 25 different designs if you so wish. Alternatively, the pack will be divided by how many designs you upload – for example you could receive 5 of each design if you upload 5 photos.
It's very easy to create the cards. Simply head to the Moo website and select the Christmas cards option. There are a number of Christmas designs which you could order, but if you want to use your own images, you just upload as many (up to 25) as you want to use.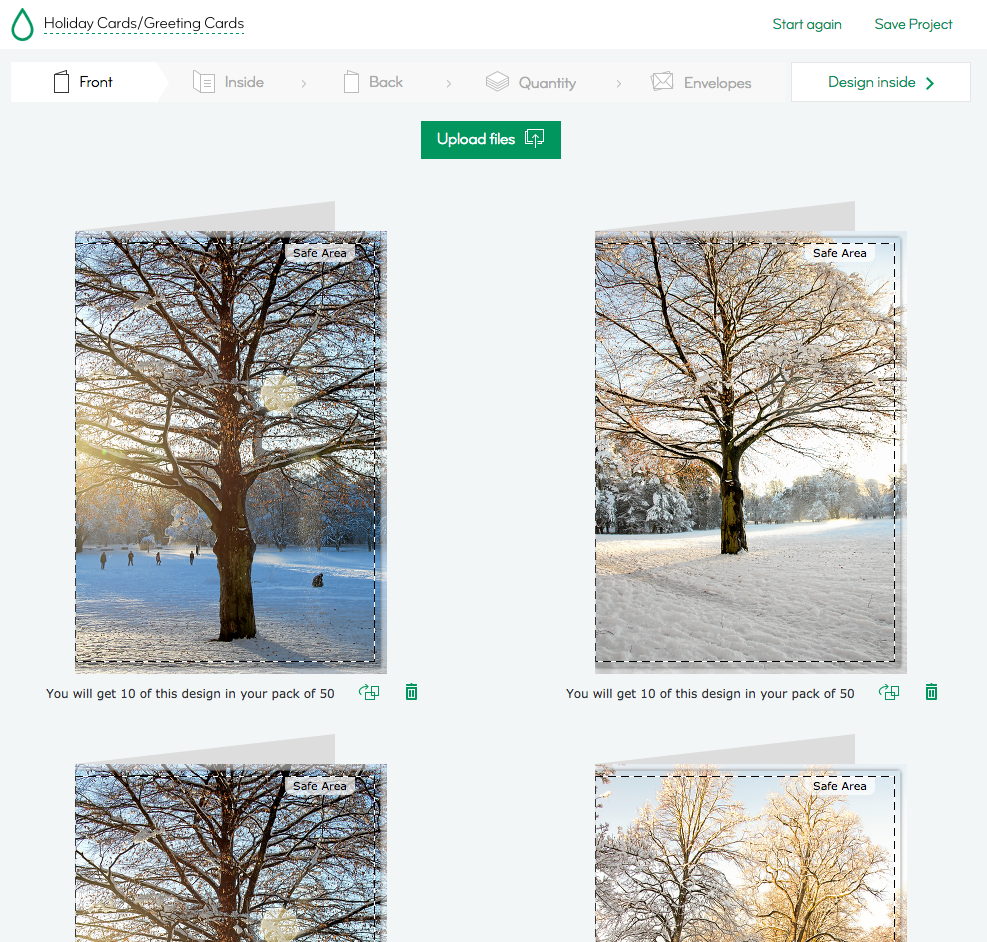 You can rotate and crop your photos, and by default the "photo enhanced" checkbox will be ticked. We deselected this as we'd already edited our photos in Photoshop. Once you're happy with how each photo looks, you can design the inside of the cards – unlike the front, the inside will be the same for each card, so don't personalise this too much. You can also add a design on the back of the cards – again each will be exactly the same.
Select the amount you want to order, 25 is the minimum. As with other services, the more you order, the cheaper it gets per card.
The Christmas cards are printed on FSC Certified Stock which are satin coated on the outside, resulting in fantastic colour reproduction. The cards are perhaps a little on the small side, but the overall effect is very good. It's great to be able to have lots of different designs to choose from, and the cards feel nicely thick and luxurious.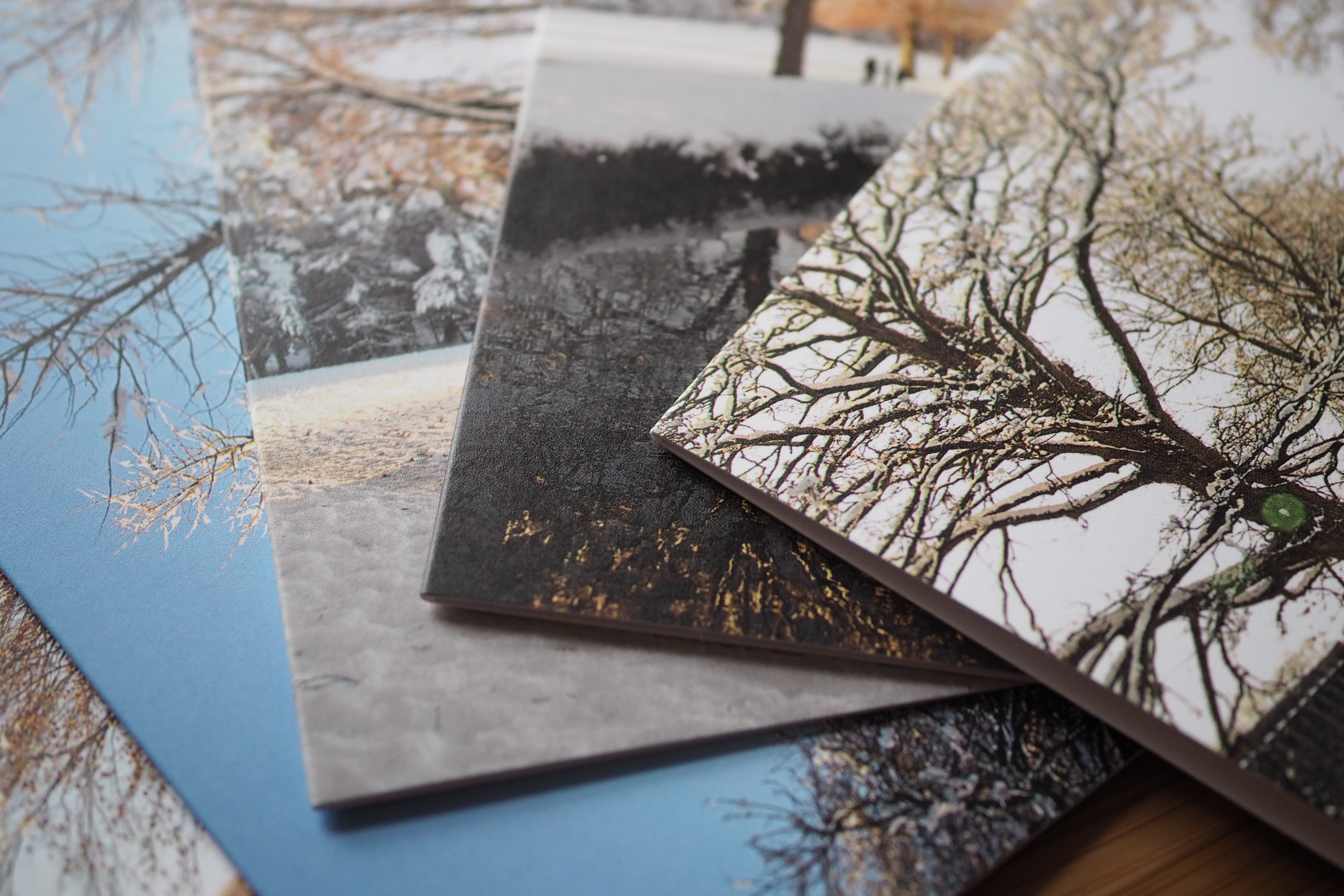 Best online printing services for Christmas cards: Verdict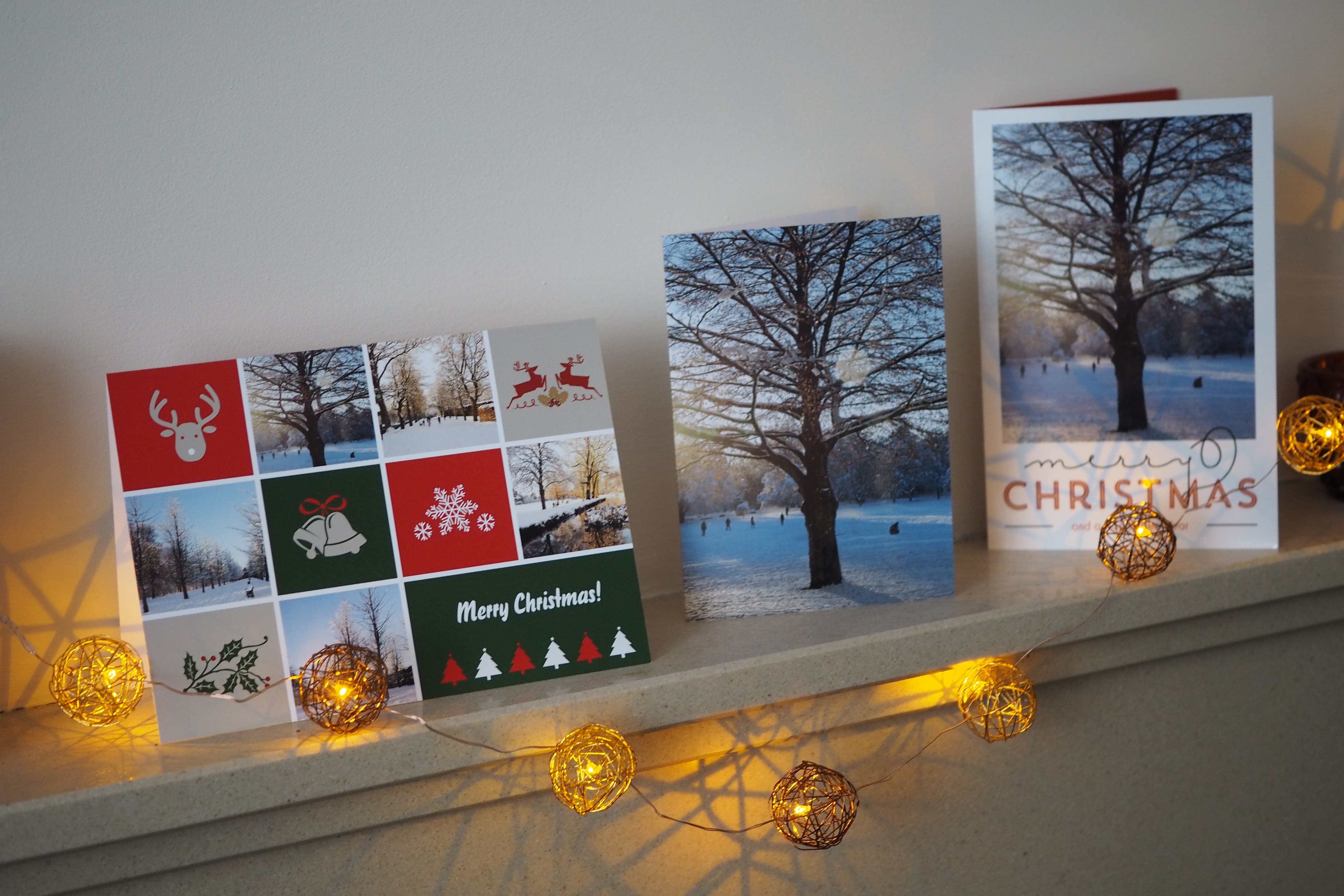 Each of the services on the test had their merits, and you should be happy with any of the services should you choose to use them.
In terms of overall quality, as well as the flexibility of being able to choose different designs, moo.com comes out on top. However, we were also very happy with the Vistaprint design, while Jessops had some fun options and designs to choose from – as well as the cheapest delivery options.
---
Keep checking back to Amateur Photographer for the latest news and features.