Portability without compromising creativity is a key selling point of the Micro Four Thirds (MFT) camera standard that was announced in 2008 by two major imaging brands, Olympus (now OM Digital Solutions) and Panasonic. Since then, the Micro Four Thirds system has built a loyal following among content creators, photographers and videographers. The MFT format is smaller at 17.3x13mm compared with APS-C (25×16.7mm) and full-frame 35mm (36x24mm), which enables kit to be made much more compact and this includes lenses where there's the benefit of a 2x crop factor. This means a 25mm focal length lens in MFT gives the equivalent view of a 50mm standard lens in the 35mm format.
For more about the joys of MFT photography click here to read our feature Why Micro Four Thirds offers something no-one else can, by AP's online editor Joshua Waller.
There is a good choice of MFT standard primes on the market including this Panasonic Lumix G 25mm f/1.7 Asph. Announced in 2015, this prime lens hit the market priced at $250 / £159 and the current new price is $148 / £149. Therefore, it remains very good value especially to system newcomers keen to own a lightweight but high performing lens that suits a broad range of photographic genres.
The MFT lens market is competitive and if you want a standard lens, obviously this is one to consider but there are many more, both autofocus and manual focus models. AF competitors include the OM System M.Zuiko Digital ED 25mm f/1.8 priced at $400 / £379 and the slightly longer Sigma 30mm f/1.4 DC DN Contemporary at $289 / £289. You could even opt for something different in the form of the Panasonic Lumix G Macro 30mm f/2.8 Asph Mega OIS costing $297 / £269. Its smaller maximum aperture is a minor negative but it is a fully specified macro lens so you can really get to grips with close-up shooting.
Before we get to the review of the Panasonic Lumix G 25mm f/1.7 Asph, it's worth noting that we chose this lens as one of the Best Micro Four Thirds lenses you can buy in 2023. Click here to read the complete list of our favourite MFT lenses, but meanwhile onwards to our extensive review.
Panasonic Lumix G 25mm f/1.7 Asph: Features
Comprising eight elements in seven groups, the Panasonic 25mm has a more complex optical construction than most lenses with a similar angle of view. It also includes one ultra-high refractive index glass element and two aspherical elements, which are designed to minimise chromatic aberration and peripheral aberrations. The diaphragm comprises seven rounded blades, allowing the aperture to remain circular at larger f-numbers, which usually gives a more attractive quality to the background blur. It's designed to be stepless and, like the focus motor, silent in operation, making the lens suitable for video use. However, there's no optical image stabilisation on board.
A broad manual-focus ring covers much of the barrel, and drives the lens's focus group electronically. At the front is a thread that accepts 46mm filters, which don't rotate on focusing. Behind it is a bayonet mount for the lens hood, which comes included in the box rather than being an overpriced extra. The lens is shipped with a cosmetic ring covering the hood mount, which I removed immediately and left in the box. Lens hoods don't just shield the lens from stray light, but also protect the front element from accidental bumps, and I would encourage their use as a matter of course.
Panasonic Lumix G 25mm f/1.7 Asph: Build and handling
At 52mm in length, 60.8mm in diameter and 125g in weight, the 25mm f/1.7 is a fairly small lens, although it's not as compact as Olympus's equivalent or Panasonic's slimline 20mm f/1.7 pancake optic. Its light weight is substantially due to plastic barrel construction, but thankfully the mount is metal, which rightly or wrongly always inspires more confidence than plastic versions. The lens feels well made considering the price, although it probably won't stand up to as much abuse as more expensive alternatives. Because of its compact size, the lens handles well, even on small bodies such as the Panasonic GM and GF series, although it's an equally good match for DSLR-style cameras such as the Panasonic Lumix DMC-G7. Our review sample came in a matte-black finish, with a silver version also available.
Panasonic Lumix G 25mm f/1.7 Asph: Autofocus
As we've become used to from Panasonic, the lens focuses quickly, silently and decisively, thanks largely to its internal focus design. 
With the latest cameras, it will also continue to do so in remarkably low light without hunting back and forth for focus position. Notably, it's much faster at autofocusing than Panasonic's 20mm f/1.7 pancake, which is a six-year-old design. The focus-by-wire manual-focus system is likewise responsive and straightforward to operate.
Autofocus is, in the grand scheme of things, very accurate, regardless of whereabouts in the frame the focus area is positioned. However, during the course of my testing I came across a slight catch; the lens's plane of sharp focus shifts forwards fractionally on stopping down, which is a symptom of residual spherical aberration. Because Micro Four Thirds cameras normally focus with the aperture set wide open, this can result in the edge being taken off the sharpness when you're shooting at f/2.8, particularly with close-up subjects. However, while this effect was easily measurable in our studio testing of the lens, it's not something many users are likely to notice during normal shooting.
Panasonic Lumix G 25mm f/1.7 Asph: Image quality
I tested the Panasonic 25mm f/1.7 on several Micro Four Thirds bodies, including the Panasonic Lumix DMC-GM1 and Olympus OM-D E-M5 II. In general, I found it to be a pretty accomplished performer, giving attractive images that belie its bargain price.
At f/1.7, images are a little soft when examined at the pixel level, but stop down to f/2.8 and they gain noticeably more bite. Sharpest results are generally obtained around f/4-f/5.6, and stopping down further sees diffraction progressively reducing pixel-level crispness; personally, I'd never use an aperture smaller than f/11. It's important to understand that this isn't a defect, but an inevitable consequence of optical physics. With smaller sensor formats such as Micro Four Thirds, you simply shoot at larger apertures than with full-frame or APS-C cameras. So if you'd normally use f/8 on full frame, the rule of thumb is to shoot at f/4 on Micro Four Thirds.
Panasonic has adopted its usual approach of correcting distortion in software, and in practical use you'll have to go out of your way to get anything other than perfectly square images. Likewise, vignetting is too low to be noticeable in most real-world use. Some green and magenta fringing can be visible in out-of-focus areas of the frame at larger apertures, but it's not overly distracting. If you use the lens on older Olympus bodies that can't correct lateral chromatic aberration, you'll also see minor green and magenta fringing towards the edges of the frame, but again it's not very objectionable.
Out-of-focus backgrounds are in general drawn relatively attractively, thanks in part to the lens's circular diaphragm. In fact, the lens's main flaw is when shooting directly into the light, where strong veiling flare can cover much of the frame. In fairness, though, this isn't unusual with fast primes.
Panasonic Lumix G 25mm f/1.7 Asph: Resolution, Shading & Curvilinear Distortion
Resolution
These charts show that the 25mm is a very decent performer according to our Applied Imaging tests. It's a little soft wide open due to residual spherical aberration, but improves quickly on stopping down. The corners are also impressively close to the centre in terms of sharpness. As tends to be the case for Micro Four Thirds, you'll get the best results overall from f/2.8-5.6, but apertures smaller than f/11 should be avoided.
Shading
As is usual for Micro Four Thirds, shading is really rather low. When wide open at f/1.7 there's less than a stop of light fall-off in the corners, which will rarely be noticeable in normal use. Stop down to f/2.8 and there's barely any trace of vignetting.
Curvilinear Distortion
Analysis of the camera's raw files reveals that Panasonic has adopted its usual approach of leaving a little more barrel distortion than would be usual if this were a DSLR lens, and correcting it in software. This is applied automatically during viewing and shooting, and by most raw conversion software. Most users will never notice it is happening and simply get distortion-free images.
Panasonic Lumix G 25mm f/1.7 Asph: Verdict
Getting into photography and gearing up with a decent camera and a selection of lenses is a serious commitment. However, the Panasonic Lumix G 25mm f/1.7 Asph is amazing value for money. It's petite, handles well, focuses quickly and silently, and most importantly, it is a decent performer on the optical test bench.
It is true that higher spec standard lenses are available and we mentioned the OM System M.Zuiko Digital ED 25mm f/1.8 at $400 / £379 and Sigma 30mm f/1.4 DC DN Contemporary at $289 / £289 earlier. If your credit card has the capacity you could even go further and invest in the OM System M.Zuiko Digital ED 20mm f/1.4 PRO at $800 / £649 or the Panasonic Leica DG Summilux 25mm f/1.4 Asph II at $548 / £569.
In summary, the Panasonic Lumix G 25mm f/1.7 Asph new at at $148 / £149 or pre-owned at $120-130 / £90-115 can be heartily recommended.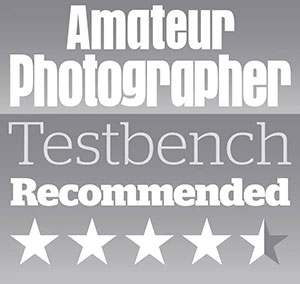 Panasonic Lumix G 25mm f/1.7 Asph: Specification