If you're not already familiar with the term 4K, it's a buzzword that's being used by many camera manufacturers to denote models that feature ultra high resolution video capture.
Equivalent to twice the resolution of full HD video, 4K video (3840×2160 pixels) is mightily impressive when it's viewed up against full HD video (1920×1080 pixels) and if you're yet to see the true benefit of 4K it's well worth walking into your local television store to see for yourself the direction in which the future of TV and video appears to be heading. So why all the fuss about 4K video?
Well, besides the fact 4K is superior to full HD, it has more to offer than just being a video mode. This is something we discovered when we reviewed Panasonic's Lumix GH4 last year and used it to successfully extract an 8-million pixel image directly from a clip of 4K footage.
Having the option to pull an individual frame from a movie clip to create a high resolution still image can be an very useful feature to have if you like to shoot fast action, sports or other fleeting moments where it's not always easy to trigger the shutter at the perfect moment.
I'm the first to admit that taking a video to pick out the best frame later doesn't require the same level of skill or technical ability, but nevertheless it's technology we're already seeing photographers embrace and it's an innovation that certainly looks like it's here to stay in the long-term.
Panasonic has looked to enhance its 4K video and make it even more user friendly for its consumers by adding three new 4K-photo functions to its latest model – the Lumix G7. Before finding out how these work and whether they're a success or not, let's take a closer look at the camera's key features.
Panasonic Lumix DMC-G7 Review – Features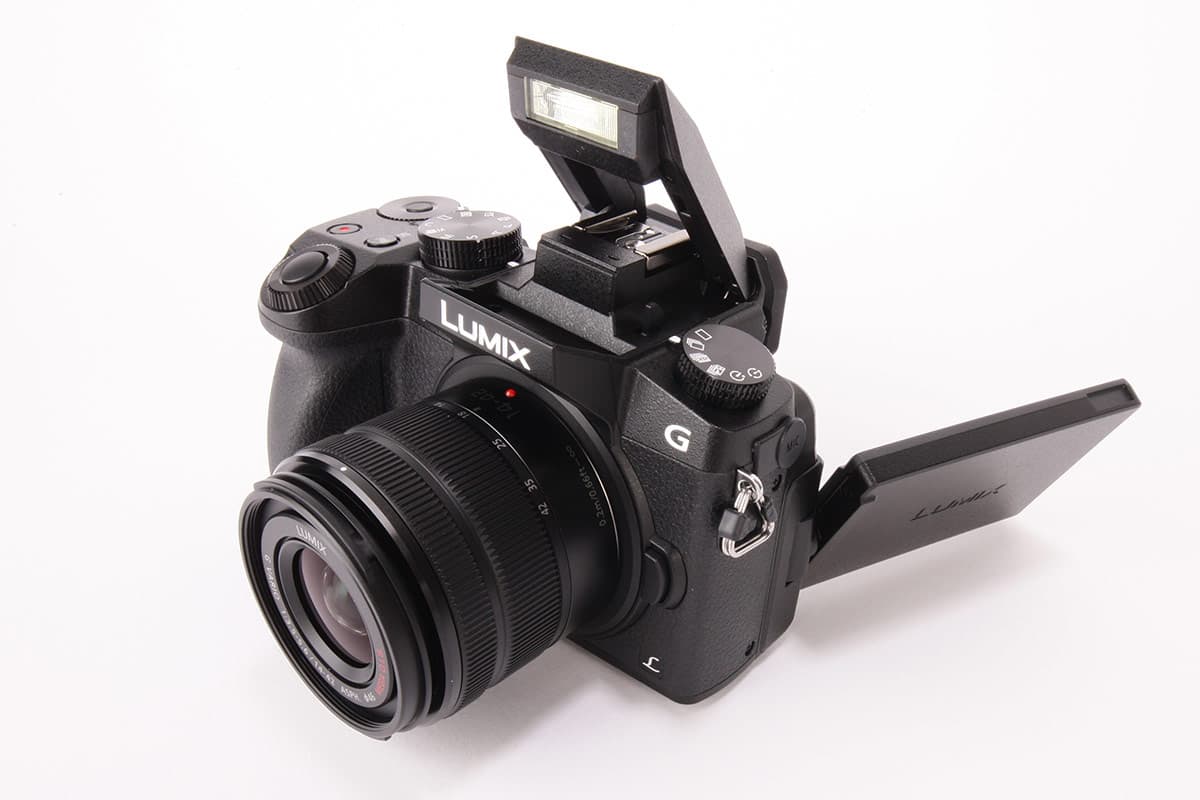 The G7 features a revised 16-million-pixel Live MOS imaging sensor that's paired with Panasonic's latest Venus engine image processor. This combination provides a wide ISO range of 200-25,600 that's expandable to ISO 100 and the sensitivity peaks at ISO 6400 when it's switched over to movie mode.
The G7 can shoot still images at a rate of up to 8 frames a second and although this is 4fps slower than the speed of the Panasonic Lumix GH4, it's a 1fps improvement over its predecessor – the Lumix G6. Setting the Lumix G7's autofocus to continuous (AFC) from Single (AFS) does see the frame rate drop to 6fps, however this still remains faster than most of its DSLRs rivals of similar price, which usually shoot at around 5fps.
If you'd like to shoot beyond a 1/4000sec shutter speed or shoot in complete silence, the G7 also features a very useful electronic shutter, which increases the shutter speed up to a maximum of 1/16000sec.
The Lumix G7 is capable of a digital signal communication of up to 240fps and the contrast-detect autofocus system has been enhanced by integrating Panasonic's new Depth From Defocus technology (DFD) that analyses two out-of-focus areas, one from the foreground and one from the background, to hone in on the correct focus more rapidly. With compatible Lumix lenses, the G7 has a claimed lock-on speed of 0.07sec, though the focus speed with the 14-42mm kit lens is slower (0.18sec).
Forty-nine precision contrast-detection AF areas can be selected either individually or in groups, while there's also face detection, autofocus tracking and pinpoint AF – the latter being most effective when you'd like a magnified view onscreen to select your focus point with supreme accuracy.
The touchscreen screen at the rear is similar to that found on the Lumix G6. It's a 3-inch free-angle display that features a 1,040k dot resolution and displays in the 3:2 aspect ratio rather than 4:3 like the imaging sensor. Users can expect thin black lines to appear either side of the frame when composing and reviewing images, but Panasonic has taken advantage of this space by adding small touchscreen icons to offer quick access to touch shutter, creative control modes, Wi-fi and the all-new 4K photo modes that I'll touch on shortly.
Above the screen, the G7 inherits the excellent OLED electronic viewfinder from the GH4. The resolution has jumped up to 2.36-million-dots from 1.44-million dots on the G6 and there's a newly designed eyecup and modified sensor to improve visibility and detection when it's raised to the eye.
Just like the GH4, the G7 relies on a 1728-zone multi-pattern metering system that's linked in to the camera's autofocus system. Multi, centreweighted and spot-metering modes are all available, with exposure being displayed in real-time on either the EVF or the rear screen. There's +/-5EV exposure compensation, focus peaking and Wi-fi too, however there's no NFC connectivity present for those wishing to initiate a wireless connection by the power of touch.
As for video, the G7 is capable of recording 4K video capture with full-time autofocus set to the MP4 compression. There's the choice of 3840×2160 4K recording at 25p (50Hz) or 24p with a bit rate of 100Mbps, or alternatively Full-HD (1920×1080) at 50p in AVCHD or MP4 formats. There's full access to all the photo styles, creative control modes and PASM exposure modes too, not forgetting control of ISO and white balance.
While it's possible to extract an 8-million-pixel still image directly from a 4K movie clip after it has been recorded, the G7 boasts three new 4K photo functions (4K burst shooting, 4K Burst (Start/Stop) and 4K Pre-burst), designed to make the process of capturing a still image at the perfect time even easier.
Whereas 4K Burst Shooting allows up to 29mins 59secs of continuous shooting at 30fps, which can be used just like a photo burst mode by holding the shutter down, 4K burst (Start/Stop) mode starts consecutive shooting with a single press of a shutter button and stops with a second press – better suited to shooting opportunities that require a longer waiting time.
Not forgetting the 4K pre-burst function, this is aimed at those who'd like the camera to automatically record 30 frames the second before and a second after the shutter is pressed. This mode make all the difference between capturing a moment and missing it altogether.
Build & Handling
Unlike the Lumix G6 that had flowing lines and rounded edges, the G7 encompasses a more angular design. The shape and style of the pentaprism bears a resemblance to Olympus's OM-D models and it preserves a deep and well-sculpted handgrip that gives you plenty to wrap your hand around. It's a camera that's very comfortable to hold onto in an average sized hand and the way the rubberised grip extends all the way around to the rear of the camera where the thumb lays to rest offers reassurance that it'll never slip from your grasp.
What strikes you when you pick up the G7 for the first time is just how lightweight it feels for a camera of its size. Although the front and rear panels of the camera feel strong and don't show any sign of creaking when the camera is squeezed tightly, the top plate is almost entirely constructed from polycarbonate, resulting in a plasticky feel.
Tap the top of the camera with the end of your finger and you'll quickly realise it doesn't have the same strength as cameras that feature a magnesium alloy top plate. This plasticky feel extends to the dual command dials. The rear command dial is susceptible to being accidentally knocked too and offers little resistance or feedback when it's turned. The consequence of this could result in unwanted changes to exposure settings users, so users will want to wary of this when it's transported or when it's carried over the shoulder.
The body is inundated with no fewer than sixteen buttons, four dials and two switches. While more experienced photographers will appreciate this plethora of manual controls, newcomers are likely to find the layout somewhat overwhelming.
With the camera raised to the eye it's easy to locate the shutter button, command dials and AF mode switch without removing your eye from the viewfinder. The same can't be said for the buttons at the rear where it's harder to identify which button is which unless you pull the camera away from your eye. On numerous occasions I found my thumb inadvertently hitting the playback button as opposed to the Q.Menu button.
The capacitive touchscreen is an extremely versatile unit, being side-hinged, and unlike some screens its movement is unhindered by the camera being tripod-mounted. It rotates smoothly on each axis and just like a smartphone or tablet, it supports multi-touch gestures such as pinch-to-zoom.
A double tap on the screen is a useful shortcut for inspecting images at closer magnification in playback mode and the eye sensor can be adjusted to its MON setting to ensure finger movements don't interfere with touchscreen operation – just remember to switch it back to LVF/MON Auto if you'd like it to automatically switch the feed between the screen and EVF and vice versa as the camera is lifted and pulled away from your eye.
Performance
The G7's new 4K photo function couldn't be easier to set up – simply rotate the drive dial to its 4K setting and specify which 4K burst setting you'd like to use from the main menu or via the Fn10 touchscreen icon.
To test its effectiveness I put it into practice at a game of cricket and began by using the 4K-burst setting that required me to hold the shutter button all the while the action occurred. A red flashing dot indicating the camera was recording and a timer revealing the length of the burst were both displayed on screen. After recording the sequence of the bowler delivering the ball and the batsman playing a shot the shutter was released. The camera processed the eight-second long burst in less than five seconds and revealed a thumbnail onscreen.
Holding and scrolling this thumbnail to the right allowed me to then scrub through the 4K movie clip frame-by-frame to select my favourite image from the burst sequence, before extracting an 8-million-pixel image and saving it to the card simply by using the Menu/Set button. Though 4K photo might seem complex, it's actually very intuitive to use and can make the difference between capturing a shot at the precise moment and missing it altogether.
Something I did encounter whilst testing the G7's 4K Burst Shooting mode was a phenomenon whereby low-resolution previews are displayed in the viewfinder. It's not uncommon for low-resolution previews to take a fraction of a second to render as high-resolution previews, but this doesn't happen, which in turn makes it difficult to know whether your subject is pin-sharp in focus or not.
I latterly discovered that by pulling my eye away from the viewfinder only to look back through the EVF again revealed a high-resolution preview, but low-resolution images reappeared when navigating through other images in a burst using the four-way controller. Although not a disastrous phenomenon, I'd prefer to see a high-resolution preview instantly in the viewfinder much like you do on the rear screen.
As for the other two 4K burst modes, 4K Burst (Start/Stop) worked well when it was a nuisance holding the shutter for a prolonged periods and the clever 4K pre-burst mode is useful for capturing spur of the moment action before there's time to fire the shutter. Users will want to use 4K pre-burst sparingly though as it has a tendency to drain the battery very quickly all the time when the camera is continuously recording.
The continuous autofocus speed, both in 4K Photo and video-recording modes is excellent. Focus occurs slower than in stills mode to create smooth transitions and to avoid the distraction that fast focus actions can bring. Just like the Lumix GH4 that also employs Panasonic's proprietary Depth from Defocus technology, the G7's focus acquisition when shooting stills is brisk, and should you be caught out by a low-light scene, the G7's bright orange AF assist lamp provides additional illumination to nearby subjects.
The 49 AF points cover a large portion of the screen and it's a much more sophisticated array than the 23 point system as previously found on the Lumix G6. The size of single-area AF can be adjusted quickly using the rear command dial, or if you'd prefer to refine it more precisely the front command dial can also be used.
For those who'd prefer to control the size and positioning of the AF point using the touchscreen, simply use the same pinch and zoom gestures you'd usually use to zoom in and out of an image. Up to four custom AF grids can be created and stored in the custom AF menu too. Setting these is a very straightforward, simply run your finger across the screen or tap one of the 49 areas before hitting the Fn2 button to save for future use.
The G7's Wi-Fi functionality also works effectively in connection with Panasonic's Image App that's compatible with both iOS and Android devices. A bright blue LED on the top plate of the camera reveals Wi-Fi is active and from the app you can take remote operation of the camera and control AF point adjustment, AF mode as well as other key exposure settings. Switching over to the app's transfer image mode allows you to transfer individual images or a batch to a mobile device. There's also the option to instantly share to Facebook, Twitter, Youtube, Picasa or Flickr.
Image Quality

If you include the extended ISO 100 setting, there are nine sensitivity settings to choose from on the G7. Unlike the Lumix G6 that limited the sensitivity range to ISO 160-1600 when the electronic shutter was deployed, this is no longer the case on the Lumix G7. This is good news – not only does it mean you can shoot silently when you're forced to push up to higher ISO's in low-light, G7 users now have the full range of ISO settings available to them at any shutter speed.
At the time of testing, the Lumix G7's raw files weren't supported by Adobe Camera raw update, so to convert our sample image and lab results before analysing them alongside the G7's JPEGs we downloaded and installed Panasonic's proprietary SilkyPix Developer Studio 4.3 SE software that comes bundled with the camera.
Resolution
Close examination of the G7's images taken of our Applied Imaging test chart reveals the sensor resolves cleanly to 2800l/ph at ISO 100 in both Raw and JPEG formats. The G7 continues to resolve the same level of detail up to ISO 800 and drops only slightly to 2600l/ph at ISO 1600.
Detail holds up well as the sensitivity is pushed to ISO 3200 and our lab results show the sensor is capable of resolving 2600l/ph at ISO 6400 – a strong performance by Micro Four Thirds sensor standards.
Above ISO 6400 the level of fine detail deteriorates to 2400l/ph at ISO 12,800, further reducing to 2000l/ph at the G7's sensitivity ceiling of ISO 25,600. These resolution figures remain equivalent to those recorded by the Lumix G6's sensor.
Dynamic range
The 16-million-pixel sensor produced a maximum of 11.9EV at ISO 100, dropping to 10.6EV at ISO 200. To offer a figure for comparison, one of the G7's close rivals, the Canon EOS M3, recently produced readout of 11.9EV at ISO 100 and 11.6EV at ISO 200. Beyond ISO 200 the dynamic range falls to 10.5EV at ISO 400, 9.4EV at ISO 800 and 8.7EV at ISO 1,600. At ISO 6400 the dynamic range was recorded just below 7EV, but importantly it didn't drop below the critical 6EV at ISO 12,800 or ISO 25,600. These results are slightly better than those previously recorded by its predecessor at high ISO.
Noise
At low sensitivity settings (ISO 100-400) the G7 delivers clean and detailed images. Luminance noise starts to creep into images at ISO 800, but it isn't blatantly obvious unless you go searching for it in the shadows at close magnification. Chroma noise also starts to make an appearance in Raw files at ISO 800, but the automated noise reduction that's applied to JPEG files does a sufficient job of removing it.
The influence of luminance and chroma noise gradually becomes more pronounced as you push up to ISO 3200 and 6400, yet the level of detail preserved at these sensitivities remains high. Provided noise reduction is applied to Raw files at ISO 3200 and ISO 6400, both settings remain useable for less-critical applications.
Detail deteriorates quickly beyond ISO 6400 and although ISO 12,800 could be used as a last resort if you're caught out in a low-light situation, ISO 25,600 should be avoided at all costs.
Verdict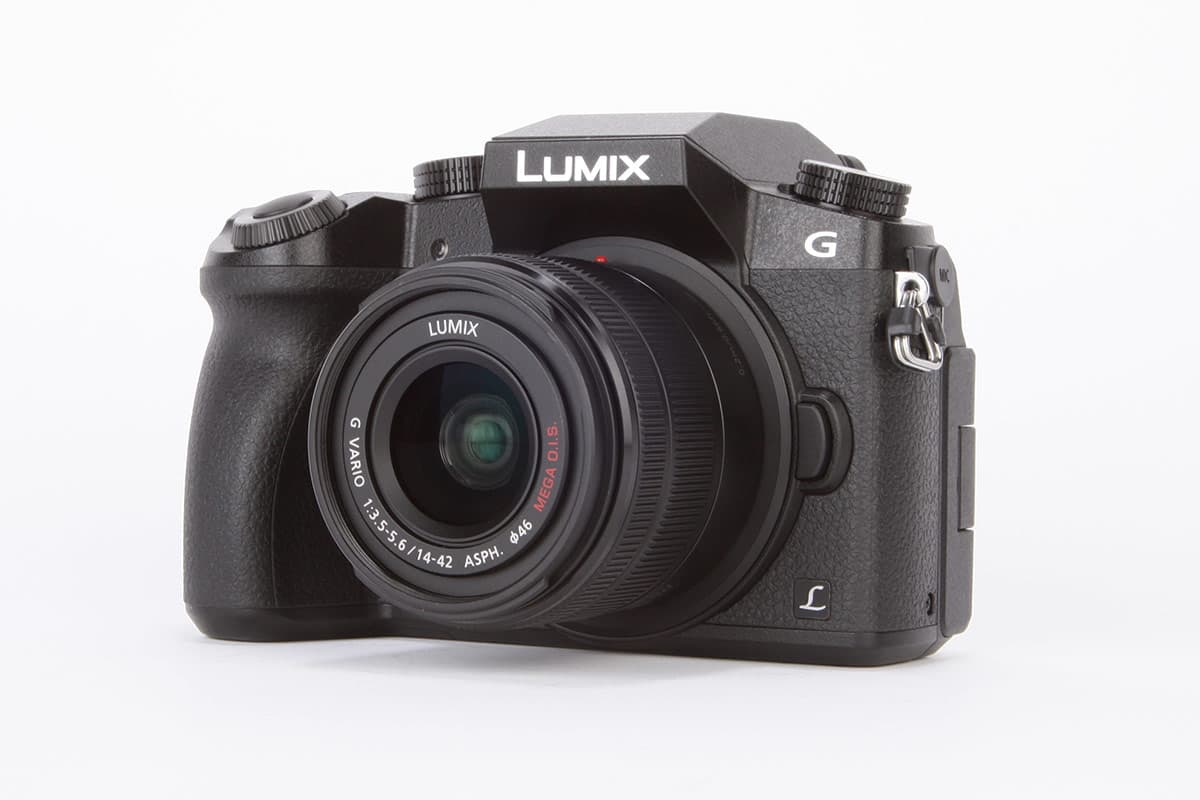 With the increasing importance of video, Panasonic has placed the emphasis very much on the G7's movie capabilities without treading too closely on the Lumix GH4's toes. Unlike the manufacturer's flagship model, the Lumix G7 doesn't record cinema-grade DCI 4K video (4096×2160 pixels), instead using the UHDTV format (3840 x 2160 pixels). But the addition of the 4K Photo modes will come in handy for those who either struggle to fire the shutter at the perfect moment or those who like the idea of being able to extract the best frame after the action has happened.
The 4K photo mode certainly shouldn't be considered as a go-to mode for everything, especially when the G7 can shoot full resolution 16-million-pixel stills at up to 8fps, but if you're wanting to capture a child breaking through the finish line tape at their sports day, say, it certainly increases your chances of getting the perfect shot.
Just like the Lumix G6 was an improvement on the Lumix G5, the Lumix G7 is a step up on the Lumix G6. The key areas of improvement are its high-resolution EVF that offers a highly detailed view of what you're shooting and its 49-area AF system, which provides better coverage across the frame. On the subject of focusing, the G7's contrast-detect system locks onto subjects with little fuss and pulls focus smoothly in video mode.
Although the sensor doesn't resolve any more detail than its predecessor, it manages to preserve detail in its high ISO images well. Images taken at ISO 3200 and 6400 are by all means usable with some noise reduction applied if you're shooting raw, but ISO 12,800 is best reserved for small prints or where the image quality won't be closely inspected.
The build quality could have been made better by substituting the plastic top plate and thumbwheels for more robust material, however the rubberised handgrip and the way the camera fits the hand is particularly good and gives the impression you're holding onto a lightweight DSLR. Compared with other CSCs I've handled in the past, the G7 is up there as one of the most comfortable I've held during a prolonged period of shooting.
For those seeking an affordable and lightweight CSC that benefits from an excellent viewfinder, fast autofocus and all the control you need to get creative with stills and video, the G7 is a camera that ticks the boxes. There are other CSC's out there that can resolve finer detail and offer a stronger build quality, but then again not all the other options spoil their users for choice when it comes to the number of lenses that are available in the micro four thirds mount like the G7. For the consumer it's aimed at, the G7 provides an enjoyable shooting experience.
Full Specification