Nikon AF-S NIKKOR 24-70mm f/2.8E ED VR – Introduction
Nikon's AF-S Nikkor 24-70mm f/2.8G ED first made an appearance back in 2007 and its quality performance meant it became an instant hit. However, as camera megapixel count increased there was a need for even higher performing optics, hence the arrival in 2015 of the AF-S Nikkor 24-70mm f/2.8E ED VR.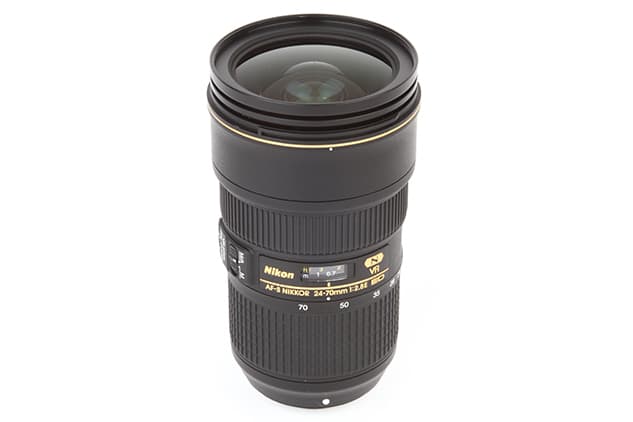 The AF-S Nikkor 24-70mm f/2.8E ED VR was launched with a guide price of $2400/£1849, which was a significant uplift on its predecessor. Its current street price is $2097/£2099. However, the new lens gained several impressive features. It was the first Nikon lens to have an aspherical extra-low dispersion (ASP/ED) element. Plus, it was also fitted with Nikon's Vibration Reduction (VR) image stabilisation technology with a claimed 4EV benefit. More on both improvements in the review.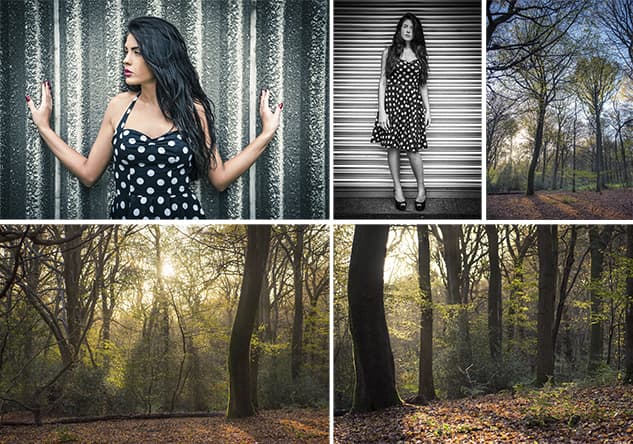 Nikon AF-S NIKKOR 24-70mm f/2.8E ED VR – Features
Whereas the outgoing G version of the lens had an optical construction of 15 elements in 11 groups, the lens sports a completely new design, with 20 elements in 16 groups. More telling, though, is the appearance for the first time on a Nikkor lens of a new Aspherical Extra-Low Dispersion (ASP/ED) element. This has been paired with Nikon's aspherical, ED and High-Refractive Index (HRI) elements, not forgetting the Nano Crystal Coat that is also employed to reduce ghosting and flare. When combined, it all promises to deliver new levels of optical precision. In addition, on the front and rear elements there is a fluorine coating that's designed to repel water, dust and dirt, as well as making it easier to clean without damaging the exposed element.
As we've seen on most recent Nikkors, the new 24-70mm features an electromagnetic diaphragm (denoted by the 'E' designation) that's designed to provide highly accurate control of the lens's rounded diaphragm blades to ensure more consistent exposures during continuous shooting. Sticking with diaphragm blades for a moment – as you'd expect for a lens of this calibre, the design incorporates nine aperture blades.
Perhaps one of the standout updates to the previous lens is the arrival of the company's Vibration Reduction (VR) anti-shake system. With the likes of the fabulous 36.3-million-pixel D810 putting more demands on the photographer to ensure pin-sharp shots as they come under ever-closer scrutiny, it's something a lot of existing users had been hoping to see. Promising up to four stops of compensation, there's the option of Normal or Active modes, with the latter suited to shooting from a moving vehicle or an unstable position.
If you've got a number of pro-spec Nikon lenses, you'll be accustomed to a 77mm filter thread and no doubt have some compatible filters or adapter rings in your bag. However, rather inconveniently, the new lens sports an 82mm thread. Internal focusing, though, means filters will remain in position and not spin round as the lens focuses; when you consider the additional internal elements over the older model, it's hardly a surprise that the size of the filter thread had to be increased.
Nikon AF-S NIKKOR 24-70mm f/2.8E ED VR – Autofocus
While the new lens carries the same AF-S designation as other Nikkor lenses, the silent wave motor (SWM) has been completely redesigned, with Nikon claiming it to be some 50 per cent faster than the older model, thanks to a smaller and more powerful design.
I've owned and used the Nikkor 24-70mm f/2.8G for the past eight years or so and have never had any concerns with the performance of the AF, but the lightning-quick AF acquirement of the new lens is incredible, locking on to subjects noticeably more quickly. It almost goes without saying, but the focus noise is almost impossible to pick out in day-to-day use, only really being faintly audible if conditions are near silent.
Nikon AF-S NIKKOR 24-70mm f/2.8E ED VR – Build & Handling
Whichever way you cut it, this is a big lens. As we've touched upon when discussing the size of the filter thread, the redesigned lens architecture and the addition of VR, as well as other technologies, has meant there's more to squeeze in. This has resulted in a beefy lens that now tips the scales at 1070g and is 154.5 x 88mm, compared to the 24-70mm f/2.8G that now looks quite compact by comparison, at 133 x 83mm and weighing 900g.
So, it's big. However, when I paired it with a D810, I have to say I found the combination balanced extremely well and was comfortable to use. The larger size has allowed Nikon to include a bigger rubberised zoom ring at the rear of the lens that falls to the hand nicely, providing a silky transition through the zoom range. Moving forward, there's a modest focus-distance-scale window, marked in both feet and metres, before we reach the finely ribbed contour of the manual focus ring. Identical in size to that used on the outgoing 24-70mm, it rotates anti-clockwise from infinity to closest focus (0.38m) with a smooth if slightly light to the touch transition.
On the side of the lens are two switches grouped together. The top switch allows manual override of autofocus to manual operation with virtually no time lag, regardless of the AF mode you're shooting with. Below that is the VR switch, with setting for Off, Normal or Active VR modes. As we've mentioned before, the switches are clearly labelled, but because they're identical to the touch, if you have the camera raised to your eye, it's not immediately clear which switch you're selecting if you're working quickly and relying solely on feel.
As you'd expect to find with one of Nikon's top-flight lenses, the build quality is first rate. Nikon claims the lens has undergone a series of shock tests and inspections have been repeatedly applied to movable parts of the lens barrel to ensure it can meet the demands of daily professional use. That's not forgetting the previously mentioned fluorine coating and the presence of an O-ring seal around the mount to limit dust and water entering the camera. The exterior construction is a mix of metal and high-quality plastic, with the now familiar dappled texture finish providing a quality touch, leaving you with an overall impression of a quality piece of kit that can will stand up to the various environments in which it will undoubtedly find itself.
Nikon AF-S NIKKOR 24-70mm f/2.8E ED VR – Image quality
With a just under 3x focal range running from wideangle to telephoto, there's not quite the same demands placed on the optics as other lenses, but nonetheless, to deliver results that will meet the demands of professionals, results have to be spot on.
Looking at the real-world shots I took with this lens, centre sharpness in images taken at 24mm wide open at f/2.8 are very good, though it does tend render the edges of the frame a little soft. Stop the lens down and the sweet spot for those wanting to shoot at the wide end of the lens seems to be around f/8, when sharpness across the image is very impressive indeed.
At 35mm and wide open, results are a tad sharper still and while edge sharpness does drop off a touch, it's still a very strong performance, with best results overall seeming to come at f/5.6. It still performs very well at f/8 and while sharpness does tail off after that, it's still very strong at f/11. It doesn't quite deliver the same levels of sharpness at 70mm, with the centre at f/2.8 only just matching those of the edges at 35mm. That said, there's a big improvement when the lens is stopped down to f/5.6, with the centre matching results at 24 and 35mm.
As you'd perhaps expect to find with a zoom of this nature, vignetting was most pronounced at f/2.8. This was noticeable throughout, with more than a stop of exposure difference between the centre and edge of the frame at the extremes of the focal range, so you need to be prepared to correct this in Lightroom or similar. You'll also have to make corrections for slight barrel distortion at 24mm and pincushion distortion from 35mm onwards.
Nikon AF-S NIKKOR 24-70mm f/2.8E ED VR – Test Results
Resolution
At 24mm and f/2.8, centre sharpness is very good, but edge sharpness does suffer. Stopping the lens down improves things, with optimum results being found around f/8. Push beyond f/8 and diffraction softens the finest details, however f/11 and f/16 are certainly useable if a large depth of field is required. Sharpness isn't as impressive at 70mm at f/2.8, but improves considerably in the centre when stopped down at f/5.6. Edge sharpness at 70mm peaks between f/8-f/11.
Shading
The lens displays obvious vignetting when the lens is wide open at 24mm, with the corners appearing approximately -1.4EV darker than the centre of the frame. This improves to -0.8EV at f/4 and beyond that it shouldn't be an issue. It's a similar story at 35 and 70mm, though at 70mm at f/2.8, the fall-off from the centre of the frame is a bit more dramatic, though not quite as strong at -1/2EV.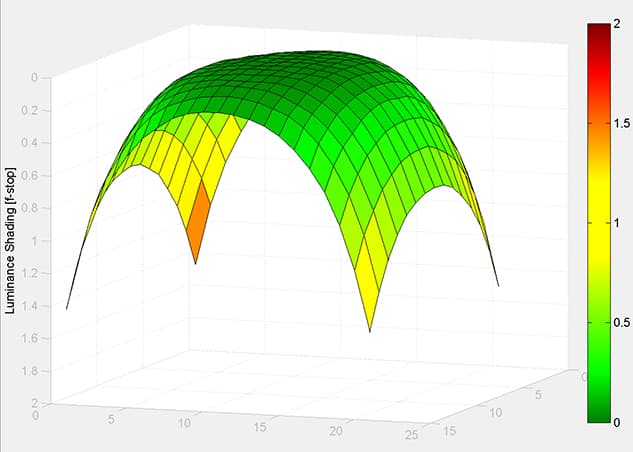 Nikon AF-S NIKKOR 24-70mm f/2.8E ED VR shading at 24mm, f/2.8

Curvilinear distortion

At 24mm, there's some noticeable barrel distortion present, with the straight lines of our test chart bowing outwards. As we'd expect, this disappears as you progress through the zoom range, with moderate pincushion distortion visible at 35mm. This becomes more pronounced as you extend the focal length and reach 70mm.

Nikon AF-S NIKKOR 24-70mm f/2.8E ED VR – Verdict

The AF-S Nikkor 24-70mm f/2.8E ED VR had a great deal to live up to, and it was bigger, heavier and more expensive than its predecessor. However, there is no doubt that this lens is superior optic.

The inclusion of VR definitely makes it a more appealing option for stills and video shooters. The result is a slightly bulky design, but this hasn't hampered handling which still rates highly. The robust build quality doesn't disappoint either. Then there's the autofocus – the speed of AF acquirement is truly impressive and a big jump in performance compared with the earlier lens.

While vignetting wide open is an issue, the resolving power of the lens, especially at the centre of the frame, is excellent through the zoom range and there's no doubt that the optical overhaul this lens has gone through has certainly paid off.

At $2097/£2099 for a new AF-S Nikkor 24-70mm f/2.8E ED VR, this lens is a serious investment and one not to be made lightly. Taking the pre-owned route is an obvious alternative and the lens is available for around $1177-1434/£750-1159. Whichever route you decide, you won't be disappointed and this is a superb, fast standard zoom perfect for most shooting environments.

In fact, we rate this lens so highly that the AP team rated this lens as the Best Nikon F-mount lens money can buy in 2023. Click here for the full story.

You can also read Nikon Ambassador Kate Hopewell-Smith's views on this lens here.
Specifications
Guide price at launch

S2400/£1849

Street price

$2097/£2099

Used price

$1177-1434/£750-1159

Filter diameter

82mm

Lens elements

20

Groups

16

Diaphragm blades

9

Aperture range

f/2.8-f/22

Minimum focus distance

0.38-0.41m

Length

154.5mm

Diameter

88mm

Weight

1070g

Mount

Nikon F