Nikon AF-S NIKKOR 180-400mm f/4E TC1.4 FL ED VR at a glance:
$13,457/£10,999
Nikon F mount
Compatible with Nikon Z cameras using FTZ mount adapter
Built-in 1.4x teleconverter
27 elements in 19 groups
40.5mm filter attachment size
3500g
The AF-S NIKKOR 180-400mm f/4E TC1.4 FL ED VR from Nikon is a premium super telephoto zoom designed for sport and animal photography. Announced in early 2018, it superseded the Nikon 200-400mm f/4G ED VR II and looked to compete with Canon's 200-400mm f/4L IS USM lens by offering a built-in 1.4x teleconverter that enables the zoom range to be changed from 180-400mm to 252-560mm in an instant from the flick of a switch on the barrel.
The maximum aperture of the lens when it's used without the built-in teleconverter is f/4, and this changes to f/5.6 when the built-in teleconverter is deployed. As its professional-grade status and high price suggests, it also presents superior dust-and drip-resistance with a build quality that meets the demands of the working pro and that of other high-end Nikon F-mount lenses. For more options have a look at the best Nikon F-mount lenses.
In addition to a host of handling aids to suit photographing fast-moving subjects, the AF-S NIKKOR 180-400mm f/4E TC1.4 FL ED VR is constructed with an optical design that includes one fluorite lens element and eight ED glass elements for extremely sharp and detailed rendering.
The high five-figure price tag ($13,457/£10,999) to buy it from new is likely to put many off the idea of adding this telephoto zoom to their kit, however secondhand and used examples are available. Excellent condition used examples can be found around $6,500 / £5,250.
Nikon AF-S NIKKOR 180-400mm f/4E TC1.4 FL ED VR: Field Test
As I walk into the café at Hampshire's Hawk Conservancy Trust, the lens I'm carrying immediately draws attention. I'm attending a wildlife workshop, organised by TimeLine Events, and I have with me an AF-S Nikkor 180-400mm f/4E TC1.4 FL ED attached to a D850. It's Nikon's second most expensive lens ever made and the manufacturer's first telephoto zoom to feature a built-in teleconverter. 
Nikon AF-S NIKKOR 180-400mm f/4E TC1.4 FL ED VR Sample Image Gallery
The cost of the lens is a recurring question from the other photographers and, once I disclose its astronomical price, everyone agrees there's no excuse not to get some great shots. I'm quick to admit, however, I'm out of my comfort zone shooting birds in flight, so I'm thankful to organiser, Neil, who starts proceedings by explaining how to get the best out of the day. He suggests shooting handheld, but I can't bring myself to leave my monopod behind. After all, this is one of the heaviest lenses I've ever used.
First shots of the day
To ease us into the action, our falconer starts by freeing a griffon vulture from its jesses. The gentle swoop and predictable flight path is just what I need to get familiar with the lens and my camera settings. To offset some of the 4.5kg combined weight, I screw my monopod into the tripod collar before flicking the lens's focus mode switch to A/M (AF priority). This is similar to the lens's M/A mode, except it requires the focus ring to be rotated further before autofocus is overridden.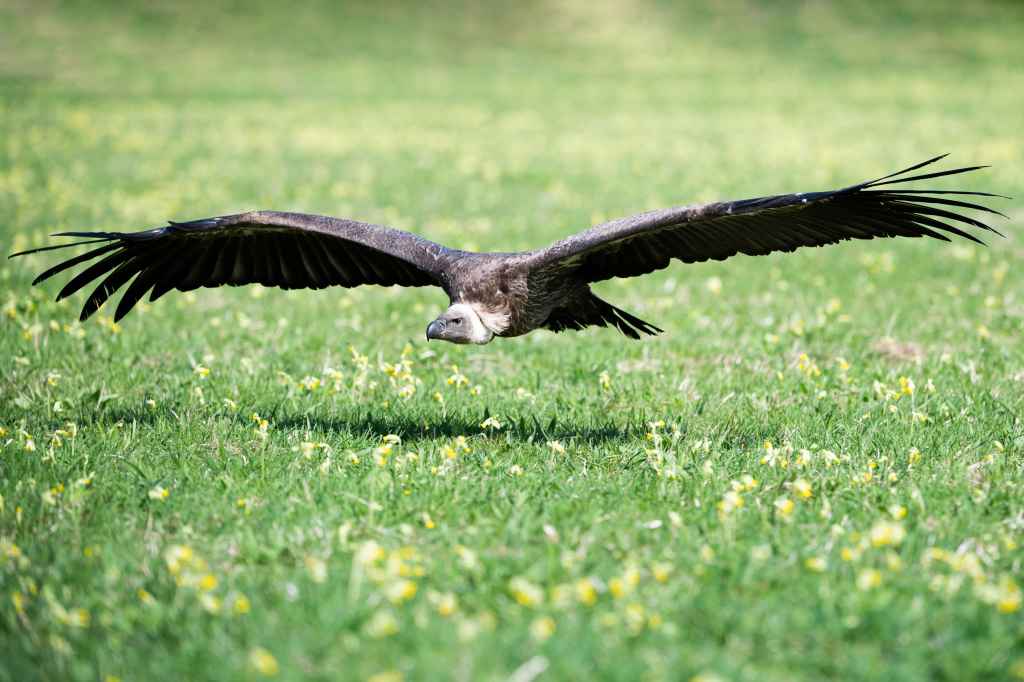 My main reason for choosing A/M instead of M/A is that it can prevent accidental changes to focus caused by unintended operation of the focus ring. Next, I check the position of the focus-function-selector switch, which is used to assign the function performed by pressing any of the four focus-function buttons around the front of the barrel. By setting it to AF-ON, the function buttons mimic the role of the AF-ON button at the rear of the camera – essentially bringing the operation of back-button focusing to the front of the lens where my left hand feels comfortable supporting it.
Combining the above with continuous AF (AF-C) and continuous high (CH) burst shooting, and then depressing one of the lens's function buttons with my thumb, gives me my first taste of how quickly and silently the lens focuses on a moving subject.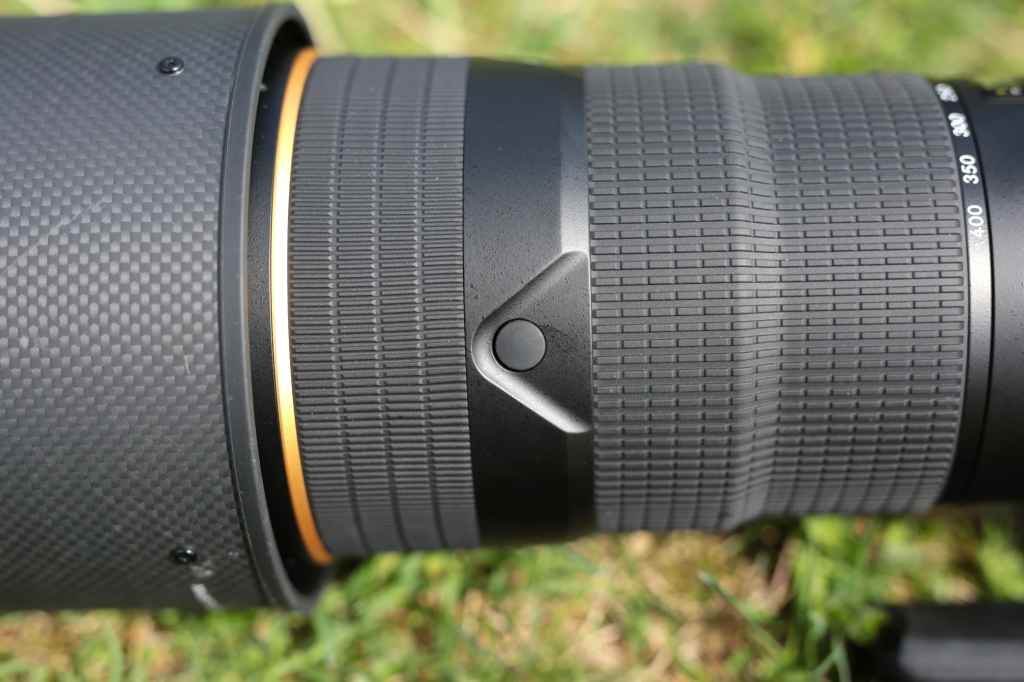 With my next burst, I realise the D850's 25-point AF area is too small for my subject and switch to 72-point dynamic area AF. With a few successful shots under my belt and the lens showing great potential, it's time to give it a sterner test. It doesn't take long before our falconer ups the ante, substituting the predictable vulture with an erratic peregrine falcon. Immediately, I find myself in need of more reach, which presents the first opportunity to try out the lens's built-in 1.4x teleconverter.
Unlike the 1.4x extender on Canon's EF 200-400mm f/4 L IS USM, the solid switch on this lens is located on the right of the barrel. What this means is that it's possible to drop the converter in using my right-hand middle finger without having to shift my left hand from the front of the lens or pull my eye away from the viewfinder. The action of the switch is incredibly smooth and there's a strangely reassuring ping as the converter is dropped in and out.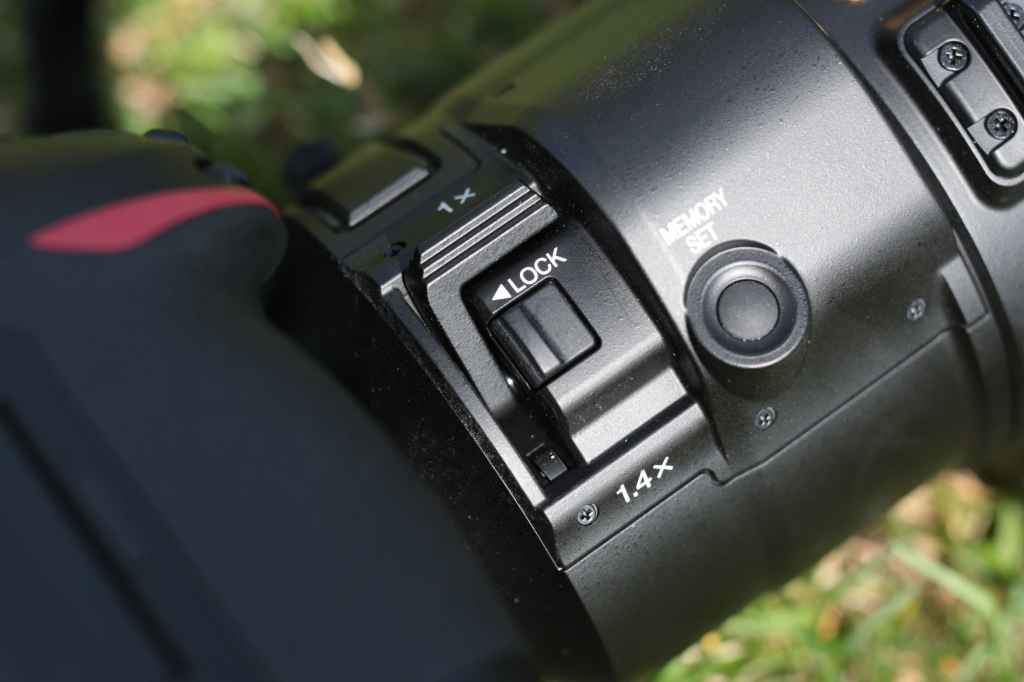 Long shots
It doesn't take long to fully appreciate the luxury of extending the focal length to 252-560mm at the flick of a switch, and by activating the D850's DX-crop mode or pairing it with an APS-C DSLR such as the D500, it can be turned into a whopper of a 378-840mm zoom. The only drawback of engaging the built-in converter is that it changes the constant maximum aperture from f/4 to f/5.6. In bright conditions, this one-stop deficit isn't a deal breaker and with the converter dropped in, I have little difficulty achieving a shutter speed of over 1/1250sec at ISO 400.
Taking a closer look at the teleconverter switch, I realise it also has a lock, which is used to prevent the converter being employed accidentally or keep it constantly engaged. My only qualm is that I'd have liked to see the background to this switch painted white, which would offer a far better visual indication of where it's set to for those who might end up using the lens in low light or at night.
Memory recall
A merlin feeding in the cowslips presents the chance to use the lens handheld. So far, I've been using it with its vibration reduction (VR) switch set to 'sport', which is designed for subjects that move rapidly or unpredictably. With my focus now turned to a bird that's not moving, I opt to switch the VR mode over to 'normal', which is designed for stationary subjects. As in sport mode, the vibration reduction takes effect when the shutter-release or AF-ON button is depressed. In quiet surroundings, I hear the VR activate and raising the viewfinder to my eye instantly reveals how effective its four-stop advantage is at counteracting camera shake, both with and without the teleconverter.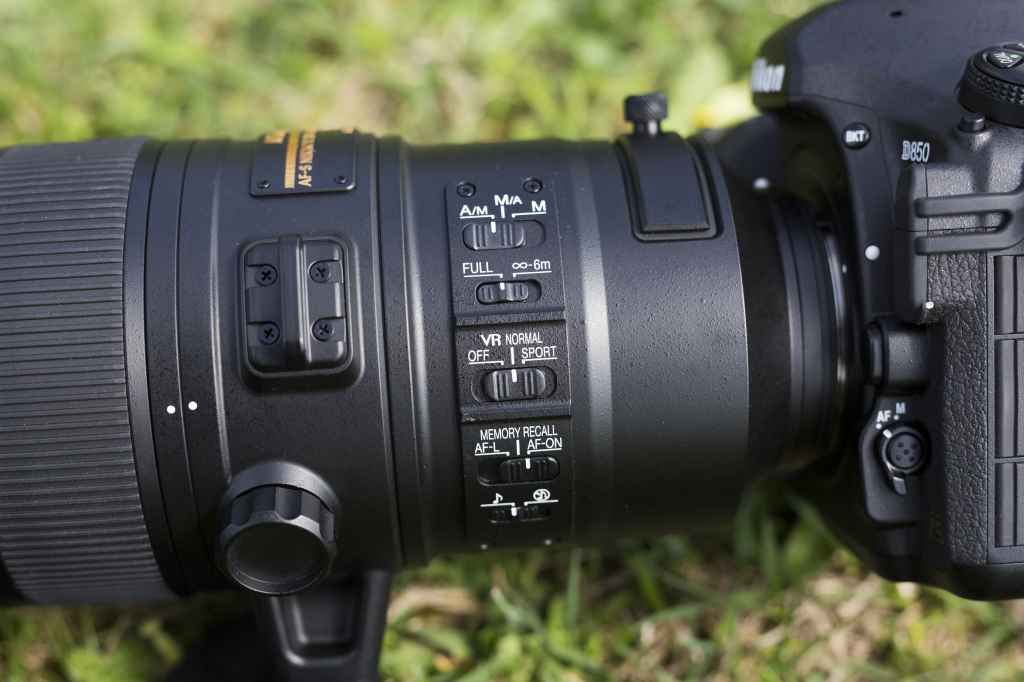 Soon, I start to regret not packing my beanbag, which is what I need right now to rest the barrel a few centimetres off the ground. Supporting the lens in my left hand while lying flat on the floor quickly becomes tiresome, and whereas other photographers around me are happily shooting with their lighter telephoto zooms, I have no choice but to take short breaks between shots.
As my fatigued arms are telling me, it's a lens you only want to use handheld for short bursts. With no time to think about reattaching my monopod, I haul the D850 back up to my eye and support the carbon-fibre lens hood in the palm of my left hand to capture a few tracking shots of hawks in flight. With my feet well spread, I have a rock-steady base ready to try out the lens's memory-recall function.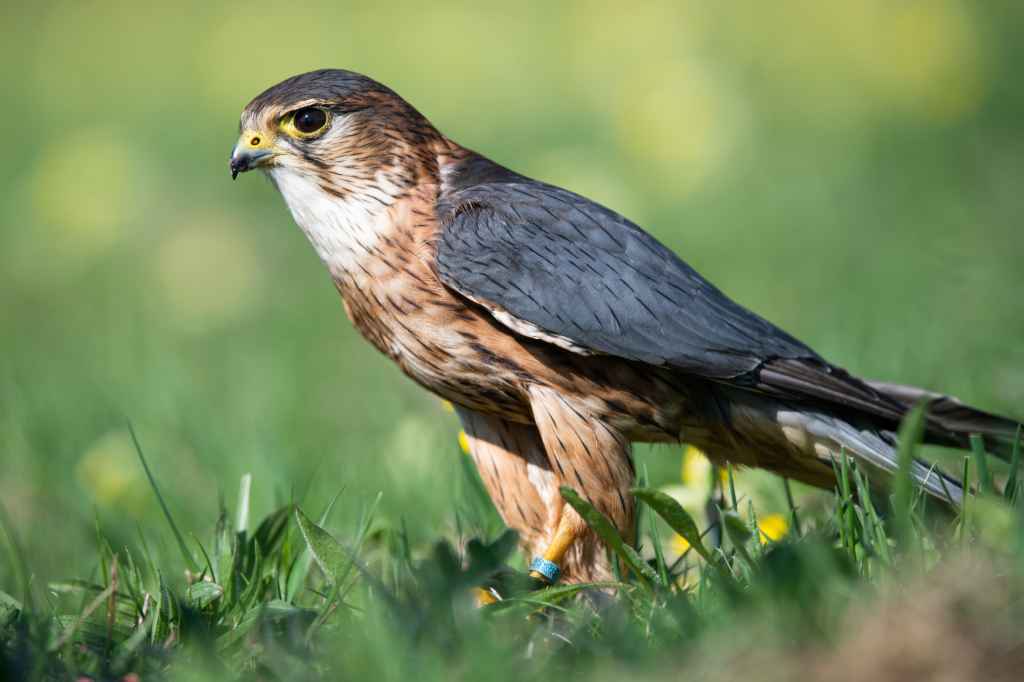 I decide to turn off the beep on/off switch, so as not to risk disturbing the birds or those beside me. Next, I use the AF-ON button on the camera to obtain focus on an area of water where food is being thrown for the hawks to swoop and catch. Holding the memory-set button for a second stores the focus distance and just before grabbing a few quick shots of the hawks circling above, I remember to set the focus function switch to its memory recall setting, ready to reacquire the same focus distance as used in my previous shots in an instant with a press of a focus function button. This useful feature is often found on professional lenses and comes into its own in the type of scenario where you'd like to get set up for one shot, but don't want to miss out on other shooting possibilities.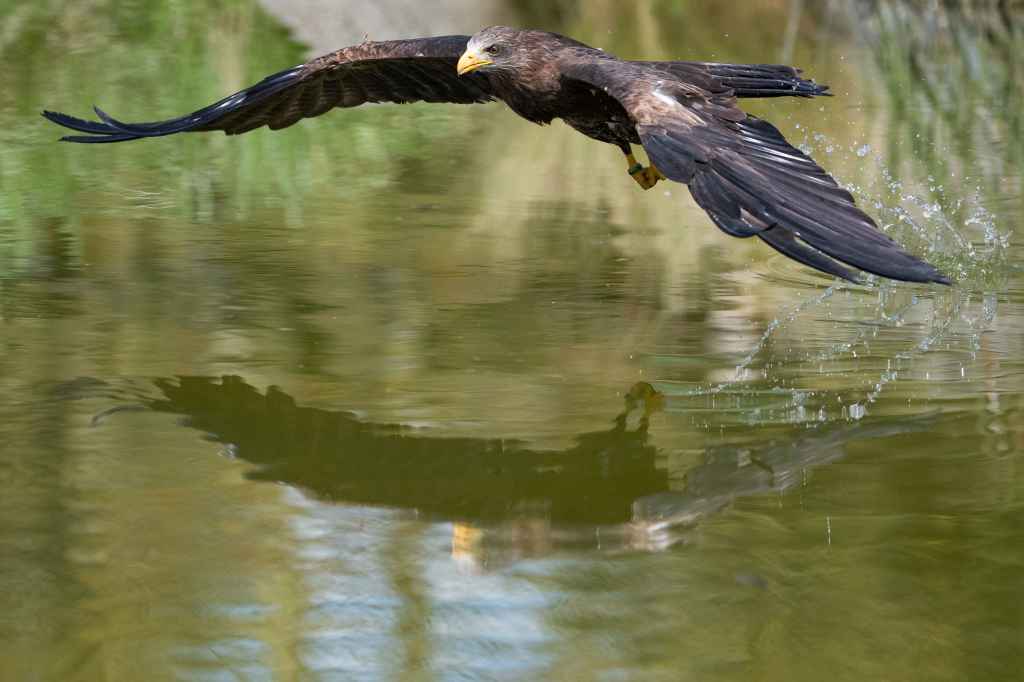 Nikon AF-S NIKKOR 180-400mm f/4E TC1.4 FL ED VR Image quality
More than 2,000 images later, I call it a day and, later that evening, import my shots into Lightroom. For £11,000, I expected the lens to deliver a special optical performance, but I quickly discover its outrageous sharpness, united with the D850's outstanding resolution, exceeds my expectations and then some. Sports and wildlife photographers will immediately fall in love with the quality of out-of-focus areas and the bokeh it creates throughout its zoom range. It's sharpest at the wide end of the zoom between 180mm and 300mm, but even at full telephoto and with the converter engaged, image quality is extremely impressive.
The optimum sweet spot is found around f/5.6-f/8, but being a wildlife and sports lens where speed is essential, it's likely to be used most frequently at f/4. Colour fringing is virtually non-existent with and without the teleconverter engaged and although vignetting is apparent in images taken at f/4, it quickly disappears by f/5.6. At the time of testing, a profile wasn't available in Lightroom CC. However, Adobe should release one as part of its update programme soon, which would mean vignetting correction at f/4 becomes a one-click fix.
Nikon AF-S NIKKOR 180-400mm f/4E TC1.4 FL ED VR Verdict
Just as avid car enthusiasts like to read about the newest Aston Martin or Ferrari, photographers love to know about the best kit money can buy. If money was no object and you're a Nikon user who requires the very best zoom lens to get up close to distant subjects, you'd put your name down for this lens in an instant.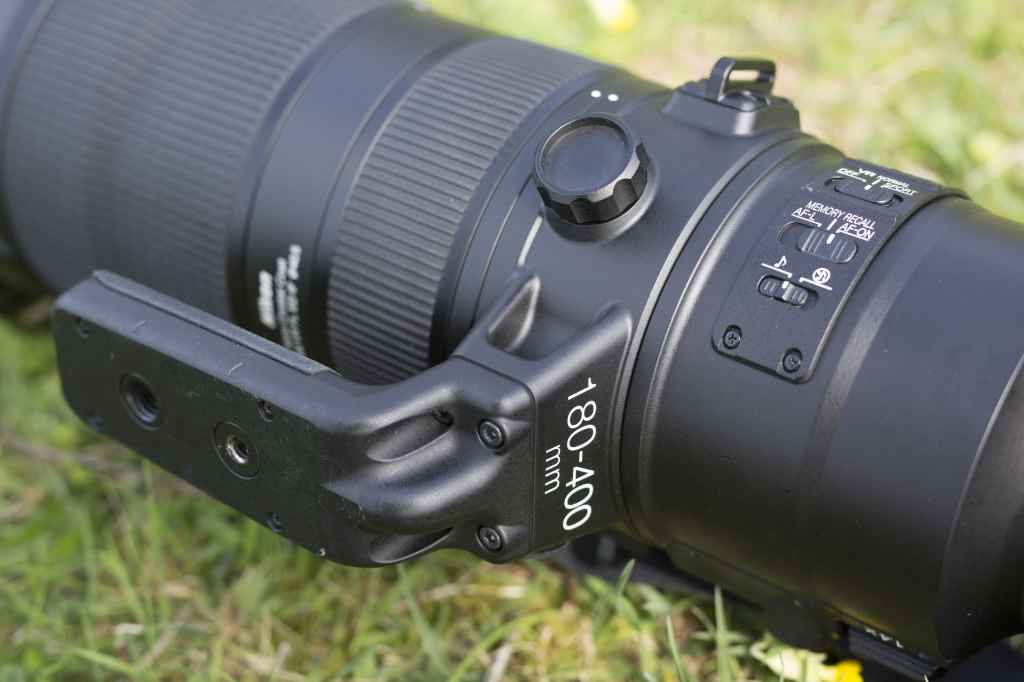 I discovered, there's the issue of handling such a heavy beast over a prolonged period, but this aside, it's a dream lens that's capable of delivering mesmerising results in the type of sporting and wildlife environments its been made for. In the real world, I see it being bought by press photographers or the type of working pro who demands a faster maximum aperture than Nikon's more affordable AF-S 200-500mm f/5.6E ED VR (£1,399) and the convenience of the wonderfully executed drop-in 1.4x teleconverter – something Nikon's older AF-S 200-400mm f/4 G VR II ED (£7,599) doesn't have.
Pros will need it to make money quickly to offset the huge initial outlay, but it certainly has the potential to do just that, what with its image quality superior to anything you'd take on a cheaper lens covering a similar focal length.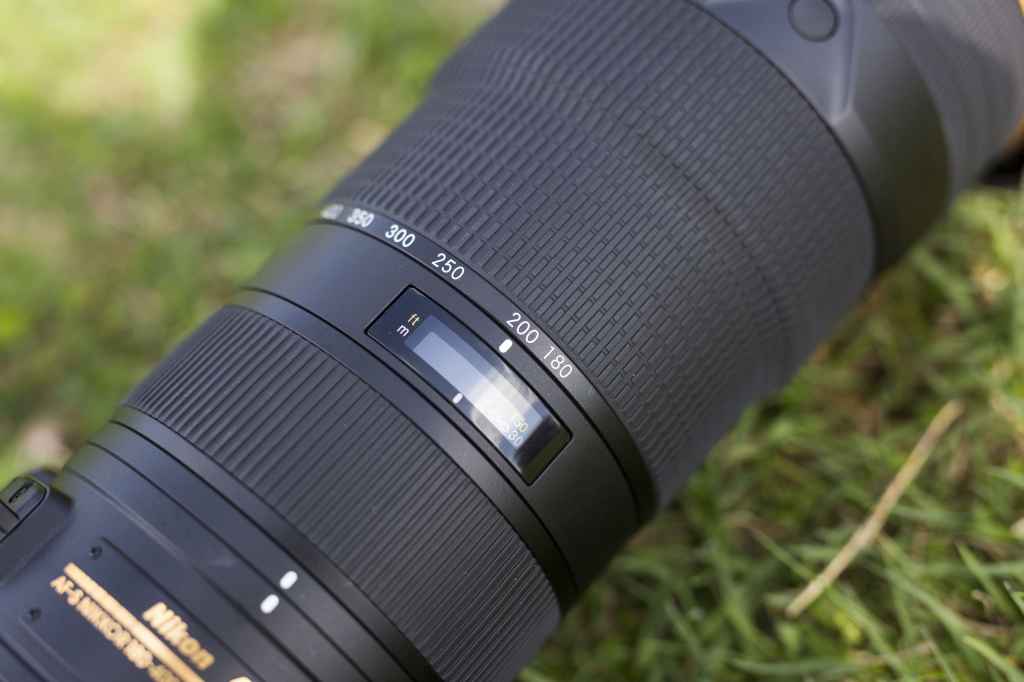 If you'd like to hire the Nikon AF-S NIKKOR 180-400mm f/4E TC1.4 FL ED VR on a short three-day loan, expect to pay around £290. To hire it for a week you'll be looking closer to £400. There's also the small matter of putting down a deposit to cover against damages, which would be refunded upon its safe return. We always recommend reading the small print as this can vary from one company to another. 
To summarise, Nikon has created an absolutely sensational lens, it's just a shame that its high price will have the final say over the number of photographers who get to use it.
To view more images taken using the Nikon AF-S NIKKOR 180-400mm f/4E TC1.4 FL ED VR at the Hawk Conservancy Trust, check out our sample image gallery.
Amateur Photographer would also like to express thanks to TimeLine Events for making this review possible.