Every now and then a new product arrives on the market that's so useful, it makes you wonder why it was never thought of before. This is exactly how I felt when I used Manfrotto's XUME filter adapters for the first time a year ago, which uses the power of magnetic force to lock filters onto lenses quickly and easily.
The idea is simple, but effective. A magnetic adapter ring screws onto the front of your lens, while the filter itself screws into a metal filter holder. These two parts then snap together securely and can be pulled apart with ease – significantly reducing the time and effort involved with screwing a filter onto the front of your lens and vice versa. This system is all well and good if you use circular screw-in filters, but what if you've invested in larger filters of the 100x100mm or 100x150mm variety that slot and hold in position via a filter holder?
This is what Chinese filter manufacturer H&Y has looked to overcome with their magnetic filter frames, which have started to cause quite a stir with landscape photographers who'd like a quicker, easier and more efficient way of attaching filters out in the field. So how exactly has H&Y achieved this, and more importantly, have they been successful?
Magnetic frames
H&Y's quick release filter system centers around its magnetic filter frames, which are available in two sizes and cater for those who use either 100x100mm or 100x150mm filters. The magnetic filter frames, which consist of two magnetic sides and non magnetic top and bottom sections, are compatible with both glass or resin filters and are designed for filters no thicker than 2mm.
Once the magnetic frames have been pushed onto the side of your filter, they then clip into top and bottom frame sections to form a border right around the edge of your filter, safeguarding the edges from getting chipped and offering extra protection from glass filters shattering should they get knocked or accidentally dropped. A fair amount of force is required to clip the sides into the top and bottom sections, but once attached you can rest assured knowing they won't budge or work loose.
Of course, it's all very well fitting a filter with a magnetic filter frame, but without magnets on your filter holder there's nothing to stop it plummeting to the ground. I'll touch on the K-series filter holder H&Y makes shortly, but the great news for those who already own a LEE Filters, Formatt HiTech, or Nisi filter holder is that they can be modified to accept H&Y's magnetic filter frames using what are known as holder adapter strips.
Holder Adapter Strips
Modifying your filter holder to accept a filter equipped with an H&Y magnetic filter frame only takes a few minutes and is clearly outlined in our step-by-step guide below. Essentially all you need to do is unscrew your existing filter holder slots and replace these with H&Y's magnetic holder adapter strips, which are specially made for the holder you use.
In the case of my LEE Filters holder, two foam gaskets were also supplied and fitted above and below the hole of the facia, which are especially important when using either the LEE Super, LEE Big or LEE Little Stopper ND filters. The purpose of these gaskets is to provide protection against unwanted light intrusion during long exposure photography and allows the soft gasket fitted to the rear of the filter to squeeze against the gasket fitted to the filter holder. The gaskets are self-adhesive and can be peeled off if you'd like to return your filter holder back to its original condition with its original filter holder slots.
With the magnetic frames fitted to your filters and the holder adapter strips fitted to your filter holder you're ready to take full advantage of being able to quickly snap filters into place. The benefit of the magnetic system goes beyond attaching filters quickly and easily. You'll notice on the side of the magnetic frames there are lines and arrows, which can be used as a form of measurement against the lines and arrows on the holder strips attached to your filter holder to ensure a filter, such as an ND grad, is used at exactly the same position between shots.
Another great thing about the magnetic frames is that they allow you to securely stack filters one on top of the other, plus you can adjust their position by sliding them up and down without feeling like they're going to fall off.
Attaching the holder adapter strips – step by step guide
Converting your current filter system for use with H&Y's quick release magnetic filter frames involves a few simple steps. For the purpose of this step-by-step I illustrate how to adapt a LEE Filters 100mm filter holder – a process that takes no longer than ten minutes with a few basic tools.
Step 1
Start off by placing your filter holder on a flat, even surface. Use a flat-head screwdriver to loosen the screws that secure the filter slots to the filter holder. Once the screws are removed, place the slots and screws in a small sealed bag so you can keep them safe and reuse them again at a later time if required.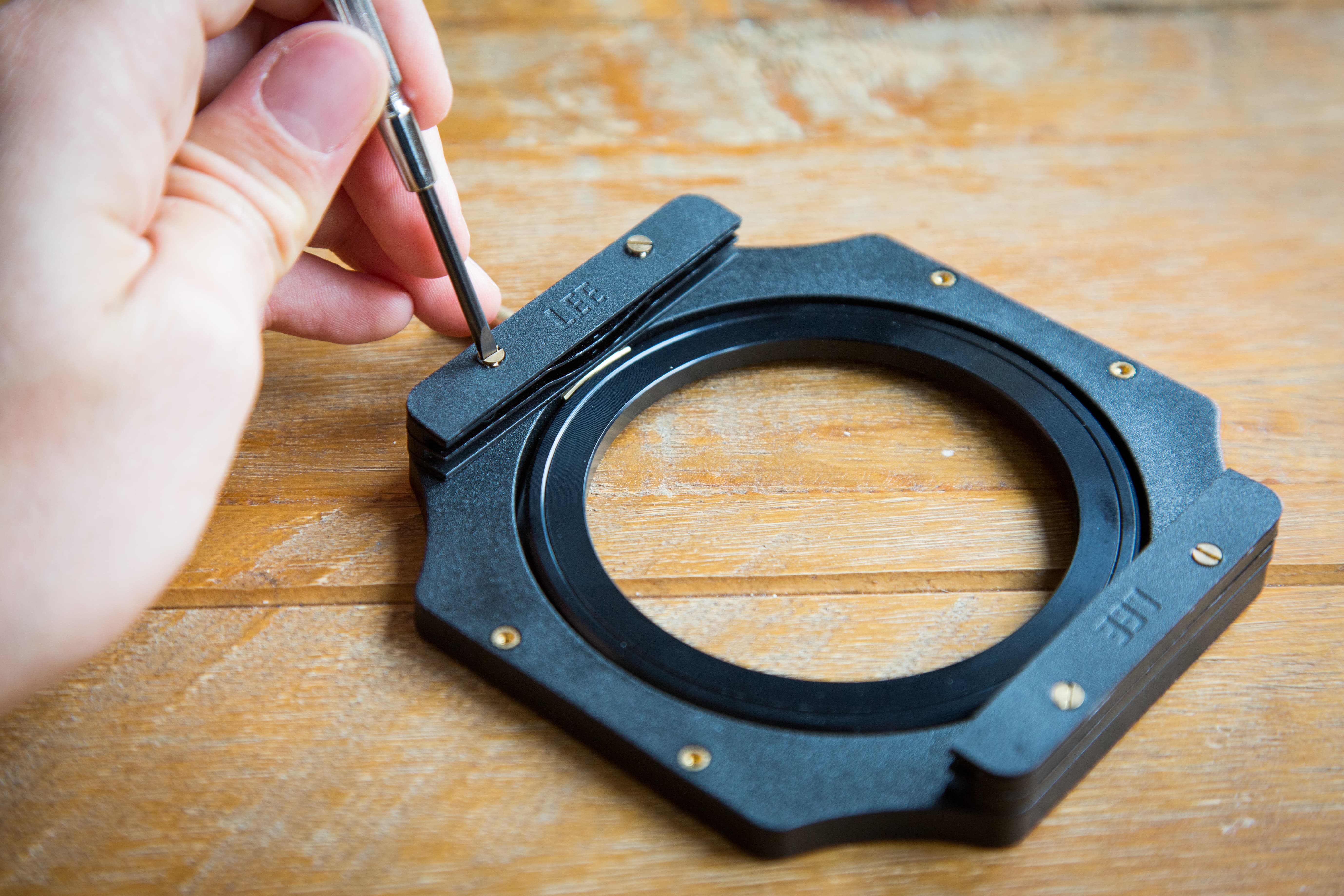 Step 2
Open the contents within the H&Y holder adapter strips box. You'll find the contents is divided into two smaller boxes – one of which contains a set of screws and screwdriver and in the other you'll find the magnetic strips wrapped in paper. Unwrap the magnetic strips and separate the larger screws from the smaller ones.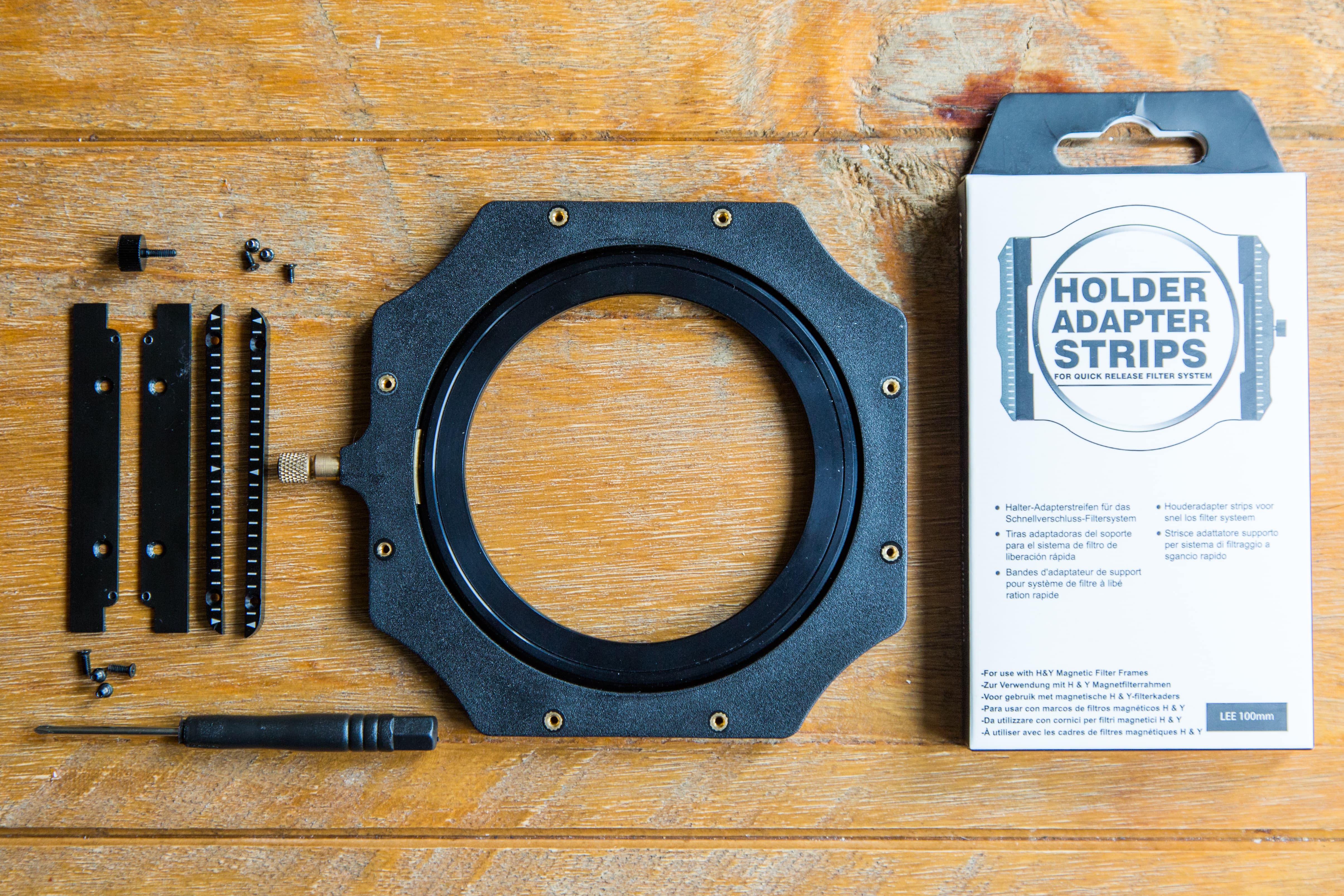 Step 3
Pick up the flatter of the two metal strips (the ones that aren't marked with white lines) and locate these soft side down with the holes of your filter holder. Use the larger, slightly longer screws to secure these metal strips to the filter holder with the supplied screwdriver. Don't over tighten or you may risk damaging the screw head.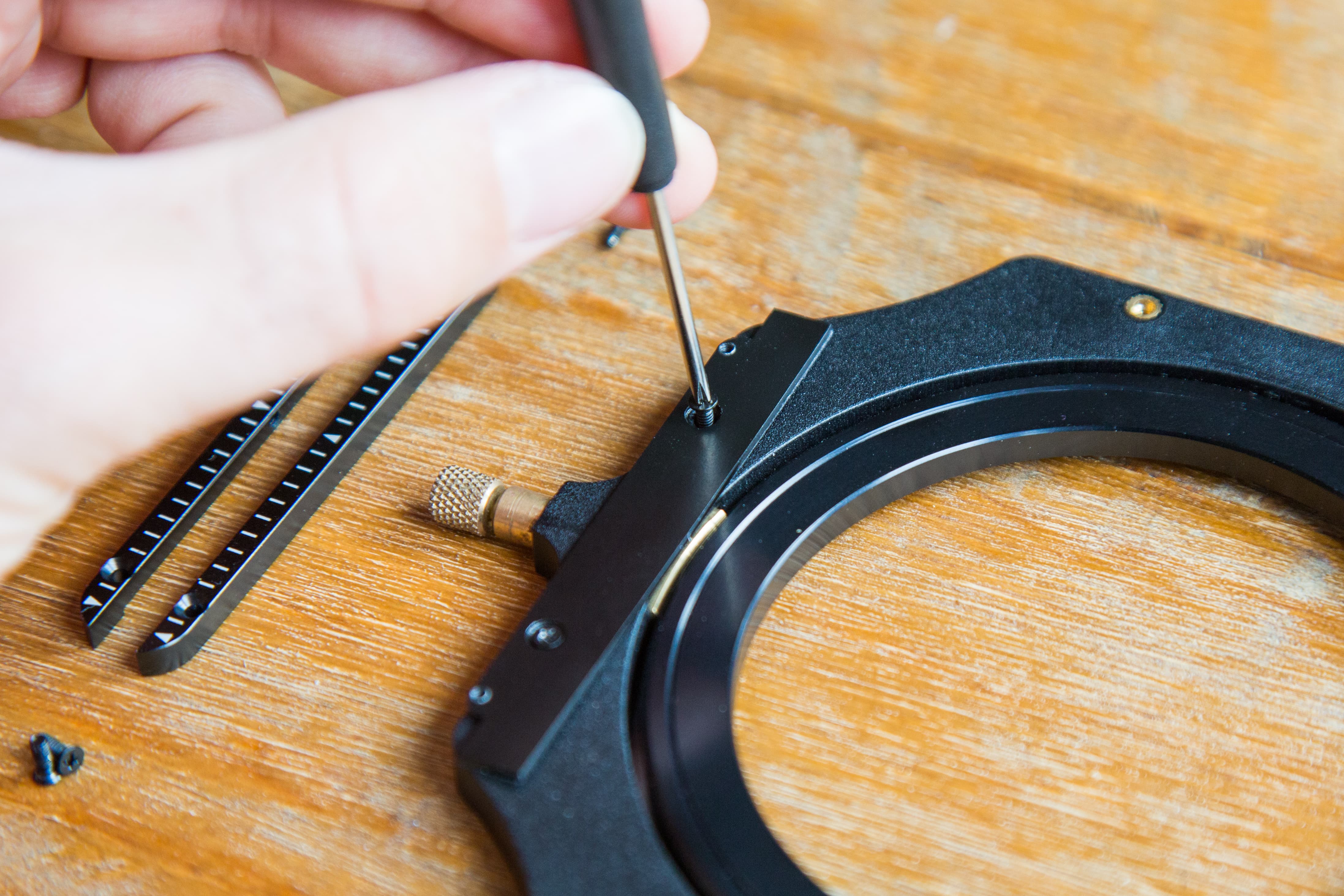 Step 4
Take the thin metal strips with the white markings and place these on the flat metal strips you've just secured to the filter holder. You'll find they locate nicely. Next, use the remaining smaller screws to secure these strips top and bottom. Next secure the supplied foam gaskets above and below the facia of the filter holder.
Step 5
Once the magnetic adapter strips and gaskets are in place, screw the filter lock in at the side. To fit the magnetic filter frame to your filters, you're required to extract the 3M backing tape from within the groove of all four frame sides before placing the top section of the filter frame to the uppermost edge of the filter.
Step 6
With the star at the top of the bar, align both side filter frames to the edge of the filter and click the hooks into the upper frame corners to secure. This is the fiddliest part of the process. Lastly, align the base filter frame section to the bottom of the filter and click the hooks into the corners. Give the filter a wipe with the supplied cleaning cloth.
In use
Once I'd fitted my LEE Filters Big Stopper, Super Stopper and set of ND grads with magnetic filter frames and modified my LEE Filters filter holder to accept them, I ventured to Falling Foss waterfall in North Yorkshire to find out how the system fared in use.
Within minutes of setting up the camera and pulling my Big Stopper fitted with an H&Y magnetic filter frame from my filter pouch, I began to value the convenience of offering my filter up to my filter holder and it snapping into place, whilst being able to pull it off again in a fraction of a second when recomposing or attaching a different filter.
The quick-release snap-on, snap off nature of the system speeds up your workflow when working with long exposure filters, and by handling the filter by the magnetic frame rather than the filter itself, it reduces finger marks and provides extra reassurance that your expensive filter is better protected should it slip from your grasp.
The magnetic force is strong to the point you won't be afraid the filter frame is going to slip or fall out the holder and you're provided with a securing screw at the side that can be used to keep the filter mounted closest to the lens locked from sliding up or down. You'll just want to be wary that this engages with the edge of the filter frame and doesn't slip beneath, which did happen to me a couple of times.
I experienced no sign of any slipping when three filters were mounted one top of one another and a detailed inspection of my results confirmed that no images suffered from any light intrusion.
H&Y K-series filter holder
If you don't already own a filter holder, or one that's compatible with H&Y's magnetic filter frames through the use of magnetic holder adapter strips, you may want to consider H&Y's K-series holder. It features its own HD MRC CPL – a 95mm polarizing filter made from German Schott B270 glass that when inserted can be adjusted via a smooth geared mechanism, preventing you having to touch the filter itself.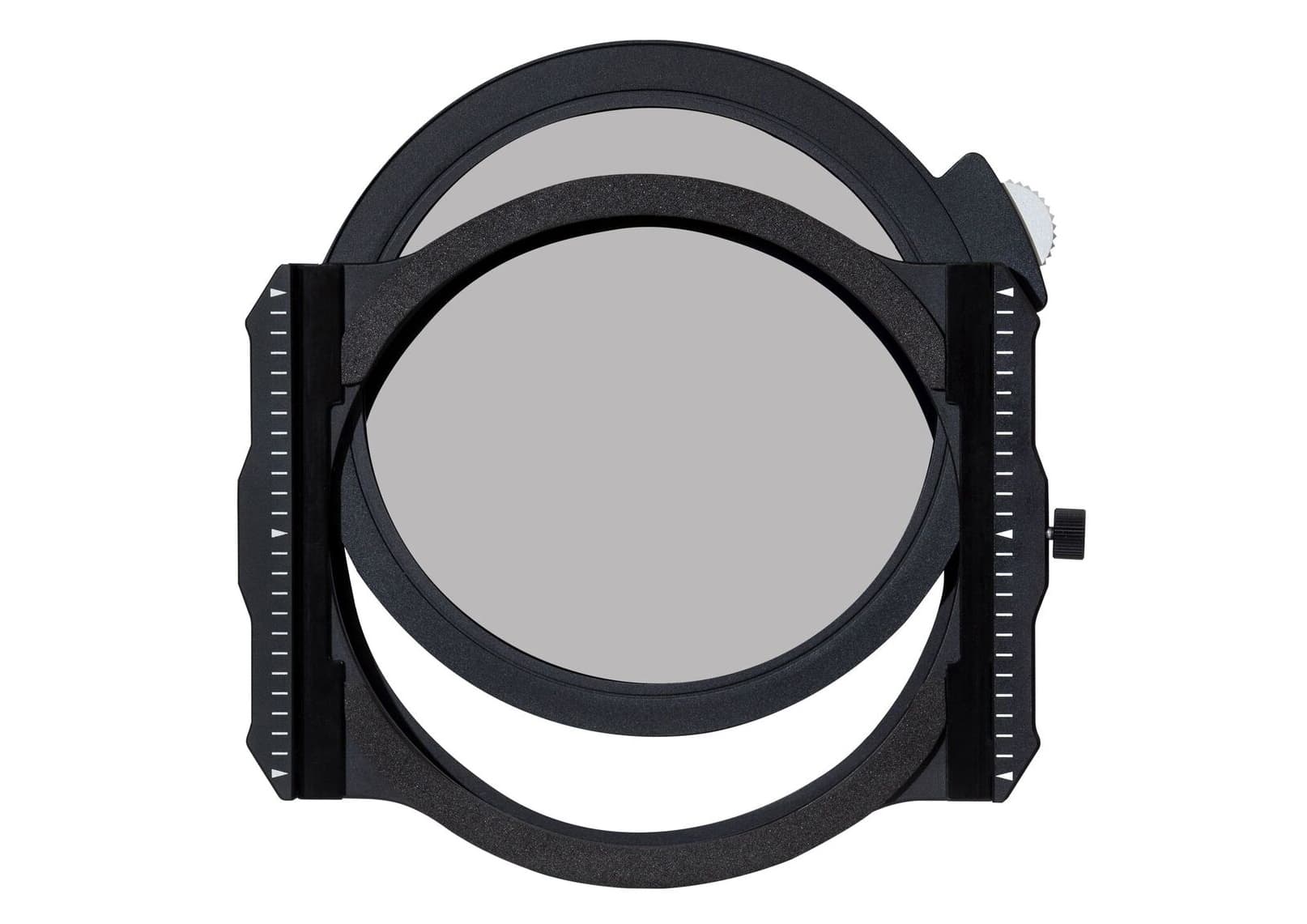 The holder comes with four adaptor rings (67/72/77/82mm) and a cover plate that's exchanged for the polarizing filter when it's not being used is included. The K-series holder also features a foam gasket above and below the hole of the facia to create a light-tight seal with long exposure filters. As I discovered though, this is slightly raised from the magnetic strips, meaning there's a small gap between the magnetic filter frame and the magnetic filter holder strips when attaching a filter that has its own gasket attached such as Lee Filters Big Stopper. Using my modified LEE Filters holder with holder adapter strips proved to be the more secure magnetic setup of the two.
Verdict
If you're a regular user of 100x100mm or 100x150mm filters and you would like a faster, easier and more convenient way of attaching your filters to your filter holder, H&Y's magnetic filter frame system is a great solution. Not only will you find that it speeds up your workflow, allowing you to painlessly remove a filter and reattach it in seconds, there's the potential to stack filters on top of one another and align them with the markings on your filter holder to create results with better consistency.
What's more, the magnetic frames themselves offer better protection for your filters and help prevent damage and troublesome fingerprint marks. I did find that the magnetic filter frames needed a little persuading to fit my filters though and the only issue I found with all the top of the filter frames looking identical was knowing which filter was which in my filter pouch. Some may find themselves doing what I did and add sticky labels or coloured stickers to the top of the magnetic filter frames for quick, instant referral.
If you already own a filter holder that's supported by H&Y's holder adapter strips, converting it to accept H&Y's magnetic filter frames isn't expensive (£15), but this cost can soon add up with 100x100mm filter frames costing £23 each and 100x150mm filter frames costing £25 each. If you own a small number of filters, I'd say it's well worth the money for the convenience and practicality these magnetic filter frames bring to shooting outdoors, however if you own many filters it could add up to be rather costly.
Magnetic filter frames certainly seem the way forward for landscape photographers and it's great to see a company like H&Y making theirs available to a wide range of users without forcing people to buy a new filter holder. Overall, this is a genuinely useful filter accessory that comes highly recommended.