Visitors to The Photography Show were spoilt for choice with the range of talks available, from the Super Stage headliners through to demonstrations and how-to's on the Behind the Lens and masterclass stages. Over the four days of the show, Shutter Street talks including Brian Lloyd Duckett's '10 killer tips for street photography' and Alex Benyon's 'Street photography mindfulness' gave an insight into projects, with photographers sharing their top tips for shooting on the street. We share some below:
Know where you fit in
Decide what kind of street photographer you are and what street photography you are interested in.
In his talk, Brian asked "are you the hunter or are you the fisher?". A hunter is always on the move and searching for opportunities. A fisher, is slower in approach and waits for the moment, e.g. the light to change or a person to walk past.
How you go about taking photographs on the street will depend on whether you have an interest in aesthetic and visual appeal (i.e. focusing on the urban landscape and architecture), or a people approach. If you find it difficult to get into people's faces, then maybe aesthetic is for you.
The only way is projects
Street photography can fit around everyday life. But if you give yourself a personal project, or a challenge, you are likely to be more tuned into what's happening rather than just waiting.
Having a project will make you more focused and motivated on what you are doing and the end results you are searching for. Consider how you will share the end results of the project. This could be in the form of a photobook, a zine, exhibition or website.
Try going out to shoot with a theme of challenge to focus on, whether that's shooting just architecture or in black and white.
Street camera settings
Of the talks we visited over TPS, all of the photographers said: don't worry about camera settings!
If you are concentrated on your camera settings then you will slow yourself down. Brian suggests to set up the settings and then leave it there. Set your camera to aperture priority, auto ISO is also very handy. Brian also sets his shutter speed at a minimum of 1/200 secs.
Alex says to let the camera do as much as possible. He uses AP priority, auto ISO, and shoots in F/4 to get as much as the scene as possible in focus. But he suggests, it doesn't matter if you shoot in complete auto, just capture the moment and get the shot.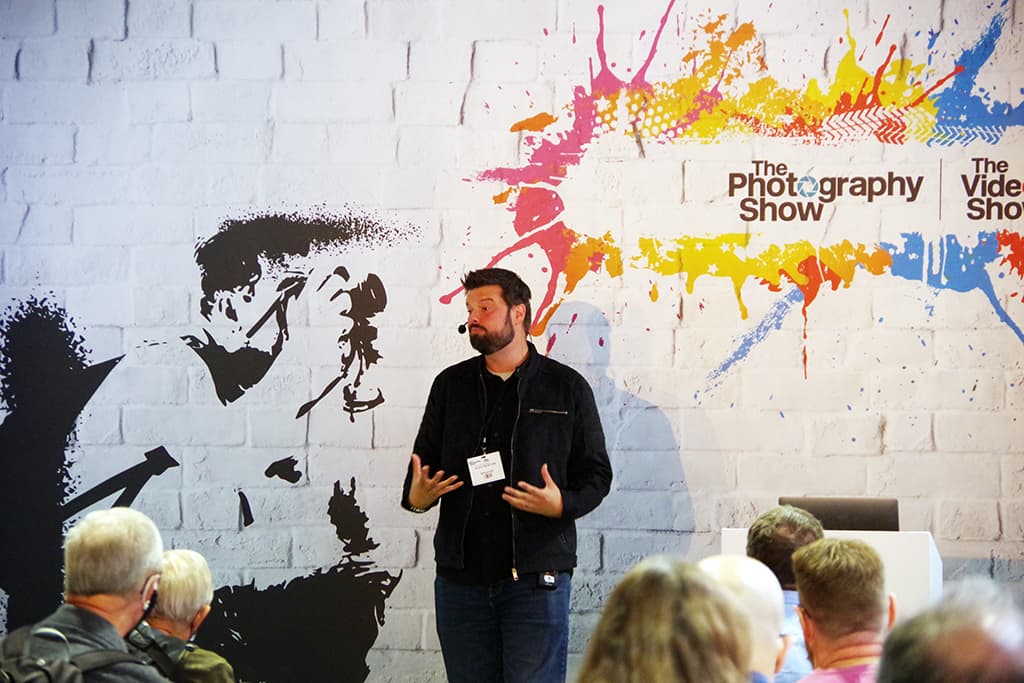 Play the long game
Don't expect immediate results because it just won't happen. Don't put pressure on yourself with high expectations. Practice skills, especially observation. Brian insists you should not just take one picture of an interesting scene. You should exploit it. Take loads of pictures and from different angles.
Alex also recommends visualising the scene before it happens. Set up your composition and lighting in advance, so that when something happens, it feels like someone has walked into your photo, rather than you taking a photograph of them.
Think layers
Fill your composition with different layers of imagery to add another dimension to your images. Capturing different things happening within the foreground, middle ground and background is a great starting point, as it gives depth and volume. Look for colours, interesting light, geometry, textures and contrasts!
Do it with confidence
There is nothing wrong with doing street photography and anyone can do it! You're allowed to do it, just don't look shifty and avoid eye contact with people. Relax and be proud.
If someone comes up to you, be honest and explain what you are doing. If they aren't happy with being included then delete the photograph. Be nice! If you aren't comfortable explaining what you are doing, then the image probably isn't appropriate.
Become streetwise and be reactive
Connect with the streets and understand what is going on. Study body language, learn to participate and find beauty in the mundane. There is something beautiful in an ordinary place.
Don't linger too long or watch the people in your scene. Alex says to try shooting from the hip, which can be slightly more subtle for taking photographs without drawing attention to yourself. Get everything ready for taking an image, then just press the button when the moment arises.
If things aren't working, then try a different time of day. But scenes can change quickly, so you need to be reactive.
Get inspired
Study the greats for inspiration! For example, Elliott Erwitt, Bruce Gilden, Henri Cartier-Bresson, Fan Ho, Matt Stuart, Nina Kling, Joel Meyerowitz, and Alan Schaller.
Read lots of books, visit museums and galleries, experience street photography in workshops. Most importantly, just get out on the streets!
All the gear no idea
You don't need to spend loads of money on the latest gear to be able to do street photography. If you have a camera and go out onto streets, you can do street photography. You can even just use your phone!
Alex uses 35mm and 50mm lenses, the smaller the better. He says, the 35mm is very natural as it is a close reproduction of the human eye. Going out with a zoom lens can be very intrusive.
Street photography is also free, you don't need to hire a studio or models.
Forget about perfection
Street photography is not about perfection, and imperfections can actually make a photograph. Come rain or shine, you can get great photographs.
If you see it, you can shoot it
In the UK, you can freely take photographs on the streets and publish. You don't need a person's permission to take or use photographs, unless it is for commercial use (i.e. to promote a camera brand).
However, it's not recommended to take photographs of children or vulnerable people.
If you are unsure, just ask!
Do it for you
Doing street photography is more rewarding when you do it for yourself, rather than the feedback you get from those seeing it.
---
Further reading
New to street photography? Check out our Beginners guide to Street Photography here.
Top tips for striking street photography
What makes great street photography?
Meeting a master of street photography