The Hasselblad 500C space camera was used by astronaut Wally Schirra, a camera enthusiast, who bought it at a camera shop in Houston, Texas, in 1962, complete with an 80mm Zeiss Planar f/2.8 lens.
The Swedish-made camera, the first Hasselblad in space, was snapped up by an unnamed UK collector for $281,250 – sending its presale auction estimate of $50,000-$100,000 into orbit.
Its previous owner had paid less than $15,000 for the camera in 1994.
Schirra (pictured above) is said to have carried the kit into orbit aboard the Mercury-Atlas 8 rocket mission in 1962. Until then, cameras had only been used to record on-board flight data, according to Boston-based auction house RR Auction.
'This really is an important piece of space history. This is the camera that changed the way the Earth was viewed,' said RR Auction's vice-president Bobby Livingston.
'It went for so much money because it comes with letters from astronaut Gordon Cooper which gives clear title to the owner… after the USA passed a law in 2012 giving ownership of these types of items to the astronauts,' he explained.
'We are thrilled, as is the consigner… and most importantly, it has been sold to a major space artifacts collector based in the UK; a space historian who pledges to properly curate this camera.
'It is a museum-quality piece and it will be in great hands for future generations.'
Pre-mission modifications to the 500C included the installation of a 100-exposure film container.
The camera was also used by astronaut Gordon Cooper on the next Mercury space flight.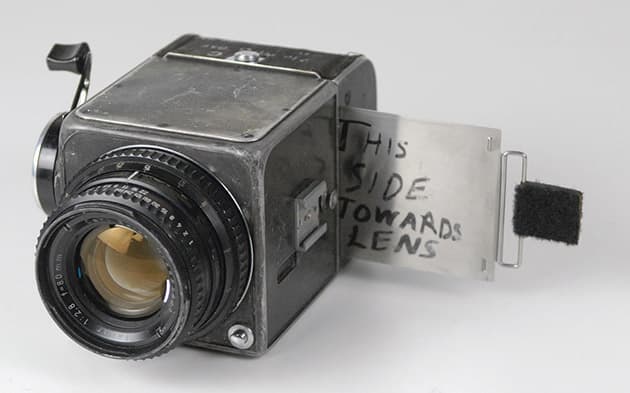 RELATED ARTICLE
First Hasselblad in space revealed