Born in St Louis, Missouri, in 1903, the documentary photographer began taking snaphots of his family and friends with a small Kodak camera.
Towards the end of his life he took to using a Polaroid SX-70, reportedly securing an unlimited supply of film from the instant-camera maker.
The 19 images on display were part of an exhibition at the Museum of Modern Art in Oxford (now called Modern Art Oxford) soon after the photographer's death.
Announcing the online exhibition, Beetles+Huxley said in a statement: 'Evans began experimenting with photography in the late 1920s, and spent his early career photographing the streets of New York, using high and low angles, patterns of light and shadow and various compositions.
'Evans gradually moved away from this highly aestheticised style, soon securing a reputation as America's preeminent documentary photographer, powerfully and precisely describing the plight of the Americans hit hardest during the Great Depression.
'In 1935, Evans was hired as an information specialist by the Farm Security Administration (FSA), which developed aid programmes for impoverished farmers during the Depression years.
'FSA photographers were assigned to document small-town life and their images were subsequently used as evidence of the extreme poverty in rural United States.
'It was during this time that Evans created his most important and significant work, partly for the FSA and partly with the writer, James Agee, for Fortune.
'The latter project resulted in the groundbreaking book, Let Us Now Praise Famous Men (1941).'
The online exhibition runs from tomorrow until 27 April.
The images are also available to buy as prints.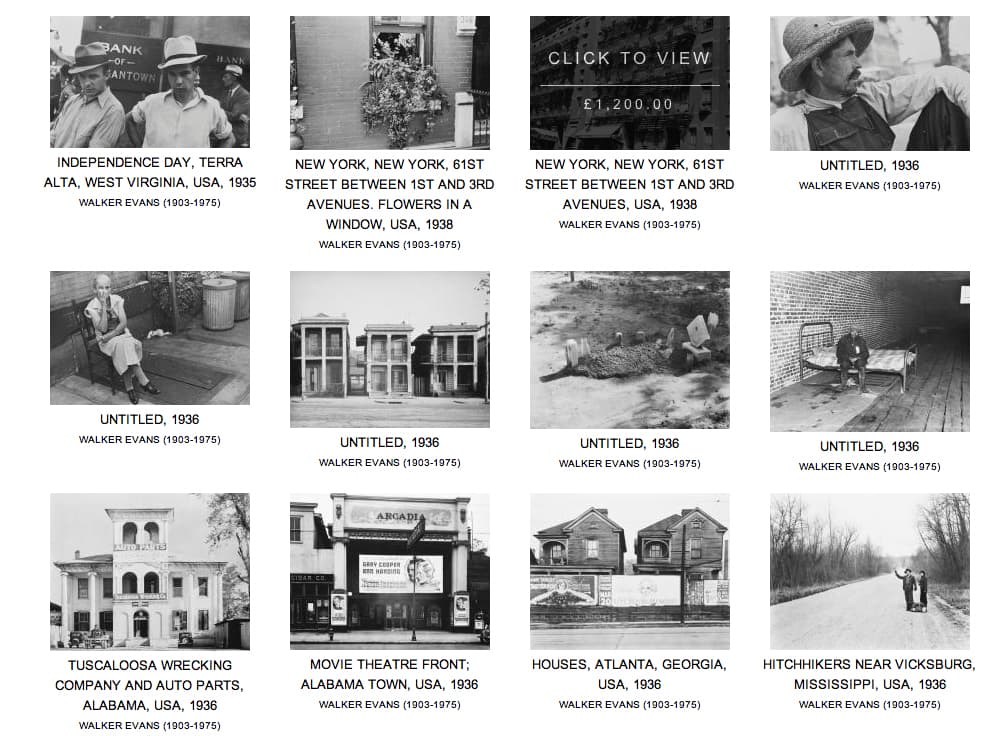 Beetles+Huxley claims that, for photographic collectors, 'this represents an extraordinary to own Walker Evans prints of high quality and exceptional provenance'.
The gallery added: 'Evans' powerfully uncomplicated images of rural tenant farmers, and the sites and relics of their meagre existence, soon became iconic.
'Evans continued to work for FSA until 1938. His captivating images earned him the first exhibition of a solo photographers work ever to be held at The Museum of Modern Art, New York.'
To view the images visit the Beetles+Huxley website.
New to street photography? Check out our Beginners guide to Street Photography here.