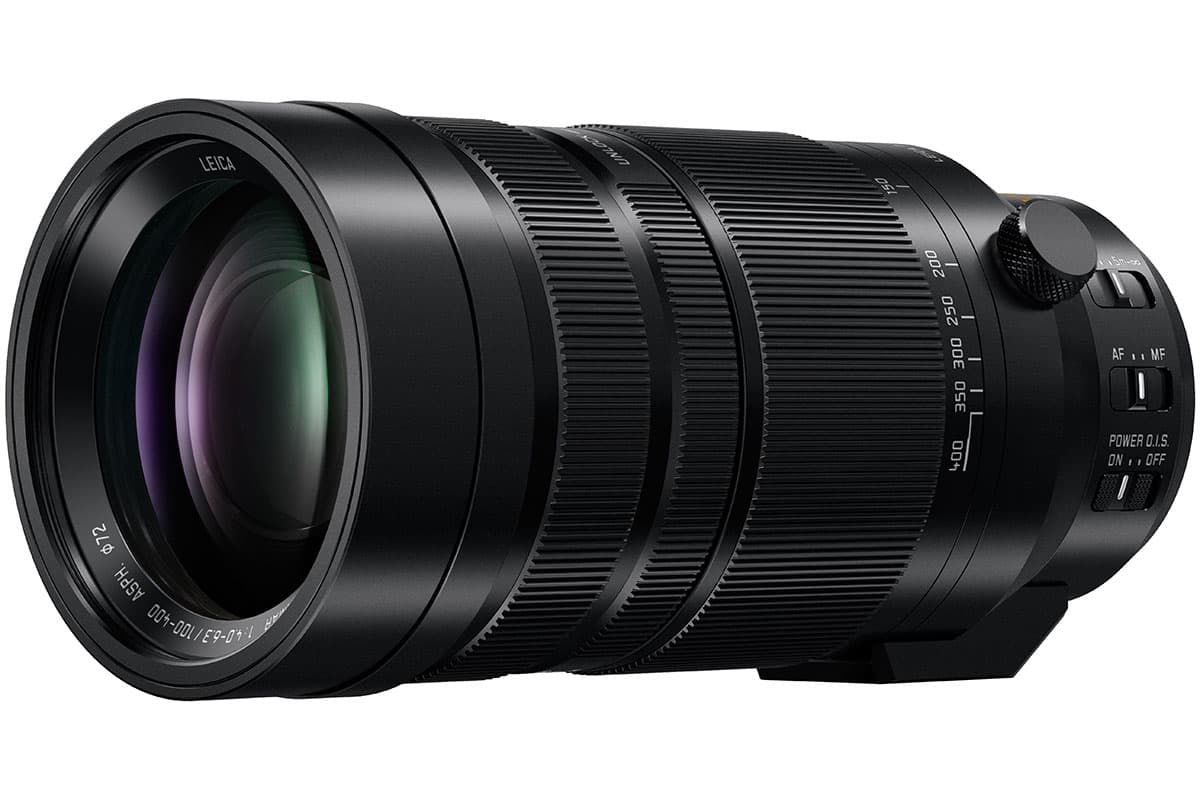 The Panasonic Leica DG 100-400mm f/4-6.3 OIS is a premium telephoto zoom for Micro Four Thirds cameras. It's a weather-sealed, optically-stabilised lens with a 200-800mm equivalent range. With silent autofocus and a stepless aperture mechanism, it's optimised for both stills and movie shooting, including 4K. It's also compatible with the Lumix DMC-GX8's dual IS system.
Measuring 171.5 x 83mm and weighing less than 1kg, the lens is relatively compact considering its lengthy zoom range. Its optical formula consists of 20 elements in 13 groups, and the filter thread measures 72mm. The lens has a built-in tripod mount ring with a detachable foot, and cleverly the focus mode, IS and focus distance limiter switches rotate with it, so they stay in the same position relative to the camera body. There's also a rotating ring to lock the zoom position, and a built-in shallow sliding hood.
With an RRP of £1349, the 100-400mm will be available in March.
---
Press release:
Panasonic Launches LUMIX G 100-400mm Telephoto-Zoom, LEICA DG VARIO-ELMAR Lens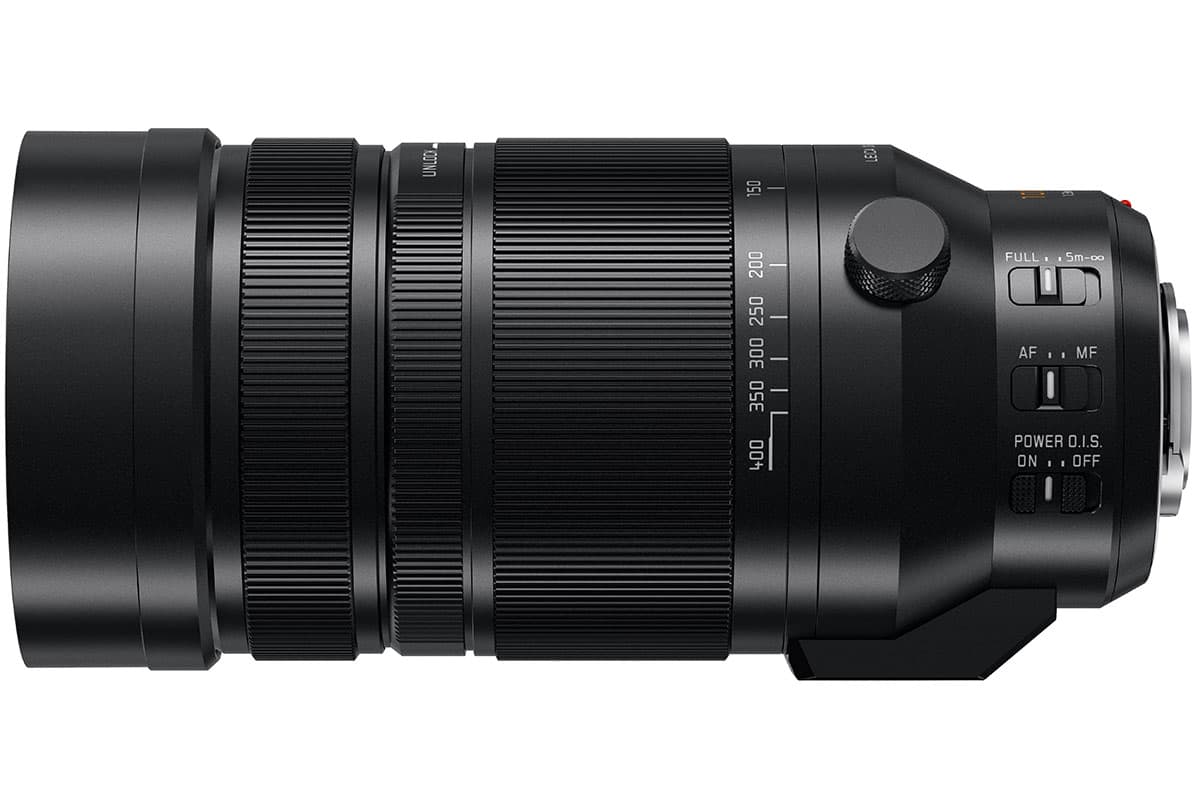 New lens combines 200-800mm zoom (35mm equivalent) and 4K video compatibility in a durable and lightweight body
Panasonic has today introduced a new telephoto lens for its LUMIX G range of Micro Four Thirds System cameras – the LEICA DG VARIO-ELMAR 100-400mm F4.0-6.3 ASPH. Telephoto-Zoom (H-RS100400) with Power Optical Image Stabilisation (O.I.S.). 
Small, light and highly durable, the latest addition to Panasonic's range of interchangeable lenses is perfectly suited to shooting birds and other wildlife in all kinds of environments.
The lens is constructed of 20 elements in 13 groups and incorporates a number of aspherical and extra low dispersion elements to assure best quality and avoid flaring. The advanced construction of the new Telephoto-Zoom leads to highest quality standard earning the LEICA Logo for a LUMIX Lens once again.
Outstanding image quality and Telephoto-Zoom performance
Elegantly designed with a metallic black finish, the new 100mm-400mm LEICA DG VARIO-ELMAR lens from Panasonic provides superb image rendering across the entire zoom range. The lens' 200-800mm focal length (35mm equivalent) and 0.5x Magnification capability provide highly detailed shots from distance, as well as stunning close up capability– ideal for motives of all shapes and sizes.
In order to capture steady, vibration free images across the entire zoom range, the lens also incorporates Power O.I.S. to keep unwanted shaking under control and ensure pictures look crisp and clear.
The 100m-400mm lens is also suited to a variety of shooting styles – with nine diaphragm blades providing a circular aperture to produce a smooth and beautiful bokeh.
Smaller and lighter than other Telephoto-Zoom lenses
When compared with conventional super telephoto DSLR lenses, the latest addition the LUMIX G line up offers outstanding mobility – perfect if you're travelling and don't want to take too much cumbersome kit. Similarly, the lens also boasts a durable, gapless construction so you no longer have to worry about unwanted dust or light rain damaging your equipment.
In addition to the lens' practical size and weight, a compact, two-part tripod mount has also been incorporated to enable faster conversion between landscape and portrait orientation. While conveniently and speedily turning to the 90° angle, the levers for Focus Limiting, Power O.I.S. and the manual focus switch remain right at your fingertips as they do not move when you turn the lens.
The lens also incorporates an integrated, hide-away hood to help you capture that perfect shot, without having to worry with the glare of the sun.
Stunning 4K video capability
Panasonic's new LEICA Telephoto-Zoom lens is perfectly suited for 4K video recording with its construction assuring the best contrast and colours. Furthermore the Telephoto-Zoom incorporates Panasonic's high speed and precise 240 fps AF-motor. Due to the modern design, filming can also be conducted silently, so you can get up close to the subject without drawing attention.
As well as high resolution video, the lens' 4K capability also enables you to take photos like never before. Panasonic's 4K Photo function – found on LUMIX G cameras including the LUMIX DMC-G7 – lets you extract an 8-megapixel still from 4K video (30fps) easily right on the camera's screen with a simple fingertip touch.
Key features:
Longest focal length for Micro Four Thirds
Compatible with Dual Image Stabilisation
240fps AF Drive
Zoom ring lock
Weather Sealing
Integrated Quick Shifting Tripod Mount
Integrated shift-away lens-hood