Nikon have announced two fresh lenses today, aimed at a professional or upper-end enthusiast audience.
First up is the new AF-S Nikkor 70-200mm f/2.8 FL ED VR telephoto zoom lens, built as a faster, lighter and more agile upgrade to its popular predecessor.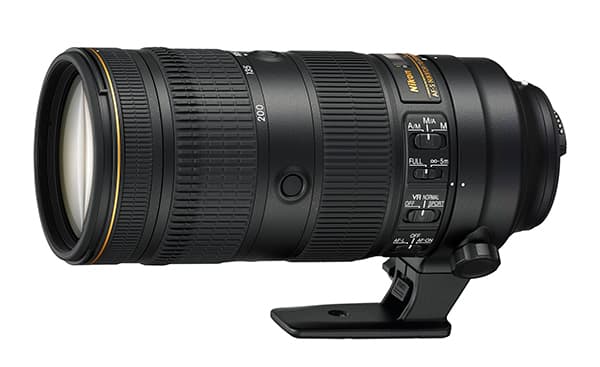 The latest incarnation of the 70-200mm features a few enhancements that Nikon say will improve its performance in the field. Compared to the previous model, edge-to-edge performance has been improved with all-new optical construction and there's an improved AF tracking and exposure control system in place, as well as VR SPORT mode for improved burst-shooting. The minimum focus distance is now 1.1m and the maximum reproduction ratio has almost doubled from 0.11x to 0.21x.
On the exterior side, the new 70-200mm features some ergonomics inherited from Nikon's 400, 500 and 600mm telephoto lens series; the zoom and focus ring positions are reversed for more balanced handling, and new configurable buttons on the barrel are designed to make operation smoother. It should also prove to be a bit lighter than its previous incarnation while still being tough, too, featuring a new magnesium alloy build with HRI and fluorite elements.
The AF-S Nikkor 70-200mm f/2.8 FL ED VR will be available November 10th 2016, retailing at £2649.99.
Nikon has also unveiled their first ever perspective control (PC) lens to feature two PC rotation mechanisms – the PC Nikkor 19mm f/4E ED tilt-shift lens.
Aimed at architecture and fine-art photographers looking for more control, the PC Nikkor 19mm f/4E ED features manual focus and double-layer rotation capabilities, with tilt and shift that can be engaged individually of one another or in combination to approximate the movements of a larger-format view camera. What this means in practice is more control over the lens' focal plane – so architecture photographers can shift to avoid convergence, and landscape enthusiasts can tilt for sharp shots from foreground right through to background without needing to close off their lens' aperture. Nikon say the ultra-wide 19mm angle of view is ideal for large structures and spaces, and the unique optical construction ensures the distortion common in wide-angle lenses is minimised, even at the edges of the frame.
The PC Nikkor 19mm f/4E ED tilt-shift is due to be available from October 27th 2016, for £3,299.99.