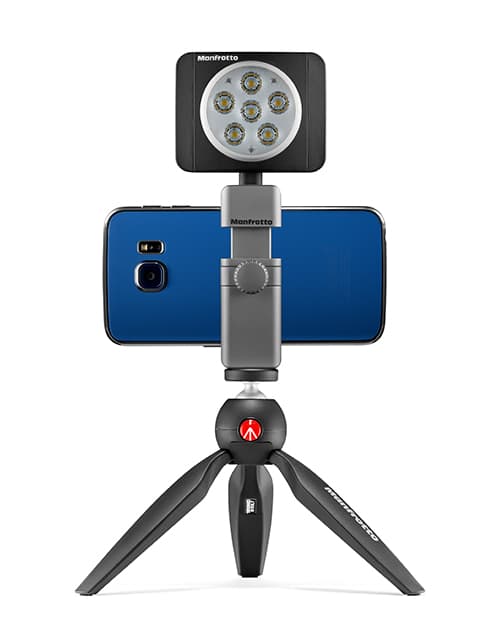 Marketed as a 'universal smartphone clamp', the Manfrotto TwistGrip features a 1/4in thread adapter, plus a cold shoe to allow for a lighting connection. The clamp's twist movement and docking knob are designed to secure the phone in the desired position. Made of aluminium, the Manfrotto TwistGrip costs £39.95. For full details visit www.manfrotto.co.uk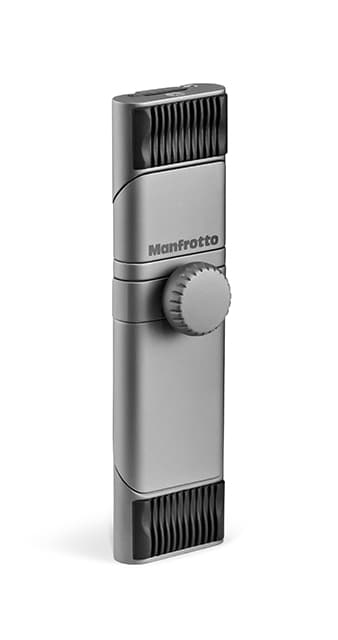 Press release
Manfrotto, world leader in the photography, imaging equipment and accessories industry is pleased to announce the launch of the TwistGrip. The new, innovative solution for taking awesome smartphone images and videos – anytime, anywhere.
TwistGrip is Manfrotto's premium universal smartphone clamp, specifically devised for everyone who has embraced smartphone photography as a way of life and wants to unleash the full potential of their device, never letting a great photographic moment go by.
The core for a complete modular photographic system, TwistGrip features a ¼" thread adaptor to connect to any photographic support and cold-shoe lighting connection to allow integration with an LED light. TwistGrip works in multiple configurations with different photography accessories, helping to always achieve the best photo and video results.
Its high-quality construction aluminium body is completely made in Italy to ensure perfectly secure, sturdy support for all smartphones while users focus on catching life's best moments. The clamp's twist movement and locking knob secure the smartphone in the right position in a just a few easy steps, so it stays safe, regardless of the shooting perspective.
Manfrotto's TwistGrip has a stylish appearance, tactile finish, countless applications; it is the new, must-have smartphone accessory compact enough to follow smartphones everywhere, extremely versatile and designed to let mobile photographers have fun while taking better pictures
TwistGrip is priced at RRP £39.95 and will be available from www.manfrotto.co.uk and via www.apple.com/uk