The 860 reports of drones flying over residential properties included concerns that users are flying the unmanned aerial devices to spy on children, and criminals are using them to plan burglaries.
The data was obtained from UK police forces by Esri UK, a mapping software company, under a Freedom of Information (FOI) request.
Greater Manchester Police received 90 calls – the highest number from 38 of the 45 forces that responded to the FOI request.
However, London's Metropolitan Police – the UK's largest force – received just one call.
The complaints included one from someone in Ashfield, Nottinghamshire, who reported a member of the public 'flying a drone over the school field with a camera'.
But the report has drawn fury from drone maker DJI which condemned the data as 'simply an unedited listing of raw complaints with no attempt to verify whether any of them had any merit'.
DJI cites an alleged incident at Heathrow on 17 April where a suspected drone collision with a plane was later thought to have been a 'plastic bag'.
The news comes amid growing concerns about the safety of drones and fears of a collision with a passenger jet.
'Various countries including the UK are in the midst of creating rules and regulations for drones and, therefore, irresponsible reports like these at this sensitive time pose a serious threat of damaging an emerging industry.
'We urge all drone users to follow all applicable laws in their jurisdiction, but there is absolutely no evidence that any of the reports indicate real violation of laws.'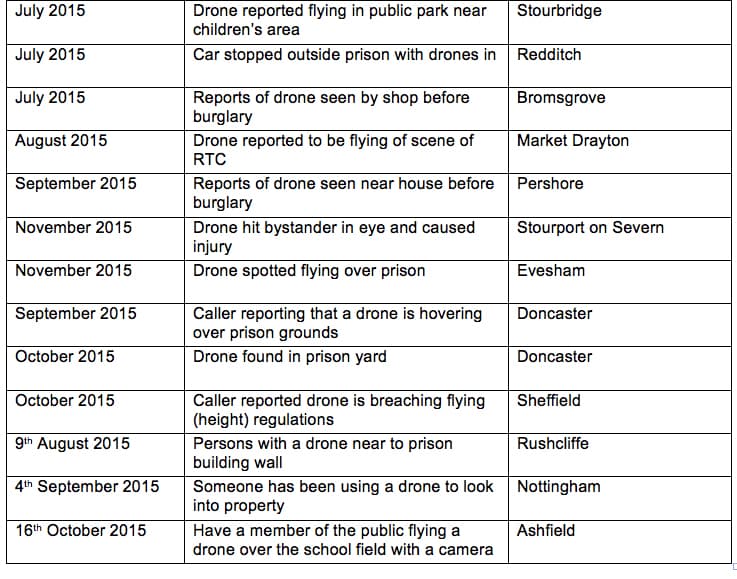 Above: Details of some of the complaints received by police
DJI points to the benefits of drones for businesses, recreational users and emergency services – including aerial photography and agricultural surveys.
'For example, earlier this month drones helped locate a Shropshire forklift operator who was buried under wheels of cheese when shelves in a warehouse collapsed. He walked away safely.
The DJI statement added: 'Innes Gregory flew his drone on April 12 near Slains Castle in Cruden Bay to help searchers locate a missing woman. She was unharmed.'
Charles Kennelly, Esri UK's chief technology officer, said: 'The map reveals hotspots of drone usage across the UK and helps users to understand how they are becoming a growing concern for the public.'
'Drones offer many benefits but can also be perceived as a general nuisance, invading privacy or even conducting suspicious an potentially illegal behavior. With drone sales increasing we need to be more aware of both their positive and negative impacts.'
At the time of writing, Esri UK had yet to respond to DJI's attack on its report.
Next week, some of the best drone films on the planet are set to be showcased at the first London Drone Festival on 23 May.