The S-1 is a 16MP micro four thirds camera, the development of which was first announced at CES a year ago.
It will be 'smartphone friendly', with a case at the back allowing the direct attachment of a mobile device for wireless image transfer between camera and phone.
[Article updated 1.25am GMT to include details of new lenses and plans for a second CSC]
'It is a CSC designed for a smartphone audience,' said JK Imaging sales and marketing director Austin Kazami.
'We need to be different from our competitors,' admitted the US firm's Paris-based executive account manager Gregory Taude. 
JK Imaging is confident that the Kodak brand, tainted by years of financial trouble ahead of its emergence from bankruptcy protection last year, will win over consumers once again.
Japanese consumers, particularly females, have lapped up CSCs by other makers, but such cameras have, so far, proved less popular in the US and Europe.
However, JK Imaging plans to change this by not trying to tempt buyers away from DSLRs.
In Japan, CSCs and DSLRs are treated as two totally separate markets, Kazami explained – unlike in Europe and the US.
'I think that the [CSC] trend will come to other countries later on,' he claimed in an interview with AP at CES.
The S-1 was originally expected to go on sale in the third quarter of last year. Asked why it was delayed, Kazami said that the camera was ready but was held back for commercial reasons with retailers leading up to Christmas.
The S-1 will initially debut with three lenses including a 24-90mm (35mm viewing angle equivalent) f/3.5-6.3.
There will also be an 85-320mm, plus an 800mm fixed focal length lens.
Kazami said JK Imaging plans to keep the S-1 on the market for a year, after which it is likely to launch a 'second generation' model.
Features on the Wi-Fi-enabled model include sensor-shift image stabilisation, and a 3in (920,000-dot resolution) articulated screen.
The S-1 is designed to shoot raw and JPEG files and its top burst rate is 5fps.
The camera body is made in China, while JK Imaging's lenses are made by Asia Optical in Taiwan.
The S-1 carries a Sony-made imaging sensor.
Kit prices are yet to be confirmed.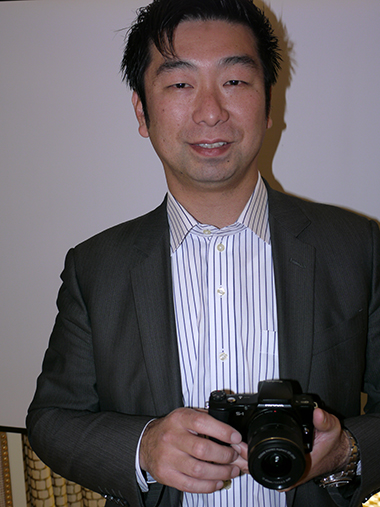 JK Imaging's sales and marketing director Austin Kazami with the PixPro S-1 compact system camera, due for launch in April (picture credit: C Cheesman)