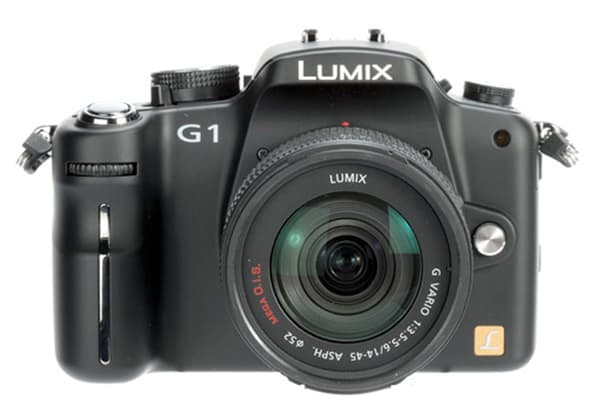 I remember the first time I set eyes on the original mirrorless compact system camera. Panasonic was showing off the Lumix DMC-G1, its first model in the Micro Four Thirds system, back in September 2008. By eliminating the reflex mirror and using the main image sensor to provide a live view feed to an eye-level electronic viewfinder, Panasonic significantly decreased the camera's size and complexity compared to DSLRs.
The big question was always going to be how well the idea worked in practice, and in particular, whether the G1's on-chip contrast-detection autofocus (CDAF) could be remotely competitive with the phase-detection systems in DSLRs. We were all familiar with CDAF from compact cameras of the day, where it was usually slow and hesitant. However, not only did the G1 work, it performed beyond expectations, and could react as fast as entry-level DSLRs of the time – but only with static subjects. Faced with any form of movement, the G1 was easily defeated. Even so, it was clear that this concept was going to have a profound effect on the future of photographic technology.
Unfortunately, there was always a nagging sense of the ordinary about the G1. It looked like a nondescript DSLR and it couldn't even record video; we had to wait six months to see this in the GH1. Its 12MP sensor gave poor results above ISO 800, and its electronic viewfinder was prone to disconcerting rainbow-like 'tearing' artefacts. So while the G1 was certainly admired, it wasn't much loved. Rarely has the revolution looked so dull.
Development of CSCs
In their early days, compact system cameras were seen not so much as DSLR replacements but as companion cameras that could offer image quality that was almost as good but in a much smaller size. Some companies put a lot of effort into promoting them as simple and approachable cameras for the smartphone generation, with Sony's NEX-5 from 2010 defining the design template. But CSCs arguably found their feet in 2012, with the hugely influential Olympus OM-D E-M5 showing that there was a real appetite among photographers for small, highly capable cameras. The dominant approach now is to make true alternatives to DSLRs, with high-end performance and image quality.
Since the G1, of course, technology has moved on in leaps and bounds. For example, Panasonic's most recent model, the GX80, features radically improved autofocus; faster continuous shooting; dual-image stabilisation combining in-lens and in-body systems; and impressive video, including 4K recording.
Naturally, DSLRs have also improved over the same period, but at nothing like the same rate, if only because they were already so highly developed. The result is that the gap has narrowed to a point where CSCs are now just as good as DSLRs for almost any kind of photography. In fact, the latest models such as the GX80, Fujifilm X-T2, Olympus Pen-F or Sony Alpha 7R II are much better than even their most recent predecessors in almost every way. So if you tried out a CSC just two or three years ago and it didn't meet your needs, chances are the latest cameras will come much closer.
Alongside improvements in camera design has come serious investment in building lens lines. Fujifilm's XF system now includes 20 optics, while Olympus and Panasonic between them produce more than 40 Micro Four Thirds lenses. Sony only launched its full-frame FE line in 2013, but it already includes 17 lenses and assorted converters, while its APS-C E-mount range numbers 15. Most enthusiasts should find that any of these systems will meet their needs.
Advantages of mirrorless
The most obvious advantage of CSCs is the reduced size and weight of both cameras and lenses, in particular wideangle designs. But there's a lot more to them than that. Autofocus on static subjects tends to be more reliable, especially when using fast primes, as contrast detection is inherently more accurate than phase detection. The focus point can also be placed almost anywhere within the frame, and together with face and eye detection, this means it's easier to get pictures in perfect focus.
Electronic viewfinders provide an accurate preview of your shot, not just in terms of composition but also exposure and depth of field. The cameras can switch completely seamlessly between using the eye-level viewfinder and the rear screen; in contrast, most DSLRs perform poorly in live-view mode compared to using the viewfinder. Many CSCs also give continuous shooting speeds that DSLRs can only dream about.
Where DSLRs still win
Despite the huge advances in CSC technology, there are a few areas in which DSLRs maintain an edge. Continuous and predictive autofocus is one, with cameras like the Nikon D500 able to track moving subjects and keep them sharp with uncanny ease. Another is battery life – where DSLRs often achieve around 1,000 shots per charge, CSCs struggle to get past 350. DSLRs often handle better, too, owing to gradual refinement of control layouts and design over many generations. Photographers who need more esoteric optics, such as long telephoto primes or tilt-and-shift lenses, are also far more likely to find them for DSLRs.
Where's it all heading?
Photokina, the world's biggest photographic trade show, is coming up at the end of September, and the major camera makers are all likely to reveal high-end products showing off their latest technology. What exactly these high-end products will be is anyone's guess, but we're fully expecting further improvements in autofocus, continuous shooting and video technology. With the runaway success of Sony's Alpha 7 series, it also seems inconceivable that other manufacturers won't jump on the full-frame CSC bandwagon, and maybe we'll even see another medium-format system, on the back of Hasselblad's X1D.
Of course, the most controversial question is whether mirrorless systems will eventually replace DSLRs entirely. Personally, I'm sure they will, at least for all but specialist applications such as sports and wildlife. Indeed, the main hold-up is the large investment many enthusiasts have in their DSLR lens systems. But as the technology continues to improve, it's surely only a matter of time.
The also-rans
As with any new technology, it hasn't all been smooth sailing, and some systems have failed to gather much traction. Both the Pentax Q and Nikon 1 systems appear to have fallen into stagnation, while Canon's EOS M system has never really got off the ground, with just six EF-M lenses released in four years.
The highest profile casualty, though, has been Samsung's NX system. Despite launching the first APS-C mirrorless camera in 2010, building up a decent lens range, and then showing the astounding NX1 at Photokina 2014, the company quietly withdrew from selling cameras the following year. This is a shame, but it reinforces a brutal commercial truth – no matter how good they are, ultimately cameras need to sell well enough to make a profit.
Mirrorless milestones
Panasonic Lumix DMC-G1
September 2008
The world's first compact system camera had a 12MP sensor and introduced Micro Four Thirds
Olympus PEN E-P1
June 2009
Olympus's first Micro Four Thirds model kick-started the current fashion for retro design
Samsung NX10
January 2010
The first compact system camera with an APS-C sensor was designed like a small SLR
Sony NEX-5
May 2010
This ingeniously tiny camera debuted the E-mount and established a blueprint for small-bodied CSCs
Fujifilm X-Pro1
January 2012
With its clever hybrid optical electronic viewfinder, this model kicked off Fujifilm's X system
Olympus OM-D E-M5
February 2012
The E-M5's tough, nostalgically designed SLR-style body influenced everything that followed
Sony Alpha 7
October 2013
Sony squeezed a larger sensor behind its E-mount to make the world's first full-frame CSC
Panasonic Lumix DMC-GH4
February 2014
Panasonic's video-focused GH line gained 4K video
Samsung NX1
September 2014
This technological tour de force could shoot at 14fps and record 4K video, but wasn't enough to save the NX line
Sony Alpha 7R II
June 2015
With a stunning 42MP BSI full-frame sensor, this represents the current state of the art
Hasselblad X1D
June 2016
The world's first medium-format mirrorless model has a 51MP sensor in a relatively compact body
Fujifilm X-T2
July 2016
With intuitive dial-led operation, sophisticated autofocus and 4K video, the X-T2 already looks like a standout classic