Sony's latest camera, the Sony Alpha A9 III, has come out, and if you've read the internet, you'd probably be bombarded with videos and articles declaring the 120fps camera a GAME CHANGER*, and a camera that CHANGES EVERYTHING! What, even the weather? Sorry, but I don't think so.
Sure, it's making a huge technological advancement in technology, with the World's first global shutter on a camera, and this enables 120fps continuous shooting at full resolution, with no distortion. But who really needs this?
For 99.99% of photographers, who actually needs this?
Not me. I've never been interested in high-speed continuous shooting. Maybe if you are, this will make a difference, but again, who wants to sort through 120 photos taken every second. Shoot for 10 seconds, assuming you don't have to worry about the buffer, and you have 1200 photos to look through. Shoot like this for 10 minutes, and you could easily have 12,000 photos to look through.
What do you do with the thousands of photos you've taken?
Who has time to search through this many photos for the perfect photo? Has Sony done anything to help you sort through these photos to get the best shot, or is this camera simply a burden to produce hundreds and thousands of photos that look the same?
Personally, I'd rather stick to my Pentax K-S2, with its 5.4fps continuous shooting, for when I want to capture something happening in front of me. But more often than not, I'll simply press the shutter button at the right time, sometimes I'll get the shot, and sometimes I won't. But that will be down to my abilities, rather than simply letting the camera do it all.
For capturing high-speed action, I'd rather use the video mode, on a camera with good video features. Does the Sony A9 III have high-speed video modes? This is where things are even weirder, with the highest video frame rate available being 120fps (at 4K). Where is the 240, 480, or 960fps high-speed video recording? Smartphones, albeit entirely different things, can give me high-speed video recording, yet this "game changer" can not…
Sure, Sony are to be commended for making huge strides in technological advancement, and for the 0.01% of photographers who want this feature, it surely is amazing. But for all the other photographers out there, unless it's made easy to use and helpful, it's a £6100 camera that isn't needed.
---
*You can spot lazy journalism when they republish Sony's own press materials without question. Sony say this on their website: "Featuring the world's first full-frame image sensor with a global shutter system, the α9 III is a game changer, capturing fast-moving subjects…"
Other websites claim that the camera is the fastest ever mirrorless camera but have they actually tested it? You'll note if you look around that other cameras can also shoot at 120fps, at a lower resolution, so it's not being able to shoot at 120fps alone that makes it the fastest, but that it's reading the full 24MP sensor at the same time, rather than in rows.
---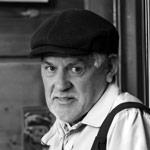 John Bridges, is a keen photographer, and Canon/Pentax DSLR user, and has previously shared with us: Here's why the DSLR will always be in demand, The DSLR is not dead, Why I only buy Canon DSLRs, and NFTs are everything that's wrong with the world.
The views expressed in this column are not necessarily those of Amateur Photographer magazine or Kelsey Media Limited. If you have an opinion you'd like to share on this topic, or any other photography related subject, email: ap.ed@kelsey.co.uk.
---
Related reading:
Follow AP on Facebook, Twitter, Instagram, YouTube and TikTok.