Want a traditional black and white print but don't have your own darkroom? Ailsa McWhinnie rounds up the best black and white film printing services offered by some of the UK's finest and most experienced printers
---
There is nothing quite like holding a traditional, silver-halide black & white print in your hand. Steeped in the history of photography, it has a depth, resonance and integrity that's difficult to replicate in digital form. Some would even argue it cannot be replicated.
Printing is a fundamental part of the photographic process – bringing to life images that would otherwise remain as a scan or sitting in a neg file, where few have the opportunity to appreciate them. While many film-shooting photographers prefer to print their own negatives, logistics can get in the way.
Not many people have the space required for a darkroom, and work and other commitments often have to take priority over this time-consuming hobby. For those who would still like to see their images in print form, there are a number of highly respected and extremely experienced black & white hand printers still working in the UK.
Often with decades of experience behind them, the years they've spent in the darkroom have resulted in an intuitive ability to read the trickiest negatives. Their expertise means they'll get the best out of a neg, and many of them will even be able to give it an interpretation the photographers themselves hadn't imagined.
Needless to say, their skills don't come cheaply; you can expect a 10x8in print to set you back by around £25-40, with VAT on top in some cases. Then, if you want toning on top, there will be a mark-up of around 50-100 per cent. However, the costs are more than worth it when you see the results. Below, we have rounded up nine of the best black & white printers still working in the UK today.
Most of them also offer film processing, too. Give them a go, and you never know – you may end up with your prints in the wash, rubbing shoulders with a David Bailey or a Don McCullin.
NB: Please note that prices may fluctuate. 
---
The best black and white film printing services
Lighthouse Darkroom
www.lighthousedarkroom.com
020 7272 7073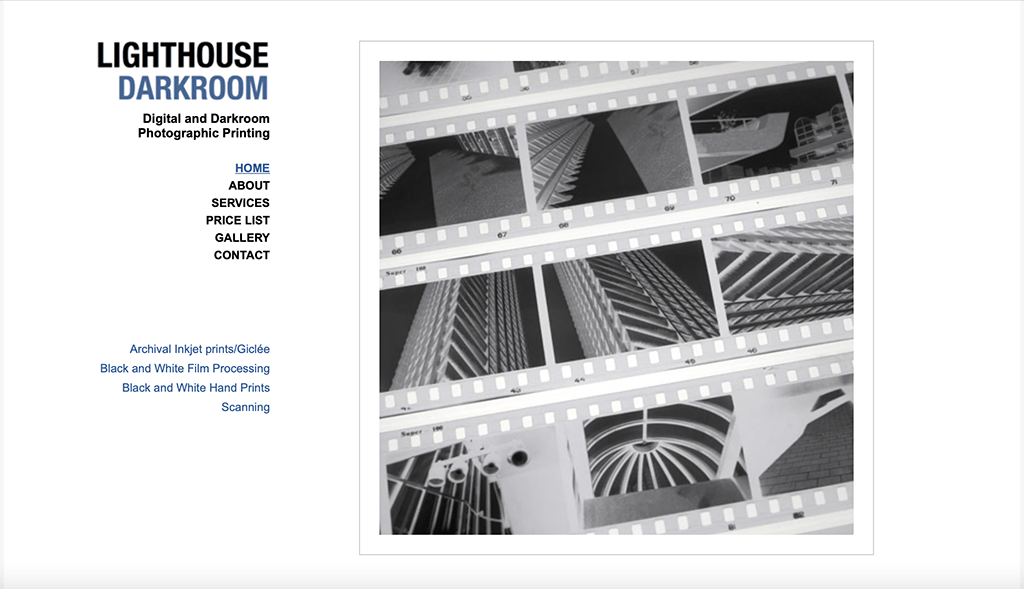 Lighthouse Darkroom is run by Mike Crawford, whose features about film and darkroom processes will be familiar to regular readers of AP. He took over the darkroom in 1993, and since then, has printed for the likes of Brian Griffin and Elliott Erwitt, making 200 prints from the Magnum photographer's archive in 2019.
He has also worked on Martin Parr's early black & white images, as well as making prints for collectors' editions of books by Markéta Luskačová and John Myers. Prices start at £31.50 for a 10x8in black & white fibre-based print, rising to £98 for a 20x24in. If you require a specialist paper, there's a 10 per cent surcharge, while additional prints from the same negative have a 15 per cent discount. Film processing is £18.50 per roll of 35mm or 120 film, or £10.50 per sheet of 5x4in.
---
Robin Bell
www.robinbell.com
07768 663456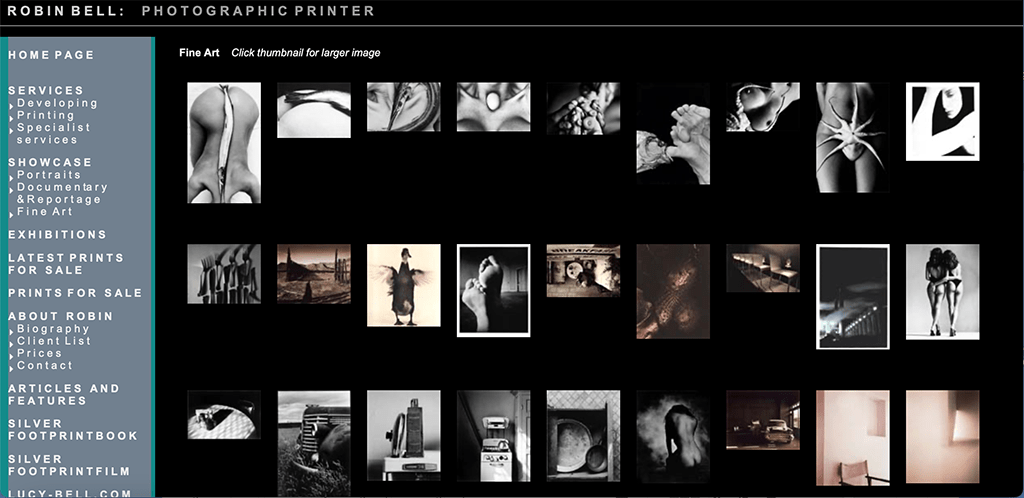 Having worked as a black & white printer for the best part of 40 years, it's no surprise that Robin's roster of clients includes many of the great and the good of the black & white photography world, from Tom Stoddart to Terry O'Neill to David Bailey, as well as archives from Sotheby's, the National Portrait Gallery and the V&A.
He's happy to offer clients consultations about their needs, as well as hand tinting and archival printing services. Print sizes start at 7x5in, costing £15, rising to £35 for a 10x8in, and on to £500 for a 60x40in (with all standard sizes in between). He also provides a lith printing service, while retouching is £50 per hour. Based on the south coast, Robin also prints many of the exhibitions for his wife's gallery in St Leonard's on Sea, the Lucy Bell Fine Art Gallery (www.lucy-bell.com).
---
Adrian Ensor
adrianensor.com
020 7636 1739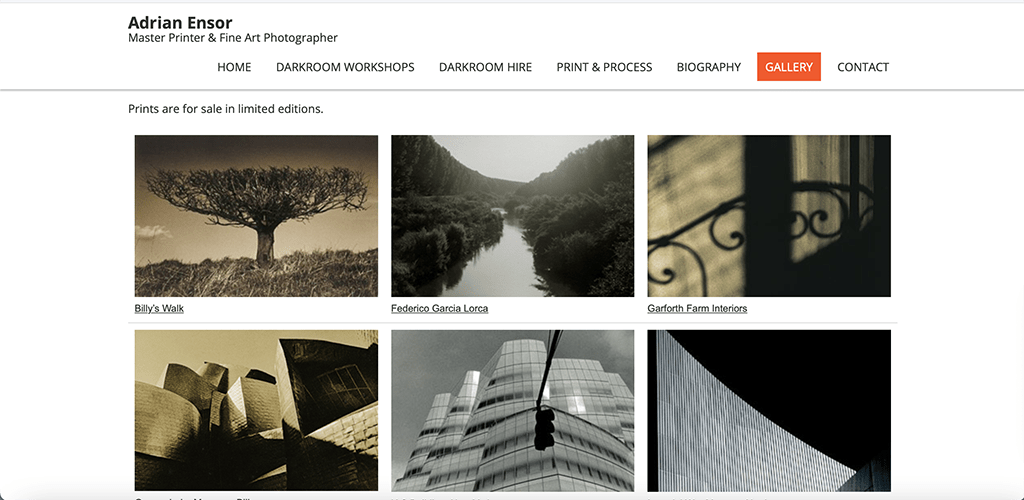 It's safe to say Adrian Ensor is one of the UK's most experienced black & white printers. He's printed for clients from all over the world for the past six decades, and celebrated his 60th anniversary in the industry with an exhibition that included a replica of his office and darkroom. He's recently been working on a project called Unseen Originals, printing iconic negatives that have been purchased online by a photographic collector, and he believes that he may be the first person ever to have printed some of them.
He charges £30 for a 10x8in fibre-based print, rising to £65 for a 20x16in, and £100 for a 30x20in, while toning such as gold, selenium and thiocarbamide comes in at 100 per cent extra. In addition he makes his darkroom available for hire, and offers mentoring too, for £140 per day. His book, Advanced Processing and Printing, was published by RotoVision in 2001.
---
Bayeux
www.bayeux.co.uk
020 7436 1066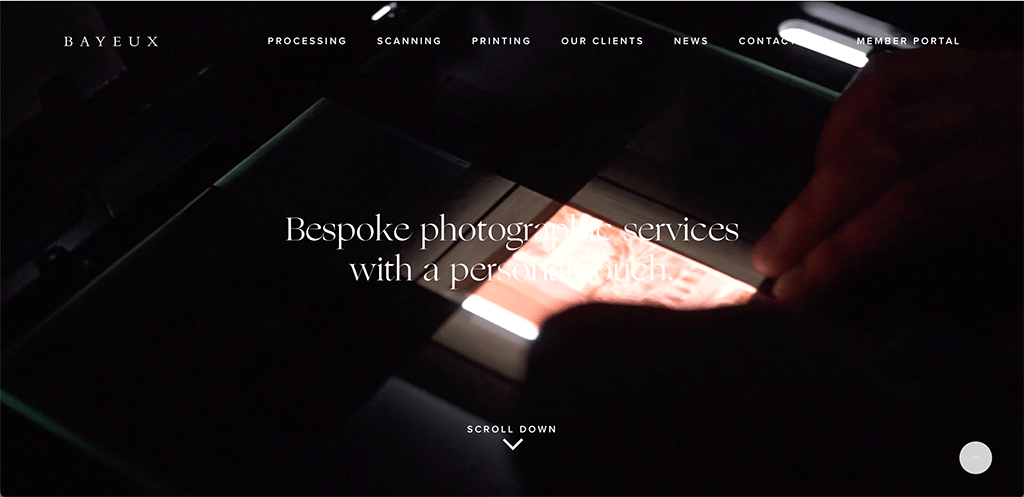 Up until ten or 20 years ago, you could barely move in certain parts of central London without bumping into at least one mega-lab. Motorcycle couriers constantly came and went, dropping off and collecting film in order to serve the needs of top editorial and advertising photographers.
One of the last few of this type is Bayeux, which offers a range of services, including traditional black & white printing. Don't let the slick exterior intimidate you – the service here is still personal, and offers both resin-coated and fibre-based prints. Resin-coated starts at £13 for a 7x5in and £23 for a 10x8in, while fibre-based comes in at £48 for a 10x8in.
As with London Darkroom, they can print impressively large, so if you really need a 98x46in print in your life, be prepared to hand over your credit card to the tune of £1,117.
---
Black & White Basement
bwbasement.com
020 7624 2244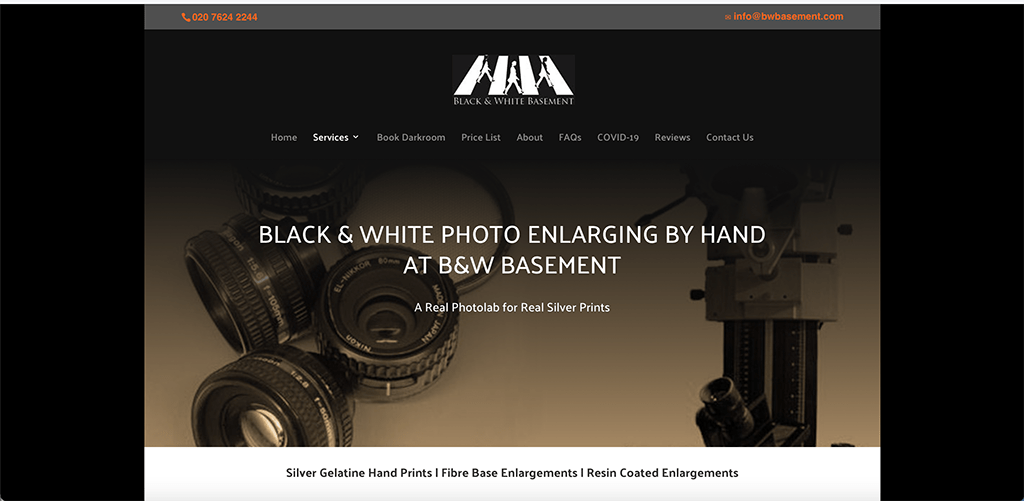 A few hundred metres from the famous Abbey Road studios, you'll find Black & White Basement. Offering film processing, printing, tuition and darkroom hire, it's an all-round service for the analogue photographer. They're also planning to open a film-scanning and printing department, and a photography gallery space on the premises.
The hand-printing side of things is overseen by David Champion, who has 30 years of experience under his belt and is well accustomed to meeting the exacting requirements of film photographers. A 10x8in resin-coated print costs £12, up to £45 for a 20x16in.
For fibre-based prints, you should double the price, and postage is on top of that. Turnaround time is seven to ten working days, but if you need your prints quicker than that, give them a call. At the moment, and until lockdown is eased, everything is by mail order only.
---
Image Black and White
www.imageblackandwhite.com
020 7580 5020
Having moved from London to Kingston-upon-Thames, printer Peter Guest continues to provide printing services to the great and good of photography – be they a fashion photographer who still shoots film, or an up-and-coming image maker who has discovered the joy of the analogue process.
Having worked in the industry for more than 20 years, he is a relative newcomer compared with some of the printers featured here, but that doesn't mean he hasn't seen it all, and he's always keen to build up a relationship with his clients so he comes to know their specific needs.
The smallest size print he offers is 5x7in, which costs £15, going up to £29 for a 10x8in, all the way up to £300 for a 40x30in. He also provides a lith printing service. He processes film by hand as well, working with all sizes from 35mm to 10x8in.
---
Downtown Darkroom
downtowndarkroom.co.uk
07712 401701
Sharon Easterling discovered her love for photography while studying graphic design at college, and went on to join Downtown Darkroom in 1988. She started off processing film, then went on to learn how to print, training in the craft under Mike Spry, who was legendary for his lith prints.
She prints for both professional and amateur clients, most notably rock photographer Anton Corbijn (think U2, Coldplay and Depeche Mode), who she's worked with for more than 30 years, and last year she printed 52 images for Pennie Smith, which formed part of The Clash: London Calling exhibition at The Museum of London.
Sharon prints on both resin and fibre-based paper, with resin-coated prints starting at £10 for a 7x5in. Fibre-based prints are £15 for a 7x5in, £28 for a 10x8in, and go up to £97 for a 20x24in print – with various other sizes available in between.
---
London Darkroom
www.londondarkroom.com
07841 903014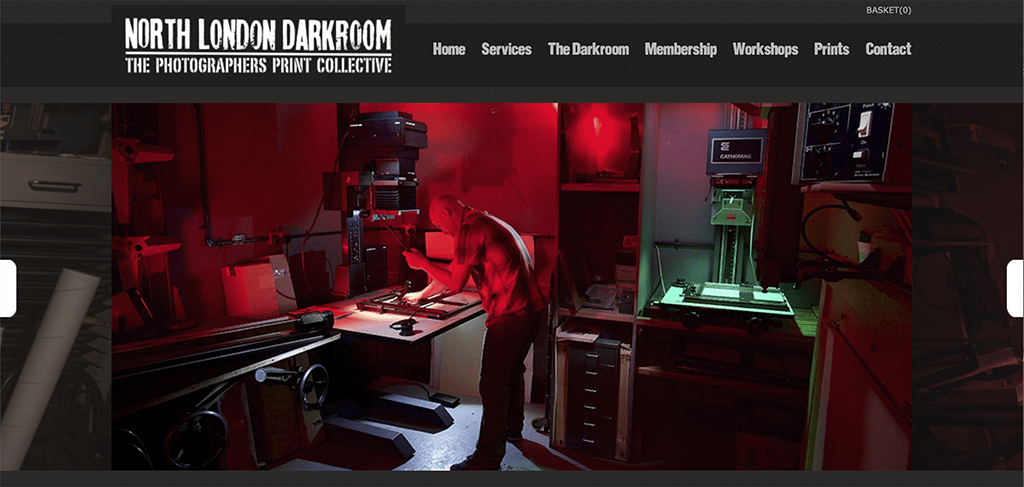 They say size doesn't matter, but in the case of London Darkroom that wouldn't be entirely correct. Set up by photographer Sebastian Edge in 2011, the lab has built a reputation for producing prints of mammoth sizes, going all the way up to an impressive 51x62in.
You'd better be absolutely certain you want a print of such a size, though, as it'll set you back a cool £975. A 10x8in print for £35 seems rather pedestrian by comparison, but the lab takes as much care over the smaller sizes as it does with the big ones. This facility isn't just about printing, though.
It has a members' darkroom that permits 24-hour access to all the equipment for a fixed monthly fee. More details about the current members and their work can be found on the website. Finally, Covid restrictions notwithstanding, there are several workshops available that cater for all levels of experience, either one-to-one or in small groups.
---
Metro Imaging
metroimaging.co.uk
020 7865 0000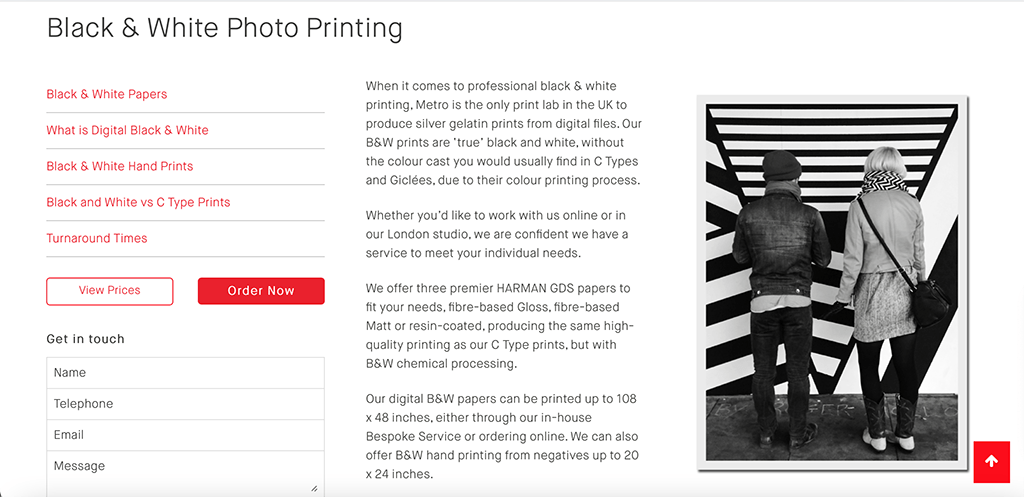 Like Bayeux, Metro is one of those central-London labs that covers pretty much everything from processing and scanning to retouching and framing. And, of course, printing. The lab's hand-printing service starts from £31.80 for a fibre-based 10x8in, increasing to £57.20 for a 12x16in, and going all the way up to £108 for its maximum size of 20x24in.
And for something a little different, if you would like genuine fibre-based prints from a digital file, Metro can provide that service, saying it's the only lab in the UK to be able to do so. Its Lambda printer exposes the digital image directly on to silver-gelatin paper, which is then processed through chemistry in exactly the same way as a print from a negative.
Its 'Self-Service' print costs (in which the photographer supplies the finished file) start at £29.54 for a 10x8in, while its 'Bespoke' service (in which Metro's technicians work on the file before printing) costs from £45.
---
Print your own
Are you keen to print your own negatives – either for the first time, or to return to it after a break? If you don't want to build your own darkroom in the under-stairs cupboard, pay a visit to www.localdarkroom.com to see if there are any community labs in your area – or to post a request of your own.
A lot of them will provide chemistry and sometimes even tuition for an hourly or monthly-membership fee. In addition, a number of the printers featured here provide darkroom tuition (and who wouldn't want to benefit from their years of experience?), so take a look at their websites to find out more about what they offer.
---