Whether you shoot landscapes, portrait or macro, there is nothing to beat holding a finished print of one of your best images. There are many excellent online printing services available, but for the ultimate satisfaction, make prints in the comfort of your home. Read on as we reveal the best printers and paper.
The joy of photography is being out there with the camera and the great thing about digital is that you can shoot thousands upon thousands of shots at no cost.
Of course, you're not to print out every picture you take, but you will occasionally get a keeper that deserves to be printed out nice and big on lovely paper, framed and hung up. It changes the way that you and others respond to, and interact with, the image.
You could delegate the responsibility to a printing business, then all you have to do is upload files and within a couple of days, the final prints will be with you.
Printing: home is where the art is
Home printing, however, is even faster and you'll be admiring the final print minutes after pushing the print key. Not only that, but you have total control over the output, as there is a huge choice of printing papers on the market.
You could go for painterly feel on a textured paper, a flat fine art matt finish or use a baryta paper for the unglazed glossy look of a traditional darkroom print.
There are plenty of printers out there too, but most are designed for office use and don't have the high-resolution print head and inkset for critical photographic output.
Our choice of best printers
So, we've selected a few of our favourite photo quality printers at range of prices for you to check out. Budget aside, key features to consider are size, not just in the maximum print size a printer can churn out, but also its physical size nd how it's going to fit into your home.
Another important consideration is the ink the printer uses, so check the cost of replacement cartridges, how many prints you'll get from a set of cartridges and ink lightfastness. With so many variables, print life and ink stability in different display scenarios is impossible to assess, so check out the manufacturer's claims before finally making an investment.

Canon Pixma G650
At a glance

• $299 / £260
• Three in one unit: printer, scanner and copier.
• Prints borderless up to A4
• WiFi connectivity, with the ability to print directly via Canon Print app, Air Print and Mopria. User changeable printhead and maintenance tank
• Resolution 4800x1200dpi
• Dye-based inks: black, cyan, magenta, yellow, grey, red
• Dimensions: 21.8×17.2×8.4in / 55.4×43.7×21.3cm
Ideal for the home and small office, the Pixma G650 (sold as the G620 in the US) is a versatile three-in-one unit – printer, scanner and copier. Its printing skills are impressive, and one set of inks has a yield of around 3,800 6×4 inch photo-quality prints.
Colour vibrancy and contrast rate highly thanks to a six colour inkset that includes red and grey ink for a wide colour gamut, and refilling each ink tank is really simple. Replacement 60ml bottles of ChromaLife100 ink cost $15 / £13.99 each, and the inks have excellent stability and prints can last up to 100 years.

Canon Pixma Pro-200
At a glance
$549 / £429
3 inch colour LCD display
USB, Ethernet, Wi-fi and PictBridge connectivity
Direct printing into CD/DVD/Blu-ray discs
Resolution 4800x2400dpi
Eight colour inkset (photo cyan, photo magenta, grey, light grey, yellow, magenta, cyan and black) dye-based Chroma Life 100+ inks
Dimensions: 33 25.2×16.4in / 83.8x64x41.7cm (maximum)
The compact Canon Pixma Pro-200 is designed to be simple to use yet deliver superior prints on an extensive range of media. The printer, with its three paper feed options, is widely compatible with fine-art papers and can produce borderless and panoramic format prints.
Canon's Chroma Life 100+, dye-based inks produce photo prints with vibrant colours. In addition, the Pro-200 is designed for superior reproduction of reds and blues while the grey and light grey inks generate richly toned black & white prints. Individual replacement cartridges cost $13.99 / £18.49 and value multi-packs are available.
The Pro-200 has the convenience of wireless connectivity and Canon's PPL software provides a one-stop printing solution, while the built-in 3in LCD makes checking ink levels and printer maintenance straightforward.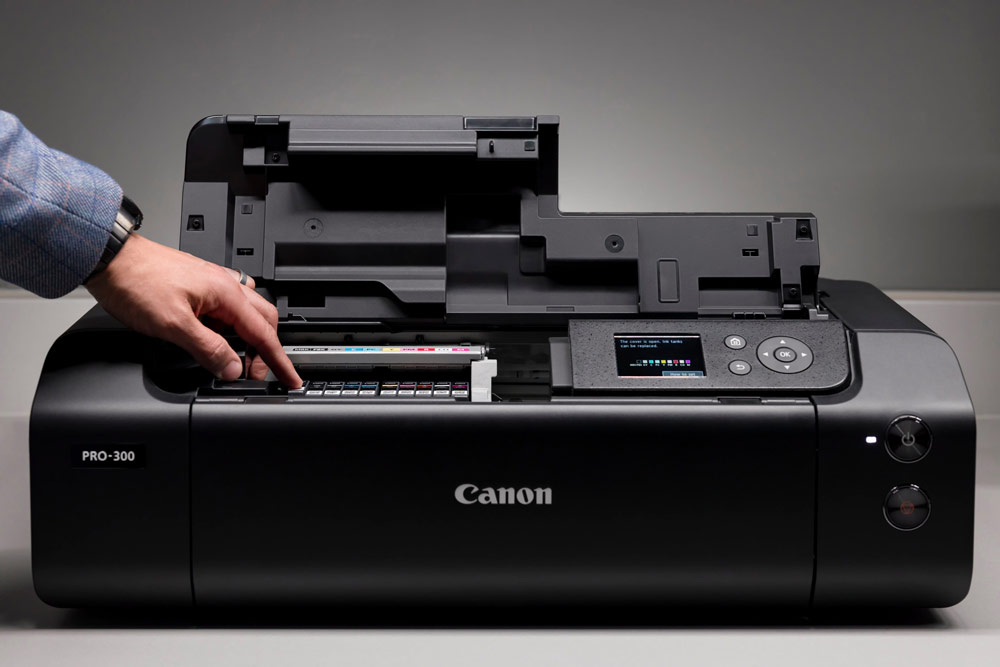 Canon imagePROGRAF PRO-300
At a glance
$776 / £679
3-inch colour touchscreen to show ink levels and printer status.
Nozzle recovery system
Skew correction
WiFi, USB and Ethernet connectivity
Max print size Borderless up to 13x19in. A3+; 13x39in/33×99.1cm
Nine Lucia Pro pigment-based inks: photo black, matt black, cyan, photo cyan, yellow, magenta, photo magenta, grey and red plus a chroma optimiser
Dimensions: 33X25.2X16.4in / 83.8x64x41.7cm (maximum)
The imagePROGRAF PRO-300 comes from the same stable as the Pixma Pro-200 and both can print up to A3+. However, the more expensive PRO-300 offers more and inherits the workflow of Canon's larger imagePROGRAF PRO models, with a nine-colour pigment inkset.
There is also a tenth bay for chroma optimiser which enhances glossiness and expands colour. The PRO-300's inkset has a matte black cartridge to produce deeper blacks on matte fine-art materials and it is permanently on tap – so there is no wasting time and ink when switching from one black ink to the other.
All cartridges contain 14.4ml of ink and cost $12.99 / £19 each with multi-packs available.
Using the PRO-300 is a cinch, with a 3-inch colour LCD display keeping you up to date with ink levels and printer status. An input tray can cope with paper from 6x4in up to 13x19in (A3+) and a manual feed slot can accommodate 13x39in/33×99.1cm paper for panoramic prints. If you have any paper-feed issues the printer is equipped with auto skew correction.

Epson EcoTank ET-8550
Key features
$800 / £639
4.3inch/10.9cm touchscreen.
Accepts SD/microSD cards,
PictBridge support, direct print, print from USB. WiFi, USB and Ethernet interfaces
Max print size 13x19in/A3+
Print resolution: 5760x1440dpi
Scan resolution: 1200x4800dpi
Copy resolution: 600x600dpi
Six colour inkset: Black (pigment). Photo black, cyan, yellow, magenta, grey (all dyes)
Dimensions: 29.8×20.6×16.9in / 75.7×52.3×42.9 cm
The EcoTank ET-8550 is a three-in-one unit that can print, scan and copy, making it ideal for a photographer's home office. Its printing function uses a six colour inkset with Claria ET Premium ink capable of producing outstanding colour and monochrome photo quality prints. There is plenty of choice when it comes to output and this unit is capable of delivering borderless A3+ prints on photo finish papers, fine art papers and even accepts posterboard up to 1.3mm thick.
The costs of running a photo quality printer can quickly mount up if you're a prolific photographer and that brings us to the key selling point of EcoTank printers: they have refillable ink tanks rather than replacement cartridges and this can save up to 80% compared with ink cartridge systems.
Each 70ml bottle of ink costs $18 / £16 and buying in multi-packs can save you even more cash.
The ET-8500 is also available at $621 / £600 and the two are same in terms of inkset and features but it produces A4 prints, while the ET-8550 takes 13in wide paper so capable of A3+ prints.

Epson SureColor SC-P700
At a glance
$829 / £579
Max print size: A3+
4.3in/10.9cm touchscreen
Accepts SD/microSD cards.
Support for Epson Connect, Apple Print, Google Cloud Print, Wi-Fi Direct.
Prints from WiFi and USB and can print on DVDs and CDs
Max print size: 33×48.3cm / 13x19in/A3+
Roll feed (max): 13x129in / 33.02×327.66 m
Print resolution: 5760x1440dpi
UltraChrome Pro 10 inks in 10 colours: cyan, photo black, violet, vivid magenta, yellow, light cyan, vivid light magenta, grey, matte black, light grey, pigment based inks.
Dimensions: 20.3×16.5x 30.3in / 51.6×41.9×77 cm
If ultimate image quality is your aim, Epson's A3+ printer is definitely one for the short-list. Epson's F10 printhead can handle ten colours and means that there's no need for a black ink change when swapping between gloss/lustre and matt/textured paper finishes. The SC-P uses UltraChrome Pro 10 ink, with an inkset comprising ten colours for prints and an extended blue gamut.
The inkset includes grey, light grey, matte black and photo black for an exceptional black & white printing performance with solid blacks, smooth mid-tones and clean highlights. Mono output is further enhanced by Epson's propriety Black Enhance Overcoat (BEO) technology that boosts areas of very deep shadows.
A 4.3in LCD optical touchscreen makes for intuitive handling while an extra benefit is the integrated roll paper feature, facilitating the production of 13-inch wide panoramic prints without any need for any extra accessories.
Best paper for printing
When it comes to choosing paper to print on, you're not going to struggle for options. There are so many brands offering a multitude of sizes, finishes and base weights. Experienced photographers usually find their favourites by trial and error, and if you're just embarking on your home-printing journey, trying a few brands and surfaces for yourself is a great way to go.
To set you on your way, however, here's our pick of some leading brands together with some papers to consider. Most companies offer test or discovery packs with two or three sheets of several finishes, so you can check out their potential with your own images.
To start, print using the generic paper profiles downloadable from the maker's website' these will usually give very good results. As you settle on a few favourite papers, it's worth getting a custom ICC profile made. Some paper retailers including Fotospeed and PermaJet offer free ICC profiles, or you might have to pay a small fee, so check terms and conditions on their websites.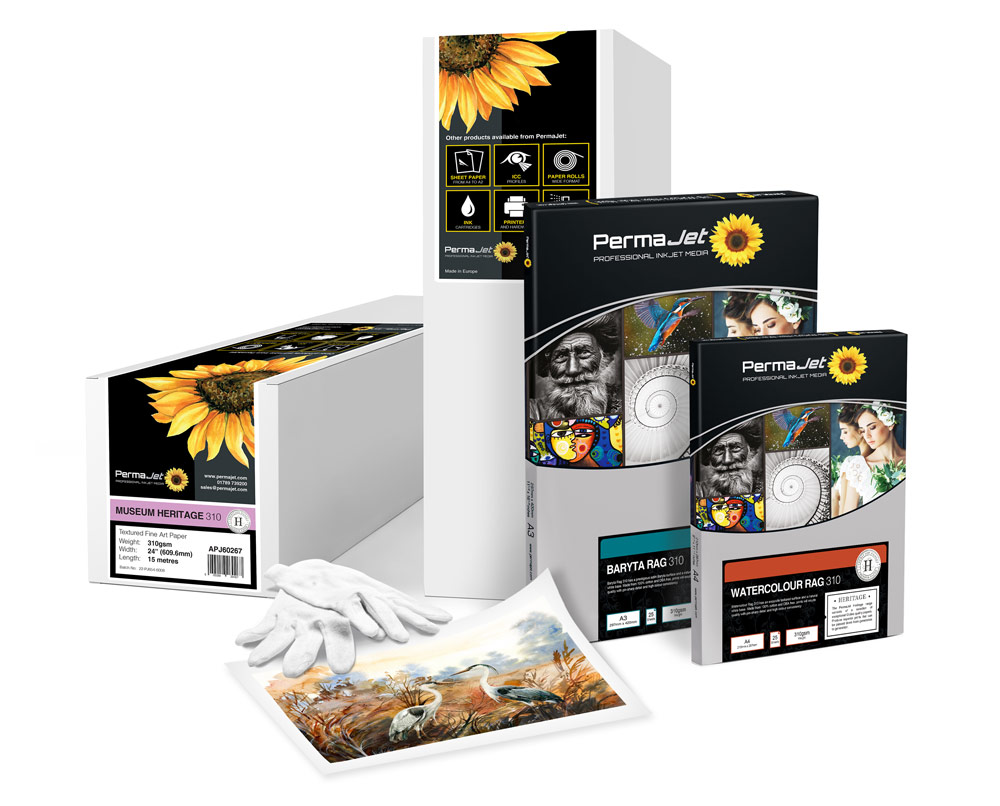 Permajet
PermaJet's portfolio of printing materials is second to none, so whatever your needs there's a material for you. It also stocks a wide range of Canon and Epson printers.
PermaJet's Heritage collection comprises five surfaces, four matt and textured papers and Satin Baryta, a smooth subtle gloss finish. A Discovery Pack priced at £8.95 includes two A4 sheets of each paper and prices for a 25 sheet A4 pack start from £32.95.
If your taste is for a fibre paper with a traditional darkroom look and feel, PermaJet has seven offerings in its FB Baryta series with FB Gold Silk 315 one of our favourites. A 25 sheet pack of A4 costs £32.95.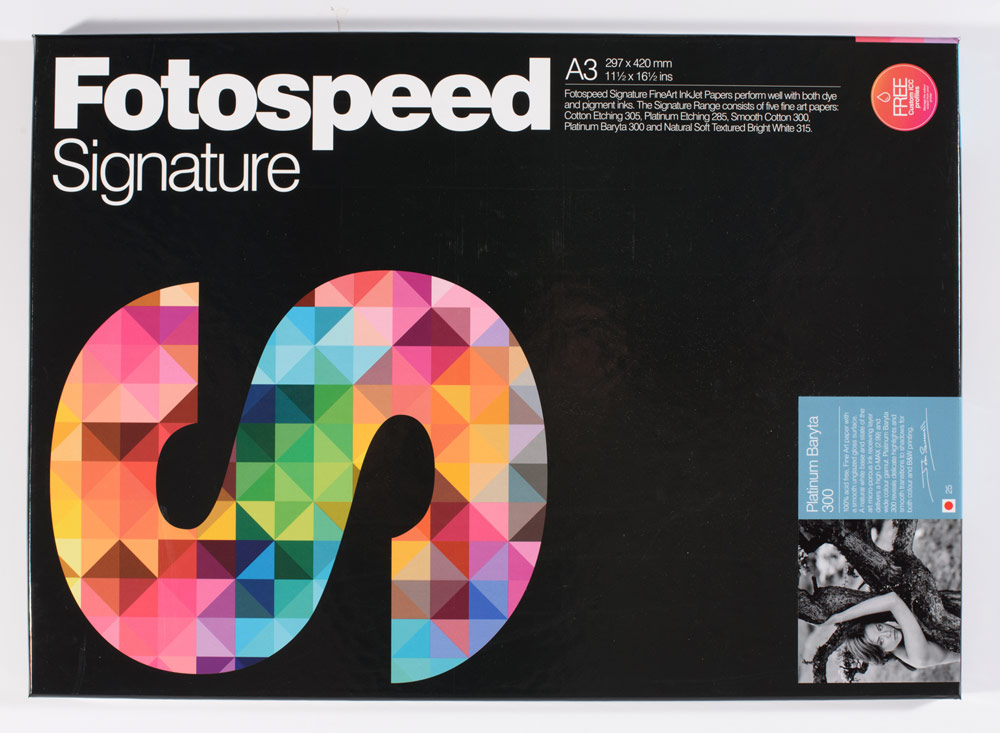 Fotospeed
All tastes are catered for in Fotospeed's comprehensive range of printing materials and as well as its own range, it also retails other leading brands including Canson, Epson, Hahnemühle and Ilford. Printers and other imaging accessories are also available.
Two of our favourites are Platinum Baryta 300 for an unglazed gloss finish which costs £34 for a 25 sheet pack of A4 and Platinum Cotton 305, a smooth finish with a natural white base and costs £28.99 for 25 sheets of A4.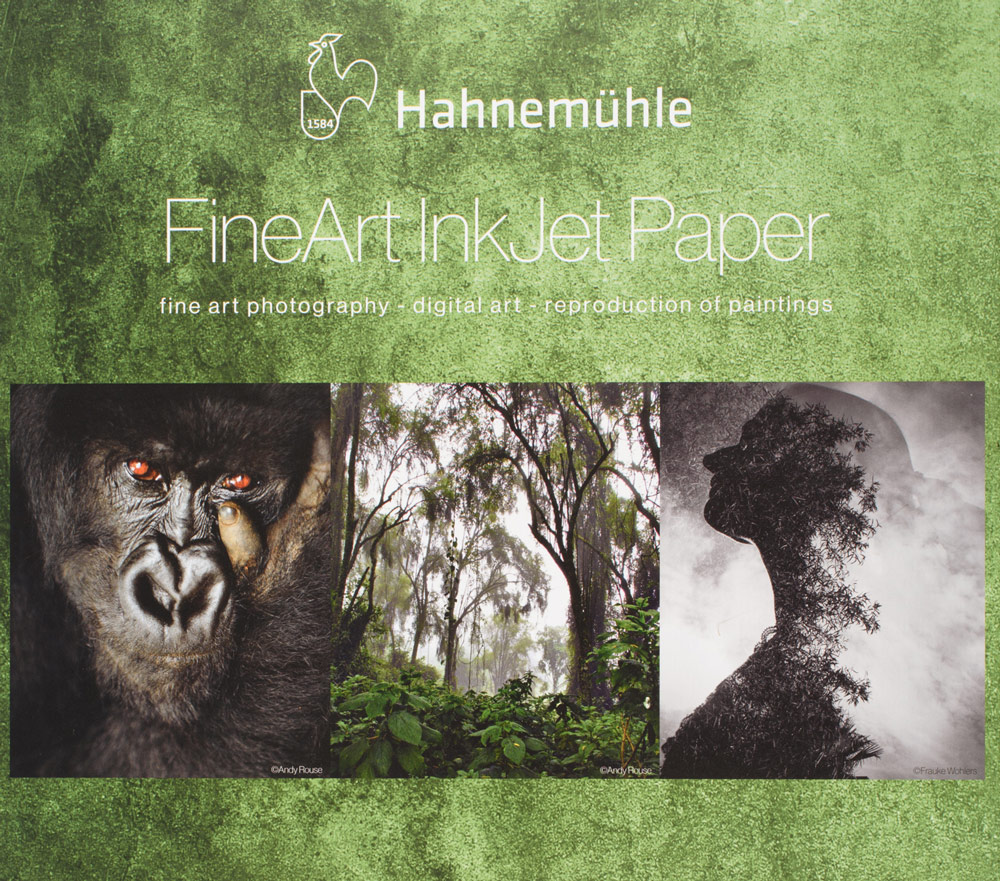 Hahnemühle
Hahnemühle has a long and rich history as a paper maker and its offerings for digital photographers rank among the very finest on the market. Its Natural Line collection features four papers made from environmentally friendly plants: bamboo, agave, hemp and sugar cane.
All four papers have a textured matt surface, perfect for fine art images, and have excellent archival qualities. A Natural Line A4 sample pack costs £10.80 and contains two sheets of Bamboo 290, Hemp 290, Agave 290 and Sugar Cane 300gsm.
---
Further reading
Is home printing still worth it?