No landscape photographer's bag is complete without a quality set of camera filters. Here we reveal some of the best filters for landscape photography, including kits and accessories we've tested...
---

H&Y Magnetic Filter Frames
$28 / £21 (100x150mm) l www.handyfilters.com www.hyfilters.net
Designed for photographers who use 100x100mm or 100x150mm filters no thicker than 2mm, these plastic frames clip around filters to offer an extra form of protection, while providing magnetic connection with any filter holder fitted with H&Y's magnetic holder adapter strips (LEE Filters, Formatt Hitech and NiSi filter holders are supported).
With the magnetic frames attached to your filters and the adapter strips fitted to your filter holder you can take full advantage of being able to snap filters on and off in seconds without touching the filter's surface. Better still, they allow you to stack filters on top of one another which saves space in the camera bag.
---
NiSi Compact Camera Filter System
$55.25 / £53 (Professional kit) l www.nisiopticusa.com www.nisioptics.co.uk
NiSi produces an extensive range of high-quality glass filters and filter systems. We were mightily impressed by the Compact Camera Filter System when we reviewed it, which is available to users of large-sensor, fixed-lens compact cameras, namely the Ricoh GR2/GR3, Sony RX100 VI/RX100 VII and Fujifilm X100-series. Check out our review which featured the system for Fujifilm X100-series compacts here.
The professional kit will be the preferred choice of most photographers and for a very reasonable price you get a robustly made filter holder, a 3-stop graduated ND filter, a polariser, a 3-stop (0.9) ND filter (0.9), a Natural Night filter and a case. It makes a great buy if you like shooting landscapes with your compact and want a set of filters that conveniently fit your pocket.
---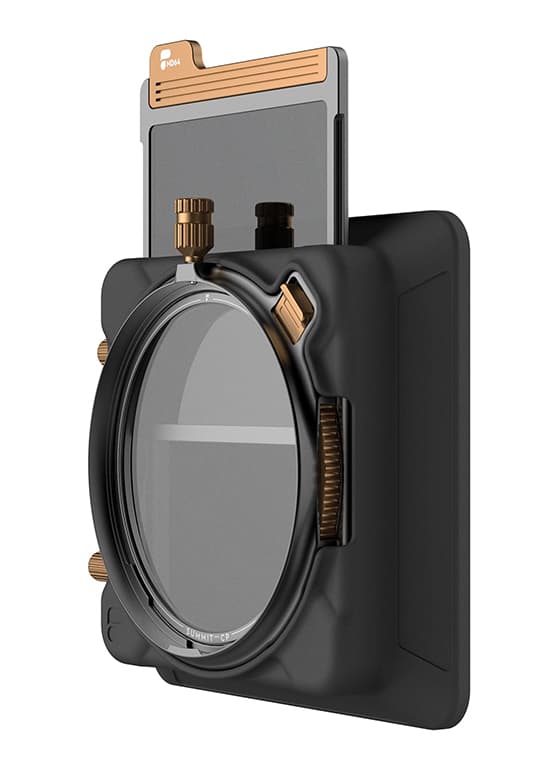 Polar Pro Summit Landscape Kit
$599.99 / £511 (including shipping from US) l www.polarprofilters.com
PolarPro's Summit system is aimed at serious enthusiasts and professional landscape photographers who shoot on full frame and are willing to spend more for a premium product. With aluminium frames built around each filter for fingerprint-free installation, a low-profile circular polariser and hassle-free user experience, we described it as one of the most refined filter systems we've ever tested when we reviewed it. Click here to read the review.
In the kit you get what's known as a core (a posh name for the filter holder), two thread plates (77mm and 82mm), a ND64 (6-stop) filter, a ND4-GR (2-stop) soft graduated ND filter, a circular polariser filter, a hood and a practical carry case. At the time of writing, a free ND1000 (10-stop) filter was also being offered to anyone who bought the landscape kit.
---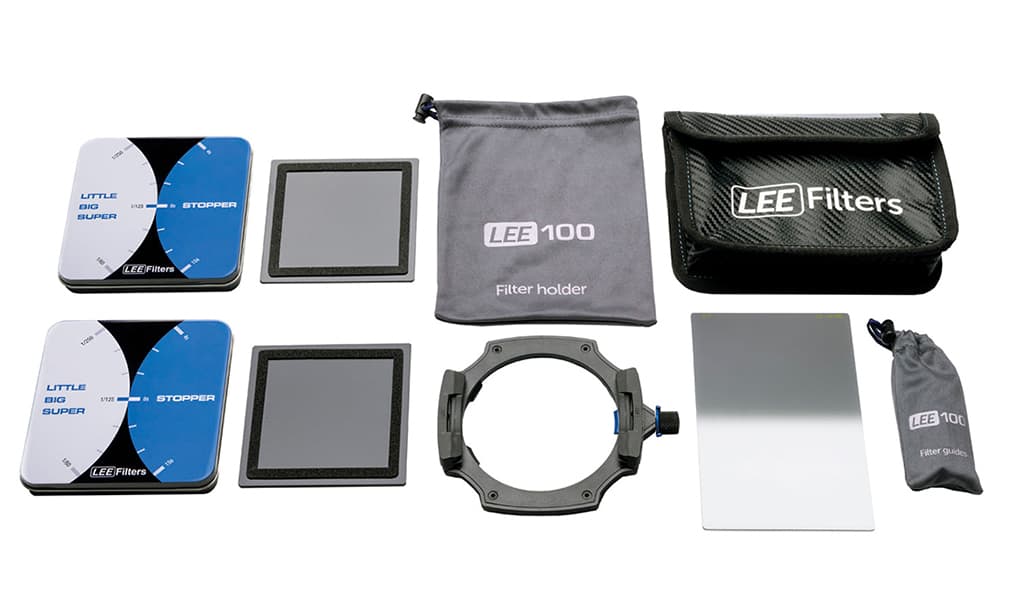 LEE Filters LEE100 Long Exposure Kit
$493.50 / £394.80 l www.leefiltersdirect.com www.leefilters.com
If you're yet to buy into a filter system and are looking to capture some dramatic long-exposures, you'll want a kit like this that comes with everything you need to get started. Based around the LEE100 filter holder, which attaches to lenses via adapter rings (available separately in sizes from 43mm to 105mm), it has an effective spring release for one-handed operation and lets you slot in and use up to three filters simultaneously.
In the kit you get a hard 0.6 graduated ND to darken skies and two long-exposure filters. The LEE Little Stopper reduces the amount of light that enters your lens by six stops, with the Big Stopper cutting out ten stops of light.
If you're unsure of how to calculate your long exposures, download the LEE Stopper app onto your phone. It has the ability to work out exposure times for 6-stop, 10-stop and 15-stop ND filters (irrespective of brand) and has a built-in timer function, which is very useful if your camera doesn't have its own.   
---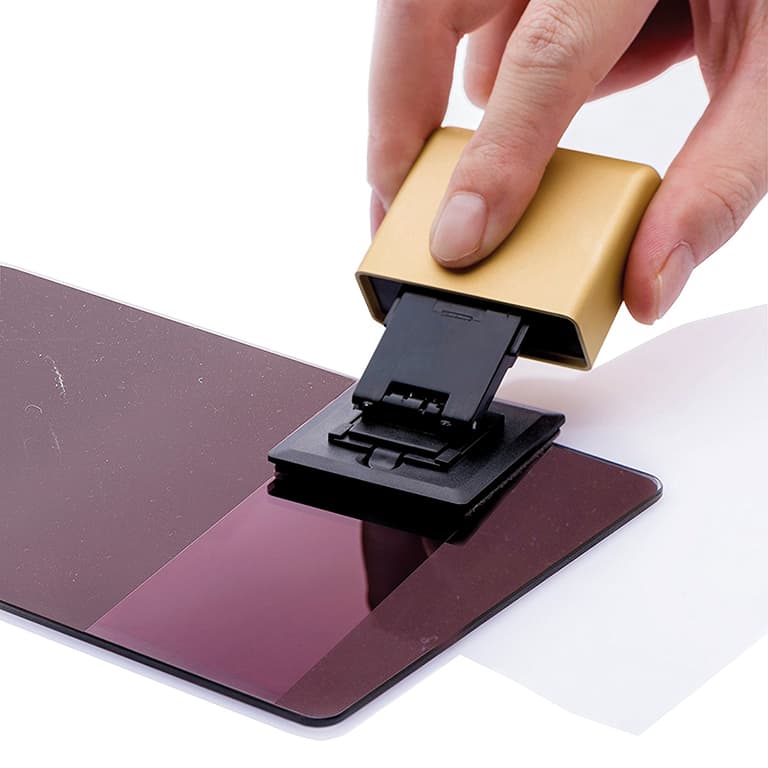 NiSi Clever Cleaner
$9.99 / £7 l www.nisioptics.co.uk
This is one of the cheapest but most valuable filter accessories you can buy. Purposely designed for cleaning glass filters, the Clever Cleaner is highly effective at removing oils, splashes of seawater, fingerprints and other unwanted substances from filters.
It features a porous cleaning surface that doesn't harm multi-coatings and nano-coatings, however it's imperative that any specks of dirt or grit are removed first using an air blower to prevent scratching the filter surface.
---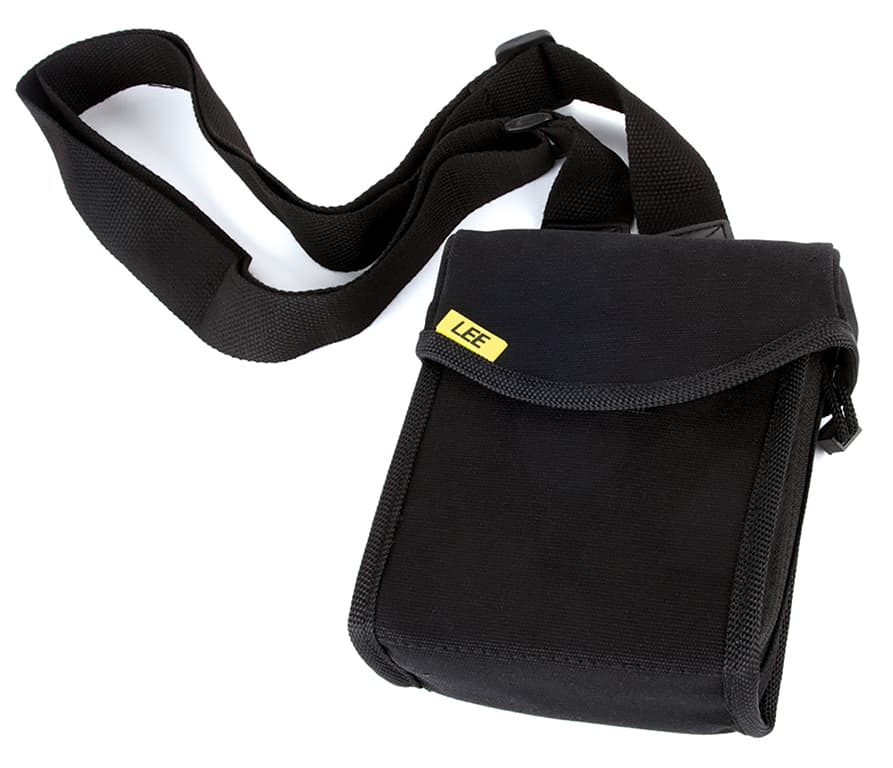 LEE Filters Field Pouch
$58.50 / £46.80 l www.leefilters.com
This Field Pouch is a great option for keeping filters neatly stored and provides excellent protection from damage. It's large enough to store filters up to 100x150mm in size and has soft padded internal compartments with capacity for up to ten filters in total. You can attach it to a belt via a Velcro-fastened hook, or it can be carried over your shoulder with the supplied strap.
Like most premium products, if you're prepared to spend a little more on this pouch you'll get a first-class product in return.
---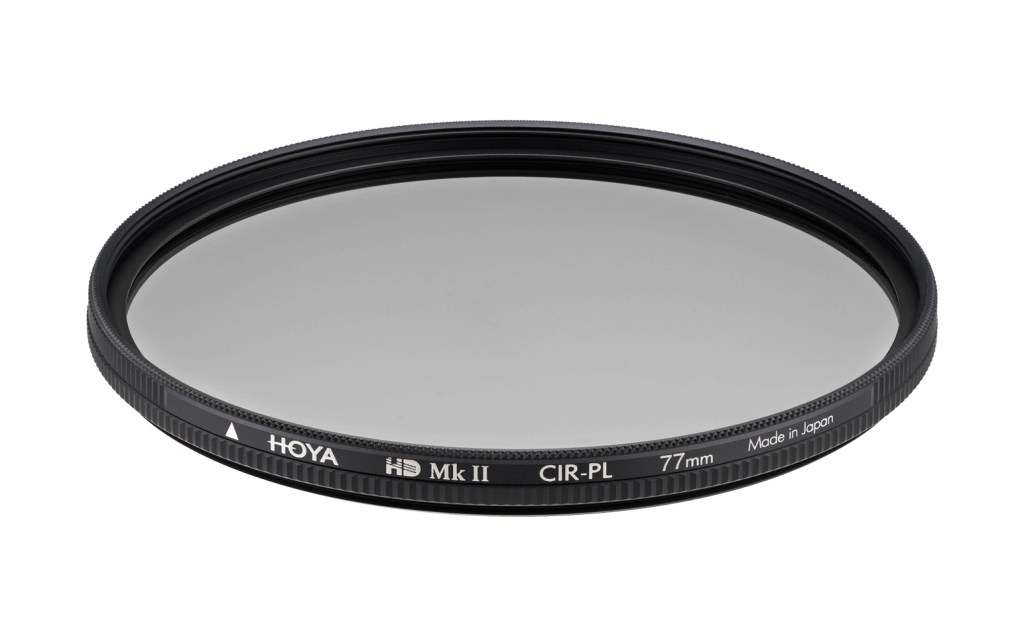 Hoya HD MK II Cir-PL
$199.90 (HD3) / £152 (77mm) l www.hoyafilterusa.com www.hoyafilter.com
If you're searching for a high-quality circular polarising filter that can be screwed directly onto the front of your lens to enhance saturation in the sky, manage reflections and reduce glare from the surface of water, look no further than Hoya with its range of  CPL filters. The HD Mk II has 16 layers of anti-reflective coating and is water and oil repellent. It also has 25% better light transmission compared with standard polarisers. In the US, there's the option of buying the Hoya 77mm HD3 CP-L which provides over 92% light transmission and has eight layers of anti-reflection nano coatings on each side.
The ultra-thin rotating frame helps to prevent vignetting at the edges when it's used with wide-angle lenses, plus it's available in sizes from 49mm to 82mm. The price varies depending on which size you choose.
---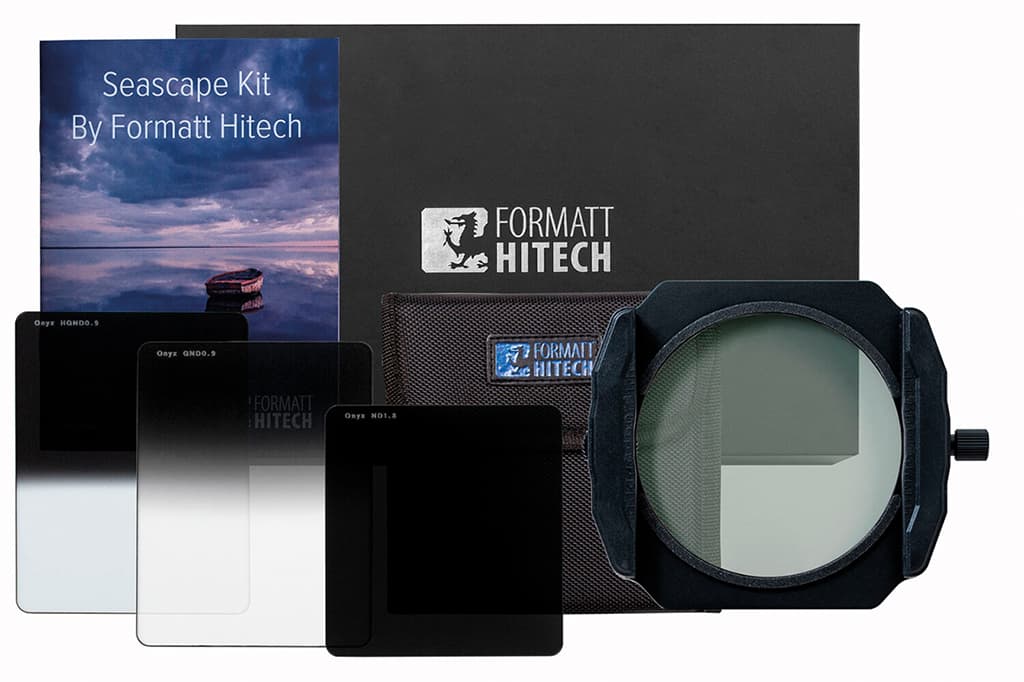 Formatt Hitech Onyx 85mm Seascape Kit
$375 / £345 l www.formatt-hitech.com
If you're an APS-C or Micro Four Thirds user looking for a compact filter system that fits lenses with filter threads up to 77mm in diameter, and can be used with lenses as wide as 17mm equivalent, you'll want to consider this Onyx 85mm Seascape Kit from Formatt Hitech.
In the box you get a filter holder set that includes a 77mm Firecrest circular polarising filter, a 77mm adapter ring and step-up rings for 72mm, 67mm and 58mm threads, all in a nylon carrying pouch.
Three Onyx filters are included in a separate pouch: a 6-stop ND, 3-stop soft ND grad and 3-stop hard ND grad. When we tested the filters we were impressed by their neutrality, with no sign of negative impact on detail rendition.
---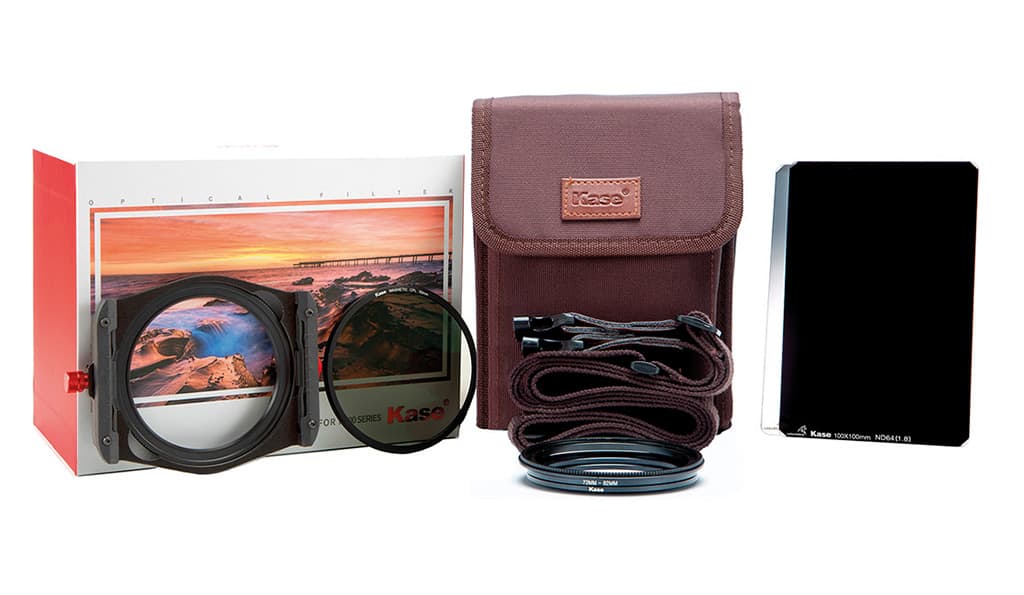 Kase Wolverine K9 entry-level kit
$499.95 / £369 l www.kasefilters.us www.kasefilters.com
The Kase Wolverine K9 100mm filter system is superbly designed and gives you excellent results with no nasty surprises. The entry-level kit includes the lightweight K9 filter holder, two adapter rings, two step-up rings, a polariser, a 3-stop soft grad and a 6-stop ND.
Adding a 10-stop or a 16-stop ND filter bumps the price up by $149.95 / £146 and $179.95 / £151 respectively. Unusually, the polariser doesn't screw into the holder or lens adapter ring, but clips onto the latter magnetically, making it incredibly quick to install and remove.
Better still, it can be precisely adjusted using a red wheel on one side of the holder.
---
Further reading:
---