Tigers Forever with Steve Winter
21-30 April 2023
Location: India
Join world-renowned photographer and big cat specialist Steve Winter on this unforgettable trip to two of India's best national parks – Bandhavgarh and Kanha – where you will experience and photograph the most majestic of all big cats: tigers.
Steve will take you to some of India's best tiger areas where he's been on assignment for National Geographic and laid the foundation of his book, Tigers Forever. Throughout the trip, Steve will be there to help you develop your wildlife photography skills through personal advice, guidance, lectures and constructive image criticism.
Highlights:
Travel with world famous Nat Geo photographer Steve Winter
Explore the diverse flora and fauna of India's two most famous national parks. Kanha, one of the most beautiful parks of India and also one of the first few parks to be brought under Project Tiger, and Bandhavgarh with one of the highest tiger density in the wild.
See and photograph the Royal Bengal tiger.
Plus, opportunities to photograph other wildlife, including: leopard, sloth bear, spotted deer, Chausingha and many exotic birds.
Experience and photograph the streets and culture of Old Delhi with Rickshaw ride.
Photo editing, photo discussions with Steve Winter.
Lectures and personal tutoring by Steve Winter.
Lectures by local conservationists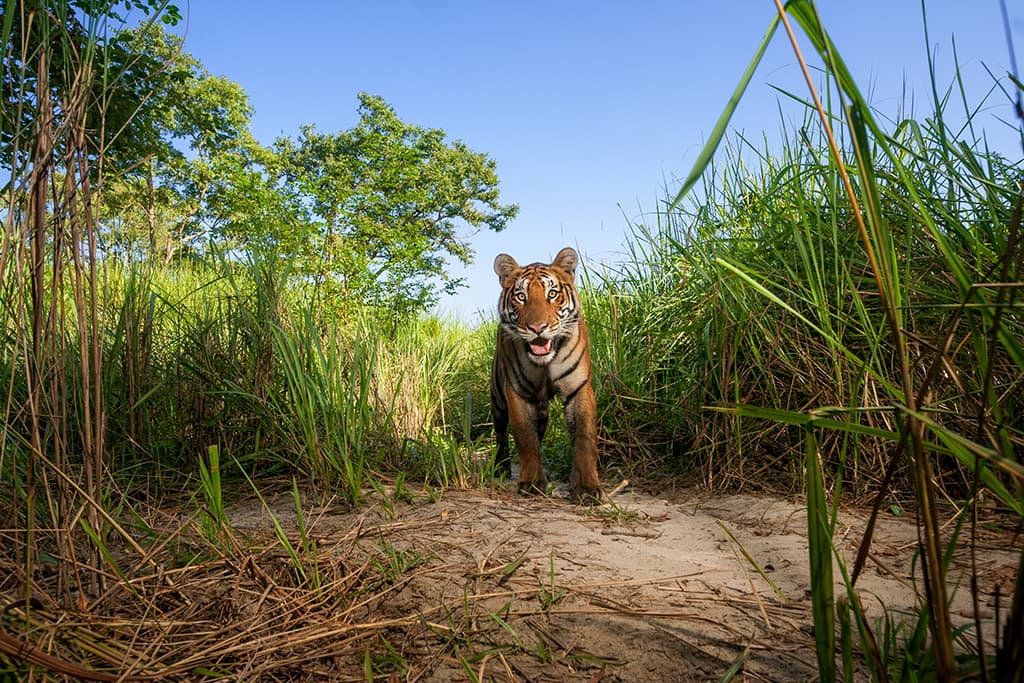 This tour is part of the Zoom 360 experience
When you book onto this holiday, you will also get two digital workshops with Steve alongside the physical course. Find out more about the Zoom 360 experience here: The maximum photo experience with Zoom 360 tours
Steve Winter told us more about sensational career and more about the Tigers Forever holiday here.
---
Itinerary
Before travel – Digital introduction – Date TBC
Before the trip to India, we will have our first digital session where Steve will give us an introduction to India, it's tigers and show some images from the areas we will visit. We will talk about equipment we will need and the camera settings to use. There will be lots of time to ask questions, all so that you shall be prepared when we meet in India.
Day 1 (21/4) – Arrive in Delhi
Upon arriving Delhi's International Airport, we are met and transferred to our hotel, where you will be met by a Zoom Photo Tours representative. Rooms will be available from 2.00 pm onwards. The rest of the day will be on our own, where we can relax, spend time by the pool, take optional activities being offered by the hotel.
In the evening a welcome dinner will be served where you will be met and greeted by Steve Winter and an Indian naturalist expert. After dinner Steve will talk about the forthcoming days before packing our bags for our photo adventure. (D)
Day 2 (22/4) – Delhi
Enjoy breakfast at hotel's coffee shop at your convenient time. We will meet in the lobby at noon where you will be met by Steve. Following brief introduction, we head out for lunch followed by a city tour. Lunch will be served at a nice local restaurant where we can enjoy the many flavours India has to offer.
After lunch we set off for a magnificent tour of Old Delhi, an area established by the Mughals in early 16th century, stands the imposing Mughal-era Red Fort, a symbol of India, and the sprawling Jama Masjid mosque.
We will explore its vibrant and pulsating market Chandni Chowk on Rickshaws and walk through the market to capture the hustle and bustle of the bazaar. Roads filled with street vendors selling items of daily chores, to almost everything that you could possibly think of.
We will also visit Khari Baoli, the largest wholesale market in India for different spices that India is famous for. During the tour you get to capture the soul of the city as you visit Delhi's most diverse markets, streets and structures that will offer you sights, smells, and experiences you would never have imagined before. Indians are normally very open to photographs, so most of the times they will happily give you a smile. So, the odds of creating great images are always in your favor here.
We return to our hotel where we will have dinner and time to talk about the days tour. (B, L, D)
Day 3, (23/4) – Delhi to Kanha National Park
We leave Delhi's bustling streets behind us as we fly to Jabalpur where we will be met by our ever-smiling drivers who would happily drive us to Kanha National Park about 4 hours away. This will be our home for next 3 days.
After check in and a quick lunch, we will have our first encounter with spotted deers, gaurs, langurs and hopefully the Bengal tiger. Today, our focus will be more on understanding the park's diverse flora and fauna and deciding on strategies for our coming days to maximize the chance of photographing tigers along with other animals in perfect conditions.
Part of Gondwana region with native tribes Gond and Baigas, Kanha National Park is undoubtedly one of the nicest and most perfect parks of India in its totality. With stunning landscape of vast meadows and dense forest dominated by Sal trees, the park offers perfect habitat for pristine wilderness.
During the evening Steve will hold an inspiring lecture and show photos from when he, on assignment for National Geographic, worked for nearly five months in Indian parks.  (B, L, D)
Days 4&5 (24-25/4) – Safari at Kanha National Park
We wake up early to head out for safaris at the Kanha National Park. Once we are inside the park we are greeted by a magnificent natural experience as the sun rises over the open meadows on some sambar deer. As we slowly move into the forest, we are met by a beautiful play of light as the soft morning sun finds its way through the foliage. Steve will share his knowledge of how to take advantage of the opportunities in front of us.
We return to the lodge for a few hours of relaxation on our own, followed by lunch. There is now time to relax, unwind and download photos. In the afternoon, it's time to meet up with the wild animals of Kanha again, and we might even get to photograph the very shy sloth bear.
When the sun starts to set, the chance of seeing the tiger increases and with a little luck we will have the opportunity to photograph this majestic animal in the soft evening light. (B, L, D)
Day 6 (26/4) – Kanha to Bandhavgarh National Park
This morning we will have yet another safari to increase our photo count! We return to our lodge and after a quick lunch, we head off to Bandhavgarh National Park known as one of the best parks to see the elusive tiger in the wild.
It was here that Steve had spent most of his time during his project 'Tigers Forever'. Upon arrival, we check into our beautiful lodge, followed by image editing of the Kanha photos with Steve. The evening ends with a nice dinner. (B, L, D)
Day 7-9 (27-29/4) – Bandhavgarh National Park
Over the next three full days, we will explore Bandhavgarh National Park and Steve who will show us some of his favorite areas of this beautiful park that provide the best photographic opportunities. Together with Steve and our knowledgeable drivers, we keep our eyes open to spot fresh paw prints on the road and other tracks that can bring us closer to our first meeting with Bandhavgarh's elusive tigers. Great photo opportunities can show up when we least expect it.
In the afternoon we head out on the second safari of the day, and we will not only develop our wildlife photography skills but we will also learn more about the many ecosystems that we are in. When we drive through the park's hillier terrain, we look up towards the cliffs to see if the mysterious leopard might make an appearance before the golden evening light slowly fades away over the jungle.
As the sun is setting behind the tree line, we leave the park and return to our lodge where a great dinner awaits as well as image editing, photo talks and analysis of the images taken throughout the day.
We enjoy a final dinner together where we get the chance to summarise our adventure and talk about our experiences and photo opportunities we've had together in the wilderness. After our last dinner on this tour Steve will appoint the best image of the tour, which will be published in Amateur Photographer magazine (B, L, D)
Day 10 (30/4) – Bandhavgarh National Park and return home
We spend yet another morning in the park. After lunch we return to Jabalpur airport for an evening flight back to Delhi. Upon arrival at Delhi Airport, there will be a transfer to the international terminal. Flight home on your own. (B, L)
Digital follow up – date TBC
After the physical course has taken place, a final digital follow-up is carried out. After you have had time to go through and edit your photos, this is a good opportunity to ask questions about everything from cropping to how to colour-correct your shots. Steve will also give feedback on your images.
Price: £5,300/$7,100 (£4800/$6765 for AP subscribers)
What's included?
Accommodation in shared twin room (£540/$750 single room supplement).
Meals according to itinerary (Breakfast – B, Lunch – L, Dinner – D).
All ground transportation according to the itinerary.
Safaris according to itinerary.
Local rangers during all safaris.
Park and entrance fees.
Personal tutoring & workshops by Steve Winter during the trip.
A tour leader from Zoom Photo Tours.
Various conservation activities and lectures during the tour.
Hotel taxes and other local fees.
Travel documents and other travel information.
Excluded: International flights to and home from Delhi. All expenses of personal nature like drinks, laundry etc. Tips to the ranger. Cancellation & travel insurance.
You should arrive in Delhi before 6pm on 21 April and have your return flight no earlier than 11pm on 30 April.
What should I bring?
Your camera.
Telephoto lenses up to 500mm or mid-length lenses around 70-200mm, wide angle lenses for example 24-70mm.
Monopod or tripod.
A laptop with image editing software
Extra batteries, chargers etc.
A more detailed equipment list will be provided in the information material you will receive prior to the trip.