From Abigail to, more recently, Katie, the Met Office's decision to begin naming the UK's storms is a stark reminder that our climate is changing. However, with the right subject, photography in bad weather can – on a wet or seriously windy day – create opportunities for some eye-catching pictures.
I frequently used to avoid going out in really wet weather, choosing instead to edit images on the computer while the rain battered my office window. Then, back in early February, after a few days of poor weather, I decided to leave the comfort of my office and cruise around in the car to see what, if any, interesting photographic subjects I could find. I soon located two very sodden hares peering across a field. From my comfortable, dry car, I began photographing them, experimenting with a variety of shutter speed lengths to show the rain falling and see what effects I might be able to create.
Subjects
It just so happens that I live in a part of the country with a high population of brown hares. Indeed, I can guarantee that on any trip I take into the countryside, I'll encounter one or two close by the road. Any mammal bigger than a rabbit is a good subject in the rain since, when wet, they frequently have a good shake to expel water from their coat. Being a decent size, deer are particularly appealing, and an added attraction is that you don't usually have to track them down. Deer parks offer great opportunities for photography since the animals can be approached closely enough to allow you to use a mid-range zoom such as a 70-200mm lens, although a longer telephoto reach will help.
Windy days
Depending on its direction, a strong wind can give rise to some great bird pictures. In summer, seabird colonies bustle with life, but trying to capture a puffin coming towards you at 30mph on a tailwind can be frustrating. On the other hand, give that same puffin a decent headwind to fly into and, if the light is right, flight photography can become a breeze.
Birds will always land and take off into the wind. Doing so gives them added control, since they use their feet, wings and tail as air brakes and rudders to adjust their flight. On very windy days, gannets hang above their sea cliff colonies, sometimes appearing motionless as they ride the turbulence. Wind direction in relation to the angle of the sun, and where you can shoot from, will influence the quality of your pictures, but don't be frustrated by rear shots as some birds will actually turn their head to look back at you as they glide past.
Ducks, geese and swans are other good subjects on windy days. Allow for the fact that they take off or land into the wind and position yourself for the best chance of success. Eiders breaking through rough surf provide good pictures, while windblown sand brings an added dimension to lounging seals.
Unseasonal weather
Cold, wet weather in spring and early summer can be a killer for baby birds. Adults will frequently brood their chicks to keep them from being chilled. Nature reserves with good hides for photography, such as Minsmere, an RSPB reserve in Suffolk, are ideal locations for capturing birds at such times.
One bird that displays such behaviour is the avocet. Once hatched, within hours avocet chicks are feeding themselves under the watchful gaze of their parents. On cold days, mum and dad will call them, often every 20 minutes or so, to come over for a warm-through under their bellies.
Coastal fog
For images giving a wider view of our coastal landscape a summer fret, or fog, can create a wonderful atmosphere around a cliff thronged with seabirds. Puffins are the perfect subject in such conditions, as you should be able to approach them and use a short focal length lens to include the landscape within your picture.
Shooting in Britain
The changeable British weather has much to offer the wildlife photographer – and I've not even mentioned snow! There is no substitute for being out in the field, camera in hand, whatever the weather. You simply never know what opportunities may arise. Just remember: extreme weather equals extreme pictures.
Photography in bad weather: Kit list
Rain cover
Protecting your camera needn't cost a fortune – even a bin bag with a hole in one end for the lens will suffice. I use an old pair of waterproof trousers wrapped around the camera and lens. However, there are some excellent covers made for specific focal lengths.
Clothing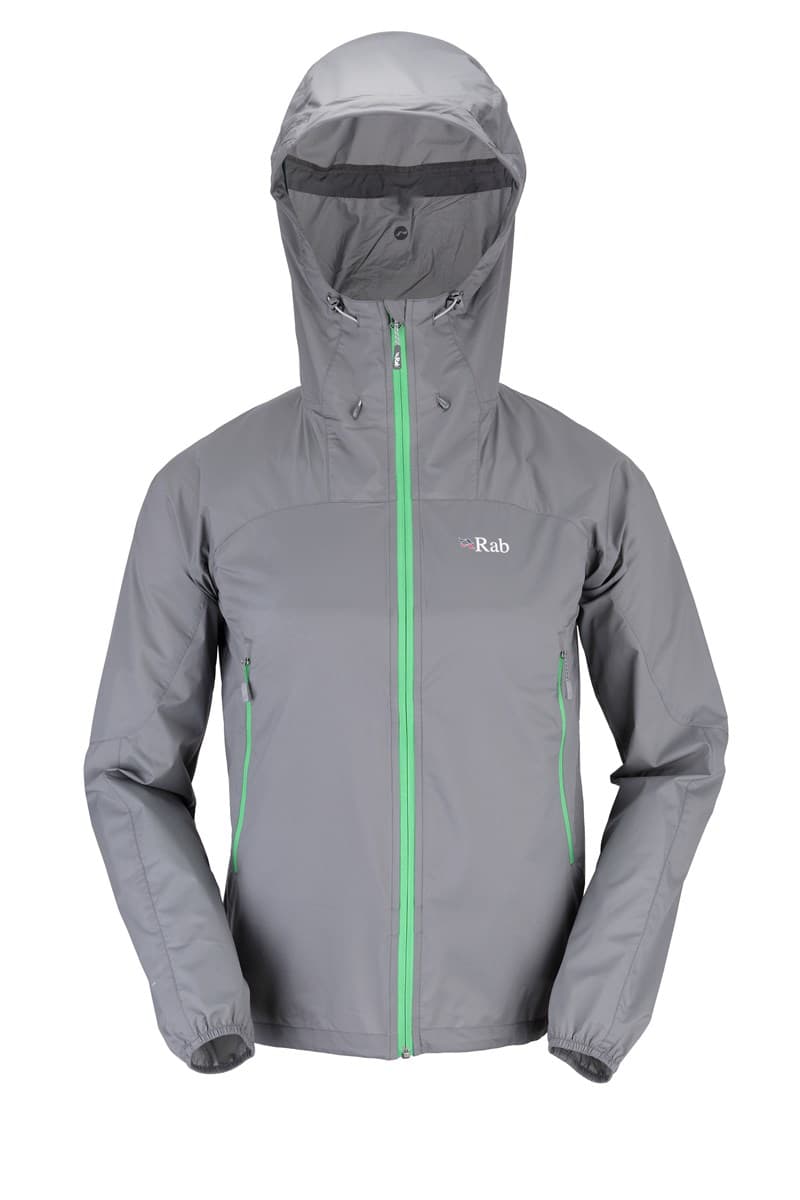 While you'll want to keep your kit dry, you'll also want to keep yourself dry. Make sure you dress for the conditions. A wind and waterproof jacket is essential.
Beanbag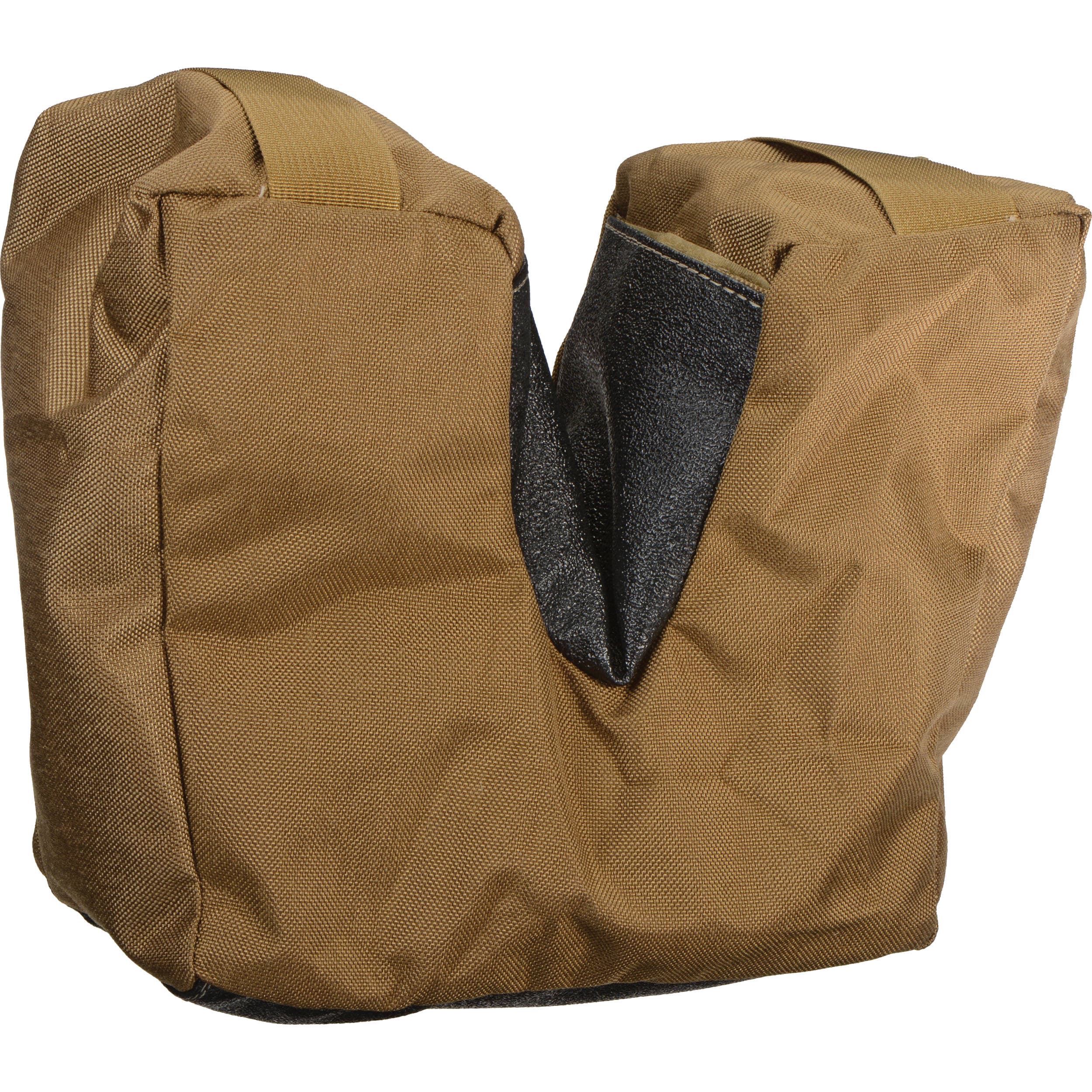 Photographing wildlife in the rain can be very productive if you use your car as a mobile hide and shelter. A good solid beanbag that can rest on the car door will ensure a heavy telephoto lens has a steady support.
Lens cloth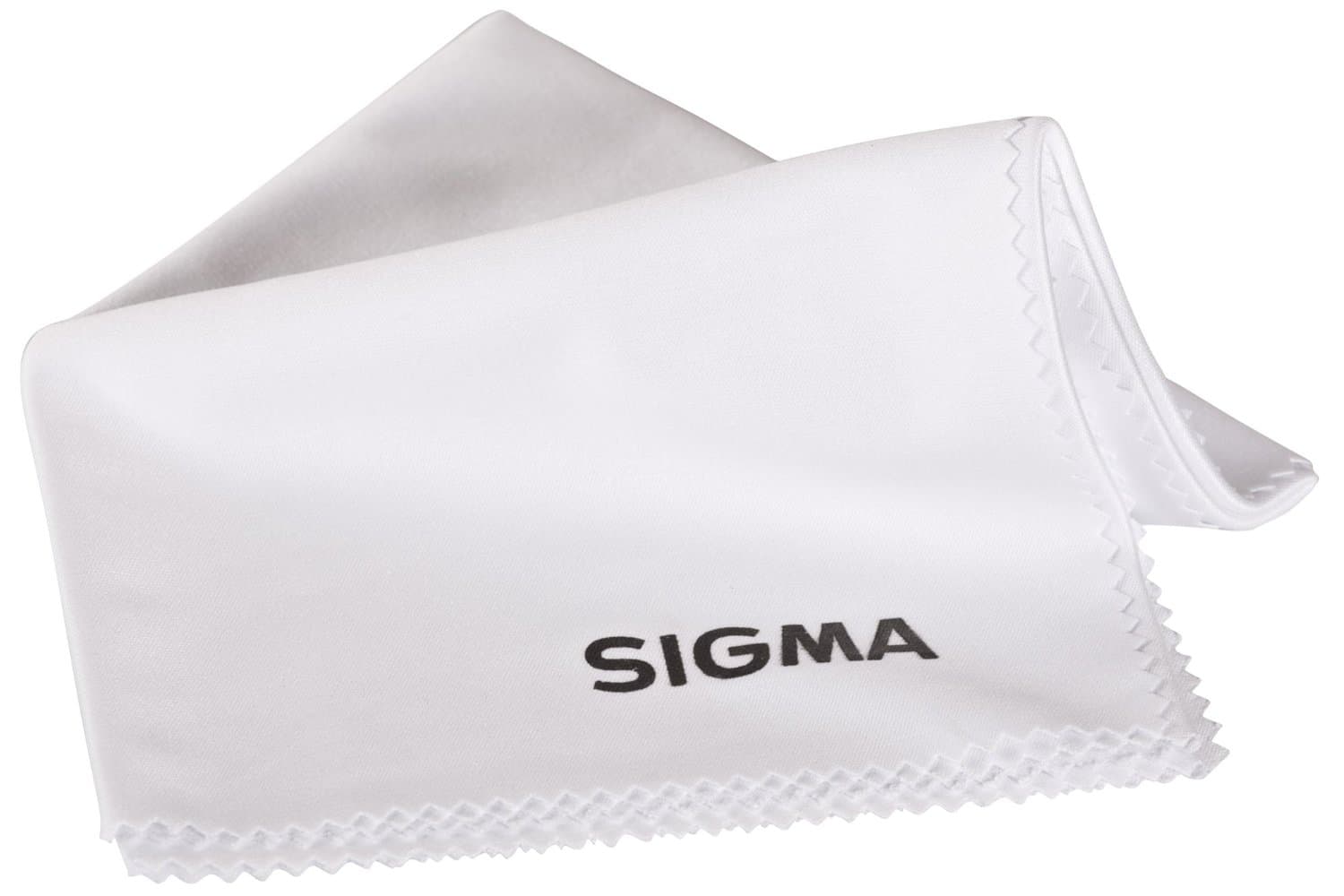 A decent large lens cloth lives in my jacket pocket. You may be mopping off a fair bit of water from the end of your lens if you are shooting into the wind in heavy rain, or on the coast when there is lots of salt spray in the air.
Photography in bad weather: Quick tips
1. Shutter speed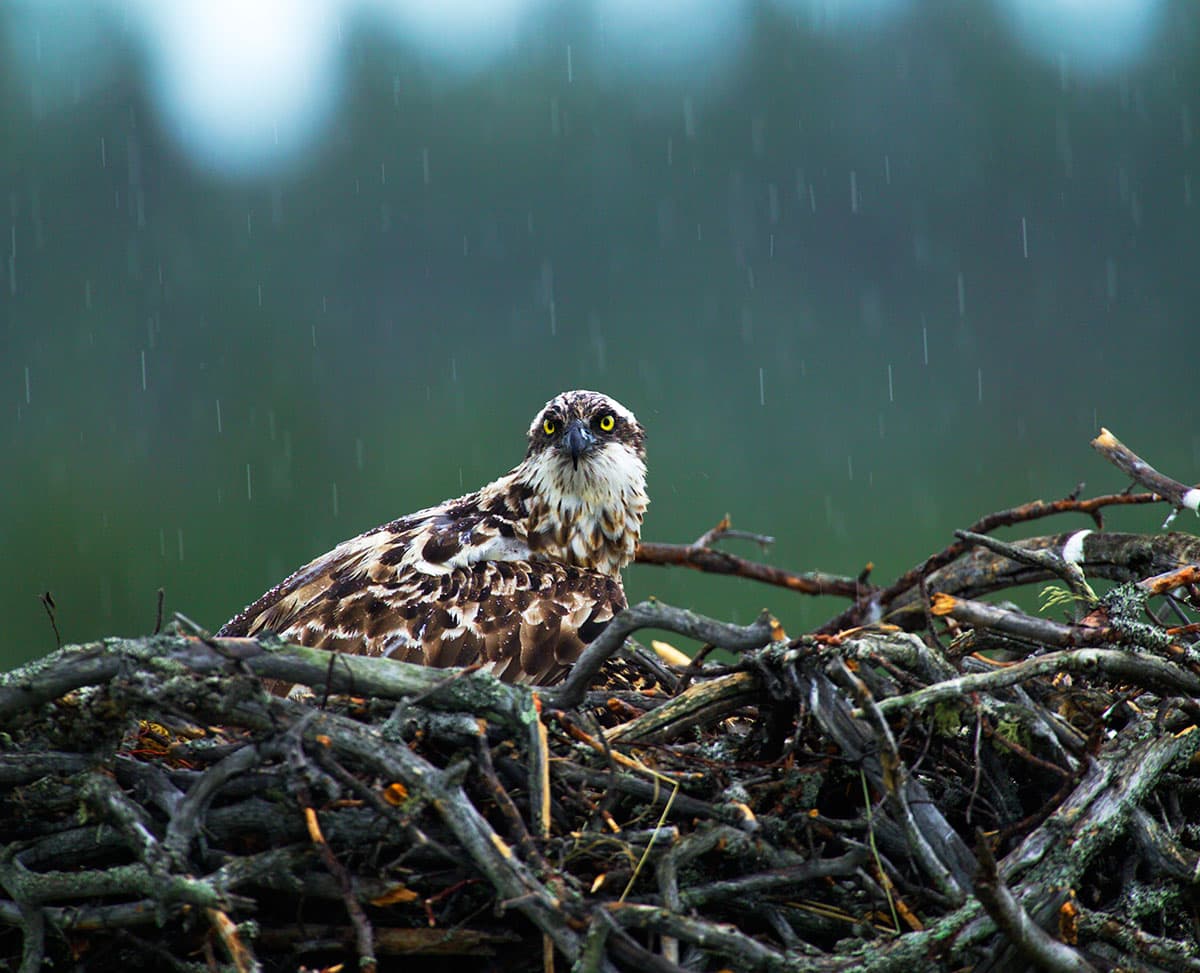 Rain shows up best when you're shooting into the light and against a dark background. Your choice of shutter speed will depend on the intensity of the rain. Heavy rain can be captured with high shutter speeds, while it might be beneficial to use a shutter speed 
of 1/125sec or thereabouts for a more streaky effect when the rain is lighter.
2. Experiment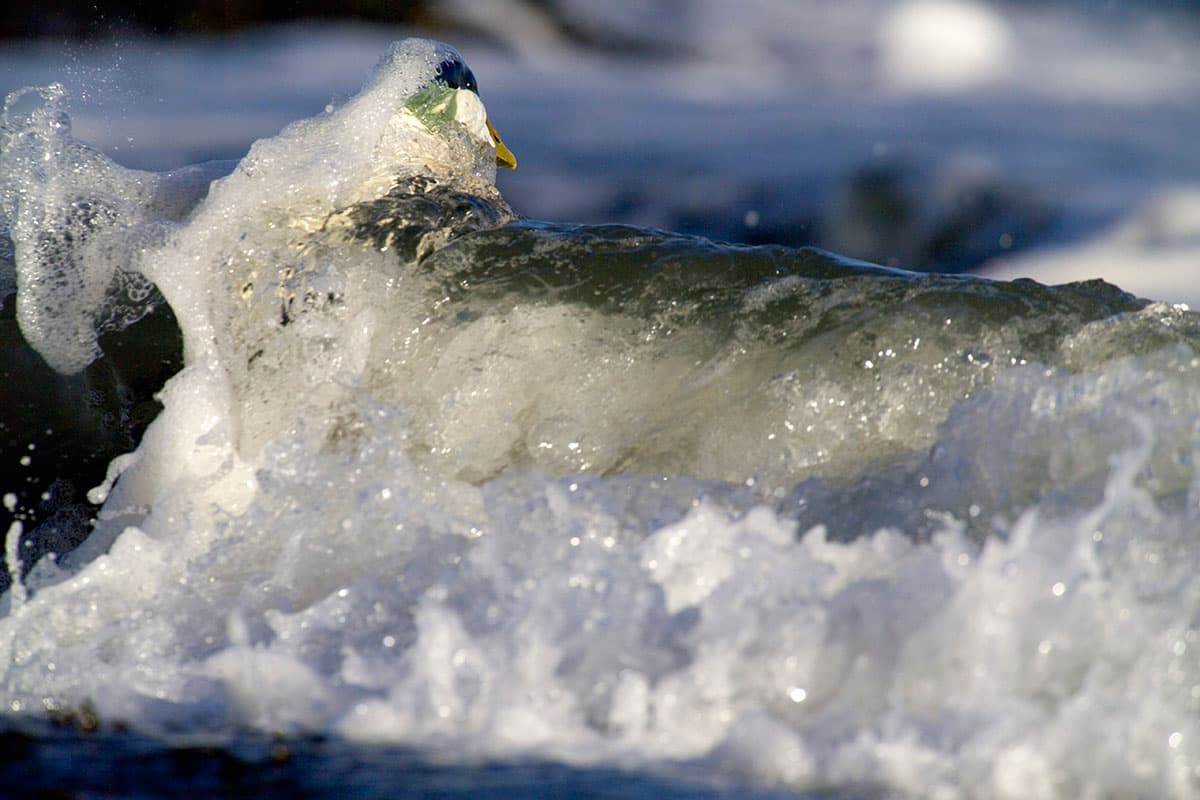 To photograph mammals shaking water off their bodies, try experimenting with slow shutter speeds. If your camera is on a tripod, shooting down to 1/30sec blurs both the body and flying water. Alternatively, a fast shutter speed of around 1/1000sec or more will freeze water and animal at the same time, capturing an interesting expression.
3. Handhold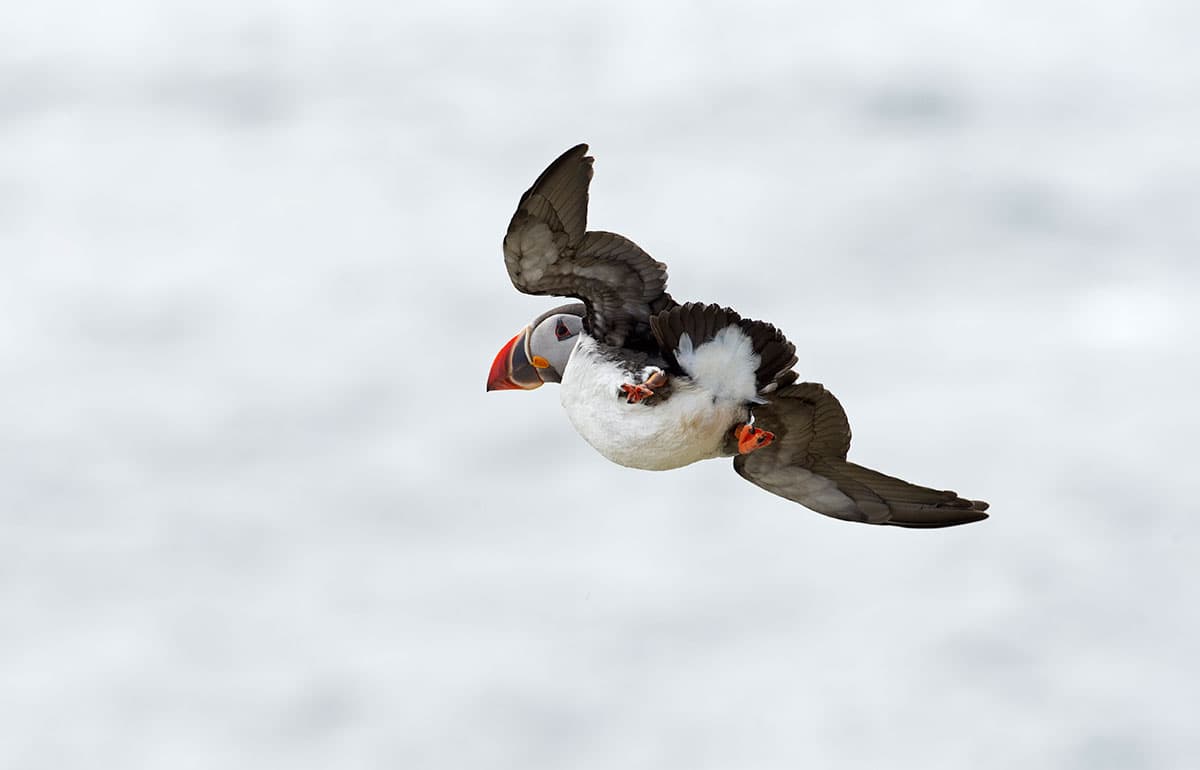 When photographing flying birds in strong winds like this shot of a puffin, I find handholding is much better than using a tripod. Firmly hold both the camera and lens, and with practice, it can give an added freedom of movement that's difficult to replicate on a tripod, even with the smoothest of gimbal heads mounted on top.
4. Positioning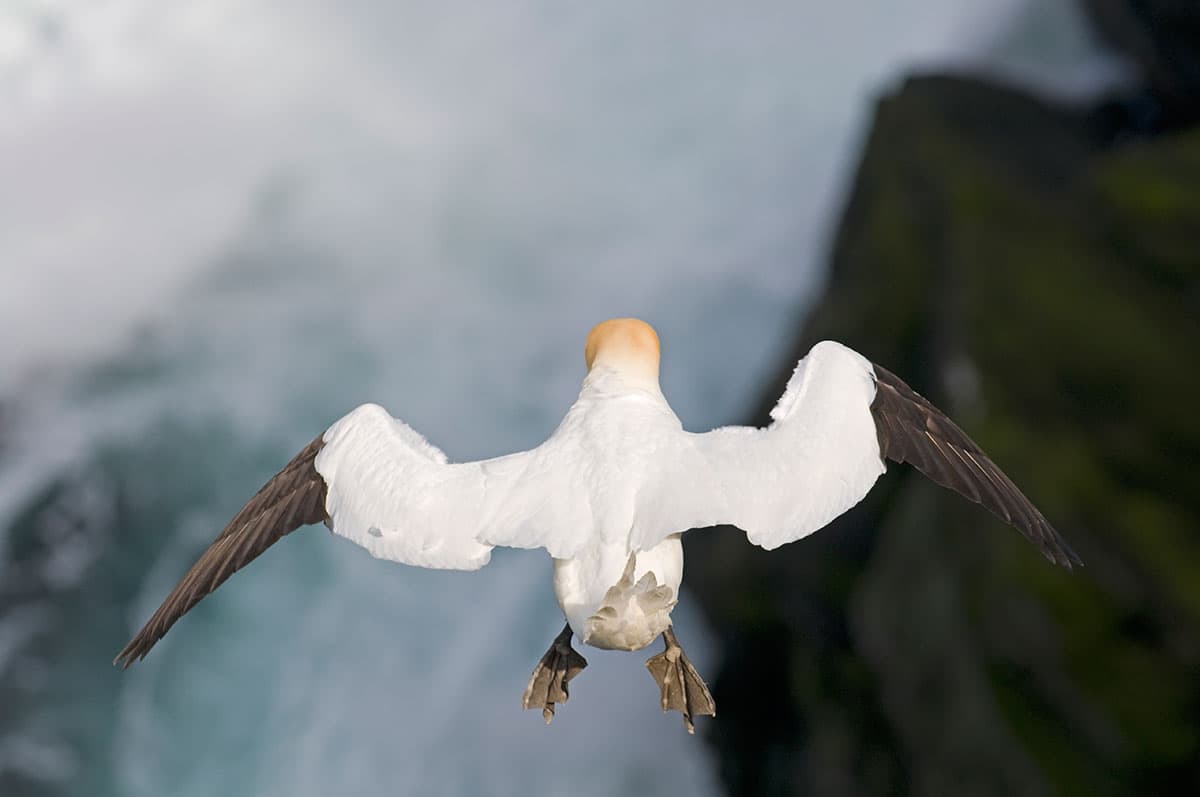 When photographing birds taking off or landing in wind, make sure you are upwind of your subjects' likely touchdown or take-off area. Many photographers use their DSLR's back focus button for autofocusing action shots like this. It takes a while to be comfortable with this method, but is worth trying, as it can be a big help.
5. Timing

Some subjects such as these seals are best shot when the sun is low in the sky, the wind very strong and you are able to shoot into the light. If these variables come together – the wind blowing sand across the beach and the warm backlighting illuminating the image, then you've got the perfect recipe for some spectacular pictures.
Photography in bad weather: Top locations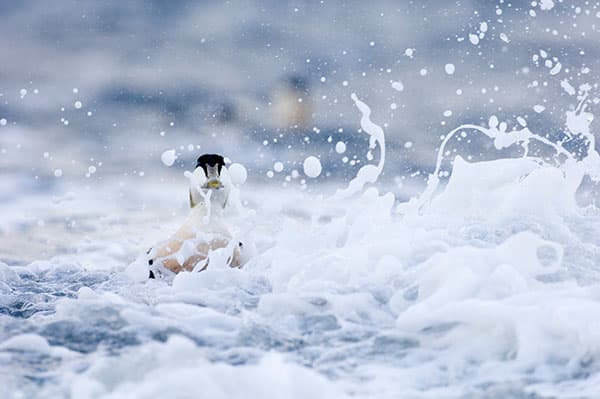 These locations are worth visiting during poor weather conditions. Of course, they are excellent sites in decent weather, too.
1. For photographs of animals shaking themselves in heavy rain, deer parks are well worth a visit. Those I can recommend through personal experience include Knole Park in Kent, Bradgate Park in Leicestershire, Richmond Park in London and the RZSS Highland Wildlife Park at Kingussie in the Scottish Highlands. There are also plenty of areas in the Highlands where red deer come down from the hills close to roads.
2. Eider ducks can be photographed in Northumberland between Seahouses and Bamburgh. They are particularly spectacular in rough seas when they feed close inshore and plough through the surf. A 500mm lens is desirable on such occasions.
3. Seabirds hanging in strong winds can be enjoyed at many locations around the UK in summer. A top site for puffins is the Farne Islands off the Northumberland coast. For gannets, try Bempton Cliffs RSPB reserve in Yorkshire.
4. Brown hare populations have decreased dramatically in parts of the country. Fortunately, some hotspots remain, including Lincolnshire, Norfolk, Suffolk and parts of Buckinghamshire. Photographing from a vehicle is normally the best option as they are persecuted in many areas and likely to run away if you try to approach on foot.