A little reflected light can make all the difference to your portraits. We show you how to make a three-faced reflector for bouncing light back onto your subject
Before you start
You will need:
3x A2 foamboard
Mirror card
Cloth/utility tape
Velcro
Scissors
Craft knife
Steel rule
Marker pen
Skill required: Beginner
Time to complete:  30  Minutes
Cost: £15
A reflector is one of the most useful tools a photographer can use, particularly when shooting portrait images. While there are many commercially available reflectors of all shapes and sizes, it is just as easy to make one yourself.
The design of the three-faced reflector enables it to be held by the subject of the portrait. With the light angled from above, the reflector bounces light back onto the subject's face, helping to fill in shadows and soften their overall appearance.
As the reflector we are going to make relies on the subject holding it, it is best used for seated portraits. By adding Velcro tabs to the design, we can also use different materials to change the brightness and colour of the reflection.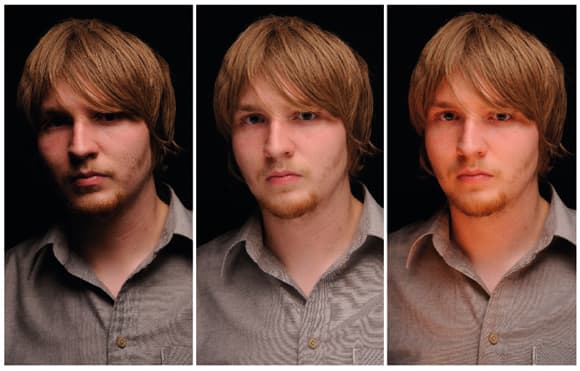 It is surprising just how much can be illuminated using just a reflector. The picture on the left was taken with a softbox placed around 45° above the subject. For the middle image, the reflector was used. It has bounced a lot of light back up onto the subject, softening the shadows. Finally, the image on the right uses the reflector, but with the copper mirror card attached, adding a warm glow to the subject's face.