Looking for inspiration this summer? There's a whole world of photo opportunities on your doorstep, from modern design masterpieces to ancient mounds. Read our guide to the best of the British Heritage photography opportunities.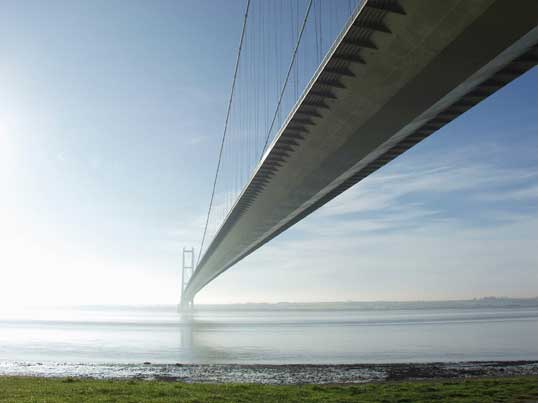 For such a small island we have a wealth of heritage dotted across Britain so, wherever you are in the country, there is bound to be a British Heritage site o close by to photograph.
These exquisite man-made structures range from ancient stone ruins, through to 21st century architectural structures, and even objects many of us may take for granted as they form such an everyday part of our lives.
Buildings and structures such as those covered by British Heritage offer a wide range of opportunities for the photographer that can serve to either bolster your image library or even challenge you to take a step out of your comfort zone. A location can become a theme in itself, a source of abstract or macro subjects, a backdrop or even a visual interest within a landscape.
In this feature we hope to introduce you to some new location ideas for you to try this summer and inspire you to find more of your own, as the list is in no way exhaustive. The tips and techniques are relevant to a range of different locations and hopefully, along with the images, they will help you to take better shots next time you're out and about with your camera.
British Heritage – Places of Worship
Every town or village has a local church and the majority are prime real estate for the photographer. With their stained glass windows, steeples, spires, and gothic details, they provide a range of opportunities for images.
Village churches are often the more picturesque and tend to offer larger grounds for wider compositions, while larger cities offer the grandness of a cathedral or an abbey.
It's always worth spending some time planning your shot – especially if it is close enough to home to keep revisiting the scene – look for the best angles and the best time of day, when the sun is in the perfect position. Some may have floodlights that come on in the evening, and finding out when they come on will allow you to balance them with the dusk to keep some colour in the sky. If possible try to go inside the church as there may be details to shoot, such as candles or even the light coming through stained glass windows. Make sure you take a tripod though, as they may be dimly lit. The grounds may also include a cemetery; gravestones, especially older overgrown ones, can make great subjects or foregrounds and the interaction between the plants and the tombs is often an interesting juxtaposition.
How to Shoot Stained Glass Windows
First, turn off the flash – it will reflect off the glass.
Diffused, even light is best for capturing an even exposure across the whole window. On sunny days the shady side of the church will give better results.
Windows are usually high up. To minimise perspective distortion stand as far back as possible and zoom in to fill the frame. This reduces the angle at which the camera must be tilted.
Alternatively, create deliberate dramatic perspective distortion by shooting from close range and below, using a wideangle lens.
Fill the frame with the window, excluding as much of the church as possible, and take a meter reading from the window.
Set a mid-range aperture (such as f/8) and if handholding the camera make sure your shutter speed is fast enough to avoid camera shake (at least 1/60th second with your kit lens, or faster if using a tele-zoom). If you can't achieve such a speed, raise the ISO setting.
Look for interesting details within the window to zoom in on. If the sun is shining directly through the stained glass window it can often project patterns of brightly coloured light onto the ground or nearby pillars, which can make interesting photos too.
Photography Tips For Church Interiors
Check on whether photography is permitted. Sometimes a permit is required for photos, or for the use of tripods.
Don't shoot during services and periods of worship, or photograph people at prayer without their permission.
If shooting towards the altar get as square on as possible to avoid distortion and achieve a symmetrical composition.
Avoid tilting the camera if possible, as this will cause the sides of the church to converge inwards, especially with a wideangle lens.
To balance your exposure, try combining shots using HDR effects.
Go Visit… Top UK Locations
1. Whitby Abbey, North Yorkshire
2. Ely Cathedral, Cambridgeshire
3. Durham Cathedral, Durham
4. Peterborough Cathedral, Cambridgeshire
5. Highgate Cemetery, London
6. Brookwood Cemetery, Surrey
7. St Peter's Anglican Church, Oare, Kent
British Heritage – Ruins & Walls
Photographers may appreciate beauty and form but we also enjoy the dilapidated, the crumbling, and the ruins. In short, there's nothing that makes a good photo like the barren remnants of a structure, well past its former glory.
The word historic tends to have a bit more clout around the sites across the UK, as – unlike with some newer countries – our interpretation of old can often mean pre-10th century with some stone structures dating back beyond 2000BC and even to Neolithic man.
The various remains tell stories of battles lost and won, invasions or even forgotten ways of life. Some of these retain their original forms while others have almost grown into their landscapes. For this reason it is often best to treat them almost as an organic part of a landscape than a subject in isolation. Think about the scene as a whole, rather than just your subject. Walls are a great visual aid to an image and can be used effectively to guide the viewer's eye through the image and are best positioned to run from the bottom left towards the centre of your image, using a wideangle lens for maximum effect.
The Heritage Trail
If you're looking for further inspiration as to places to visit, the Heritage Trail website offers an extensive database of locations, listed by type, location, name or searchable via a map. The site has been created by two fans of Heritage locations, and much of their data comes from them personally visiting the sites and experiencing them for themselves. www.theheritagetrail.co.uk
Go Visit… Top UK Locations
1. Stonehenge, Wiltshire
2. Flag Fen, Cambridgeshire
3. Chesters Bridge, Northumberland
4. Hadrian's Wall, Northumberland
5. Silbury Hill, Wiltshire
British Heritage – Grand Buildings
One of our closest links to our past is in the buildings that housed our country's nobility. The Kings and Queens, Statesmen and Lords of years past built many grand houses, palaces and fortresses, many of which remain intact today. Their effect on their surroundings is vast, as most were built more to impress than out of practicality, which makes them all the better for the photographer. Much like churches and cathedrals they offer a range of shooting possibilities, although, due to their larger sizes, can look even more impressive as part of a larger scene.
Castles especially are often placed on high viewpoints such as hills or cliff tops, making them easily visible from a distance. At closer range they may offer impressive grounds, with long driveways, arches, columns and ornate architecture. Many will be open to the public at various times of the year for a closer look, but for the early morning and late evening light you are likely to be limited to an external view. Some properties may also have restrictions on photography inside the ground, so it's worth checking before you go.
Go Visit… Top UK Locations
1. Dover Castle, Kent
2. Bamburgh Castle, Northumberland
3. Corfe Castle, Dorset
4. Warwick Castle, Warwickshire
5. Windsor Castle, Windsor
6. Edinburgh Castle, Edinburgh
7. Tower of London, City of London
8. Flint Castle, North Wales
9. Osborne House, Isle of Wight
10. Hampton Court, London
11. Brighton Royal Pavilion, East Sussex
British Heritage – Coastal Buildings
Our extensive coastline hosts its own share of cultural sights, some of the most recognisable being our many lighthouses and piers. Their designs are appealing in their own right but, by nature of their locations, they can create striking images.
Close up, both lighthouses and piers can offer interesting details but their main appeal is in their interaction with their surroundings, so capturing them under the right lighting is essential. The tide will also vastly affect your shots, though long exposures are often preferable and can calm even the roughest seas with a long enough shutter time. Some of the most photogenic examples tend to be those that are a little weather-beaten, or even falling apart. However, a pristine white lighthouse can look magnificent against a rocky backdrop.
Piers are generally best photographed either from their decking, looking out to sea or from underneath, seen from shore at low tide. A wideangle lens will exaggerate its perspective but it is important to ensure your camera is completely level to avoid distortion. Lighthouses can often be hard to get close to, so a longer lens is often useful to ensure it remains large in your composition. Conversely, a position further down the beach is generally preferred to include some of the coastline in the shot. Dawn and dusk will provide the most pleasing backdrops, though capturing one projecting its beam is always an added bonus.
Long Exposures
Increasing your shutter speed, or lengthening your exposure, is a favourite technique of many landscape photographers looking to bring some calm to their images. It has an effect of smoothing everything out, removing any moving elements and can also work to highlight stationary structures, such as buildings or rocks.
The easiest way to create this effect is to use your camera in Shutter Priority or Manual and physically set your shutter value – you'll need at least 10 seconds of exposure for a really smooth look. Unless you're shooting in near darkness, this may be too much light for your camera. If this is the case you can use a Neutral Density filter on your lens; these reduce the amount of light entering the lens by up to 10 stops depending on the filter used.
English Heritage
English Heritage looks after nearly 400 locations across England, including parks and gardens, castles, piers, prehistoric sites, and is even involved in the little blue plaques seen on buildings once occupied by notable figures in history around London.
Many of the properties are free to visit and others can visited for a small entrance fee, or by membership to English Heritage.
English Heritage told us that they are keen for visitors to take pictures at its properties, and encourage people to upload images to their Flickr group (www.flickr.com/groups/englishheritage/), however permission must be obtained to take images for commercial use.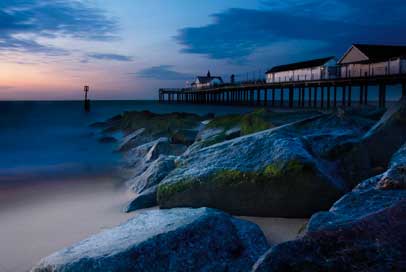 Go Visit… Top UK Locations
1. Brighton Palace Pier
2. Southsea parade pier, Hampshire
3. Beaumaris Pier, North Wales
4. Swanage Pier, Dorset
5. Southwold Pier, Suffolk
6. Eddystone lighthouse, Cornwall
7. Portland Bill lighthouse, Dorset
8. Blacknore Point lighthouse, Somerset
9. Bamburgh Castle, Northumberland
British Heritage – Bridges
Some of the most impressive structures across our countryside have no grounds or gift shop in sight. The soaring industrial construction of some of the various bridges that cross the gauges, rivers and valleys can leave you in awe and are just dying to be photographed.
Their construction is primarily to perform a function, to allow passage of people or vehicles from one side to the other but in solving the technical nature of doing this, many have devised forms that look as impressive as the feat that they perform. Their sizes and positioning are so varied that it is difficult to completely generalise a technique for capturing them: the ultra modern millennium footbridge in Gateshead takes a different type of shot to the grand Glenfinnan Viaduct, over which the 'Harry Potter' famed steam train crosses. The most important thing is to give the structure a sense of scale, so try to include some of its surroundings.
Depending on the angle, you will generally want to keep all of the bridge in the scene. Getting closer to the bridge and using a wide angle will make the scene look more dramatic, as will shooting from below, rather than above. If you're shooting a footbridge try including people crossing it, if it's a rail bridge try to capture it while a train is crossing – even as a blur.
Go Visit… Top UK Locations
1. Tower Bridge, London
2. Clifton Suspension Bridge, Avon
3. Millennium Bridge, Newcastle
4. The Humber Bridge
5. Forth Rail Bridge, Fife
6. The Pontcysyllte Aqueduct, Llangollen, Clwyd
7. Glenfinnan Viaduct (of Harry Potter fame)
8. Severn Bridge, M48, Avon
British Heritage – Uniquely British
Though the majority of our heritage locations could be described as unique to Britain, there are some other features and buildings that don't naturally fall into any of the traditional subjects but are well known enough to encapsulate the character of the nation. They are likely to be subjects that tourists will recognise and therefore must be considered worthy of being photographed. Some, like the Angel of the North statue just outside of Newcastle, are very much heritage sites, while the Punts on the River Cam in Cambridge, or the traditional London taxi or bus, are easily overlooked as subjects for those who see them every day.
National Trust
The National Trust cares for 300 inspiring historic houses and gardens across England, Wales and Northern Ireland. Properties range from former workers' cottages to the most iconic stately homes, and from mines and mills to theatres and inns, with thousands of volunteers helping to keep them alive for visitors. For a full list of locations visit the website www.nationaltrust.org.uk
Photographers looking to take pictures within National Trust grounds are subject to certain rules; primarily that the images are only for personal use, as anyone wishing to sell or publish their photos must seek permission first. A recent change is that photography is now possible inside most buildings, at the properties' or manager's discretion and without the use of flash. The rules are generally designed for visitors to take 'snaps', according to their guidelines, as any use of additional items, such as tripods, is generally discouraged at the discretion of the individual location.
Go Visit… Top UK Locations
1. Angel of the North statue, Tyneside
2. The Houses of Parliament, London
3. The Millennium wheel, London
4. The Punts on the River Cam, Cambridge
5. The Bullring, Birmingham
6. Greenwich Observatory, London
7. The Cerne Abbas Giant (rude man), Dorset
8. The Long Man of Wilmington, East Sussex
9. Concrete Cows, Milton Keynes
10. Wembley Stadium, London
11. Spinnaker tower, Portsmouth
12. The White Horse, Westbury, Wiltshire
British Heritage – Stitching Panoramas
The technique of stitching images allows you to produce images much wider than your lens would normally allow at your current distance and also create a much higher-resolution file. The technique involves taking multiple slightly overlapping images and then combining them in software to produce one elongated image.
Traditionally, and even until quite recently, the process of stitching the images together in software has been a long tedious job and one reserved for professionals. To get the best results the camera should be mounted in portrait format onto a special Panoramic (or VR) tripod head. Recent software improvements however, have meant that not only can the stitching process be automated but it can easily correct for slight movement and distortion. This means that even with a quick handheld attempt, you should be able to get some impressive results.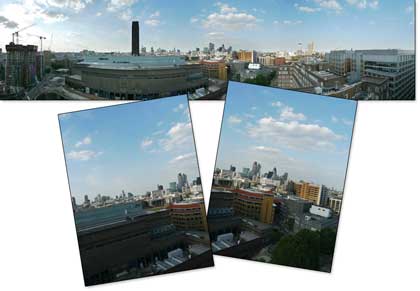 It is still worth following these basic guidelines though, as it will make the stitching process easier and leave you with a better result:
1. Position the camera on its side (portrait format), as this will allow for maximum image height.
2. Set your camera to manual and turn off autofocusing once you have a point of focus. This will avoid your image changing in brightness and focus point across the panorama.
3. Overlap your shots by at least a third. The more information you give your software, the easier it will find it to match up your images and blend.