Amateur Photographer has compiled a list of 18 wildlife photography accessories that could help you take home the perfect shots, every time.
1. Camouflage Tape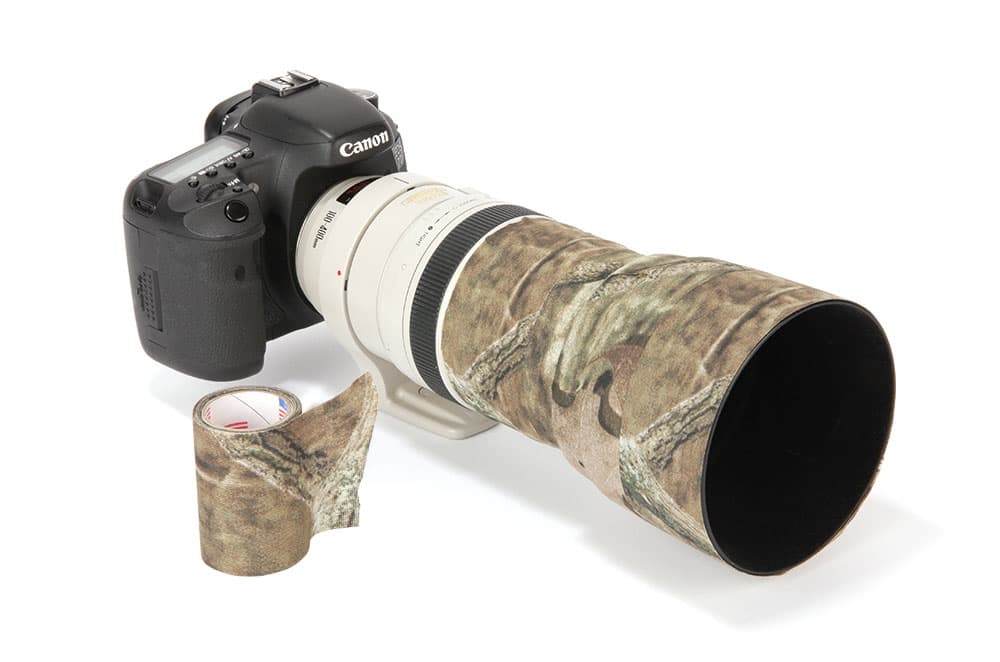 Many wildlife subjects are easily scared by the unfamiliar, and the only way to photograph them is to stay quiet and hidden. Camouflage tape is a great way of keeping your kit inconspicuous – for example, it can be used to cover items such as tripod legs and lens hoods. Various patterns are available from the likes of Mossy Oak and Stealth Gear, and cheap generic products can easily be bought online, too.
---
2. Linpix Photography Mat
Sure, it's not the most exciting wildlife photography accessory you'll find, but it might just be one of the most practical. Measuring 75x135cm, the Linpix Photography Mat is made from 300-denier polyester with a damp-proof backing. It'll keep you dry on those occasions when you need to lie down on the ground to shoot inconspicuously or from low angles.
---
3. Dome Hide C30
The Dome Hide C30 provides a waterproof 1.3m-high enclosure in which you can conceal yourself and your gear. It offers more comfort than covering yourself with scrim netting, and some freedom to move around and select your camera kit. The C30 is available in four different printed patterns to match your shooting environment.
---
4. Kenko Teleplus DG AF extension tube set
Extension tubes act as an inexpensive, lightweight alternative to a macro lens: they fit between a lens and a camera body to reduce the minimum focus distance, enabling close-up shooting with practically any optic. Because they don't contain any glass, they have little effect on sharpness, although with slow lenses on DSLRs the viewfinder can become distinctly dark. This Kenko set is available for Canon, Nikon and Sony Alpha mounts, and maintains electronic connections between the lens and camera, enabling autoexposure and autofocus.
---
5. WD MyPassport Wireless Pro
If you're out in the wilds on a shoot, you probably won't want to lug around a laptop, but chances are you will want to back up your pictures. The WD MyPassport Wireless Pro is the best solution we've come across to date, with storage options ranging from 1TB to 4TB and a powerful built-in rechargeable battery. Pop in your SD card, press the copy button and it'll back up your photos with no fuss.
---
6. Manfrotto MPMXPROC5 monopod

Monopods are ideal for supporting heavy telephoto lenses, while also leaving you mobile to track your subject. Manfrotto's latest XPRO monopods are lightweight yet strong, and use quick-to-operate lever leg locks. They come in four or five sections, and a choice of aluminium or carbon fibre.
---
7. Manfrotto 3N1-36 PL
Many wildlife photographers use pro DSLRs with big lenses that require large, strong bags to carry them around. We've been particularly impressed by this Manfrotto backpack – it's deep enough to hold a DSLR with vertical grip, and its heavily padded back means it is comfortable to wear, no matter how heavy.
---
8. Op/Tech Rainsleeve
Wildlife photographers often find themselves outdoors in inclement conditions, so they need to be able to look after their kit. One of the most essential of our list of wildlife photography accessories is this rain cover. Heavy-duty rain sleeves are available, but for occasional use Op/Tech's Rainsleeve is an ideal way to protect your camera and lenses from rain and dust. A pack of two costs less than £8 and each should be durable enough for several shooting sessions.
---
9. ThinkTank Photo CF/SD + Battery Wallet
Animals are unpredictable, so the last thing you want is to find yourself scrabbling around in your bag for a spare battery or memory card when the action kicks off. This simple accessory holds a battery on one side and a memory card on the other, and can be slipped into a pocket or clipped somewhere accessible.
---
10. PNY Outdoor Charger
PNY's Outdoor Charger is unusual in that it's designed to be used in more challenging environments, with dust and water resistance to the IP65 specification. With a 7800mAG capacity and 2.1A output, the device packs plenty of juice, and the icing on the cake is a built-in LED flashlight.
---
11. Tilley T3 Cotton Duck hat
Hats don't get better than the Tilley T3. Made in Canada, it has a lifetime warranty against faulty materials or just normal wear and tear. Be sure to heed Tilley's instructions on choosing the correct size.
---
12. Páramo Halcon Jacket
Super lightweight, and able to cope with up to four hours of rain, the Páramo Halcon Jacket is a versatile option that's ideal for spring, summer and autumn use. It uses soft, breathable Nikwax Analogy waterproof fabric, which crucially is quiet and rustle-free, so shouldn't scare off the wildlife when you move.
---
13. Sirui W1204 waterproof tripod
To support long lenses most effectively, you need a sturdy tripod, but it's still got to be light enough to carry to your location. Sirui's W1204 is a beautifully made, fully featured carbon-fibre tripod kit, and includes waterproof twist leg locks so you can set it up where other similarly priced tripods would fear to tread.
---
14. MacWet gloves
Manufactured from thin, high-grip material, MacWest's hand-hugging design means that these gloves are extremely popular for a wide range of outdoor pursuits. Made of a thin polyamide and polyurethane material, operating a camera is easy, whether via button controls or a touchscreen.
---
15. MindShift Gear UltraLight Dual 25L
If you're trekking some distance, it's useful to have a dual-purpose backpack that can hold not just your camera gear, but supplies and waterproofs too. Very lightweight, the MindShift Gear UltraLight Dual 25L is water resistant, thanks to external and internal coatings, and a waterproof cover is included. The separate camera module can hold a DSLR with a large zoom, while the main compartment has plenty of space for other possessions.
---
16. Wildlife Watching Supplied C14.3 Standard Double Beanbag (inc liners)
Beanbags are perfect for supporting cameras with spotting scopes or long lenses. The C14.3 Standard Double is a particularly fine example. Designed to support lenses up to 600mm, it is constructed using extra-strong thread and double stitching.
---
17. Pluto Trigger
Sometimes, triggering the shutter manually just won't do. The Pluto Trigger has a huge range of remote-triggering options, both on its own and when used with a smartphone. It connects to a smartphone via Bluetooth, and to your camera using interchangeable cables that are available for most brands, and it can work as an infrared release with compatible cameras. The trigger unit has several built-in sensors, including for sound, light, and proximity. There's even a laser trigger.
---
18. Walkstool Comfort
Shooting wildlife can involve a lot of patience and staying in one place, so some sort of portable chair can be handy. The Swedish-made Walkstool Comfort is far from being the cheapest option out there, but it stands out due to its two-section telescopic legs that make it taller and more comfortable than most, while still being lightweight and portable. It's available in four sizes of various heights, so make sure you get the right one.
---