Tamron 28-75mm f/2.8 Di III RXD review: Introduction
It was only a matter of time before the demand and popularity of Sony's A7-series started to have an influence on the new lenses made by third-party manufacturers. At the beginning of the year, alongside Sigma's news of making seven fixed focal length Art lenses available in Sony E-mount, Tamron released the first third-party standard zoom for Sony's range of full-frame mirrorless cameras.
The arrival of the new Tarmron 28-75mm f/2.8 Di III RXD is significant. Not only does it give Sony A7-series users an alternative standard zoom to choose from, it marks the first in a new series of Tamron lenses for full-frame mirrorless cameras.
Sony A7-series users have had four standard zoom lenses available to them until recently, excluding others that can be mounted via adapters like Sigma's MC-11 mount converter. There's the basic Sony FE 28-70mm f/3.5-5.6 OSS, the popular FE 24-70mm f/4 ZA OSS Vario-Tessar Carl Zeiss T* (£749) and the sensational Sony FE 24-105mm f/4 G OSS (£1199), all of which benefit from optical steady shot (OSS).
We must not forget the ludicrously impressive Sony FE 24-70mm f/2.8 G Master (£1849) either, but this is a premium optic that fetches a very high price.
Tarmron's 28-75mm f/2.8 Di III RXD doesn't allow you to shoot as wide as three of the lenses mentioned above, still it has plenty going for it. If you've bought into the A7-series and are after a fast, yet affordable standard zoom, this could be the ideal lens for you.
Tamron 28-75mm f/2.8 Di III RXD review: Features
A standard zoom is a common favourite with photographers who'd like a versatile lens that's suitable for everyday use. Their effective focal range starts at a moderate wide angle that reaches through to a mild or moderate telephoto and they fall into one of three categories – entry level, mid range or professional.
In Sony FE terms, this Tarmon zoom is squarely mid-range. Its 28-75mm coverage isn't as wide as a 24-70mm lens and what you lose at the wide end you gain at the long end. Key benefits are its constant f/2.8 maximum aperture and lightweight construction.
Compared to a pro-spec standard zoom like Sony's FE 24-70mm f/2.8 G Master that weighs a hefty 886g, this lens is over 300g lighter, which is a significant weight saving. Tamron has made every effort to keep the lens as compact as possible too while being mindful of not compromising on optical quality.
It measures 117.8mm long when fully retracted and features an internal focusing (IF) system to ensure the front element doesn't rotate and a close focussing distance is preserved across the entire focusing range. It has a minimum focus distance of 19cm at the wide-angle end, which extends to 39cm at full telephoto.
Not to be confused with Tamron's SP AF 28-75mm f/2.8 XR Di LD [IF] Macro lens for DSLRs, this new zoom features an entirely new optical design. Study a diagram of its inner construction and you'll find it's made up of 15 glass elements in 12 groups. To help control various aberrations and produce stable resolution across the zoom range, Tamron has equipped the lens with Extra Low Dispersion (XLD) glass.
The hydrophobic fluorine coating that's applied to the front element is said to be highly resistant to fingerprints and its nine aperture blades are designed to render attractive bokeh in out of focus areas at wide apertures.
The lens is also the first Tamron optic to debut a new high-speed AF drive system. Its RXD (Rapid eXtra-silent stepping Drive), stepping motor unit has been designed to operate very quietly, making it well suited for times when you want to work discreetly or record video footage that isn't ruined by pesky whirring AF motor noises.
Tamron has opted against fitting the lens with its VC (Vibration Compensation) system, which will persuade Sony A7-series users to take advantage of their camera's effective in-body stabilisation to compensate for camera shake. It's worth noting that anyone who plans to couple this lens to a first generation A7-series model won't have any stabilisation available at all.
At the front it accepts screw-in filters and adapters via a 67mm filter thread. It also has a bayonet mount to accept a petal-shape plastic lens hood that comes supplied with the lens in the box.
Tamron 28-75mm f/2.8 Di III RXD review: Build & Handling
Unlike Tamron's 'SP' range of lenses that are known for their metal build quality, this lens is mostly made from polycarbonate. The idea behind using high-grade plastic as opposed to metal is to strip the lens of any unnecessary bulk in an attempt to keep it as lightweight as possible for weight conscious mirrorless users.
It doesn't have quite the same rock-solid feel as Tamron's premium SP optics or Sony's pro-spec standard zooms, yet feels more than robust enough for everyday use and is a standard above most entry-level standard zooms. The finish of the matte black barrel with its white numbering and lettering is excellent and the silver ring that encircles the rear of the lens looks smart butted up against the anodised orange mount of Sony A7-series cameras.
To provide extra reassurance in demanding environments, the lens has a rubber seal that compresses against the mount of the camera when it's attached. This forms a weather-tight seal and was highly effective at keeping sand and moisture at bay during testing at the coast.
In terms of physical size, it's of similar diameter to the Sony FE 24-70mm f/4 ZA OSS Vario-Tessar Carl Zeiss T* lens, but is around 20mm longer in length. With no focus switches or focus distance window it has a fairly minimalistic look to the barrel and whereas the zoom ring is rubberised, the focus ring has a ribbed plastic textured design.
Zoom operation is consistently smooth and it requires less than a quarter turn of the zoom ring to get it from wide to telephoto and vice versa. It has a good level of resistance to prevent zoom creep being an issue and the super smooth manual focus ring makes fine focusing adjustments all the more enjoyable.
Compared to the silver-coloured plastic on the Sony FE 24-70mm f/4 ZA OSS Vario-Tessar Carl Zeiss T*, you get a more robust metal mount on this zoom. Handling wise, it feels neither to big nor too small and rests comfortably in the average size palm when a little extra support is required beneath.
The overall build quality and finish of this lens for the price can't be faulted. You don't get premium features like a focus mode switch, focus hold button or zoom lock switch, but then again these features are rarely found on mid-range standard zooms and are typically found on pro-spec examples that come with a much higher price tag.
Tamron 28-75mm f/2.8 Di III RXD review: Autofocus
Tamron has designed the lens to be compatible with all focus mode and focus area settings on Sony's latest A7-series cameras. This includes the Direct Manual Focus (DMF) feature that enables Sony users to instantly switch between autofocus and manual focus by rotating the focus ring whilst the shutter button is half depressed.
Side by side testing with the Sony FE 24-70mm f/4 ZA OSS Vario-Tessar Carl Zeiss T* lens demonstrated it's just as fast at acquiring autofocus on static subjects and is reasonably snappy at keeping apace with moving subjects in continuous AF mode, with only minor hunting observed at longer focal lengths.
The RXD stepping motor unit keeps AF operation very quiet indeed. Most importantly the autofocus operation won't be heard by those around you when shooting stills and I found the very subtle AF motor noises are barely noticeable on a video soundtrack, even when filming in complete silence.
Tamron 28-75mm f/2.8 Di III RXD review: Image Quality
To understand how the lens performs optically, it was tested with both Sony's high-resolution A7R III as well as the more recent Sony A7 III. Within a short space of time I found the lens was delivering good results, even on the most demanding full-frame sensor currently made by Sony. To view a gallery of shots, including links to full-size images visit our Tamron 28-75mm f/2.8 Di III RXD sample image gallery.
This lens's strength is its centre sharpness. When shooting wide open at f/2.8, I found my sharpest results were achieved around 50mm. Centre sharpness improves across the zoom range by stopping down to f/4 and our Image Engineering MTF50 tests reveal it's marginally sharper in the centre towards the middle and far end of its zoom range than it is at wide angle. Corner sharpness, especially between f/2.8 and f/4, is this lens's weakness. To achieve the best results from edge-to-edge you'll want to use the lens around f/8. Useable results can be obtained by stopping down to f/11, but I'd recommend giving f/16 and f/22 a wide berth as diffraction significantly reduces overall sharpness at these settings.
Uncorrected files show considerable distortion. This, as typical of a standard zoom, is of the barrel type at wideangle and quickly changes to pincushion across most of the zoom range. The good news is that the lens is compatible with many of the advanced features that are specific to certain mirrorless cameras, including in-camera lens corrections for shading, chromatic aberration and distortion. Having tested the lens with in-camera lens corrections turned on and off, all users will want to ensure in-camera corrections are activated before shooting commences.
As for vignetting, this is very prominent in uncorrected files at f/2.8. It's not quite as severe in the middle of the zoom range as it is at either end of the zoom and reduces considerably by stopping down to f/4 or f/5.6. Stop down to f/8 and vignetting completely vanishes.
A close study of raw files revealed the lens does exhibit chromatic aberration through its zoom range. After identifying traces of green and purple fringing along some high-contrast edges, I compared uncorrected raw files beside respective JPEGs that benefited from having in-camera corrections applied. This comparison clearly showed that the fringes of colour were effectively removed in the latter.
Tamron 28-75mm f/2.8 Di III RXD review: Resolution, shading and curvilinear distortion
Resolution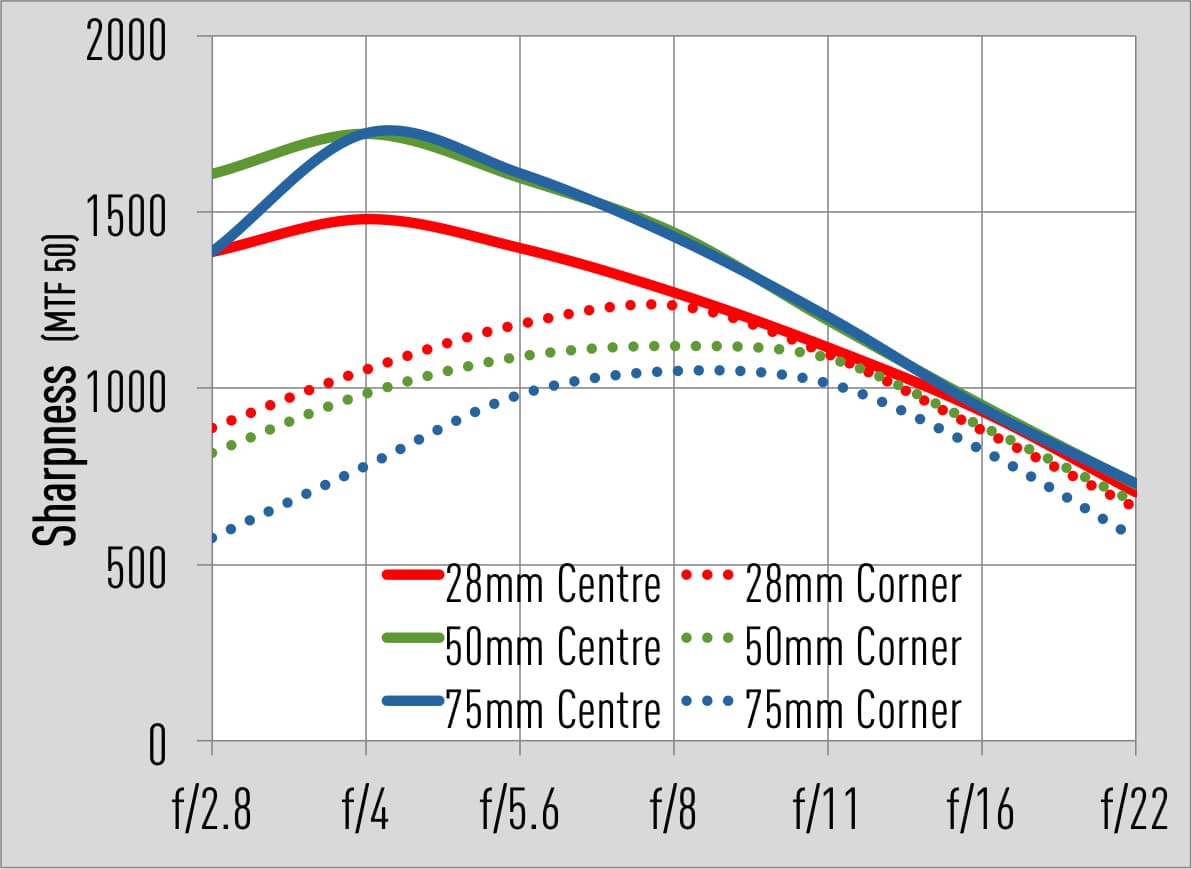 Our Image Engineering Tests reveals that the lens resolves its best sharpness in the centre towards the middle and far end of its zoom range. Inspect the solid red (28mm), green (50mm) and blue (75mm) coloured lines closely and you'll notice that centre sharpness peaks at f/4 across the zoom range. The corners take a little while longer to sharpen up fully, with best results achieved from f/5.6-f/11, peaking at f/8. Sharpness starts to drop off beyond f/11 and users will want to take note that diffraction has the affect of softening images quite noticeably at f/16 and f/22.
Shading
Use the lens at any point in the zoom range at its maximum aperture and you'll notice the corners appear darker than the centre of the image. Corner shading is less of a concern at around 50mm, but gets more obvious again as you push towards 75mm. Vignetting equates to a 1.2EV fall off in illumination at the wide end and 1.4EV at full telephoto. The good news is that this vignetting improves considerably by stopping the lens down to f/4 and becomes altogether less of a concern at f/5.6. Vignetting in shots taken at wide aperture settings can be alleviated by making sure in-camera lens corrections are activated.
Curvilinear Distortion
It's not unusual for standard zoom lenses to exhibit barrel distortion at their widest setting. This zoom is no exception and our tests reveals prominent barrel distortion, whereby straight lines bow outwards towards the edge of the frame. By the time you reach 50mm barrel distortion turns to pincushion distortion. This becomes obvious in shots taken of straight lines and is accentuated slightly more at the furthest point in the zoom range.
Tamron 28-75mm f/2.8 Di III RXD review: Verdict
Although this lens doesn't offer the same level of supreme corner sharpness that you get from Sony's professional-grade standard zooms, it's a truly excellent mid-range example. The extra stop you gain over the Sony FE 24-70mm f/4 ZA OSS Vario-Tessar Carl Zeiss T* makes it superior for low-light shooting and enables you to isolate subjects from their surroundings easily whilst producing very attractive blur behind.
The advantage of choosing the Sony FE 24-70mm f/4 ahead of this lens is that it allows you to shoot wider, however if you prioritise a faster aperture ahead of a wider field of view and you don't want to spend over £1000 for the privilege, this is currently the best mid-range standard-zoom going for Sony's A7-series cameras.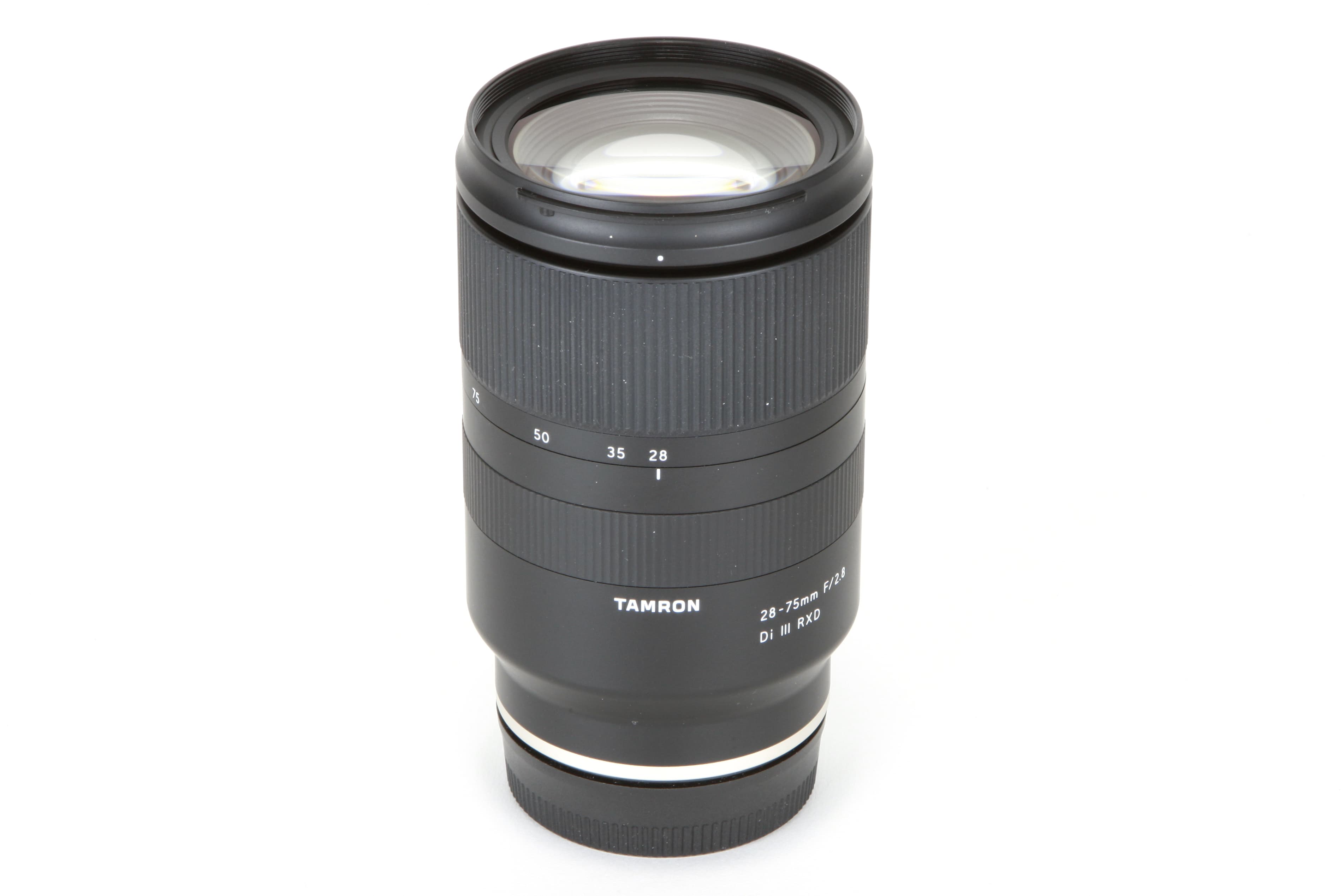 It won't take long for those who buy it to realise that they've made a great choice. It's ideal for general shooting provided you enable in-camera lens corrections and don't want to shoot too wide. Importantly, it's not heavy or cumbersome either. Tamron has got the balance just right and I envisage it being in popular demand of new Sony A7 III users who might be on the lookout for the perfect walkabout lens.
It's an excellent start in a new series of full frame mirrorless lenses from Tamron. One day it might also be made available in a variety of different mounts to suit other full frame mirrorless cameras.