At a glance
24.2MP APS-C Exmor CMOS
Up to 11fps continuous shooting
5-axis in-body stabilisation
3in/921k-dot tiltable touchscreen
2.36-million-dot EVF
Sony A6500 review – Introduction
The A6500 is Sony's latest flagship APS-C E-mount compact system camera and is essentially an enhanced version of the A6300 that provides a number of performance and handling upgrades for those with deeper pockets. Targeted primarily at enthusiasts and billed as an all-rounder the A6500 is a richly featured model that boasts some particularly attractive specifications for sports, action and wildlife photographers. These include a claimed focus acquisition time of just 0.5secs, extensive AF tracking options, an 11fps maximum burst speed and an significantly enhanced memory buffer. It's extensive range of 4K, Full HD and HD video recording options also mark it out as a serious tool for videographers.
While the A6300 updated the then two-year-old A6000 with a fairly extensive list of hardware and specification upgrades, the differences between the A6300 and the A6500 are actually quite a bit more subtle. That said there are some notable changes, the most headline-grabbing of which is arguably the addition of built-in 5-axis image stabilisation. In addition the A6500 also benefits from a new front-end LSI chip for faster throughput and improved buffer performance and a touch-sensitive rear LCD display. Elsewhere, other improvements include a new shutter mechanism, the addition of Slow and Quick (S&Q) video modes, the ability to extract 8MP still images from 4K footage in-camera, and a redesigned menu system that features colour-coded tabs for more intuitive navigation.
Sony A6500 review – Features
The A6500 is built around a 24.2MP APS-C Exmor CMOS sensor that, in terms of effective resolution, is identical to the A6300's. The A6500 does differ quite markedly from the A6300, however, with the introduction of a front-end LSI chip as used by the Sony A99 II and A7R II models. This is specifically concerned with increasing throughput, which in turn significantly enhances the camera's buffer capacity thereby increasing the number of images that can be recorded when shooting bursts – really useful if you're looking to capture longer sequences of Raw (or even Raw+JPEG) images at the camera's fastest drive speed. As expected the A6500 is also equipped with a Sony BIONZ X processor, which has gained a solid reputation for being powerful, fast and highly capable in other high-end Sony cameras such as the A7 II and Cyber-shot RX10 III among others.
Elsewhere, the A6500's core specifications remain largely unchanged from the A6300. Native sensitivity, for example, ranges from ISO 100-25,600 with an expanded setting of ISO 51,200 while shutter speeds range from 30sec to 1/4000sec. One minor difference is that the A6500 is fitted with an improved shutter mechanism that Sony claims has been tested to 200,000 actuations and is quieter. While we didn't have an A6300 to hand for a direct comparison, the A6500's shutter didn't strike us as being either especially noisy nor exceptionally quiet. In any case if you do need to shoot silently then the A6500 retains the Silent Shutter mode that was introduced with the A6300 which employs an electronic shutter to facilitate silent operation.
Exposure modes extend to PASM, Auto, Scene, Sweep Panorama, Movies and two Custom settings that you can set up as you wish. In addition to Sony's Creative Styles that serve as the templates for in-camera JPEG processing, the A6500 also offers a range of digital filter effects that can be applied at the time of capture (but not afterwards). Images can be saved as compressed (lossy) Raw files in the Sony .ARW format, or as Extra Fine, Fine or Standard quality JPEGs in a variety of sizes including 24.2MP, 12MP and 6MP. Only the native 3:2 and 16:9 aspects are offered in-camera – for anything else you'll need to crop images out-of-camera. Sony's in-camera menu system has long been due a refresh, and with the A6500 this has finally happened. The main difference is that that the menu now uses colour coded tabs for easier navigation. That said, it's still large and convoluted and can involve an awful lot of button mashing to get from one place to another.
Unlike the Fujifilm X-T2 and Olympus OM-D E-M1 II, both of which have dual card slots, the A6500 is only able to accommodate one SD-type card. This is somewhat awkwardly positioned between the battery and the battery hatch, which makes it fiddly to get cards in and out of the camera. In keeping with virtually all new camera launches, the A6500 is equipped with built-in Wi-fi and NFC for image transfer and remote control duties. The A6500 is also compatible with Sony's PlayMemories Camera Apps, which provide additional features such as timelapse shooting or the ability to create multiple exposures in-camera. Lastly, the A6500 also comes equipped with Bluetooth connectivity that allows it to tag images with location data gathered from a paired mobile device.
Sony A6500 review – Build and handling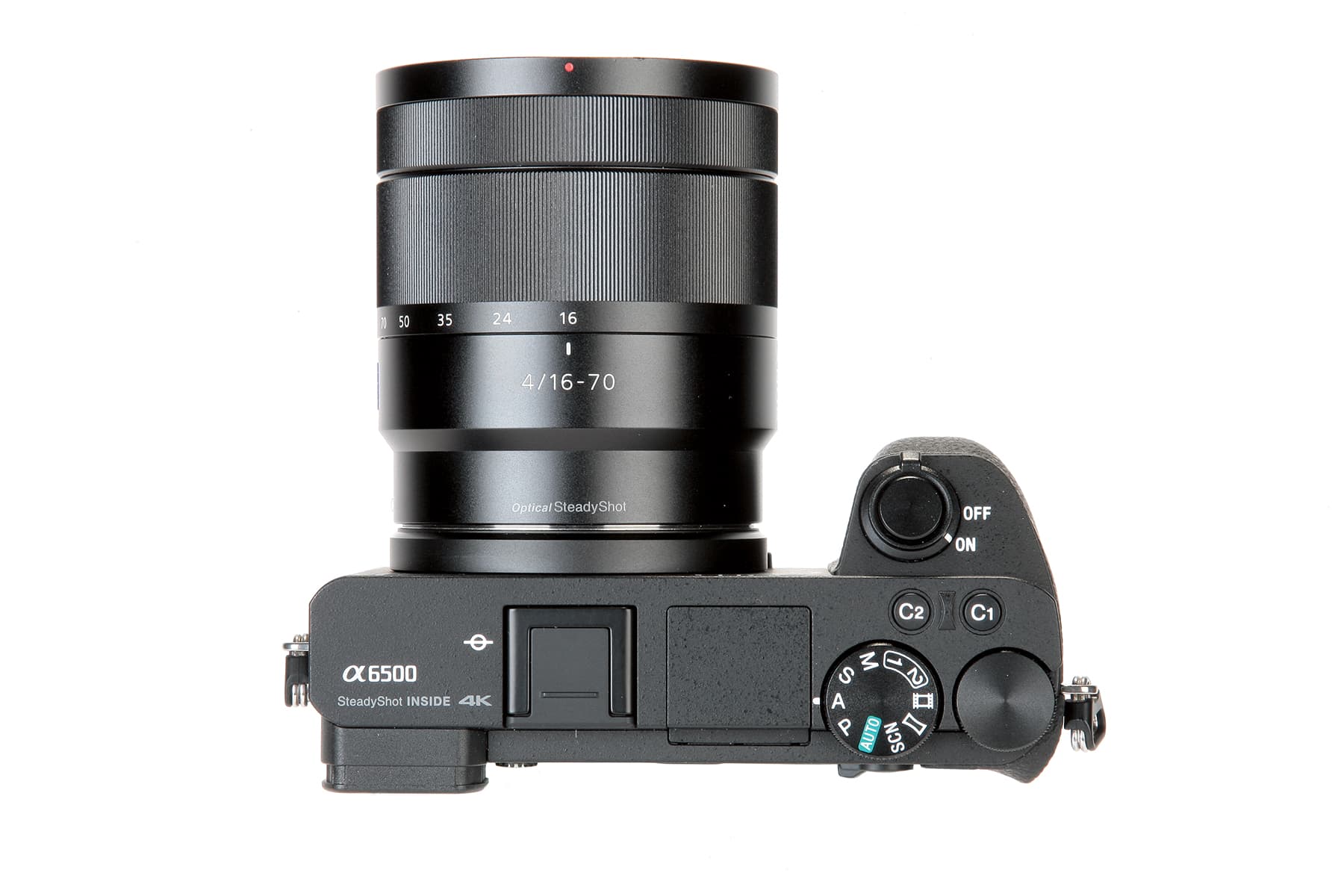 While some manufacturers remain keen to explore the retro rangefinder school of design, Sony has long taken a distinctly modern approach to design. The A6500 duly follows suit with its sharp lines, functional controls and distinctively flat top-plate. Whether or not this aesthetic appeals to you is, of course, purely subjective. Its predominantly magnesium alloy construction lends it a premium feel in the hand, and gives it a surprising yet reassuring degree of heft too. The metal lens mount is solidly engineered to bear the weight of larger telephoto lenses, while the handgrip is coated in hard-wearing textured rubber and large enough to afford a comfortable and secure grip. Externally the A6500 benefits from being moisture and dust resistant, including seals around all of the buttons and dials along with what Sony describes as a "protective, double-layered structure" designed to keep foreign objects at bay. Our only minor quibble is with the battery compartment door, which is plastic and feels a little flimsy compared to the rest of the body.
In terms of size the A6500 is slightly deeper than the A6300 on account of the handgrip being more pronounced, however width and height remain identical. Overall, it remains impressively small. Sony has made a couple of minor tweaks to the control layout, with the main point of interest being that the shutter button is larger and more pronounced than on the A6300. In addition, an additional Custom function button has been added to the top-plate, bringing the total number of customisable buttons to ten (compared to nine on the A6300). There are two control wheels, with one located on the top-plate and the other encircling the directional pad. While this does allow you to adjust shutter and aperture settings independently while the camera is in Manual mode, you will need to hold the camera with two hands and reposition your grip slightly when moving from one wheel to the other – unless you have an abnormally long and dexterous thumb that is. The tiny Movie Record button is still in the same hard-to-reach place on the side of the handgrip too.
Sony A6500 review – Viewfinder and screen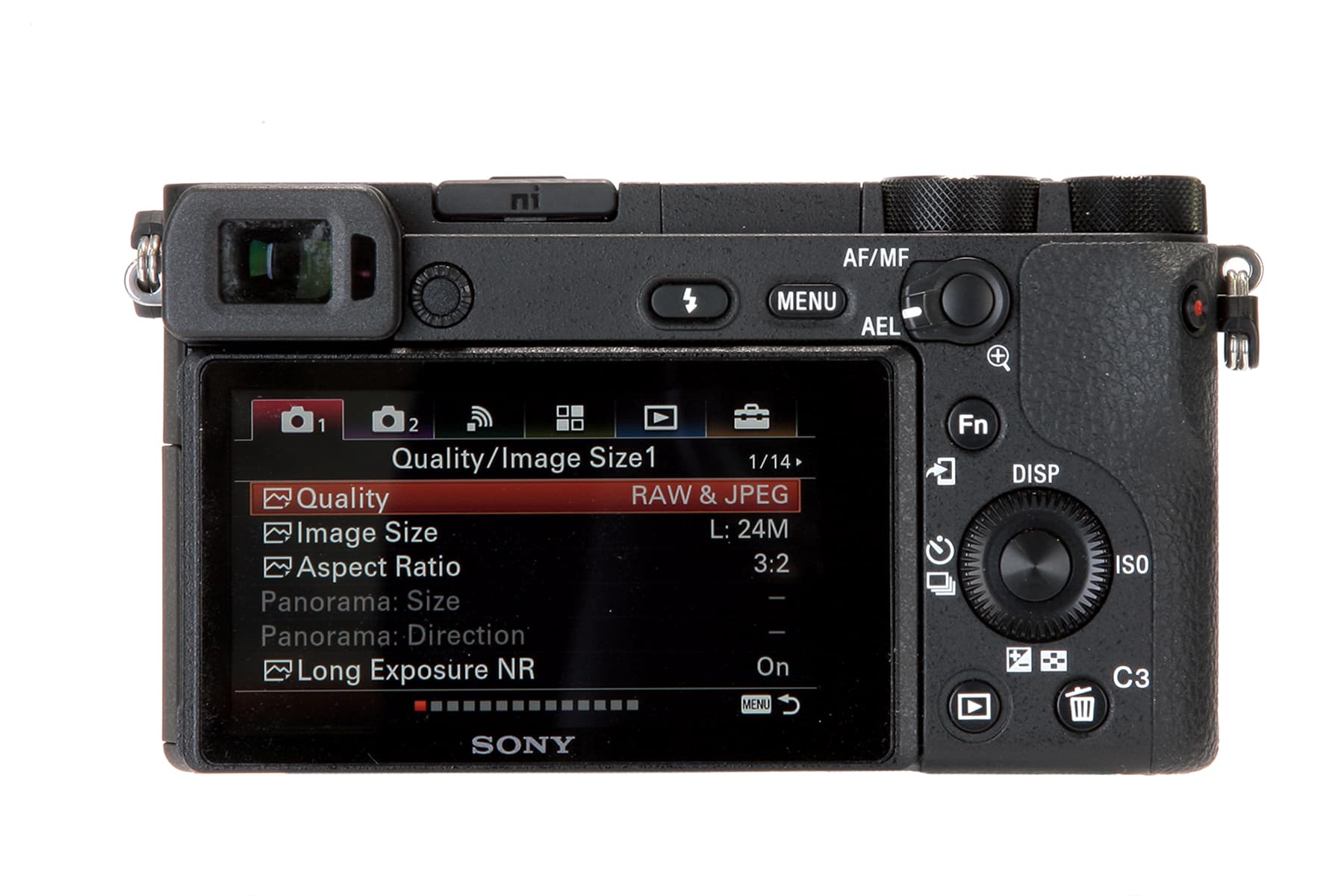 As with the A6300, the A6500 is equipped with a 2.36m-dot OLED Tru-Finder EVF that provides 100% coverage at 0.70x magnification. While this provides very good colour accuracy and contrast, the resolution of fine detail is still no match for an optical viewfinder. The refresh rate of the EVF (and rear LCD display) can be set to either 100fps or 50fps, and while the former does increase battery drain it is definitely useful when shooting action. An eye-sensor is also present that enables the EVF to automatically switch on when holding the camera to your eye, on top of which Sony also supplies a rubber eyecup in the box that slots over the viewfinder to help block out light.
On the back it's all change with the addition of a tiltable touchscreen. While this is certainly a welcome development that many users have been calling for for some time, its capabilities are sadly rather limited on the A6500. While you can use it to reposition the active focus point, or to move around captured images in Playback mode, you cannot use it to change key camera settings or navigate the in-camera menu. If you're shooting through the viewfinder then you also need to remember to turn the focus point selection option off (via the Select button), otherwise it's all too easy to inadvertently reposition the active AF point with the tip of your nose when holding the camera to your eye.
Sony A6500 review – Autofocus
As with the A6300, the A6500's Fast Hybrid AF system employs 425 on-sensor phase detection points combined with 169 contrast-detection points. The phase detection AF points each occupy a single pixel and cover almost the entire sensor with only a narrow border (that is slightly more pronounced at the sides) left uncovered, with the contrast-detect AF points covering approximately 70% of the frame. The way it basically works is that phase detection points are employed first, with the contrast detect points then fine-tuning the initial result. This all takes place within a claimed time of just 0.05secs, making the A6500's AF system the fastest on the market at present.
Focus mode options include the regular trio of AF-S, AF-A and AF-C, supplemented by a Direct Manual Focus (DMF) mode that is particularly useful for macro work, and regular Manual focus. Focus Area options are extensive (perhaps even overly so) and in addition to Auto AF, Zone AF and Centre AF there are also three sizes (S, M and L) of Flexible Spot AF and three sizes of Wide Area Flexible Spot AF that can be positioned anywhere using either the D-pad or the rear touchscreen. Rounding things off are a generous range of AF tracking options along with the portrait-specific Eye-focus AF mode that was introduced with the A6000.
Sony A6500 review – Performance
With it's new front-end LSI chip and BIONZ X image processor powering it along the performance of the A6500 is hard to fault. Button presses react with immediacy and everything feels instantaneous when using the in-camera menus or reviewing images in Playback mode. Our only minor quibble is that, at around 310-350 shots per charge, battery life isn't exceptional – if you're out all day then you'll want to keep a spare or two handy.
The A6500's enhanced buffer is undoubtedly one of the A6500's highlights as it enables the camera to record significantly more images than the A6300 when shooting continuously. With a 16GB SanDisk Extreme Pro Class 10/U3 SDHC card inserted and the camera set to Raw capture, we managed to shoot 112 consecutive images in a single 11fps burst before the buffer filled and the camera abruptly ground to a halt, which translates to around 10 seconds of continuous capture. Once the buffer was full the A6500 took just over a minute to fully clear the backlog, although we were able to start shooting again within a few seconds (though obviously not for as long). In Raw+JPEG capture the camera recorded 103 consecutive images (nine seconds) before slowing down. Switching to JPEG capture the A6500 managed 260 Extra Fine images (24 seconds) and 340 Fine images (31secs).
Given how the A6500 is especially well suited to capturing sports and action, we decided to put its new 5-axis image stabilisation and AF tracking abilities through their paces in a couple of testing scenarios. Our first trip was to a local football match that started in bright winter sunshine but quickly turned overcast and grey. Over the course of 90 minutes the A6500 coped admirably, with the speedy autofocus, reliable tracking system and built-in 5-axis image stabilisation producing consistently sharp results – even while shooting handheld.
In terms of image quality, JPEG output can be customised via the Creative Style options. With this set to Standard the A6500 produces pleasingly rich images that are vibrant but not overly saturated. Likewise, contrast is also applied judiciously without being overdone. Of course, you can always change the Creative Style to suit your preferences, or use one of the A6500's built-in filters to get interesting results. As with the A6300 there are no in-camera processing options to speak of though, not even a simple crop tool. If you want to edit your images on the go, or away from a computer, then you'll need to send them to your smartphone/tablet via Wifi and edit them on that. Even more puzzling is the lack of an in-camera Raw conversion tool, which strikes us as a pretty major oversight given the A6500's positioning as an enthusiast-grade model.
Metering is generally very accurate although we did find that the sensor-wide Multi metering mode was prone to occasionally over-exposing high-contrast scenes. Of course if retaining highlights is your chief priority then you can always switch to the A6500's Highlight metering mode, shoot in Raw and recover shadow detail at the post-production stage. White Balance is generally very accurate too, although the camera did produce the odd image that we felt was slightly too warm.
Most enthusiasts will of course shoot in Raw and in this respect the A6500 produces images in Sony's .ARW compressed Raw format. While we can understand Sony's desire to keep file sizes down with its compressed Raw file format, it really should be optional not compulsory, especially on an enthusiast-grade camera like this. In this respect Sony's decision not to offer Uncompressed Raw as on option of the A67500 – as it does on the A7 II – is very much a missed opportunity.
Sony A6500 review – Dynamic range, resolution and noise
Dynamic range
Our Applied Imaging tests show that the Alpha 6500's 24.2MP APS-C sensor has a maximum 13.8EV at ISO 100 – an outstanding figure by any standard that indicates huge leeway to recover shadow detail from raw files. However, even more impressive is how the Alpha 6500 manages to maintain relatively high dynamic range figures as sensitivity settings are increased, with 12.7EV recorded even at ISO 400. At IS0 1600, it still provides 11.4EV of range, while at ISO 6,400 it only drops to 9.3EV. At the top end, dynamic range does tail off sharply, with the Alpha 6500 returning a figure of 7.2EV at ISO 25,600.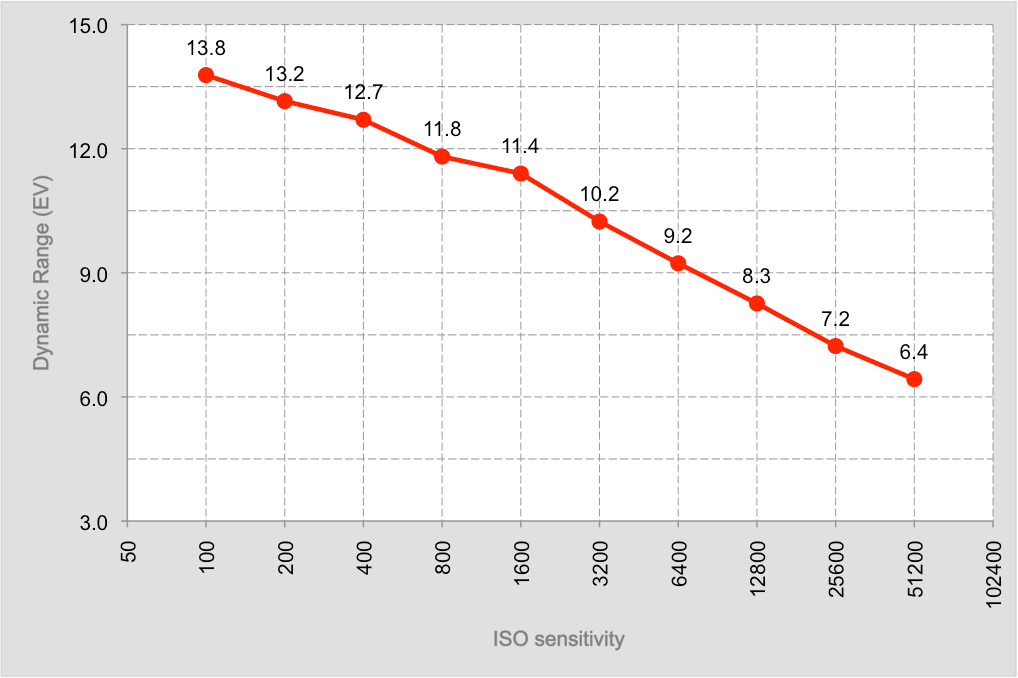 Resolution
Comparing processed raw files with JPEGs from the camera, we can safely say that the former have a critical edge at resolving fine detail. At ISO 100, raw files achieve 3,800lph compared to 3,500l/ph for JPEGs. That said, even when shooting JPEGs, resolution remains above 3,000l/ph until you reach ISO 3200, which is pretty impressive. Raw images maintain 3,000l/ph at ISO 6400. From here, things do begin to tail off, with raw files resolving 2,800l/ph at iSO 12,800, dropping to 2,300l/ph at the extended setting of ISO 51,200.
Noise
Both raw and JPEG images taken from our diorama scene are captured at the full range of ISO settings. The camera is placed in its default setting for JPEG images. Raw images are sharpened and noise reduction applied, to strike the best balance between resolution and noise.
At lower sensitivity settings, the Alpha 6500 provides very good image quality, with JPEGs captured at ISO 100-400 displaying excellent sharpness and good retention of fine detail. Above this, however, carefully-processed raw files begin to gain a distinct advantage when it comes to the preservation of fine detail, no doubt owing to the in-camera noise reduction being applied to JPEGs. That's not to say that JPEG files lack quality, though – far from it. Even at mid-range settings such as ISO 800 and ISO 1600, JPEGs remain perfectly usable with only minor luminance noise visible at 100%. Above this, noise does begin to interfere with overall JPEG quality more markedly, with a noticeable drop-off in quality visible between ISO 6400 and ISO 12,800. the highest ISO settings suffer greatly from the effects of noise, and should only be used when there's no other choice.
Sony A6500 review – 5-axis Image Stabilisation
Image stabilisation has become an important battleground in recent years, with manufacturers competing hard to provide the best all-round system. Image stabilisation is important because it allows photographers to use longer telephoto lenses and shoot handheld at slower shutter speeds with much greater confidence. Indeed, for the majority of enthusiasts, the technology has had a profoundly liberating effect on lens choice, especially for those that prefer to shoot handheld. The Alpha 6500 is the first APS-C mirrorless camera from Sony to come with 5-axis Image Stabilisation technology, although it already features on all the models within the full-frame A7 II range.
In addition to correcting pitch and yaw as most stabilised lenses on the market do, Sony's 5-axis system also corrects for movement on the vertical Y-axis and horizontal X-axis, which is especially useful for macro photographers. Lastly, Sony's 5-axis system also compensates for roll, which is when the camera is inadvertently rotated and most noticeable during long exposures or when capturing video. Sony claims its 5-axis IS system offers up to five stops of compensation and is compatible with all Sony E-mount lens and also A-mount lenses via the optional LA-EA3 A-mount adaptor (£166). When a stabilised lens is attached to the A6500 image stabilisation duties are split between the two, with the lens taking care of pitch and yaw, and the camera taking care of X, Y and roll movements.
Sony A6500 review – Video
In recent years Sony has gained a reputation for displaying real innovation with regards to its digital camera video technology and it comes as no great surprise that the A6500 continues this trend. As with its predecessor the A6500 offers a wide range of 4K (3840×2160), 1080p Full HD and 720p HD video recording options using the XAVC S, AVCHD and MP4 formats. For regular video capture the A6500 is identical to the A6300, with the maximum quality on offer being 4K at 25p/100Mbps using Sony's proprietary XAVC S codec. 4K video is shot at a crop of 1.23x, while Full HD movies shot at 120p and 100p employ a 1.14x crop. All other video modes use the entire width of the sensor. Audio is captured via dual microphones on the front of the camera just above the lens, although a dedicated microphone jack is located on the side panel for enhanced audio capture.
One way in which the A6500 does differ from the A6300 is with the addition of a Slow and Quick mode. As the name implies this allows you to choose frame rates between 1fps and 100fps to record Full HD video for playback at up to 5x slow motion or 60x quick motion. Also new for the A6500 is the ability to extract 8MP still images from 4K video directly from the camera, much like Panasonic's 4K Photo Mode. The A6300, by way of comparison, requires you to use computer software to extract still images from 4K video.
In terms of capture aids the A6500 is well served with a range of Picture Profile presets, focus peaking and zebra warnings. You can select any of the PASM exposure modes and also use the touchscreen to select a focus point, although AF-C is the only focus mode available. If you choose to use one of the flatter Picture Profile presets (for example S-Log2 or S-Log3) with the intention of adding your own colour and contrast levels at the post-production stage then the handy Gamma Display Assist tool can also be employed so that the monitor displays a more colourful and contrasty image that's easier to work with. As with the A6300, the A6500 dims monitor brightness levels when recording 4K video though.
Sony A6500 review – Our verdict
While professional Sony users who make a living from sports and wildlife photography are much more likely to opt for the full-frame A7 II or A99 II models, the APS-C equipped A6500 provides all the relevant tools required by enthusiasts looking to develop their action photography skills with. Despite the fact that longer telephoto lenses can feel a little unbalanced on the A6500's diminutive body, Sony's excellent 5-axis image stabilisation does a very good job of keeping images sharp when shooting handheld with longer telephoto lenses. Ultimately the A6500 is a very forgiving camera that encourages you to push your handheld telephoto abilities with. In this respect alone, it's a great little camera that's a lot of fun to use.
Of course it's not all about action photography and in this respect the A6500 also proves to be an extremely competent performer at the more sedate end of the photography spectrum. Indeed we'd go as far as to say that the A6500 is very much the all-rounder Sony is keen to present it as. Given its size and speed, the A6500 is equally well suited to street photography as it is to action, while landscape photographers will find the A6500's impressive dynamic range and 24.2MP sensor give it plenty of scope for shooting beautiful scenery with. It's not quite perfect mind, with niggly issues such as fiddly card access, lossy Raw files and lack of in-camera Raw conversion taking the overall shine off things ever so slightly. Taken as a complete package though, the A6500 remains an excellent all-round APS-C mirrorless model that offers something for everyone.
In terms of lens choice, the A6500 is well served by Sony's ever expanding range of dedicated E-mount lenses, however the lack of a fast (f/2.8) standard zoom does remain a bit of an issue for some users, even though there is a good range of fast wideangle primes available, along with full-frame E-mount lenses that can be used to gain a bit of additional telephoto reach when paired with the A6500's APS-C sensor.
While the A6500 is undoubtedly an excellent camera unfortunately for Sony it's positioned within a hugely competitive segment of the market where competing cameras include the highly desirable Fujifilm X-T2, Olympus OM-D E-M1 II and Nikon D500. All have their distinguishing features and all are serious competition for the A6500. Which one is right for you isn't for us to say here, however if you are in the market for new camera and any of the aforementioned models interest you, then you certainly owe it to yourself to have a closer look at the A6500 too.