Sigma 40mm f/1.4 DG HSM Art review: Introduction
Those familiar with Sigma's Art series know it offers a wide range of excellent fast primes for full-frame cameras, covering focal lengths as wide as 14mm right through to 135mm. While some have a maximum aperture of f/1.8 or f/2.8, several are f/1.4, of which there are some standout examples.
When the Sigma 40mm f/1.4 DG HSM Art was announced in late 2018, it sat in-between Sigma's 35mm f/1.4 DG HSM Art and 50mm f/1.4 DG HSM Art, both hugely popular with image-makers of all levels. You can read why we rate the latter as a great used lens here.
New and used prices
The Sigma 40mm f/1.4 DG HSM Art guide price at launch was $1399 / £1099. Now a few years later you can pick it up in the shops for much less. The Nikon F mount version can be bought new for $718 / £579, while the Canon EF, Sony E Mount and and L-mount versions cost $780 / £629 from new.
On the second-hand market prices range between £449-£644 depending on the condition of the lens that's being sold. As you'll read in this review, we really rate this 40mm lens and it made our selection of the Best Canon EF lenses money can buy.
You might well ask; why the need for a 40mm f/1.4 when Sigma already produces such good 35mm and 50mm lenses? The 40mm focal length has long been popular with cinematographers, so after producing the 40mm T1.5 FF cine lens, Sigma decided they do what they've done before and utilise the same optical design, but offer it as an Art series lens for photographers and videographers who might prefer this slightly less conventional focal length. This setting is certainly ideal for street photography so click here for our best lenses for street shooting.
Beyond Art
The words 'Beyond Art' that Sigma associate with its 40mm f/1.4 DG HSM Art lens also suggests it goes above and beyond the optical performance of other Art lenses we have tested previously. For more on great lenses for low light photography click here. As an owner of both the Sigma 35mm f/1.4 DG HSM Art and 50mm f/1.4 DG HSM Art, I'm intrigued to find out how this lens compares.
Sigma 40mm f/1.4 DG HSM Art review: Features
The first thing that's obvious when you inspect this lens is its large size and how much heavier it feels in the hand than the 35mm f/1.4 DG HSM Art and 50mm f/1.4 DG HSM Art. I'll touch on this in more detail shortly, but in order to achieve the company's goal of creating the finest optical quality for full-frame DSLR and mirrorless cameras offering a 50-million-pixel resolution, Sigma's engineers first had to work out the best optical formula.
It's the first 40mm f/1.4 lens the company has ever made and the construction unites 16 elements in 12 groups – a more complex arrangement than the 13 elements in 11 groups found inside the 35mm f/1.4 DG HSM Art and the 13 elements in 8 groups you get inside the 50mm f/1.4 DG HSM Art.
Low dispersion glass
To keep chromatic aberration in check, the lens arranges three FLD ('F' Low Dispersion) glass elements and three SLD (Special Low Dispersion) glass elements together. The front element features a water and oil repellent coating that allows it to be easily cleaned in challenging shooting environments and Sigma's Super Multi-Layer Coatings are once again employed to curtail flare and ghosting when shooting directly towards the light.
Sigma is clearly very proud of the way the lens handles distortion, claiming a distortion figure of less than 1%. Just as we've seen many times before, the lens is equipped with Sigma's Hyper Sonic Motor (HSM), licensing fast and quiet focusing and full-time manual focusing, whereby users can adjust the focus manually at any time without the need to flick the AF/MF switch to manual first.
Spherical bokeh
The lens's nine-bladed aperture diaphragm offers settings from f/1.4 to f/16. Used at its maximum aperture, these nine aperture blades are designed to create an attractive blur in the out-of-focus areas of an image, with pleasing spherical bokeh in the highlights. The minimum focus distance is 40cm and what with it being considerably larger than the 35mm f/1.4 DG HSM Art and 50mm f/1.4 DG HSM Art, it won't come as a great surprise that filters and adapters are mounted via an 82mm thread rather than a 67mm or 77mm one.
As well as being made in the usual Canon, Nikon and Sigma mounts, it's also one of Sigma's new lenses to be offered in E-mount for Sony users, ruling out the need for a Sigma MC-11 converter. The Sony E-mount version performs the same functions as the converter, including in-camera image stabilization and in-camera lens aberration correction, with the benefit of it also being compatible with Sony's continuous AF modes, which are not supported by the MC-11.
Sigma 40mm f/1.4 DG HSM Art review: Build & Handling
Viewed alongside Sigma's 35mm f/1.4 and 50mm f/1.4 Art lenses, the 40mm f/1.4 DG HSM Art is a bit of a brute. As well as having a chunkier barrel than the company's 50mm f/1.4 DG HSM Art, it's 31mm longer and 385g heavier.
The Sigma 35mm f/1.4 Art looks rather diminutive alongside it too and with a substantial 535g weight difference, the extra glass inside the 40mm f/1.4 is very noticeable, especially over prolonged spells of shooting. Being as large and heavy as it is, the lens balances best with full-frame cameras with a good sized handgrip, or one that has a battery grip fitted. Couple it to smaller APS-C DSLR or mirrorless models and the camera/lens combination has a tendency to feel rather front heavy.
Incredibly smooth focus ring
In terms of appearance, the lens conforms to many other Sigma's Art primes. The barrel widens just beyond the lens mount to a large, thinly ribbed rubberised focus ring. This operates incredibly smoothly with just the right level of resistance. You can get from one end of its focus distance range to the other with just over a quarter turn, and though it's not impossible to shoot with it single handedly, you'll find that you're very reliant on your left hand to distribute the weight of the lens and offer some additional support.
Dust-and-splash proof
The AF/MF switch on the side of the barrel is well positioned and nicely profiled. It can be easily flicked with your thumb and the focus distance window on top clearly displays its information in feet and meters. To ensure it meets the demands of professionals and those who don't get put-off by adverse weather conditions, it also features a dust-and splash-proof structure with seals at the mount connection, manual focus ring, zoom ring, and cover connection. No issues were encountered when it was tested in persistent drizzle, so users can be confident it won't get damaged when wet.
The lens also comes supplied with a new hood with a lock. It's the bayonet type and secures with a 90-degree twist, but can't be removed until a small release button is depressed. The hood has a strip of rubberized texture to make it easier to grip too, but I did find that this is prone to getting marked and is a magnet for dirt.
Sigma 40mm f/1.4 DG HSM Art review: Image Quality
When we visited Photokina and inspected the lens for the first time we were told it's one of the sharpest primes Sigma has ever made. To find out if this claim is true, our Canon-fit sample was coupled to the Canon EOS 5DS R and run through the lab before a series of comparisons were made against the company's 35mm f/1.4 Art and 50mm f/1.4 Art lenses.
Our Applied Imaging tests tell us the lens resolves a good level of sharpness in the centre when it's used wide open at f/1.4, which is clear to see in the real-world sample images that support this review. The centre and corners get much sharper by stopping the aperture down, with the sweet spot of sharpness at the centre and edge being located around f/5.6. Strong results are also obtained at f/8 and f/11.
Chromatic aberration
Although it's difficult to spot an obvious difference in sharpness between this lens and the Sigma 35mm f/1.4 DG HSM Art and Sigma 50mm f/1.4 DG HSM Art when it's used wide open at f/1.4, you can make out that it is slightly sharper between f/2 and f/5.6 when fine detail is inspected at very close magnification. What's more noticeable is how well the lens controls chromatic aberration. Whereas I'm used to having to correct for some green and purple fringes of colour in shots taken with the Sigma 35mm f/1.4 DG HSM Art and Sigma 50mm f/1.4 DG HSM Art, chromatic aberrations are superbly controlled and almost completely absent.
Vignetting
As for vignetting, corners to images taken at f/1.4 appear approximately 1.5EV darker than the centre, improving to 0.7EV at f/2. Stop the lens down to f/2.8 and shading is only traced at the very far corners. Some photographers will find the vignetting the lens creates at f/1.4 tasteful, and rather than have it corrected in-camera or remove it later, opt to keep it to draw viewers eyes towards the heart of the frame.
Distortion
Distortion is another area where this lens excels and with a distortion figure of -0.4%, users can be confident that any lines towards the edges of the frame will be rendered straight and true.
Sigma 40mm f/1.4 DG HSM Art review: Resolution, shading and curvilinear distortion
Resolution
Our Image Engineering MTF tests were carried out with the lens mounted to Canon's 50-million-pixel DSLR, the EOS 5DS R. The solid red line spike tells us sharper results can be achieved in the centre of the frame as a result of stopping down from f/1.4, however this shouldn't put people off making the most of the fast maximum aperture available. Corner sharpness, illustrated here by the dotted line peaks at f/5.6, beyond which point diffraction gradually takes the edge off sharpness.
Shading
Shading is noticeable in images taken at f/1.4, measuring approximately 1.5EV darker at the edge than at the centre. Stop the lens down to f/2 and this falloff is reduced to around 0.7EV, which was still visible in many of our real-world test shots. Stop the lens down to f/2.8 and vignetting can only be traced at the very far corners, disappearing completely by f/4.
Curvilinear distortion
The curvilinear distortion performance is just as good as Sigma claims it to be. You won't need to fret about barrel or pincushion distortion causing problems and with a very low -0.4% distortion figure you can confidently go about your work knowing any subject with straight lines will be rendered faithfully.
Sigma 40mm f/1.4 DG HSM Art review: Verdict
Sigma's Art collection continues to go from strength to strength and introductions to the series in the past couple of years include the 20mm f/1.4, 24mm f/1.4 and, most recently, the 50mm f/1.4 DG DN Art in Sony E and L-Mount fittings.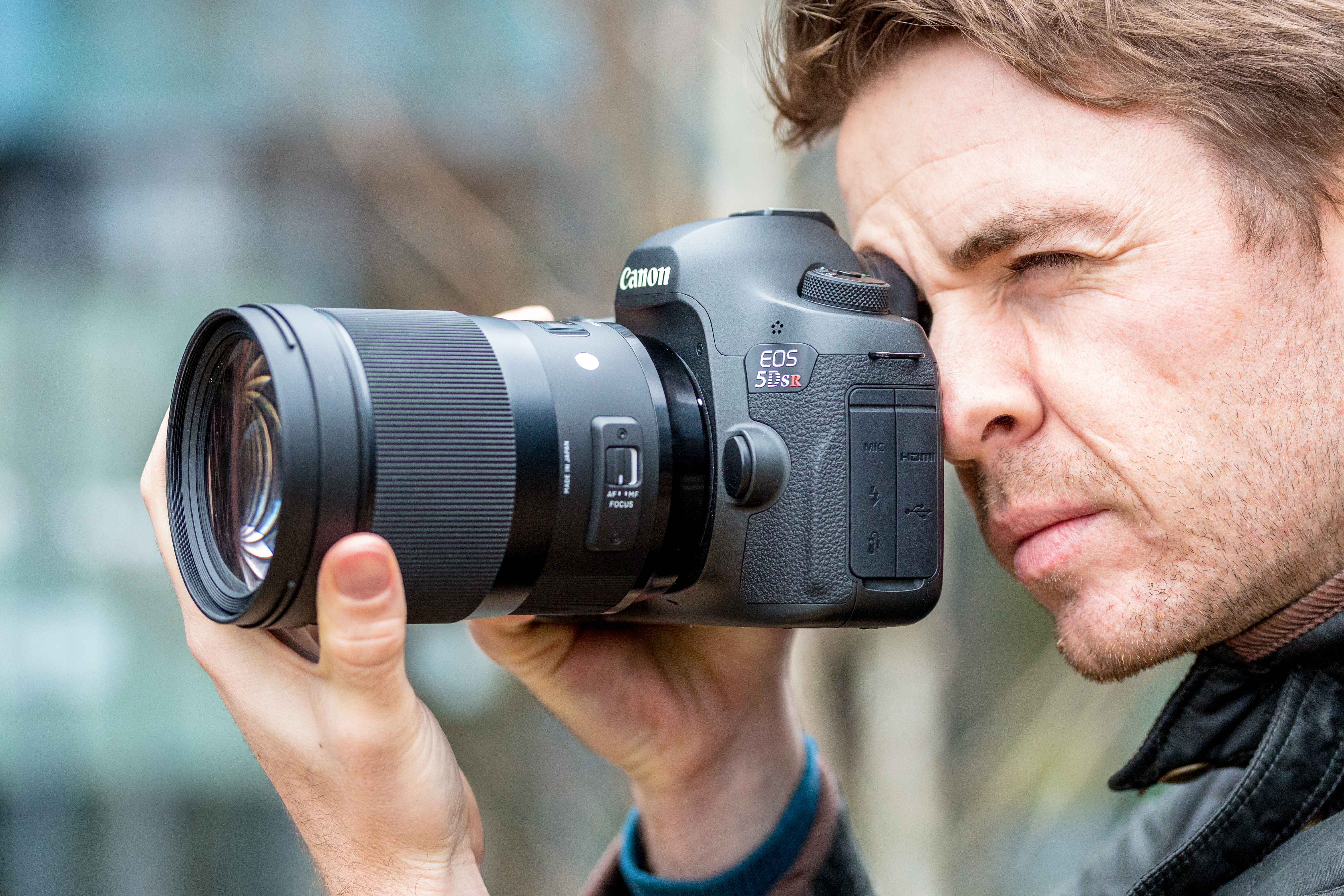 A sublime performer
There is no denying that the Sigma 40mm f/1.4 DG HSM Art is sublime performer. Chromatic aberrations and curvilinear distortion are virtually non-existent and the level of sharpness and beautiful bokeh it creates at wide apertures are beyond criticism. However, it is a weighty lens in use and it comes with a hefty price tag too. Its guide price at launch was $1399/£1099 which made it significantly more expensive than the 35mm f/1.4 DG HSM Art and 50mm f/1.4 DG HSM Art that had guide prices of $899/£799 and $949/£849 respectively.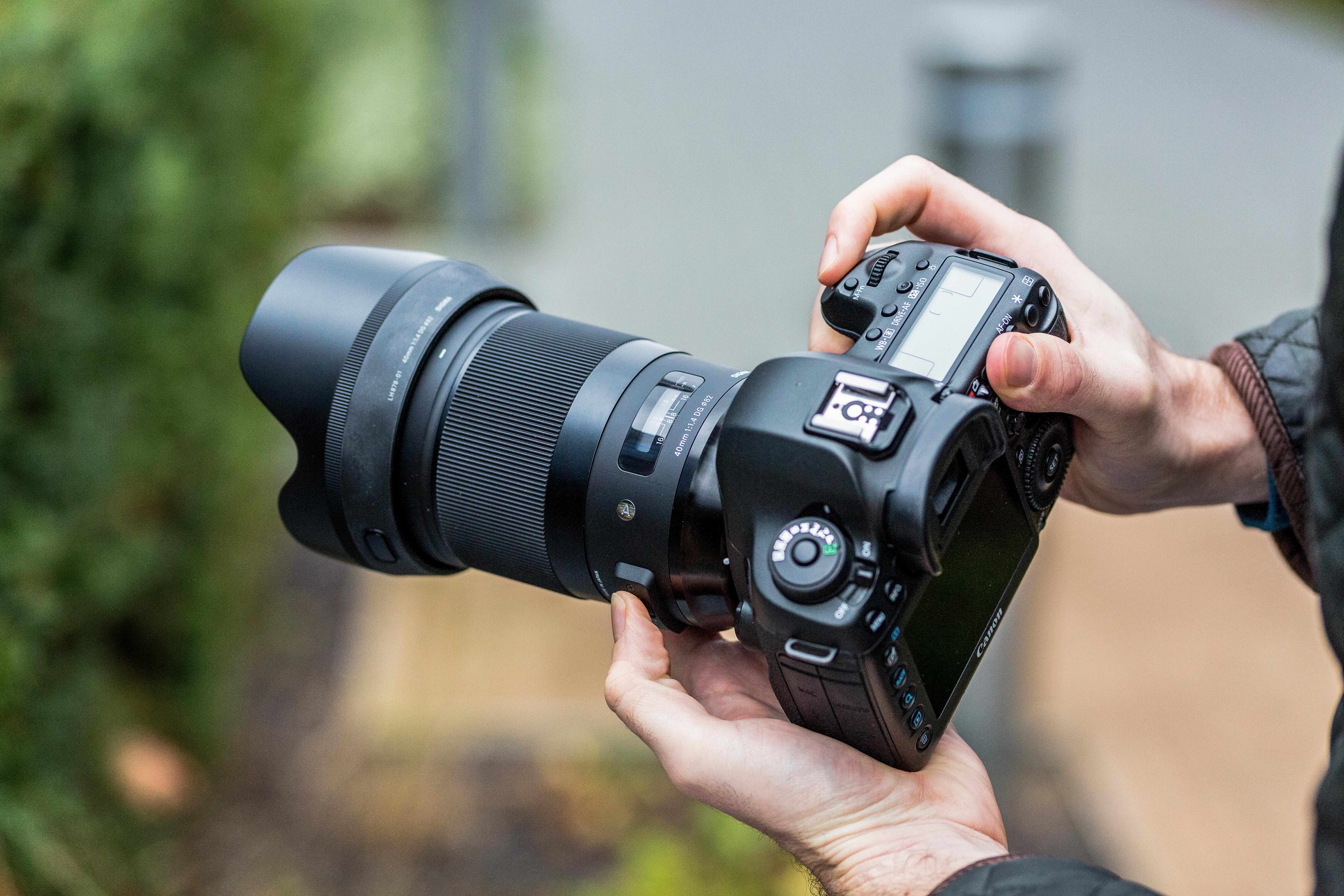 However, we all know that prices come down after launch and the Sigma 40mm f/1.4 DG HSM Art – announced in November 2018 – has certainly benefitted in this respect. It is now available in the shops new at $780/£629 (slightly cheaper still for Nikon F mount users) and used at $557-798 / £449-644. That makes it a more attractive proposition when viewed alongside the 35mm f/1.4 DG HSM Art and 50mm f/1.4 DG HSM Art, which have current street prices of $899/£649-699 and $949/£619-649 respectively.
Of course, it is still a heavy lens, but it is an astonishingly good performer and if its natural-looking angle of view appeals, the Sigma 40mm f/1.4 DG HSM Art could be the lens for you.