Samyang/Rokinon 21mm f/1.4 ED AS UMC CS review: Introduction
With over 50 years experience in the camera lens market, Samyang Optics is a leading independent manufacturer with an extensive range of autofocus, manual focus and cine lenses. In Europe and Asia, Samyang Optics markets lenses under the Samyang brand; in North America the same lenses are also sold under the Rokinon brand.
Samyang started its lens making journey by producing great value manual focus lenses for the big DSLR brands and has progressed to lenses for mirrorless cameras and, more recently, autofocus models.
The 21mm f/1.4 ED AS UMC CS was one of Samyang's early mirrorless lenses announced in 2015, introduced alongside the 50mm f/1.2 AS UMC CS, and its specification still stands close scrutiny today. Its advanced optical formula includes one extra low dispersion lens and three aspherical elements to give high resolution across the frame and Ultra Multi Coating keeps flare and ghosting to a minimum.
It's a compact fast aperture, manual focus lens designed for APS-C format cameras and available in Canon EF-M, Fujifilm X, Micro Four Thirds and Sony E mounts. On APS-C format cameras, this lens gives an equivalent view of around 31.5mm in the 35mm format; on Micro Four Thirds models, it's 42mm equivalent. For our selection of the Best Lenses in 2023 for Fujifilm X, Micro Four Thirds and Sony E mounts please click on the links. For the latest news on the Canon EOS-M series please click here. Before examining our lab results, let's first familiarise ourselves with the key features.
Samyang/Rokinon 21mm f/1.4 ED AS UMC CS review: Features
Whereas the Samyang 50mm f/1.2 ED AS UMC CS conceals an optical construction of nine elements in seven groups, this wider 21mm f/1.4 lens features an arrangement of eight elements in seven groups.
It has a nine-blade aperture to ensure out-of-focus points of light (or bokeh) are rendered circular, and the ED and AS abbreviations in its name reveal it benefits from an extra-low dispersion lens and as many as three aspherical lenses to minimise colour aberrations and ensure high contrast across the frame at all apertures. On top of this, Samyang has implemented its ultra multi coating (UMC) technology to abolish any effects of flare and ghosting.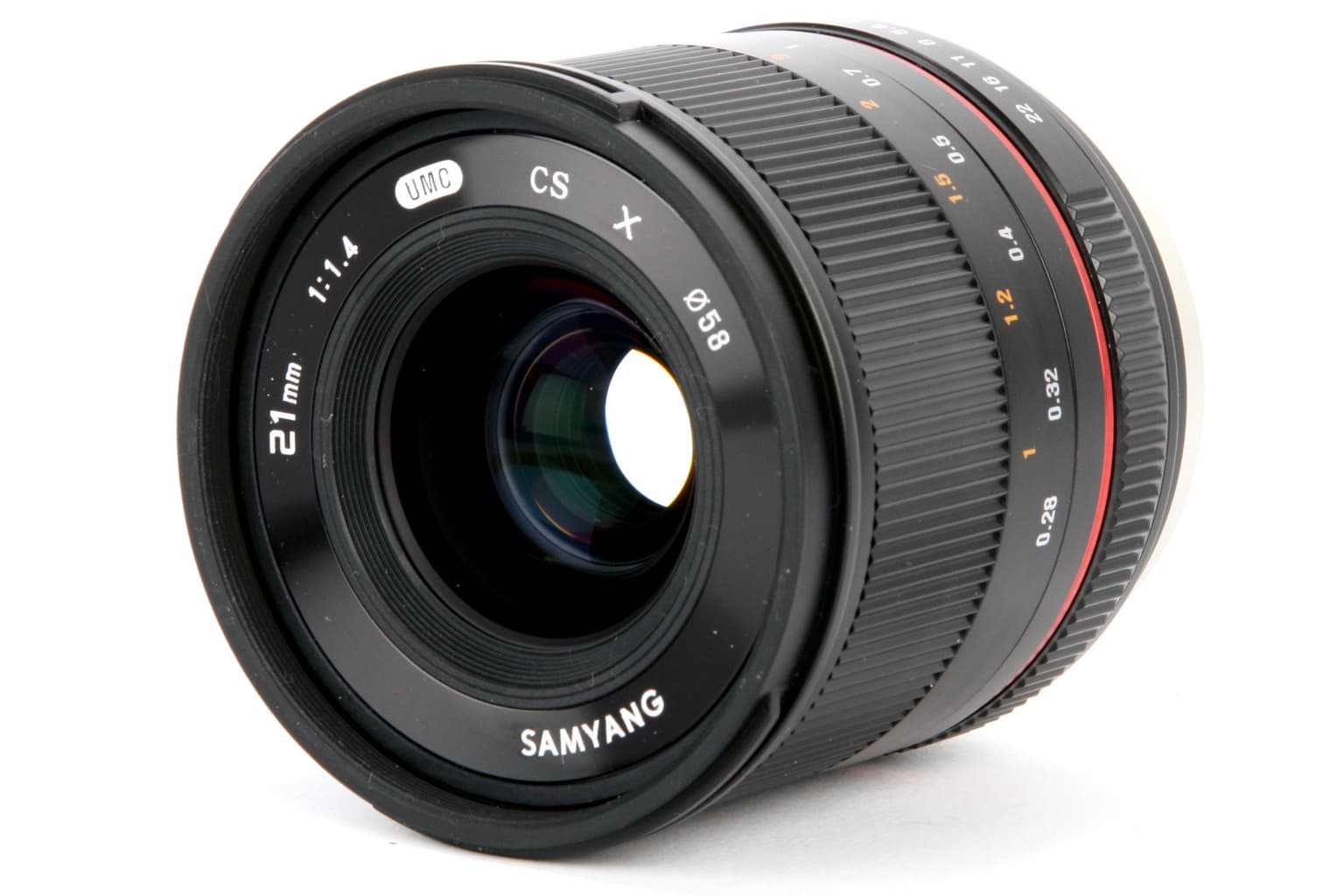 The key difference between this optic and other lenses for mirrorless cameras is that it is manual focus only and features no optical stabilisation. There are no metal contacts at the rear of the mount to form an electronic connection between the camera and lens, either, meaning the Exif data recorded by the camera won't offer any information about 
the focal length or aperture used.
Those who regularly use filters will appreciate the internal focusing system that prevents the front element from extending or rotating when the manual-focus ring is rotated. Users who plan to screw in filters or adapter rings can do so via the lens's 58mm filter thread. Another key point to note is the lens's ability to focus within 28cm of a subject when working closely.
Samyang/Rokinon 21mm f/1.4 ED AS UMC CS review: Build and handling
Smaller and lighter than Samyang's DSLR lenses, 21mm f/1.4 upholds a strong and solid build quality, which implies it'll endure frequent 
use and is built to last.
The anodised red ring synonymous with Samyang lenses is found towards the rear of the barrel between the manual-focus and aperture rings. I would have preferred it if both of these were rubberised, but then again I had no complaints with the finely grooved surface of both rings, which provided sufficient grip throughout my testing.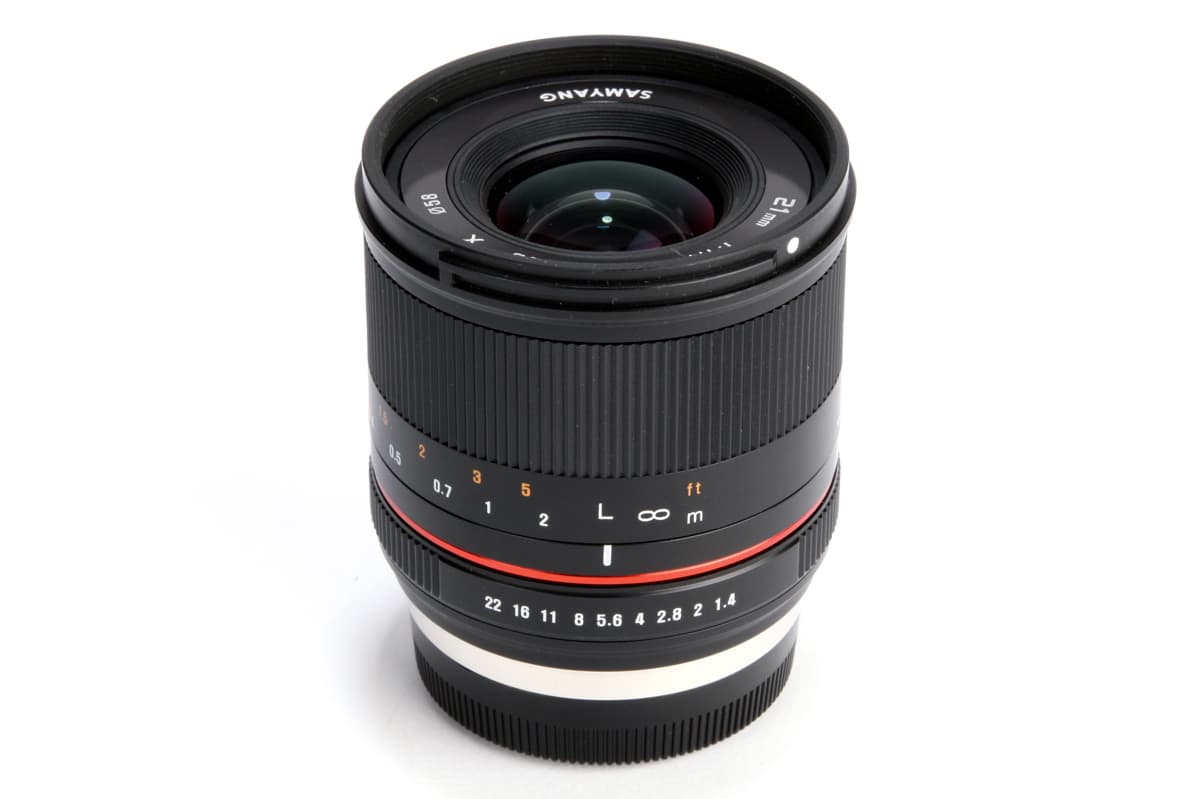 As is to be expected from a manual-focus lens, there's not a single button or switch in sight. The manual-focus ring offers a pleasing fluid motion that's consistently smooth across the focus range, while the aperture ring clicks and notches into place as it's rotated.
There's half-stop adjustment between the aperture settings, which are printed on the barrel rather than engraved, and the plastic petal-shaped lens hood is clearly marked with a white dot to help align it with the lens.
Samyang/Rokinon 21mm f/1.4 ED AS UMC CS review: Image quality
The lens backs up its robust build with impressive image quality. The edges of images appear very slightly softer than the centre 
at f/1.4, but there's an increase in sharpness, both in the centre and at the edge, at f/2 and f/2.8 to where it plateaus between f/3.5 and f/5.6. The best balance between centre and corner sharpness is recorded at f/5.6, and it's only when the lens is stopped down beyond f/11 to the smaller apertures of f/16 and f/22 that the introduction of diffraction starts to take its toll on sharpness.
Corner shading is apparent when the lens is used at its widest aperture, but it quickly starts to disappear when the lens is closed towards f/2.8. Our distortion chart flagged up minor barrel distortion, but as my real-world images revealed you'd be hard pressed to notice 
it and therefore it shouldn't be of concern. Chromatic aberrations are well controlled 
too, with only minor purple fringes of colour appearing along high-contrast edges when shooting towards the sun.
Samyang/Rokinon 21mm f/1.4 ED AS UMC CS review: Resolution, shading and curvilinear distortion
Resolution
The resolution of this lens is extremely impressive. The graph tells us the sharpness in the centre at f/1.4 is excellent and only gets better when it's closed to f/5.6. Users can be confident of closing the lens down to f/11 when needed. Beyond f/11 the centre and corner sharpness drops due to the introduction of diffraction, so it's recommended to avoid f/16 and f/22 when it's possible to do so.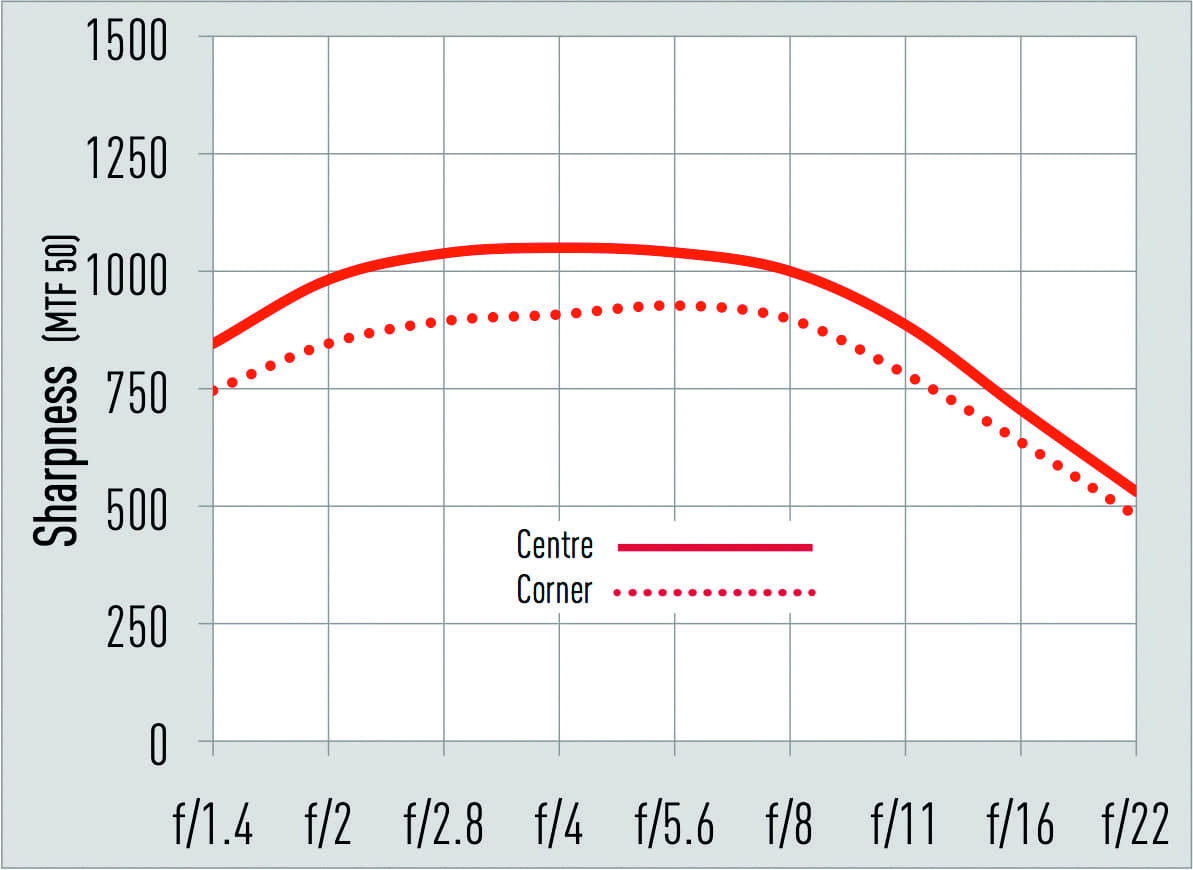 Shading
The key attraction of this lens is its fast aperture and users will find themselves exploiting it to create an extremely shallow depth of field. Corners appear approximately 1EV darker than the centre of the frame at f/1.4. Stopping the lens down to f/2 sees an immediate improvement and by the time you reach f/2.8 all traces of vignetting disappear.
Curvilinear distortion
The lens puts in a superb performance when it comes to rendering straight lines. Those who want an entirely distortion-free image will do best to install and use a ready-made lens profile rather than attempting to remove it manually, which could increase the risk of introducing pincushion distortion.
Samyang/Rokinon 21mm f/1.4 ED AS UMC CS review:  Verdict
The Samyang 21mm f/1.4 ED AS UMC CS is a respectably capable lens and there's much to like about it, especially when you consider that it comes in at a very reasonable price. Of course, its competitive price is mostly due to the fact that it's a manual focus lens. This won't suit everyone in a world where autofocus is king.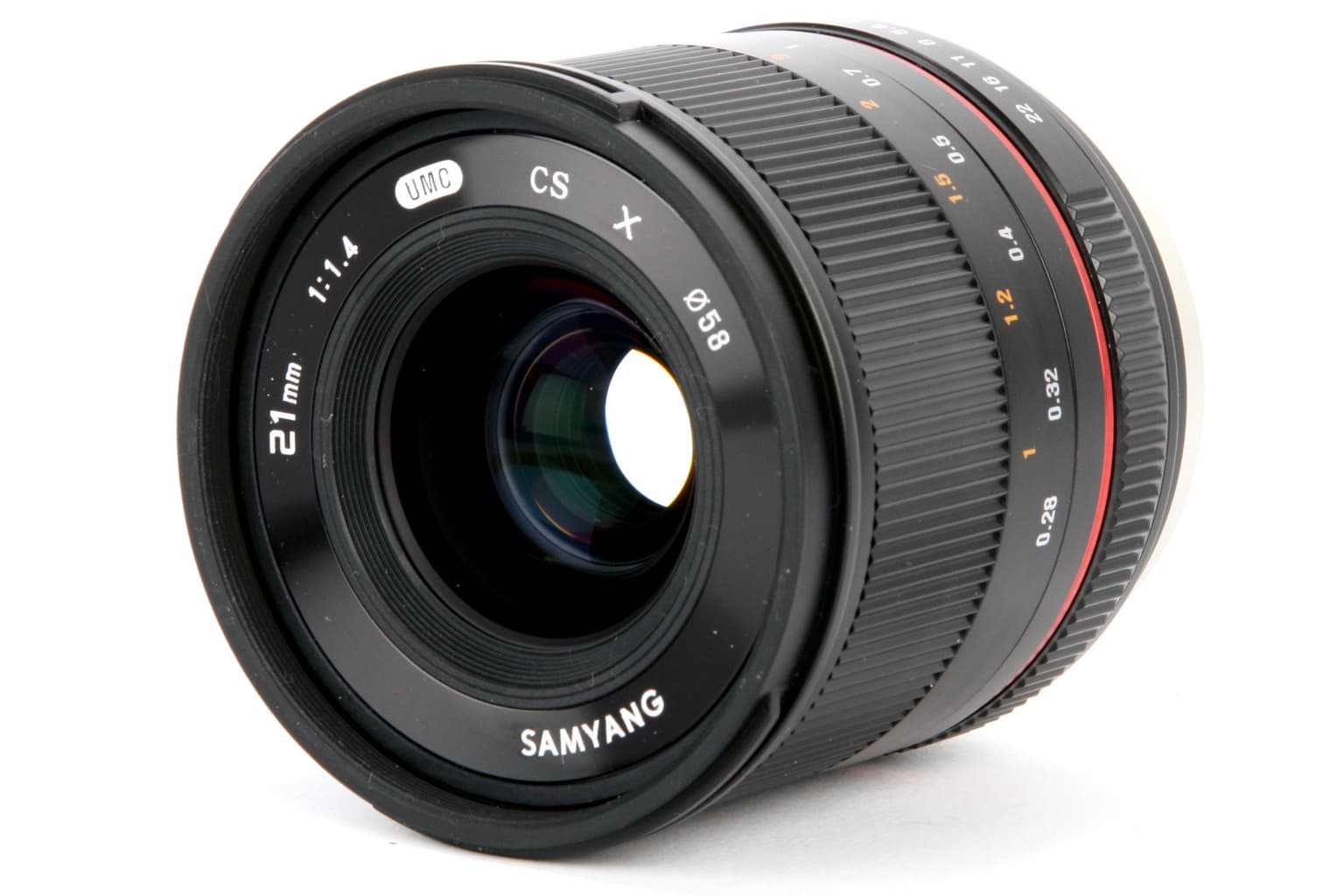 Owners of APS-C/MFT format mirrorless cameras looking for value could do worse than consider this Samyang lens. The downside, however, is that new samples of this lens are hard to come by so the used market is your only option. Expect to pay around $240-280/£180-£220.
Another manual focus, fast wideangle from Samyang to consider is the 24mm f/1.8 ED AS UMC. This is full-frame compatible and available in Canon EF, Canon EOS-M, Fujifilm X, Nikon F, Pentax K, Sony A, Samsung NX, Sony E and MFT fittings. It is available new at $380-599/£440 (availability and prices vary depending on fitting) and used at around $300/£220-240.