Ricoh GR III: At a Glance
£799
24.2MP APS-C CMOS sensor
18.3mm f/2.8 (28mm equivalent) lens
ISO 100-102,400
3-axis sensor-shift shake reduction
3in, 1,037k-dot touchscreen
USB charging (USB Type-C)
Wi-fi and Bluetooth connectivity
Ricoh's GR series of 35mm compact cameras has picked up something of a cult following since the arrival of the original GR1 in 1996. The idea of creating a slim, pocket friendly model with a super-sharp lens captured the imagination of many photographers, particularly those after a discrete and portable compact for shooting street or documentary style images where the best camera is usually the one you can access in an instant and is inconspicuous to use.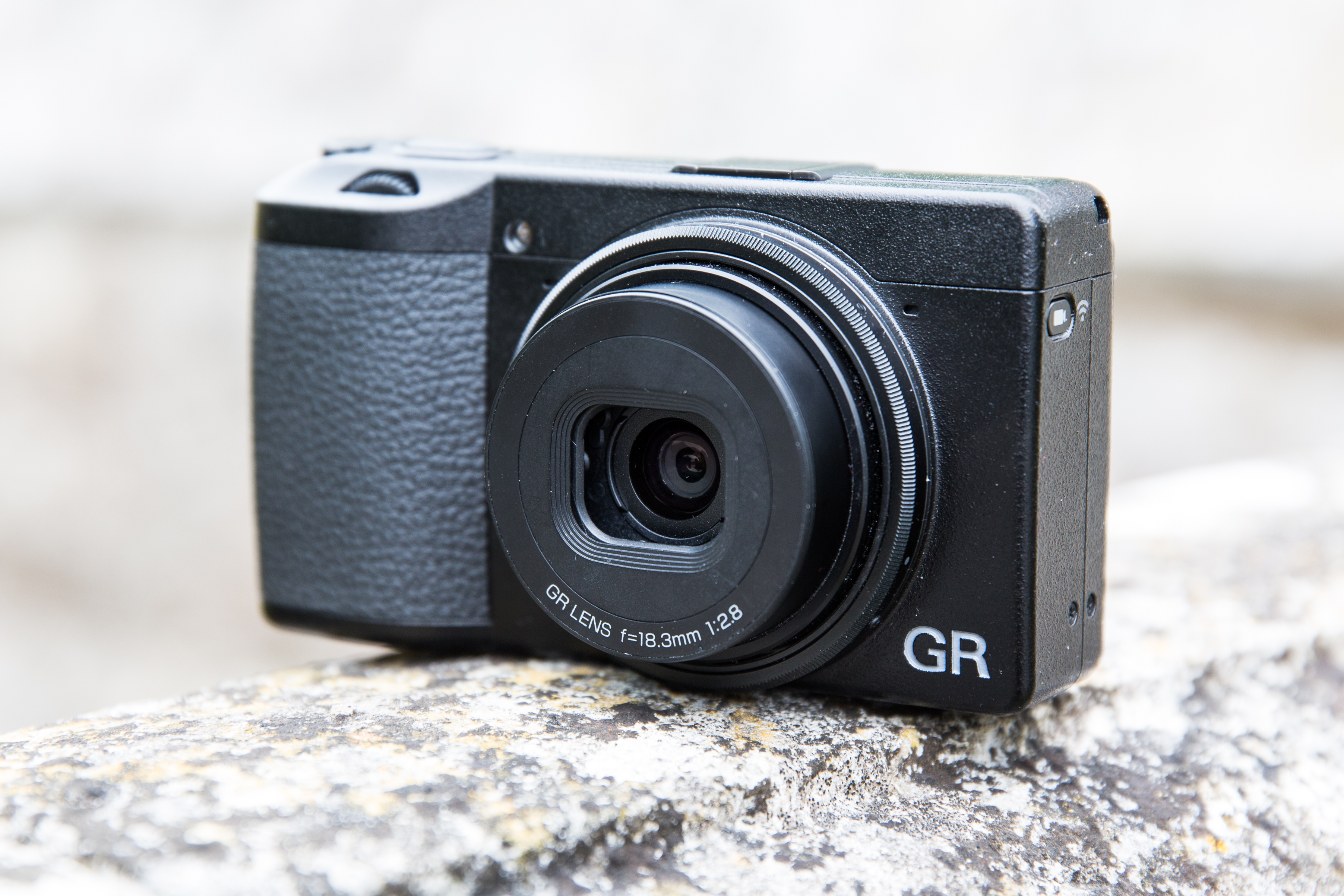 In 2005 Ricoh made its move from film to digital. The GR Digital kept the ethos of the original GR1 and paired a wide 28mm f/2.4 equivalent lens with an 8MP 1/1.8in CCD sensor. By 2013 Ricoh had managed to squeeze an APS-C size sensor into its GR model to challenge rivals in the premium compact market from the likes of as the Fujifilm and Nikon.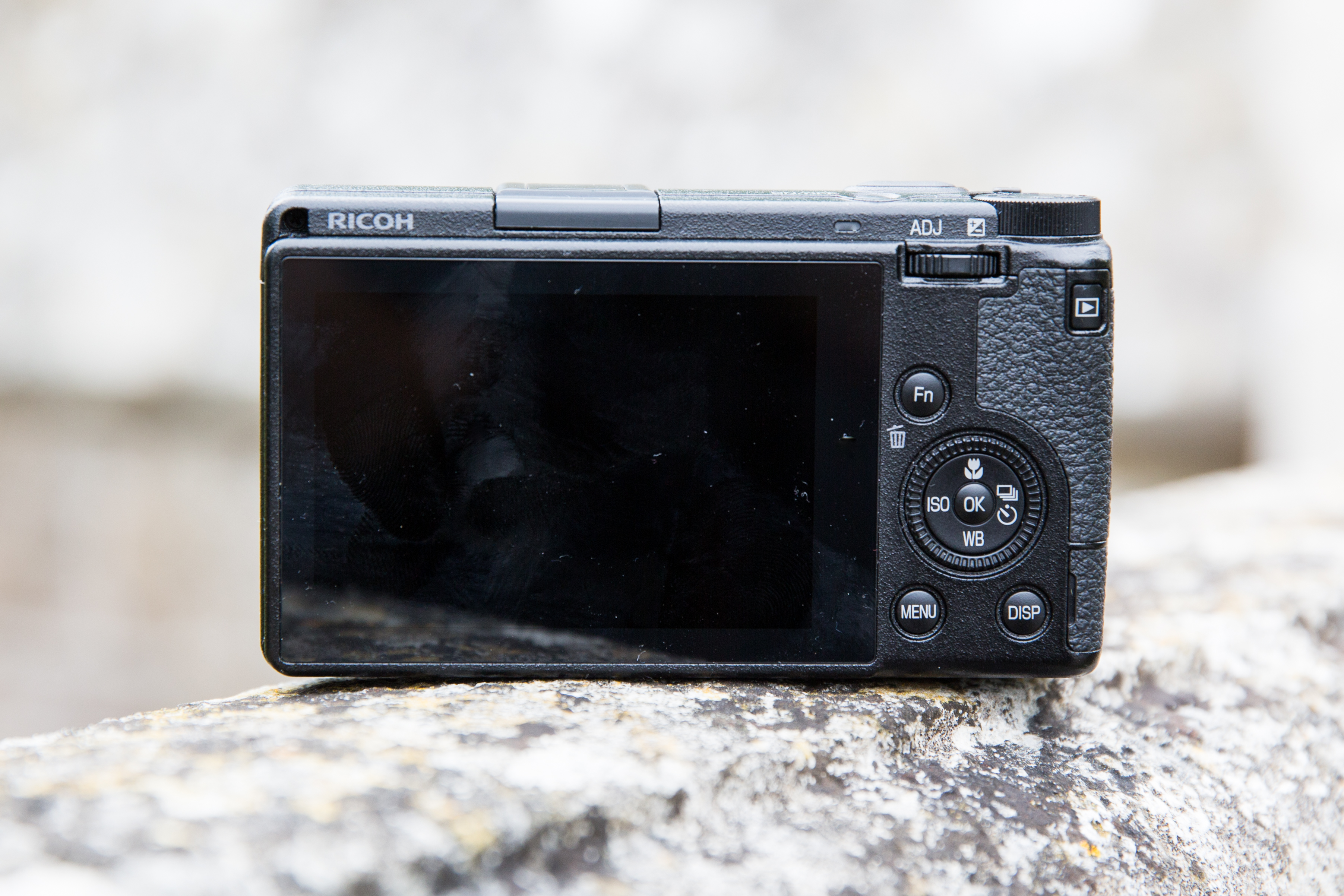 Two years later the Ricoh GR II arrived. This was another highly regarded member in the GR-series, but was more of a minor revamp on what we'd seen before. Since then we've seen Ricoh deliver on its promise of releasing the GR III. This latest model has it all to do if it's to entice photographers into buying a fixed lens compact, especially given it costs £200 more than the Ricoh GR II did in 2015.
Ricoh GR III: Features
Like its predecessor, the GR II, the Ricoh GR III features a fixed 18.3mm lens that is equivalent to 28mm in the 35mm format. While the focal length and f/2.8 maximum aperture are unchanged, the lens is slimmer than before and has a different optical construction that's claimed to deliver the clearest, sharpest images in GR-series history. Ricoh puts this down to the positioning of a high-refraction, low-dispersion glass element and a glass-moulded element, which are also intended to keep distortion and chromatic aberration in check.
The optical construction of the GR III's lens is made up of six elements in four groups and there's a nine-blade diaphragm to ensure natural, rounded bokeh is created at wide apertures. Being a fixed lens zooming is out of the question, however it does benefit from two crop modes, which I'll touch on in more detail soon.
Behind the lens the GR III is equipped with a 24.2-million-pixel APS-C size CMOS sensor that excludes an anti-aliasing filter. With the 16-million-pixel sensor as used inside the GR and GR II starting to show its age, it's good to see the GR III being brought up to date here. As well as employing a new lens and sensor, the Ricoh GR III features the company's newly developed GR ENGINE 6 image engine to improve performance and response. Not only has this helped speed up its start-up time (rated at 0.8secs), it enables 14-bit Raw output from the sensor.
Keeping on the subject of sensor and processor, the GR III has a sensitivity range spanning ISO 100-102,400. There's also the option, should users wish, to develop raw files in camera.
Other improvements include a new hybrid AF system that combines the accuracy of contrast detection with the speed of phase detection. This combination should see it deliver a faster, more responsive autofocus operation in its selection of eight different focus modes.
Given its petite size, Ricoh has done well to install a three-axis in-body image stabilisation system into the camera to compensate for shake. It minimizes shake on three axes, including pitch, yaw and roll and is claimed to allow users shoot handheld shots four stops slower than otherwise possible. As we've seen on Pentax cameras in the past, the GR III also inherits an AA filter simulator, which shifts the sensor ever so slightly during an exposure to suppress false colours and moiré.
The GR III isn't a speed demon when it comes to shooting continuously and with a rather measly 4fps burst offering it has no advantage over the GR II. It does have some other niceties though, including an intervalometer that lets you shoot in up to 10 minute increments for as long as 24 hours, it has an effective macro mode that lets you shoot subjects as close as 6cm, plus there's a in-built ND filter that can be used to cut out 2EV of light when you'd like to extend the shutter speed or use wide apertures when shooting stills in sunlight or recording video.
On the subject of video, the GR III isn't capable of recording in 4K so you're restricted to Full HD resolution, which it offers at 60p/30p/24p. The lack of microphone and headphone ports reiterates that the GR III isn't the best equipped camera for serious movie makers, though you do get 2GB of internal memory space, which could get you out of difficulty should you forget to leave the house without loading the camera with an SD card.
A worry with all fixed lens compacts is the issue of dust getting inside the camera and landing on the sensor. Thankfully, the GR III's shake reduction system can be asked to vibrate the sensor at high frequency to free dust particles – a feature that's been requested from GR users for quite some time.
Some of the newly added features such as the sensor-shift stabilisation and touchscreen at the rear have had a detrimental affect on battery stamina. A battery life of just 200 shots is quite a drop from the 320 shots per charge that you get on the Ricoh GR II, although you do get the convenience of a USB-C port for charging on the go in the car or via a power bank. Another battery thirsty feature is the camera's Wi-fi connectivity, which enables wireless transfer of images to mobile devices installed with Ricoh's ImageSync app.
Ricoh GR III: Crop modes
A concern of some might be that the GR III's lens has a field of view that's too wide. Opportunities may arise where the 28mm equivalent focal length is too short and it's in these situations where the GR III's digital crop modes can be used to get in closer.
As well as a 35mm crop mode that produces a 15MP image, there's a 50mm crop mode that creates a 7MP image. Activating these crop modes is simple enough from the menu, but to access them faster you can assign 'crop' to a function button and cycle through the different options.
When a crop mode is selected the focal length is displayed in the top right corner and the preview image fills the screen.
For times when the GR III's lens isn't wide enough there's the option to fit a GW-4 wide conversion lens (£229). This changes the field of view to a 21mm equivalent, however it does also require the GA-1 lens adapter (£39) to attach it. Add the GW-4 lens and GA-1 adapter to the cost of the GR III and it takes the overall cost to £1067.
Ricoh GR III: Build and handling
It would have been easy for Ricoh to build the GR III around the same chassis as the GR II, but instead the body has been redesigned and made smaller. If you were to place it alongside GR models of the past you'd find it's not too dissimilar in size to the GR Digital IV that had a 1/1.7in type sensor.
Creating a smaller GR has made it even more portable. Its size lends itself to being carried in your trouser pocket, but equally it can fit into a jacket pocket or even a top shirt pocket.
The magnesium alloy body plays its role in giving the GR III a reassuring solid feel, while the rubberised grip, which protrudes no further than the lens in its retracted off position, gives you enough to wrap your fingers around to get good purchase in your right hand. Very importantly for a compact, it feels great when it's used single-handedly and your index finger is left to rest comfortably on a pill-shaped shutter button on the top plate.
Automatic lens covers such as the one used on the GR III can be prone to getting stuck. Though we experienced no issues with ours during testing it's not a bad idea to use an air blower from time to time to prevent dust building up or dirt getting trapped within. Switching the camera on sees the lens extend quickly by approximately 12mm. Around the perimeter of the lens there's a removable ring that requires a short turn to remove it prior to fitting the optional GA-1 adapter and GW-4 wide-angle lens.
Similar to previous GR models, the GR III doesn't feature a focusing ring around the base of the lens like we've seen on other premium compacts. This is understandable from Ricoh's point of view of trying to make the the camera as small as possible, however from a practical perspective you could argue that a control ring like you get on the Fujifilm XF10 would be beneficial.
A rather surprising move from Ricoh has been their decision to remove the pop-up flash, meaning you're no longer able to add a blip of fill-in without attaching a flashgun or trigger system via the hot shoe. Ricoh has added TTL compatibility with Pentax flashguns should users feel the need to enhance their shot with supplementary lighting, however this does rule out working with an optical viewfinder at the same time.
The control layout at the rear of the GR III is very simple. Although changes have been made, they're not so drastic that they'll perplex existing GR users. The AEL/AFL/C-AF thumb switch has been removed and is replaced by an Fn/delete button. Rather than taking ISO control from the rear jog dial, its primary role is now to adjust exposure compensation. Those familiar with the GR II will remember the protruding exposure compensation rocker switch, which was quite easy to knock accidentally. The playback button replaces this, but thankfully it's not as easy to hit by mistake.
Lower down there's a new four way controller that provides direct access to ISO, macro mode, burst/self timer and white balance. The camera is setup to access these out of the box, but can be customised so the up, down, left and right buttons shift the AF point around the frame and the central OK button resets the AF point back to centre. The wheel around the outside is great for working your way through the GR III's clearly laid out menu or scrolling through your shots in playback.
In manual mode the rear jog control controls shutter speed and the front dial that's built into the top of the sculpted grip controls aperture, however this can be switched around if you'd prefer. Depressing the jog dial enters five user adjustable mode settings. These are useful for accessing things like the ten different picture modes, the focus mode, snap focus distance or file format in a hurry without having to find them from the main menu.
Very little has changed up on the GR III's top plate. The fully rotatable mode dial has a lock button to prevent it being knocked, there are U1, U2 and U3 modes to recall saved settings and the green On/Off lamp can again be asked not to illuminate in bright green if you'd prefer it not to.
Ricoh GR III: Viewfinder and screen
If, like me, you're used to a camera with a viewfinder, it can feel a bit odd returning to a camera that doesn't have one. I lost count of the times I instinctively raised the GR III to my eye, only to lower it and compose using the 3in, 1037k-dot rear screen.
In recent years we've witnessed some interesting EVF innovations, including pop-up EVF's on Sony's RX100-series compacts, but sadly there's no such novelty here. There is the option to buy the Ricoh GV-1 (£149) or GV-2 (£199) optical viewfinders that clip on via the hot shoe, although neither are as good or as accurate as today's superb EVFs that display 100% coverage, lots of useful information around the frame and offer a clear way of reviewing images in high contrast conditions. Another drawback of adding an optical viewfinder to the GR III is that it makes the camera more difficult to squeeze into your pocket.
A fixed screen features at the rear, which helps keep the body as slim and slender as possible. Interestingly, the 1037k-dot resolution offers no improvement over its predecessor's 1,230k-dot display, however it now supports touch functionality and responds well to very light touches. It can be used to navigate the main menu, reposition the focus point and scroll/zoom through images in playback mode just like you would on a smartphone.
I found myself switching it off when working with an optical EVF though as it's very easy to move the AF point if your nose accidentally comes in contact. The GR III's body isn't weather sealed, but that didn't stop me trying the touchscreen after a few raindrops had landed on it. If the screen does get wet you'll notice it becomes less responsive and can lead to incorrect menu navigation.
Ricoh GR III: Performance
The first job upon arrival of our review sample was to update it. As soon as the latest firmware (v1.11) had been installed I began customising the GR II to my liking. Users can setup the GR III's Fn button, ISO button and drive button to one of 31 settings, with the possibility of assigning one of 27 settings to the Movie/Wi-fi button at the side. Holding the latter activates wireless connectivity or reveals a depth of field preview, which again the user can set from the GR III's customize control options.
Just as you want from a compact and a camera that's going to be used to capture spontaneous moments with, the GR III fires up quickly and can take a shot within a second of the on/off button being pressed. There is a faint hum from the stabilisation system, however you can't hear this in outdoor environments.
General operation of the camera is spritely. It responds instantly to button presses and light taps of the touchscreen. As for the response of the autofocus system, it is an improvement on the GR II, but can't be described as lightening quick or instantaneous. In bright, high contrast conditions users can expect the GR III to acquire focus on static subjects fairly briskly, however when light levels drop hunting of the lens does become more noticeable.
The GR III relies heavily on its bright-green AF assist beam to illuminate close subjects in low light situations, and at night where subjects are too far away for the AF assist beam to be effective, it becomes very hit and miss as to whether it'll find focus or not. The camera's face detection works effectively in good light and showed no difficultly identifying faces in full-length shots or when the crop modes were used.
For street photography I often found myself shooting from the hip. The effective face detection combined with the discreet size of the camera makes it easy to shoot under the radar of those around you.
A worry on a camera as small as the GR III is battery life – something that isn't helped by its rather vague three-bar status icon, with no option to view the remaining capacity as a percentage. I discovered the first bar of battery power is used quickly. In an effort to conserve power I reduced the Auto Power Off and Sleep mode settings to their 1-minute minimum.
Using the GR III around the streets of Hastings, turning it off between spells of shooting and being cautious of not reviewing shots for too long, resulted in 145 shots being taken before it ran out of power. Turning the touchscreen off and waiting until you get home to transfer images can yield a higher number of shots per charge, but I never exceeded 200 shots in real-world use before the battery icon started to blink red. The GR III is definitely a camera you'll want a second or third battery for.
Rather than fork out £49 for a spare DB-110 battery, I'd recommend Hähnel's HL-90B battery (£19), which is a cheaper alternative. Some users may wish to carry a small USB power bank with them for longer spells of shooting, or where mains power isn't easily accessed. It's worth noting though that it's not possible to charge and shoot simultaneously.
Putting the camera through its paces revealed that with a steady hand and shake reduction switched on it's possible to shoot as slow as 1/8sec and achieve sharp results. In playback mode it's possible to rotate the camera by 90-degrees to display portrait orientated images larger for clearer viewing. The option to set the focus distance from six predefined snap focus distances is great to have too if you know how close you're working to your subject and fancy directly overriding autofocus. With the rear screen being quite tricky to view in harsh sunlight, it's also handy being able to increase the brightness directly from the jog dial.
Compared to some other manufacturers apps, Ricoh's Image Sync app is very basic. Despite not having any issues transferring images to my smartphone via Wi-fi (4secs for JPEGs and 7secs for Raw files) and setting it up so the GR III would ping the latest images across to my phone automatically once a wireless connection had been established, the app refused to let me take control of the camera remotely. The Bluetooth setting for an always-on connection wasn't particularly intuitive to setup either. There's certainly room for improvement with regard to the GR III's wireless setup options.
I was very impressed by the sharpness of of the lens, even wide-open at f/2.8, and the GR III's metering system behaved very well, rarely judging a scene incorrectly or requiring exposure compensation to be applied. Users who keep the camera powered for long periods are likely to notice that the handgrip and rear screen do have a tendency to get quite warm. One other thing to point out is the tripod screw on the underside of the body. This is positioned very close to the battery compartment, forcing you to remove the baseplate each time you'd like to gain access to the battery or SD card.
Ricoh GR III: Image quality
The Ricoh GR III was due a new sensor and the 24.2-million-pixel APS-C size CMOS chip it's now equipped with brings it up to date. Fourteen times larger than the sensors found inside most conventional smartphones, it has considerably larger photosites and offers a a significant advantage when you're challenged by low light conditions.
Users can confidently push up to ISO 3200 (even ISO 6400 at a push) when dark environments dictate a higher sensitivity setting. The increase in resolution means the crop modes are very useable too, especially the 35mm option, which delivers a 15MP image that's perfectly adequate for A4/A3 prints to be made.
Ricoh GR III: Resolution
With no anti-aliasing filter, the Ricoh GR III manages to resolve excellent resolution figures from its Raw files. At its base sensitivity setting of ISO 100 we recorded 3,600l/ph, which is preserved up to ISO 400 before it drops slightly to 3,400l/ph at ISO 800.
As to be expected, the level of detail falls off at higher settings, with ISO 3200 producing a figure of 3,200lph and ISO 6400 yielding 3,000l/ph. Push beyond ISO 12800 (2,800l/ph) and figures drop rapidly to 2,400l/ph at ISO 25,600, 2,000l/ph at ISO 51,200 and 1,600l/ph at ISO 102,400.
From the crops below, multiple the number beneath the line by 200 to calculate the resolution in lines per picture height.
Ricoh GR III: ISO and Noise
The GR III delivers satisfying results straight off the bat and gives users excellent choice over the level of high-ISO noise reduction that's applied to its JPEG images. It can be set to Auto, low, medium, or high. There's even the option to set it to custom where you're given the chance to set the amount of noise reduction that's applied at each sensitivity setting. Our best results were achieved by shooting in raw, with clean, noise-free images between ISO 100-400 and just a hint of luminance noise creeping in around ISO 800.
Noise at ISO 1600 and ISO 3200 is perceptible, but by no means disastrous, and can be easily brought under control by applying a little noise reduction in post. There's more of a noticeable drop in detail and increased luminance noise at ISO 6400, which is the upper limit I'd be prepared to push the sensitivity to on a frequent basis. ISO 12,800 could be used in an emergency, however the three sensitivity settings above these should be avoided at all costs.
Ricoh GR III: Verdict
With today's smartphone cameras being so good, you might be under the impression that the compact camera has run its course and no longer has reason to exist. Premium compact camera manufacturers like Ricoh have been forced to look at ways to differentiate their models from smartphones to ensure they continue to appeal and don't die a death.
By offering high quality optics, a large APS-C size sensor, robust body, intuitive control layout and modern conveniences such as touchscreen control and Wi-fi connectivity, there's still a valid reason to carry a premium compact in your pocket, which will ultimately deliver superior image quality to that of a smartphone.
The Ricoh GR III, like its predecessors, is a photographer's camera. It's simplistic in terms of its design, yet provides the manual control and level of customisation you want from a camera that's great for capturing instantaneous moments with. It's a good companion for travelling too where the bulk of an interchangeable lens system isn't always wanted.
There's a lot to like about the GR III. Menu navigation is aided by the touchscreen, autofocus response has improved, the image stabilisation is effective, it has a fabulous selection of picture styles and the image quality from the fast lens and new sensor is staggering for a camera of its size. Things that let it down are its AF performance in low-light, lack of optional EVF, wireless connectivity setup and poor battery life, which forces you to carry quite a few spares and charge on the go.
Compared to the GR II, which was a relatively minor update on the Ricoh GR, the GR III has advanced quite a long way from the GR II. The sensor, lens, processor, screen, body and operational improvements do come at a price though. Costing £200 more than the GR II was at launch, the GR III is very expensive and works out at only £180 less than the sensational Fujifilm X100F at the time of writing (20.06.2019) when you take cash back promotions into consideration.
For spending £799 I'd at least expect the GA-1 lens adapter and spare battery to be included in the box. Fujifilm's XF10 (£449) is a considerably cheaper alternative, however the GR III would remain my first choice if money didn't come into it and I had to choose between the two.
The GR III is a bit niche and isn't without pitfalls, however for photographers who fancy a large-sensor compact and one that takes great shots, it certainly shouldn't be overlooked. The more you use it the more you start to fall in love with it.
Ricoh GR III: First look
After announcing the development of a new model in its GR-series of high-end compacts at Photokina 2018, Ricoh has officially released its successor to the Ricoh GR II in the form of the Ricoh GR III. The Ricoh GR III arrives three years after the Ricoh GR II was announced in 2015 and presents more of a significant upgrade than the Ricoh GR II was to the Ricoh GR from 2013.
Like its predecessor, the Ricoh GR III features a fixed lens that's equivalent to 28mm in the 35mm format with a maximum aperture of f/2.8, however it now has slimmer design and a different optical construction that's said to deliver the clearest, sharpest images in GR-series history. The optical construction is made up of six elements in four groups, with a nine-blade diaphragm. Directly behind this newly developed lens, the Ricoh GR III is equipped with a 24.2-million-pixel APS-C size CMOS sensor that's an improvement on the 16-million-pixel sensor found inside the Ricoh GR II.
As well as employing a new lens and sensor, the Ricoh GR III features the company's newly developed GR ENGINE 6 image engine to improve performance and response. Not only has this helped speed up its start-up time (rated at 0.8secs), it has enabled 14-bit Raw output from the sensor. Keeping on the subject of sensor and processor, the Ricoh GR III provides a top sensitivity of ISO 102,400.
Rather than solely relying on contrast-detect AF, the Ricoh GR III uses a hybrid AF system that combines phase detection and contrast detection. This combination is said to deliver a faster, more responsive autofocus operation in all of its eight different focus modes.
Elsewhere, the Ricoh GR III's shake reduction (SR) mechanism is refined and its three-axis mechanism is designed to minimise camera shake caused by pitch, yaw and roll by up to four shutter steps. As we've seen on Pentax cameras in the past, the Ricoh GR III also inherits an AA filter simulator, which is designed to provide the same level of moiré reduction as an optical AA filter.
The Ricoh GR series of compacts have a good reputation for being small, compact and functional. The Ricoh GR III takes this to the next level, being slightly smaller than its predecessor and almost equal in size to the older GR Digital IV from 2011, which used a smaller 1/1.7-inch image sensor.
The body is constructed from rigid magnesium alloy to give it a strong, solid feel in the hand and it's the first ever GR-series model to feature touchscreen operation. With no built-in viewfinder (clip-on optical viewfinder is available), the Ricoh GR III's 3in, 1,037,000-dot screen is heavily relied on for general operation and composition, supporting AF point positioning, navigation of the main menu and review using swipe gestures in playback mode.
The air-gapless construction of the screen, in which special resin is placed between the LCD touch-screen monitor and a protective cover made of reinforced glass, is intended to effectively reduce the reflection and dispersion of light for improved visibility during outdoor shooting in high contrast conditions.
Other features of note include the ability to focus within 6cm of a subject using macro mode, the option to shoot movies in Full HD resolution at up to 60p in the H.264 recording format and connectivity to mobile devices via Wi-fi and Bluetooth. A USB Type C interface is located at the corner of the body, which can be used to top up the battery on the go and it also has 2GB of built-in storage should you accidentally leave home without an SD card and not want to get caught out.
Availability of the new Ricoh GR III is expected in March and the camera will cost £799.99 at launch. A full range of accessories, including a wide-angle conversion lens (GW-4) that expands the angle of view to 21mm will also be made available.