Panasonic Lumix G Vario 12-60mm  f/3.5-5.6 Asph Power OIS review: Introduction
The standard lens is the most important lens in any camera system because it's the one most often bought with the camera, and many users might not go any further. Whatever the case, it needs to deliver a quality performance to tempt users to invest in the system further. Standard lenses can be primes (fixed focal length) or zoom and the latter are certainly the more popular.
Panasonic has an impressive array of both types on offer. Also, with OM System (formerly Olympus Cameras) fully committed to the Micro Four Thirds (MFT) format and with independent brands including Sigma and Voigtlander involved, the choice of standard lenses is extensive.
The Panasonic Lumix G Vario 12-60mm f/3.5-5.6 Asph Power OIS tested here is just one current option. If compactness is a quality you want then look at the Panasonic Lumix G X Vario PZ 14-42mm f/3.5-5.6 Asph Power OIS and this pancake-type lens costs $329-398/£349. Other similarly priced lenses include the Lumix G Vario 14-42mm f/3.5-5.6 II Asph Mega OIS at $220-270 used/£329 and the Lumix G Vario 14-45mm f/3.5-5.6 Asph Mega OIS priced at $175-190 used/£349.
With more money to spend you could go for the higher spec Leica DG Vario-Elmarit 12-60mm f/2.8-4 Asph Power OIS at $898/£800. Again, with a decent budget the Leica DG Vario-Elmarit 12-35mm f/2.8 Asph Power OIS at $898/£879 and Panasonic Lumix G X Vario 12-35mm f/2.8 II ASPH Power OIS priced at $698/£799, also come into the reckoning although with a shorter zoom range.
To help, AP has collated a list of the Best Micro Four Thirds lenses in 2023 and you can find it here.
Panasonic Lumix G Vario 12-60mm  f/3.5-5.6 Asph Power OIS review: Features
With an optical formula of 11 elements in nine groups, the lens uses a construction that's more complex than basic kit zooms. It includes three aspherical elements and one made of extra-low dispersion (ED) glass, which together reduce optical aberrations such as distortion, spherical aberration and colour fringing due to chromatic aberration. As usual from Panasonic, optical image stabilisation is built in.
The lens is also designed for HD video recording, with silent autofocus and aperture mechanisms. The aperture itself is formed from seven rounded blades and features stepless adjustment, to eliminate sudden brightness jumps in movie footage. A bayonet-fitting petal-type lens hood is included in the box, and reverses snugly around the barrel for transport, while the filter thread accepts relatively petite 58mm accessories and doesn't rotate on focusing.
One handy feature is the minimum focus distance of just 25cm at the telephoto end. This gives 0.54x equivalent magnification, meaning that the lens can fill the frame with a subject measuring 6.4×4.8cm. It can be useful for shooting close-up images of subjects such as flowers and insects.
Panasonic Lumix G Vario 12-60mm  f/3.5-5.6 Asph Power OIS review: Build and handling
At 71mm long, 66mm in diameter and weighing just 210g, Panasonic's 12-60mm lens is very similar in size to the basic 18-55mm kit zooms commonly supplied with DSLRs. Its light weight reflects the predominantly plastic exterior, although the lens mount is metal. A rubber seal surrounds it, to help keep dust and water out of the camera.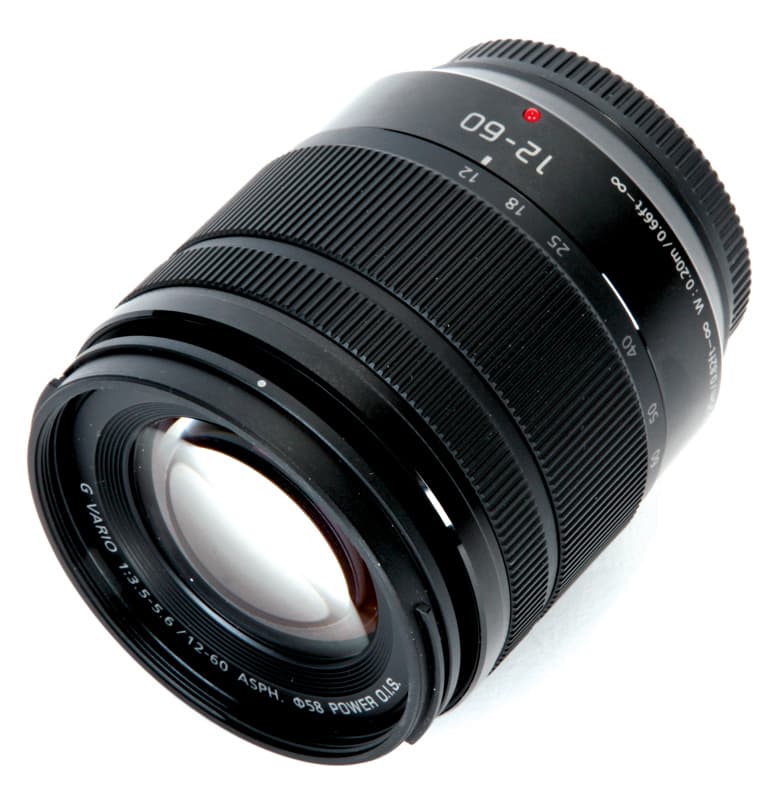 Design-wise, the barrel is very simple. The broad zoom ring rotates 90° from wideangle to telephoto, and is smooth enough to provide precise framing. In front of it the narrow manual-focus ring provides control by wire, with no change in feel as it passes the focus group's end stops. However, I suspect few users will disengage autofocus anyway, as there's very little incentive to do so. Indeed, there are no physical switches on the lens barrel, with both AF and OIS are controlled solely through the camera's menus.
Panasonic Lumix G Vario 12-60mm  f/3.5-5.6 Asph Power OIS review: Autofocus
As we've come to expect from Panasonic, the 12-60mm focuses quickly, decisively, silently and accurately in almost any lighting conditions. It only slows down in very low light (think low-level artificial lighting after dark), but will still find focus so long as you point the camera towards a subject with some degree of contrast. Naturally, all Panasonic's usual features are available – for example, the lens can silently pull focus from one subject to another during video recording.
With this kind of lens it's rare to have to call on manual focus, but if you do, it's perfectly well behaved. Turning the focus ring will engage your preferred focusing aid on the camera – such as magnified view or peaking – and the focus-by-wire system works well enough to make it easy to bring the subject into sharp focus.
Panasonic Lumix G Vario 12-60mm  f/3.5-5.6 Asph Power OIS review: Image quality
In general, the 12-60mm gives the sort of image quality we'd expect from a mid-range zoom. So it's better than a cheap kit lens, but no match for a premium optic like Panasonic's 12-35mm f/2.8. Sharpness is pretty high in the centre of the image, but falls off towards the corners, with the effect being most marked at wideangle. But unless you're examining images at the pixel level or making prints that are larger than A4, this will be of little 
practical consequence.
Panasonic integrates some software corrections into the design, most notably of curvilinear distortion and lateral chromatic aberration, which results in clean, natural-looking images. The process is so well integrated into Micro Four Thirds that most users will never notice it's even happening.
One point to be aware of about this lens, though, is that while the extended zoom range is very useful, the slow maximum apertures mean that there's very little scope for experimenting with shallow depth of field. Indeed, you'll only really see anything resembling out-of-focus blur when shooting close-ups, or at the telephoto end with a distant background. This is simply the price you pay for the compact size of Micro Four Thirds.
Image stabilisation is competent, without necessarily being the best I've ever seen. When paired with the GX8, the lens tended to deliver images at marginal shutter speeds that were acceptably sharp for most purposes, without being pixel perfect. With care, I found that I was able to get usable images using shutter speeds of 1/15sec towards the long end of the zoom, equivalent to around three stops of stabilisation.
Panasonic Lumix G Vario 12-60mm  f/3.5-5.6 Asph Power OIS review: Resolution, shading and curvilinear distortion
Resolution
Central sharpness is very good at all focal lengths, although the corners lag behind a bit, most markedly at 12mm. In general, best results are obtained around f/5.6-f/8. The lens can be stopped down to f/22, but personally I'd stop at f/11. Beyond this, diffraction blurring becomes excessive.
Shading
As tends to be the case on Micro Four Thirds, vignetting is practically a non-issue. It's only worth commenting on at wideangle, and even here there's only a relatively minor drop-off in illumination in the corners of 0.6EV at f/3.5. When you stop the lens down to f/5.6, however, this essentially disappears.
Curvilinear distortion
As is Panasonic's way, distortion is corrected seamlessly in software, leaving behind very mild barrel distortion at wideangle that you'll barely see. Go out of your way to produce uncorrected raw files and you'll see quite considerable barrel distortion at 12mm and a little pincushion at 60mm, but this is essentially academic.
Panasonic Lumix G Vario 12-60mm  f/3.5-5.6 Asph Power OIS review: Verdict
There's much to like about the Panasonic Lumix G Vario 12-60mm f/3.5-5.6 Asph Power OIS. It is a lightweight, versatile, carry-everywhere lens for Micro Four Thirds and its weather resistance build gives it an extra appeal to photographers who like to shoot in poor weather. It handles well and the Power OIS is a benefit too.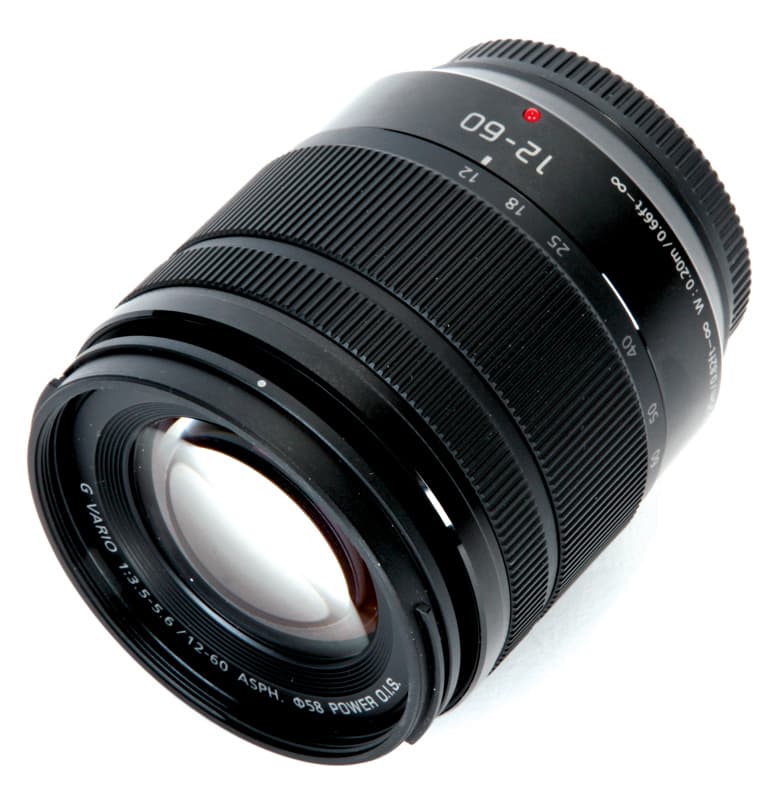 Optically, it's a competent mid-range zoom with a useful focal length range and suits cameras such as the Lumix G80 and GX8, and it churns out respectable image quality shot after shot. Really, it can only be improved upon by investing in the much more costly f/2.8 standard zooms from Panasonic and OM System. In that context, the Lumix G Vario 12-60mm f/3.5-5.6 Asph Power OIS can be recommended if you want a capable all-round standard zoom without breaking the bank.