Image Quality Lab Results
Panasonic Lumix DMC-CM1 Review – Image Quality Lab Results
As we have seen with other 20-million-pixel, 1in-sized sensors, the Panasonic Lumix DMC-CM1 provides a good balance between resolution and noise. This is thanks to the size of the sensor being far larger than that found in a standard compact or smartphone camera. The larger surface area allows for more photosites, but without compromising on their size, meaning that the sensor can gather a lot more light compared to smaller units of a similar resolution.
As can be seen in our sample images, the performance is impressive at each given sensitivity setting, especially when compared to other smartphone cameras currently available. Compared to the likes of the iPhone or Samsung Galaxy or Sony Xperia phones, the CM1 is certainly ahead, and it can also match the quality of the other cameras with 20-million-pixel, 1in sensors.
Dynamic Range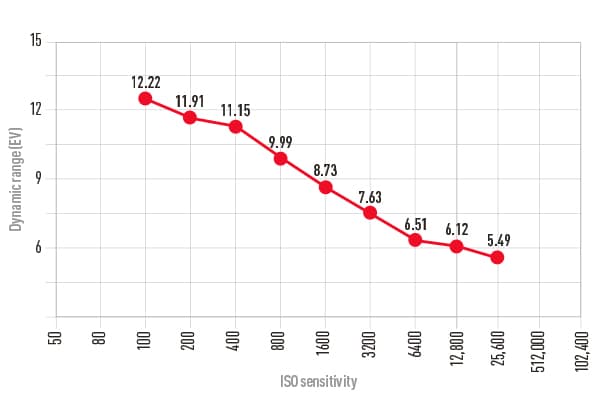 For a smartphone, the CM1 has an extremely impressive dynamic range of 12.2EV. Obviously, the larger photosites of the 1in sensor is what helps to enable this range, which is effectively the same as that of the Sony Cyber-shot DSC-RX100 III and the Canon PowerShot G7 X. By ISO 800 the dynamic range drops to just below 10EV, so there is plenty of shadow detail in images up to this setting. From here, though, the dynamic range of the camera drops and is just 5.5EV at its maximum sensitivity.
Resolution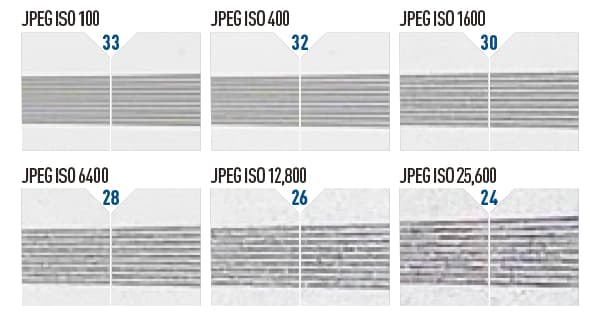 With a 20.1-million-pixel, 1in-sized sensor, the CM1 resolves up to 3300l/ph on our chart at ISO 100. When shooting raw images there is slightly more clarity and sharpness, although little more in terms of definition. As the sensitivity increases, the sensor and processing do a good job of maintaining the high resolution, and even up to ISO 1600 the resolution is around the 3000l/ph mark. Obviously noise affects the higher sensitivities, and ISO 12,800 and 25,600 show a drop in resolution, but it is still reasonable.
Noise
Both raw and JPEG images taken from our diorama scene are captured at the full range of ISO settings. The camera is placed in its default setting for JPEG images. Raw images are sharpened and noise reduction applied, to strike the best balance between resolution and noise.
ISO 100ISO 200ISO 400
ISO 800
ISO 1600
ISO 6400
ISO 12800
ISO 25600
With the sensor of the CM1 being larger than that of most compact cameras, let alone smartphone cameras, you would expect to see excellent noise control – and the camera doesn't disappoint.
At ISO 100 and 400 there is virtually no difference in the shadow areas of images, with no discernible noise. In fact, the noise is controlled so well that even at ISO 1600 little colour or luminance noise is available in shadow areas.
At ISO 6400 there is a little smoothing in JPEG images, which helps to keep luminance noise under control.
However, at ISO 12,800 some luminance noise, and some smoothing from colour noise reduction is present, which removes a lot of detail resolution.
At the maximum setting of ISO 25,600, shadow areas suffer from both luminance and shadow noise, with the shadow areas taking on a slight purple hue.