OM System LS-P5 at a glance:
$249 / £199
Three microphones
96kHz 24-bit recording
Uses two AAA batteries
Bluetooth connectivity
When the Olympus camera division split off to form OM Digital Solutions, the firm's audio recording business was part of the deal. Its first product under the new brand, the OM System LS-P5, is a successor to the Olympus LS-P4. This means that it's a compact, high-quality stereo audio recorder, which uses a third microphone for extended bass response.
However, it now sports an updated microphone system designed to cope with louder sounds. It also benefits from enhanced smartphone remote control via Bluetooth, along with a host of other tweaks that make it a more practical device for capturing video soundtracks, or making high-quality field recordings.
OM System LS-P5 key features:
Storage: Files can be recorded to either the 16GB internal memory, or a MicroSD card up to 2TB that slots into the side
Power: The supplied AAA NiMH rechargeable batteries promise up to 37 hours recording time
Smart volume control:  A Smart audio control analyses sound levels for a few seconds and then sets the recording volume accordingly
Music: You can use the device as a high-res audio player, by copying music files into a standard Artist/Album folder structure
Physically the new model looks much as before, with three microphones at the front, a small square dot matrix display, and the same button layout. Its Tresmic II system provides zoomable stereo output, ranging from a wide 180° soundstage to focusing narrowly in front of the device, shotgun-style. You can record in qualities up to 96KHz / 24-bit, using either the lossy MP3 format, lossless compressed FLAC, or uncompressed WAV.
In place of the LS-P4's sliding USB-A plug, there's now a micro-USB port for charging the batteries and connecting to a computer (it's a shame this isn't USB-C). You also get a conventional tripod socket, eliminating the need for an annoying adapter, and it's well placed so the recorder doesn't jut out behind the camera when mounted on its hot shoe. The 3.5mm stereo input and output sockets have moved onto the left side, which is more convenient for wiring the device to your camera.
About the only thing that might count as a downgrade is that the body is now plastic, rather than metal. But this helps keep the weight down to 78g, with the OM System LS-P5 measuring a pocket-friendly 112 x 37 x 16mm. The kit's quite sparse, with just the batteries and a short USB cable supplied. The onscreen menus and controls now look distinctly dated, but this is partially offset by the new app.
As well as recording with the built-in mic, you can plug in an external microphone such a Lavalier unit. You can also output audio to your camera via the headphone socket, while simultaneously recording on the device itself and monitoring via Bluetooth headphones. However, the latter suffers from a distinct delay (latency), which isn't necessarily a problem if you're just checking sound levels, but is disconcerting during recording.
Most importantly, audio quality is excellent. Voices are clear and distinct, while with ambient sounds, the device deals with noisy traffic or quiet birdsong with equal aplomb. However, wind noise can be picked up very easily outdoors, so it's a shame no windshield is included (third party options are available online for about £23). For on-camera use, you'll probably want to add an anti-shock mount, too.
Smartphone control via the DVR-Remote app
Using the DVR.Remote app, you get extensive remote control from your phone via Bluetooth. The main screen provides the recording and sound level controls, with large, clear meter displays.
You can also add index marks, rename files, change the recording quality, and zoom the microphone, all without having to touch the device.
OM System LS-P5: Our Verdict
The OM System LS-P5 combines pocket-friendly portability with extremely high-quality sound capture and recording. It's complete overkill for simple purposes like voice notes, but should be a handy tool for videographers requiring top-notch audio.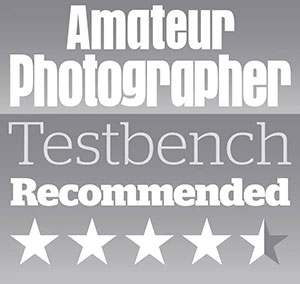 ---
Follow AP on Facebook, Twitter, Instagram, and YouTube.
---