Buying into mirrorless for the first time, landscape and nature photographer Kingsley Singleton weighs up whether investing in the Nikon Z7 II has paid off in this Nikon Z7 II Long Term Review.
It was always going to be a shock. Having spent two decades using DSLRs, the Nikon Z7 II was my first mirrorless interchangeable lens camera. So while Nikon had been noticeably late to the mirrorless party, I felt like I had, too. In a lot of ways though, it meant I was lucky. After all, as a not-quite-second generation of Nikon's full-frame mirrorless flagship, the Z7 II promised to iron out several kinks in the original model, adding greater speed with its dual processors, while preserving its more attractive features.
Buying the camera in December 2020, my Nikon D850 went in the opposite direction. That was necessary: first to pay for the new body; and second because I knew that having old faithful around would make me less likely to embrace the new world of the EVF. I needed to dive in without the water wings and get used to its benefits.
So, after almost 10 months of shooting, what have I learnt? Well, not only that it's a great camera, but that it delivers on the general promise of mirrorless photography. And in that way, I genuinely think it's changed the way I shoot for the better.
Nikon Z7 II At a glance
£2,999 body only
45.7MP full frame sensor
10 FPS
ISO 64-25,600, expandable to 32-102,400
People and animal eye tracking
Five-axis IBIS
705g
DSLR vs Mirrorless: Out with the old
One of the trumpeted benefits of mirrorless cameras is that they're smaller and lighter than DSLRs. I'm not sure there's a better example of that than comparing the D850 with the Z7 II: the latter is a camera that's very similar in spec, but at 705g versus 1005g with battery and card, also one which weighs almost a third less.
On various landscaping trips and hikes, I've really noticed that difference, and especially when twinning the Z7 II with the 500g Z 24-70mm f/4 S lens alone. Even when adding a couple more Z-mount lenses, accessories and outdoor gear, the load is lighter, and that's made me feel more like getting out and shooting. I often take my AF-S 20mm f/1.8G ED and AF-S 300mm f/4E PF VR plus the FTZ mount converter, making a streamlined kit that can handle all sorts of subjects, but still fits in a small backpack. And along with some stepping rings to bring the 24-70mm f/4 S up to 77mm, I can use a single set of filters, too.
Nikon Z7 II Handling: Giving the feels
Nikon has got the Z7 II's handling pretty much spot-on. The deep grip has felt comfortable from day one and my muscle memory has now kicked on for the new button layout. Yes, there are downsides to a smaller body, and arguably I prefered the layout of the larger D850 with its dedicated AF mode lever and area button, and greater number of inputs running down both sides of the LCD. But the Z7 II's layout combines intelligence with enough space not to feel cluttered. Nothing gets in the way of your thumb rest, and the paddle-like Fn1 and Fn2 buttons on the front near the lens mount are quick and easy to find.
Using the Z7 II is more reliant on customisation, I've found. And though I've not changed many of the main button functions from their default, I've made good use of the 'i' menu, adding items like Exposure Delay mode, which I use in landscaping, auto bracketing, self timer and shutter type. The list of addable items is limited, so I set functions like Focus Shift and the Interval Timer to the My Menu. You can set a shortcut to bring up My Menu, but I revert to the main menu as physical buttons are better assigned to other functions.
One gripe I have is with drive modes. The self timer doesn't stay active when the camera is switched off and on again, with the mode instead reverting to the last used option from single or continuous. This is annoying as I'll often shoot a landscape in self timer, switch off, move to another location, and then find I'm back to single shot mode. But the Exposure Delay mode remains on to mitigate this somewhat.
I'll often use Auto ISO for action shots or walkaround photography, and I can activate this using either the 'i' menu, the main Shooting menu or by holding the ISO button on the body. However, the latter is awkward as you then need to use your middle finger on the front control dial to jog between the modes with the rear control defaulting to the value. It's actually easier from the 'i' menu, and while you can also set the maximum auto ISO setting from there, you can't set the minimum shutter speed without going into the full menu.
As for the rest of the body, the 3.2in touchscreen is ample for me in terms of size and resolution, but I'd prefer it to have full articulation, letting me not only angle it outwards when shooting in upright format, but also reverse it when the screen isn't needed, as on a camera like the Fujifilm X-Pro3. The current two-way tilt is fine when working horizontally, but not much more than that, and in vertical landscaping or shooting portraits from close to the deck it's no help at all.
The Z7 II also added dual CFexpress/XQD and SD card slots, just as on the D850. I never had a problem with the original Z 7's single XQD slot, and I've never had an XQD card fail, but there's no doubting the comfort and security that a backup brings. As Nikon clearly believed in the format, I'd have preferred double XQDs, but the ease, low cost and installed base of SD readers makes it a popular and smart choice.
The Z7 II's electronic viewfinder is identical to its predecessor, which was rightly lauded at the time of launch, but it could now be said to be lagging its rivals in resolution and refresh rate. That said, it's a view that brought me over from an optical finder, and it still looks great. It's clear, bright, and aside from the inevitable stagger in continuous mode, a pleasure to use. I've read that its frame rate could be improved via firmware, but what I'd really like to see is the camera settings rotate as the camera is used in portrait. Fujifilm X series cameras have been doing this for ages.
Overall, despite having more plastic in the body than I'd like, the Z7 II's weight benefits aren't compromised by flimsy build. It's a well-made body, and the weather sealing hasn't failed me despite being caught in numerous rainy shoots. But making the shutter, or some other shield, close over the sensor to protect it when the camera is switched off would seem like a good idea.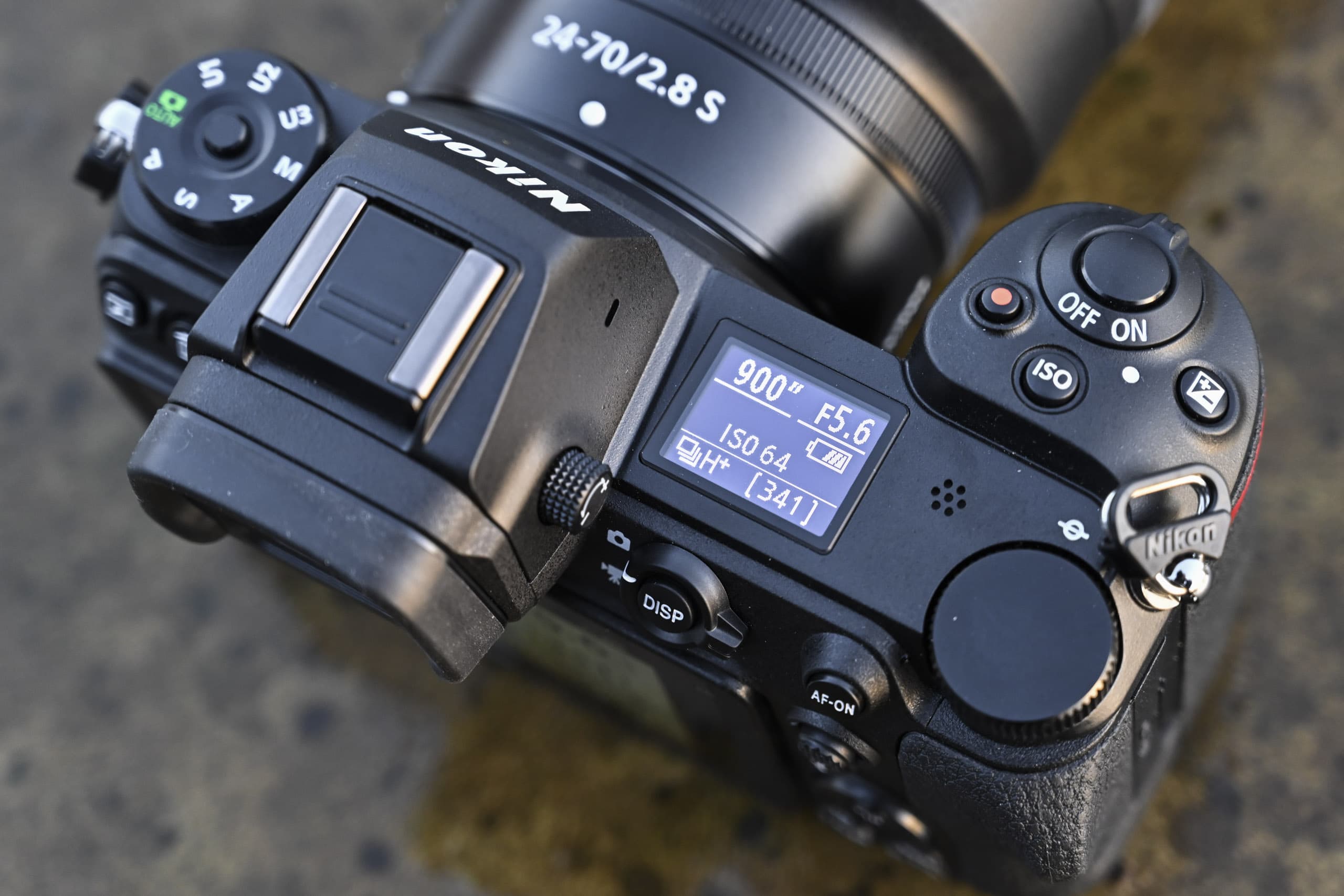 As for the mini LCD on the top plate, it feels to me as though it was added to boost the camera's professional credentials, as much as for any practical benefit. I barely use it, and feel like its space would be better used for a dedicated drive mode or other dial. I miss the D850's illuminated buttons on night shoots, too, because now I have to remember a headtorch.
Despite it proving comfortable in the main, I still find the Z7 II's body a little short for my hands and there's a tendency for my little finger to slip underneath. I bought a Smallrig L bracket which had a form-fitted base, lengthening the camera by around 1cm, but it actually made it less comfortable for me, as it was too chunky. It had to go back. All this is solved by adding the MB-N11 grip, though, which I use most of the time. See below for more on that.
Getting a grip with the MB-N11 battery grip
Elsewhere I've written that the release of the MB-N11 grip was influential for me in buying the Z7 II. I was so wedded to the MB-D18 on my D850 and spent so many frames shooting upright that actually it was vital. Though the MB-N11 could be deeper and more contoured like that on the camera, it improves handling enormously for me.
With its second battery it doubles the shooting time, too, and it can also be used as a charger via USB C, so you don't need the MH-25a charger or power lead when travelling. Plus you can hot-swap batteries when the camera's running a timelapse or recording video. It's not cheap, though, and for the price, I'd have liked it to have included the same style Fn1 and Fn2 buttons and an exposure comp and movie rec button, mimicking those around the body's shutter release. Overall, it's a great addition.
Nikon Z7 II Speed: Faster and more fluent
One of the main reasons I moved to mirrorless was to enjoy hybrid contrast and phase detect AF, mainly for human and animal eye tracking. The Z7 II's dual Expeed 6 processors promised improved AF performance over the original and so it's proved, especially after recent firmware updates. And compared to the D850, its 493 phase detect points cover 90% of the frame, giving lots more freedom, whether I'm setting the AF point myself or leaving it to the tracking. Going back to a DSLR, the points gathered in the centre of the frame feels very restrictive.
It's not perfect, but I've been very impressed by the Z7 II's AF performance, and it's genuinely helped me get shots I'd otherwise have missed. The eye detection AF in particular means I can shoot wide open rather than stopping down to cover myself and its constant adaptation to the subject or camera movement almost always keeps things sharp. As an example, in my dog photography I try to shoot from low down at their eye level, often through distractions like grass or leaves. Using regular AF, this means lying on the ground and getting covered in god-knows-what as I shift the point to meet their eye. But with the Z7 II's 'Auto-area AF (animals)' setting in C-AF mode, I can lower the camera to near the ground or water, compose via the screen, and let it pick up a dog's eye before shooting.
Of course, this is not always successful, and its performance varies from breed to breed, as the colour and shape of the eye changes too. But when it can't pick up the eye, it usually reverts to the head. Sometimes I've also found focus can get stuck on the background, but recomposing usually fixes this. And if not, a spin of the manual focus ring brings the subject back, from where it then finds the eye again. There's also a 'Wide-area AF (L-animals)' mode that restricts the tracking area to a box covering about 1/9th of the frame, from within which it focuses. This can really help, and I use it when kneeling and composing through the EVF. But it also adds an extra step of positioning that's sometimes not welcome.
The 'Auto-area AF (people)' and 'Wide-area AF (L-people)' mode are understandably even more accurate, not having to deal with the range of shapes and colours, and increased beauty of non-human subjects. Over my months with the camera I've shot several portrait sessions and events and found, like the 'animal' mode, that its automated accuracy allows me to give greater thought to composition on the fly, knowing that I can frame more freely. As before, the yellow reticle that appears over the subject's eye can be moved about from left to right, or to a different subject who's been detected.
While there is some discussion about the 'Dynamic area AF' being inferior to the D850, I've found it to be mostly similar on the Z7 II, albeit with only one dynamic area setting of nine points, and no group AF. The situations in which I've shot running dogs have been no more or less successful, though, I'll admit to stopping down to around f/4 on my Z 70-200mm f/2.8 S to give myself and the camera more of a chance. It's just a better technique.
I've also enjoyed using the Z7 II's manual focusing aids like focus peaking, along with regular and macro lenses. The Z MC 50mm f/2.8, proved to be a great walkaround lens for nature photography when I tested it, and whether shooting with that or the Z MC 105mm f/2.8 S, I've achieved more keepers than before when framing wildflowers or details.
Thanks to its dual processors, the Z7 II's frame rate is fractionally higher than before, too, though for me it's also difficult to use because of the way the EVF's view is interrupted during shooting. So when following a subject like a running dog at 9fps, which is the maximum in 14-bit Raw mode, it's all too easy to lose them. Of course, this isn't a problem if the subject's movement is more controlled and you just want to catch a moment. For me it's plenty of speed.
There are ways you can tweak the view to reduce the blackout or stuttering, but there's no real fix except for using a stacked sensor. Being promised in the upcoming Nikon Z9, hopefully that'll also appear in any Z7 III or Z8 body. I think it'd be the final big jump in usability I'm looking for.
Still on the subject of responsiveness, I've learned to set the camera's power saving to minutes rather than seconds. When you've cut your teeth on an optical finder, it's infuriating to bring the camera up to your eye and find the EVF blacked out. Binning off the most frugal power saving settings certainly has a knock-on, however. It burns through battery life faster, but it's worth it compared to missing a moment. I always accepted that I'd need to buy several batteries to go with the camera, and so I have.
Nikon Z7 II Performance: The ultimate image
I haven't mentioned image quality so far and that's because the Z7 II's 45.7MP sensor is so close to the original Z7's and the D850's in performance, that amazing detail and dynamic range was always a given. I've gotten used to the resolution in ways that make smaller files now seem like low-res previews, and being able to crop big vertical format files out of horizontal frames allows so much freedom after the event. And while I use filters in landscaping and want to get an image as close to perfect as I can when shooting, I still appreciate the exposure latitude this camera gives me, letting me tease a little more detail in shadows or crush the highlights when needed. The dynamic range is also especially useful for backlit subjects, which is how I like to frame pets and people.
I've found the Z7 II's image quality is strengthened by its excellent ISO performance and five-axis IBIS. Trusting the ISO to deliver clean images unlocks proper faith in using Auto ISO, and the only time I don't let the camera set ISO is when shooting landscapes, still-life or portraits with flash. As for IBIS, it's often touted as a feature that lets you shoot handheld at crazy speeds like 1/2sec, but for me it's much more about seeing the improved sharpness at 1/60sec or 1/100sec, something that can suffer with such a high-res sensor, especially when hand holding at a low or awkward angle as I often do.
Nikon Z7 II Verdict: The mirrorless benefit
Ultimately I've been far more captivated by what the Z7 II can do for me, than what it can't. And in the 10 months I've been shooting with it, its benefits have vastly outweighed any small gripes. I think that's important to focus on, because it's too easy to get caught in photography's social media washing machine, and spun around until you're not sure of the choices you've made. What would you rather be doing? Enjoying a camera or worrying over some YouTube pixel peeper's assessment?
For me, knowing I can climb to the top of a hill with a lightweight camera that gives awesome image quality, or make more expressive portraits thanks to its advanced focusing, makes me want to get out and take more pictures. And when I do that, I see pretty clearly that it's helped my photography. When I concentrate on what a camera can do for me, the pictures I actually take with it, and how it makes me feel as a photographer, the Z7 II has been a winner every time.
Read our full Nikon Z7 II review to continue reading about this camera. 
---