Luma Power light meter at a glance:
Light, flash and colour temperature meter
Plugs into iPhone's Lightning connector
Stylish and compact leather case supplied
Uses free Lumu app
Website: www.lu.mu
---
One of the many great things to enter the world of photography from the crowd-funding website Kickstarter is the Lumu Power light meter. The company achieved its project goal 12 times over, and it was launched at last year's Photokina trade show. The Lumu light meter plugs into the Lightning connector on an iPhone, and via the free iOS Lumu app gives users the correct exposure reading for aperture and shutter speed at a given ISO setting for ambient and flash lighting, a luminance light level reading in lux, foot-candles or EV, and colour temperature in Kelvin.
The Lumu Power comes in a brown crafted leather case, reminiscent of one from a very petite Weston invercone. Made from a single piece of CNC-milled high-grade aluminium, the Lumu Power will clearly last a long time if looked after and requires no battery as it draws its power from the circuit of the iPhone. If you need to calibrate for your camera or against your existing meter, scales are accessible in the settings menu and can be saved for future use.
The Lumu Power draws on the success of its original meter, and feedback from users has been carefully considered in this new product. On one side is a dome-shaped sensor that measures ambient light and flash. The other side features a flat colour sensor that measures colour temperature, white balance and luminance. The app can sense which side you're using by the way it is plugged into the Lighting socket, and it automatically opens the correct screen for the mode you're using.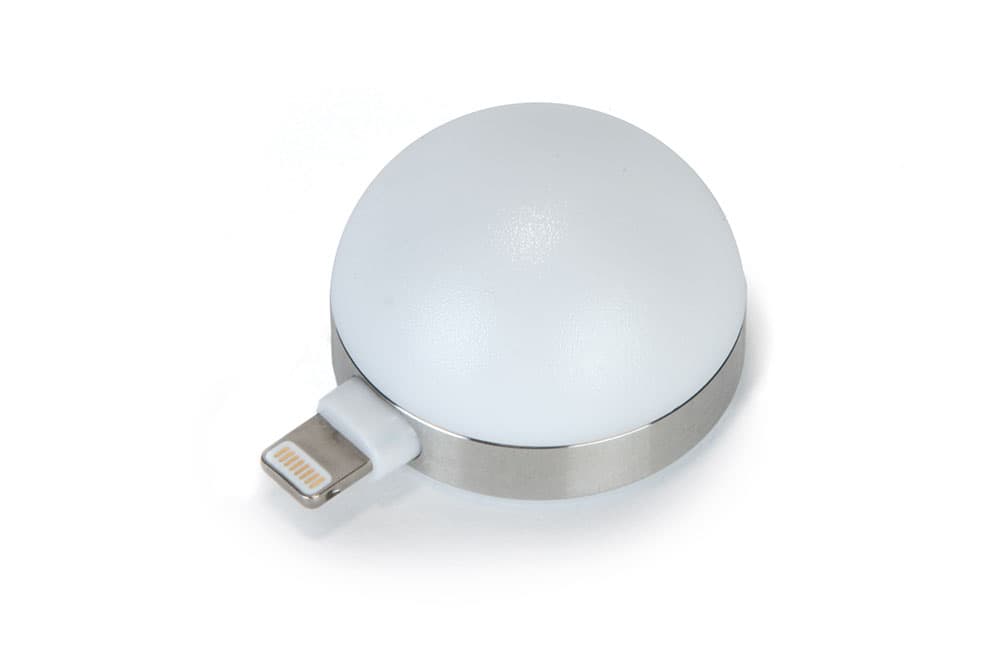 ---
Luma Power light meter – Key features
Diffusion dome
The diffusion dome is made from tough polycarbonate Lexan.
Compatibility
The Lumu Power is compatible with iOS devices using a Lightning connector running iOS 8+.
Metering
The Lumu Power can measure ambient light and flash output, as well as colour temperature.
Housing
A stainless-steel housing protects the unit from damage.
---
Luma Power light meter – Our verdict
When tested against a Sekonic LiteMaster Pro L-478DR, the Lumu gave consistent and accurate results to within 3/10 stop across the range. I'm impressed by the filters mode, which allows you to determine the colour differences between multiple light sources, and gives the correct filter to match your light to each other. It is also easy to use the white balance mode, and it can show you the measured temperature value and the value of colour compensation you'll need to achieve an accurate white balance.
For flash photography, the Lumu Power can measure flash exposure and the flash versus ambient light ratio. It also helps you adjust the ratio and auto-compensate with shutter speed, and vice versa. The unit is so small that there will never be an excuse for not carrying it with you, and it looks so great attached to an iPhone that you will find it difficult to put away.
Essential accessory
Handheld light meters have been an intrinsic part of a photographer's kit for many years, and they are essential for accurate and consistent results. The Lumu Power is a revolutionary approach, seamlessly attaching to the iPhone Lightning port and launching a simple-to-use mobile app.