When Fujifilm announced its SLR-style X-T1 compact system camera at the start of this year, it received plenty of accolades for its combination of excellent image quality and intuitive handling in a relatively portable package. But while the camera was dust- and splash-proofed for use in poor weather conditions, initially none of the lenses was sealed to match. Now Fujifilm has addressed this with the XF 18-135mm f/3.5-5.6R LM OIS WR, which immediately becomes the most natural companion to the X-T1.
Plenty of 18-135mm zooms are available for APS-C DSLRs, and this type of lens doesn't generally have a great reputation for image quality. But the Fujifilm version is a different proposition; rather than being a relatively inexpensive 'kit' lens with extended zoom range, it's a premium offering with a price tag to match. At around £700, it'll set you back almost twice as much as similarly specified lenses from other makes.
Fujifilm XF 18-135mm f/3.5-5.6R LM OIS WR Review: Features
The long list of letters in the lens's name indicates its extensive set of features. The R denotes that it has an aperture control ring around the barrel; this is unmarked and rotates continuously without end-stops, but with firm click stops for each 1⁄3-stop change in aperture. A linear motor (LM) autofocus system gives fast and silent focusing, even during movie recording.
Fujifilm claims the lens has the world's most advanced Optical Image Stabilisation (OIS) system, allowing the user to shoot handheld at shutter speeds 5 stops slower than usual without image blurring due to camera shake. Finally, WR refers to the lens's weather resistance, which uses sealing in 20 areas of the barrel.
In terms of optics, the lens employs a 16 elements in 12 groups formula, with four aspherical elements and two anomalous dispersion glass elements employed to minimise aberrations. As usual for a CSC lens, optical corrections are complemented by designed-in software corrections for distortion, lateral chromatic aberration and vignetting. In principle, this gives the designers more freedom to correct other aberrations, with careful balancing of optical and software corrections potentially able to give the best possible final results.
Fujifilm XF 18-135mm f/3.5-5.6R LM OIS WR Review: Build and handling
As with Fujifilm's other premium XF lenses, the build quality of the 18-135mm is excellent. It uses both metal and high-quality plastics, and there's a rubber seal around the lens mount. The overall impression is of a lens made to a rather higher standard than its cheaper counterparts for DSLRs.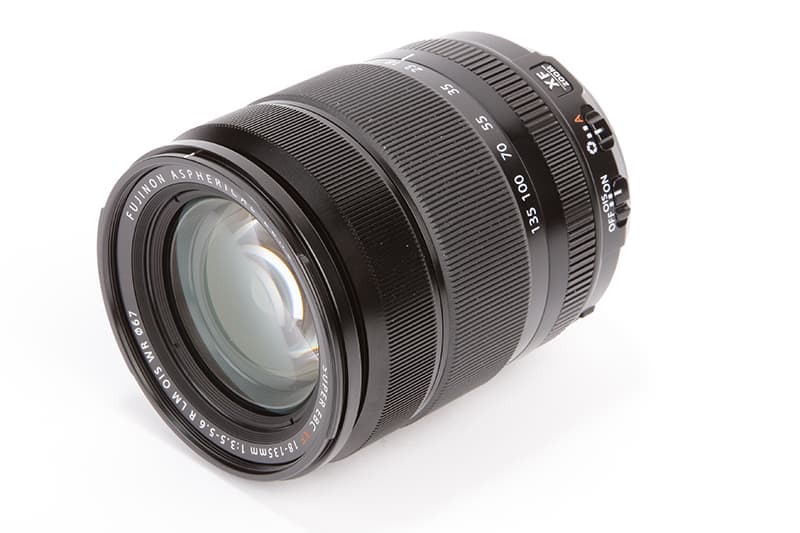 The barrel is dominated by three control rings. The manual focus ring at the front is electronically, rather than manually, coupled to the lens's focus group. It rotates very smoothly and allows precise focusing, aided by the excellent focus aids on recent Fujifilm cameras including the X-T1. Interestingly, while the lens is technically a varifocal design, with the focus position shifting on zooming, the camera automatically readjusts focus to compensate for this, even in manual mode.
The largest ring in the centre of the barrel controls the zoom, and requires 90° rotation to go from wideangle to telephoto. The zoom ring is slightly stiff and its operation can be a little jerky when you're trying to fine-tune composition.
The aperture control ring is placed close to the camera body, and this position can take a little getting used to. I found that with practice I could change the aperture using my middle finger without having to shift my forefinger and thumb from the zoom ring. A small switch on the side of the barrel sets the aperture control to auto (for shooting in program or shutter priority modes), with a second switch below it for turning the image stabilisation on or off.
Fujifilm XF 18-135mm f/3.5-5.6R LM OIS WR Review: Image quality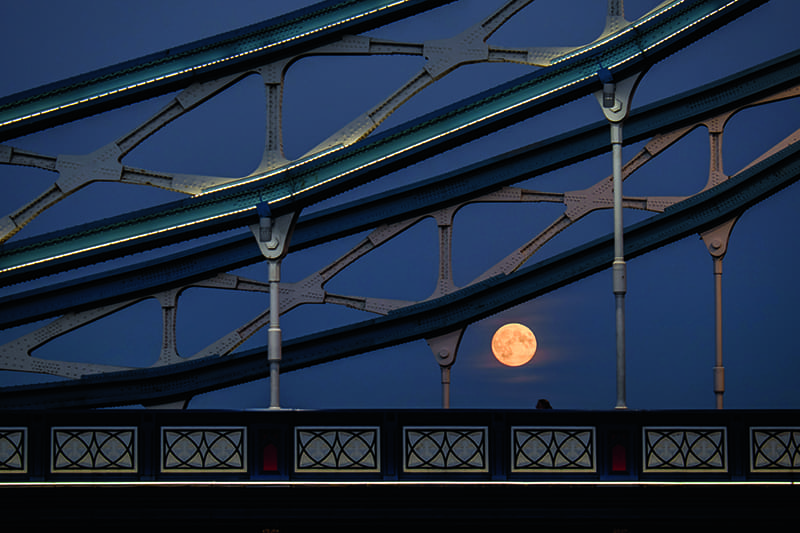 As usual for a longer-range zoom, the 18-135mm's imaging characteristics depend strongly upon focal length. In the wideangle region – 18mm to around 23mm – it's very sharp in the middle of the frame, but noticeably less good at the edges, especially wide open. The lens is at its best in the middle of the zoom range, giving more even sharpness across the entire frame. At telephoto (100-135mm), it's less able to resolve fine detail, but still quite respectable.
Like most lenses for compact system cameras, the 18-135mm uses software corrections as a fundamental part of its design. Images are corrected for distortion, chromatic aberration and vignetting in-camera, which means you'll see little in the way of colour fringing or bending of straight lines at the edge of the frame. Because the viewfinder image is also corrected during shooting, most users probably won't notice that this is happening, let alone care.
If you shoot raw, not all the same corrections will necessarily be applied. Mainstream converter programs should automatically correct for distortion – by far the most important – but not all will compensate for chromatic aberration or vignetting. However, looking at uncorrected images reveals that neither is much of a problem.
As well as the sharpness of in-focus regions of the image, I've also been pleased by how the lens renders out-of-focus areas. Naturally it'll never match a fast prime, but when shooting close-ups it gives attractively blurred backgrounds that don't usually detract from the subject.
Fujifilm XF 18-135mm f/3.5-5.6R LM OIS WR Review: Resolution
See here for an explanation of our lens review graphs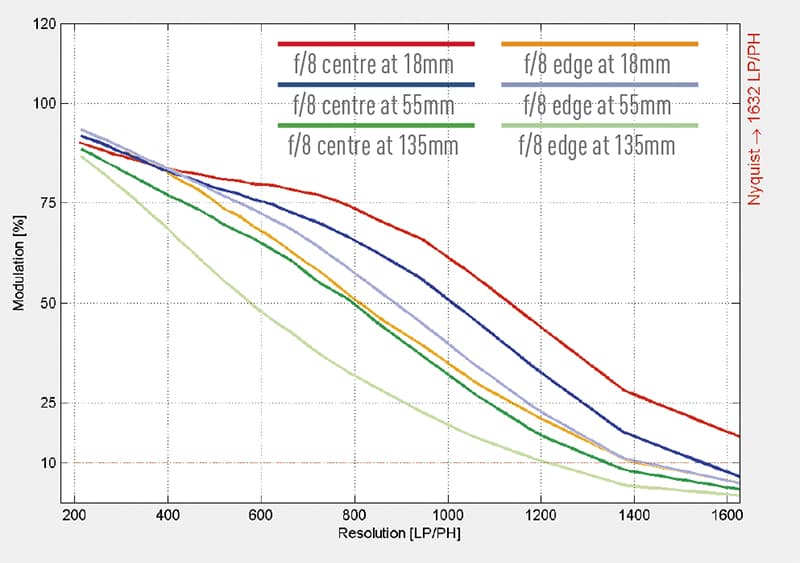 The test data reveals a lens that's sharpest overall in the middle of the zoom range, with slightly soft corners at wideangle and noticeably weaker results at telephoto. These are common characteristics of zooms with this range. Optimal results are obtained at apertures of f/5.6-11, regardless of focal length.
Fujifilm XF 18-135mm f/3.5-5.6R LM OIS WR Review: Shading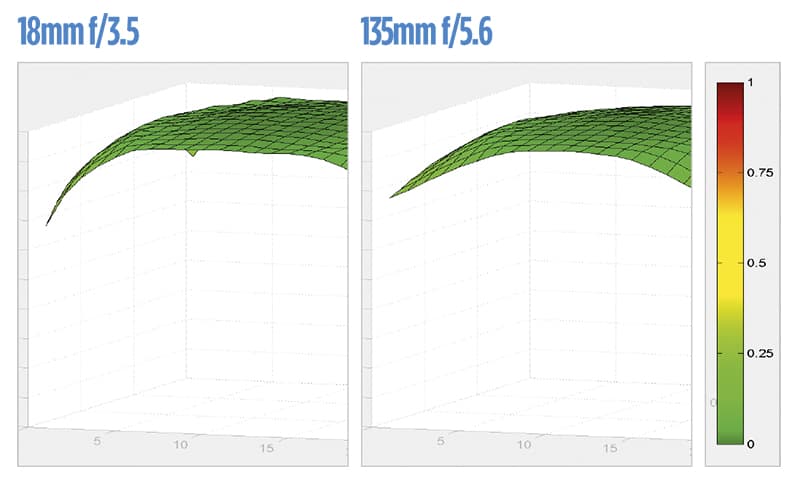 The charts show that only slight shading is visible in test images with the aperture wide open at either end of the zoom. This reflects the fact that vignetting is corrected automatically by in-camera processing. Several raw converters will reduce it too, including Adobe Camera Raw and Lightroom.
Fujifilm XF 18-135mm f/3.5-5.6R LM OIS WR Review: Curvilinear Distortion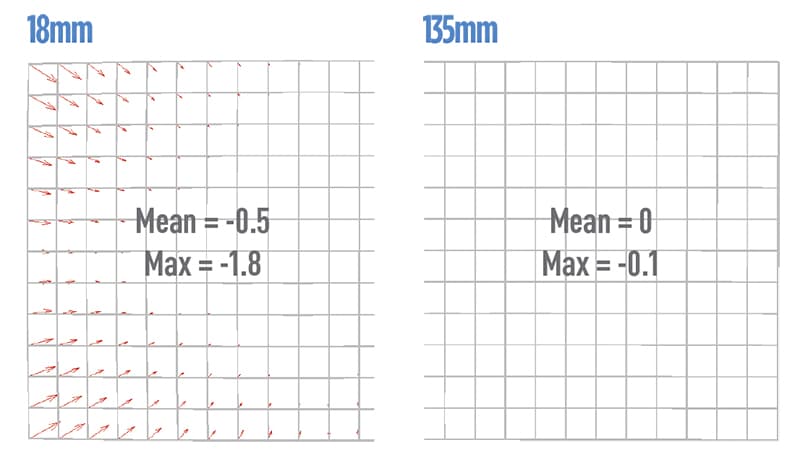 Fujifilm uses software correction as an integrated part of the lens design, and the result is that final images from the 18-135mm zoom show relatively little distortion, just a little barrel-type at wideangle. This contrasts to similar DSLR lenses, which generally show strong barrel distortion at wideangle and pincushion distortion elsewhere in the range.
Fujifilm XF 18-135mm f/3.5-5.6R LM OIS WR Review: Our Verdict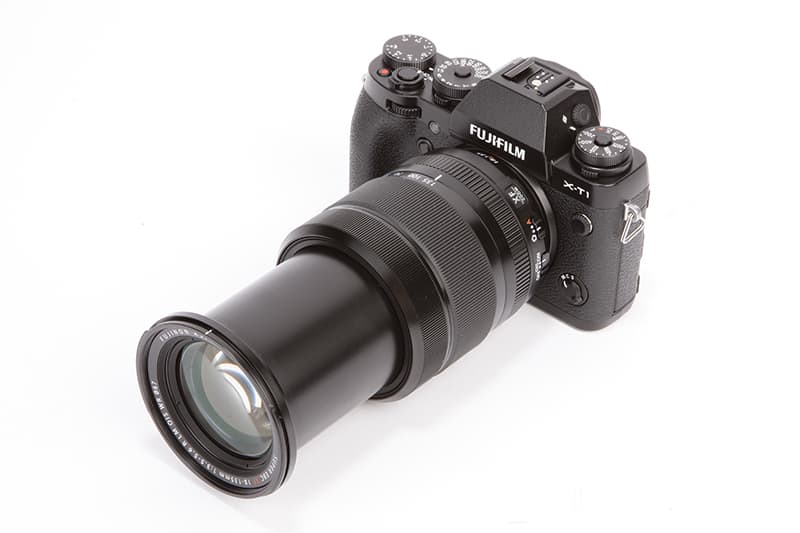 Fujifilm users who bought an X-T1 will doubtless be anxious to hear how well the 18-135mm performs, and whether it's a worthy companion to the camera. The good news is that there's no need to worry – the lens is well behaved and produces consistently good-quality images. It's not going to be quite as sharp as Fujifilm's excellent XF primes, but that's the trade-off for the convenience of a zoom.
The autofocus and image stabilisation work extremely well, and I got very few images that were blurred from misfocusing or camera shake. With its well-placed controls, the lens handles very well and weather-proofing is a real bonus.
Overall, the 18-135mm is a general-purpose zoom of rare distinction. Lenses covering such a range are usually rather compromised, and have to make uneasy trade-offs between sharpness and distortion. But freed from the constraints imposed by DSLR systems, Fujifilm has produced arguably the best lens of its type currently available – just at a price.
Fujifilm XF 18-135mm f/3.5-5.6R LM OIS WR Specification