Before testing the Fujifilm Instax SQ40, I had mostly used 35mm disposable cameras and the Instax Mini 8 and 12 cameras for film photography and had never shot using the square format (other than for my first ever Instagram posts). While the Mini cameras's toy-like design and pastel range screams 'fun', there's something more serious about the SQ40. A bit like Barbie vs Oppenheimer fun and serious.
Fujifilm Instax SQ40 at a glance:
Square design with classic black finish
Compatible with square instant film
62 mm × 62 mm print size
Camera body and design
The camera is slightly larger and boxier than Fujifilm's Instax Mini cameras and only comes in one colour: black. I enjoy the Mini's pastel range but the Square 40's design gives it a more professional look, especially with its leather-like texture and bits of silver finish and a prominent flash that reminds me of those vintage cameras journalists in old movies are always using.
Fujifilm Instax SQ40 key features:
Standard mode: The standard shooting mode employs automatic exposure
Selfie mode: With a close-up range of 30 to 50cm
Built-in selfie mirror: A small mirror is located just to the side of the lens
The shooting experience
Much as with the Instax Mini 12, using the Fujifilm Instax SQ40 is a fun and easy experience as it incorporates the same simplified modes, built-in selfie mirror and automatic exposure that the Mini 12 has.
The SQ40 has two modes, standard and selfie, which are accessed in the same way as the Mini 12. All you need to do is twist the lens to turn on and switch from one mode to the other. A helpful addition is a light that turns on when the camera is on and starts blinking to alert you if it has been on for too long.
The final product
The Fujifilm Instax SQ40 takes some really nice pictures overall. Indoors and in the shade is where it suffers the most, particularly with underexposure.
Much like the Instax Mini 12, it excels at portraits and I even took it with me to the Barbie movie screening to photograph some Barbies and Kens. This camera's built-in selfie mirror is larger than the Mini 12's and I found it very useful when taking selfies and group photos.
I also tried it inside a studio and despite a few initial challenges with lighting, it did quite well. The SQ40 is also adept at street shots, particularly at architecture.
Shooting in the larger square format was something I enjoyed a lot, especially as I felt it gave me more freedom when composing.
Fujifilm SQ40 Verdict
Having now tested it, this camera definitely feels like a professional step up from the Instax Minis for me, not only in looks but also in terms of quality and stands out as among the best of the instant and film cameras I've tried so far. It really depends on what you want your camera for and what look and print size you prefer though, and with the SQ40 Fujifilm has provided yet another good option for instant photographers.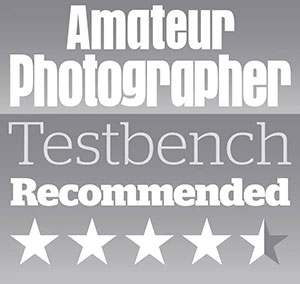 ---
Related content:
---
Follow AP on Facebook, Twitter, Instagram, YouTube and TikTok.