Canon EOS 750D at a glance:
24.2-million pixel APS-C CMOS sensor
ISO 100-12,800 (extendable to ISO 25,600)
30 – 1/4000 sec shutter speed
3in, 1,040k-dot LCD monitor
5fps continuous shooting
£689 with 18-55mm IS STM lens
Over the years Canon has produced many excellent cameras for those taking their first steps into DSLR photography. If you're after a basic, inexpensive model the EOS 1200D makes a great choice, while for those conscious of size and weight the petite EOS 100D ticks the boxes and is comparable in size to many CSCs.
Sitting just above these two is the two-year-old EOS 700D – a DSLR that adds a few more attractive features to its specification to tempt aspiring photographers who'd like a vari-angle touchscreen and the ability to shoot a faster continuous burst. It's still available to buy and at a very reasonable price, although its reign as the flagship beginner model in Canon's EOS line-up has come to an end with the introduction of the EOS 750D and EOS 760D.
Whereas the 760D leans a little further towards the needs of an aspiring enthusiast, the 750D is targeted at people new to the EOS system, such as those stepping up from a compact camera or a smartphone who desire greater flexibility and more advanced manual control. It inherits many of the core features you'll find on the 760D and on paper looks like an extremely capable DSLR for its proposed audience.
One of the camera's headline features is the introduction of a new 24.2-million-pixel sensor that looks to improve upon the 18-million-pixel sensor that we've seen in all of Canon's three-digit DSLR's since the EOS 550D. Let's begin by taking a closer inspection of the 750D's features and see how it differs to the 760D.
Nb. The Canon EOS 750D is also known as the Rebel T6i (US markets), and Kiss X8i (Japan)
Canon EOS 750D / T6i Review – Features
To ensure the 750D keeps apace with rival DSLRs and CSCs Canon has been forced to filter down advanced features from cameras higher up in their EOS range. For some time now we've got used to Canon playing it safe with a 9-point diamond formation AF system on their beginner DSLRs, so it's good to see the EOS 750D (and the EOS 760D) encompassing a more sophisticated 19-point all cross-type autofocus system.
This arrangement of AF points – combined with a working range of EV-0.5-18 – is identical to Canon's EOS 70D, however instead of employing Canon's Dual Pixel CMOS AF technology the EOS 750D features the same Hybrid CMOS AF III system that debuted on the EOS M3.
This system uses sensor-based phase detection points to enhance focus speed and accuracy in Live View and is said to be close to the speed of Dual Pixel AF as well as being up to four times faster than the EOS 100D.
Despite having a higher pixel count than the 700D, the 750D's 24-million-pixel APS-C CMOS sensor provides the same standard sensitivity range of 100-12,800, with an extended ISO 25,600 setting also available. Flicking the on/off switch an extra notch enters the camera's video mode and here the maximum native sensitivity setting is ISO 6400, expandable to ISO 12,800.
Frequent users of video are catered for with a 3.5mic port at the side and full HD video (1920×1080) captured at 30,25 or 24fps. There's the option to lower the resolution (1280×720) and shoot at 60,50 or 30fps if preferred, while another useful video feature not often found on beginner DSLRs is the option to manually control sound levels in-camera.
To ensure the 750D is up to the task of processing its data as fast as possible, Canon has paired the new sensor alongside their latest DIGIC 6 image processor. This allows the camera to shoot continuously at up to 5fps which, although it isn't any faster than the speed at which the 700D shoots, it's useful for upping the hit rate when shooting action or sport sequences.
Where the processor reveals its greatest benefit, however, is in its increased burst depth. Previously it was possible to rattle off 30 JPEGs or 6 raw files at 5fps on the 700D, whereas now it's possible to shoot 940 JPEGs or 8 raw files consecutively.
Turning to the rear, the 750D's optical viewfinder reveals 95% coverage of the frame as opposed to 100%. This is typical of a consumer-level DSLR, but it's important to remember that when composing an image more of what you see through the viewfinder will be captured at the edges of the frame.
The 750D improves upon the 700D's 63-zone SPC metering system with a 7560-pixel metering sensor that's sensitive to red, green, blue and infrared light. To further improve exposure accuracy, the metering is linked to the selected AF points in evaluative mode, with partial (6% of viewfinder), spot (3.5% of viewfinder) and center-weighted modes all available.
Beneath the viewfinder, little has changed, with Canon opting to keep the same 3-inch touch sensitive Clear View II TFT screen that impressed us on the 700D. This offers a resolution of 1040k-dots and displays in the 3:2 aspect to match the aspect ratio of the imaging sensor.
Until now, built-in Wi-fi and Near Field Communication (NFC) has been absent on Canon's beginner-level DSLR's. Those who'd like a quick and convenient way of transferring images and movies to compatible smartphones, tablets or printers will welcome  the addition of wireless technology on the 750D.
Not forgetting Canon's Camera Connect app that's free to download via the App Store for iOS devices or Google Play for Android, this can be used to fire the camera remotely and apply adjustments to common settings such as aperture, shutter speed and ISO.
Other features include +/-5EV exposure compensation control, a shutter range of 30-1/4000sec and a small pop up flash with a guide number of 12m @ ISO 100. It accepts a LP-E17 battery rather than the LP-E8 battery as used on the EOS 700D, and in typical Canon fashion a selection of picture styles and creative filters are available for those who'd like to artistic license to experiment.
Canon EOS 750D Review – Build and Handling
Compared to the 760D, which places its lockable mode dial on the opposite side of the top plate to free up space for a small LCD panel, the 750D's body design is more in keeping with the 700D. The top plate and rear of the 750D is non-threatening and thanks to the simple, well structured layout of buttons it'll allow beginners who may not have used a DSLR before to pick it up and get accustomed to the handling very easily without scaring them off.
Picking up the camera for the first time, you immediately value how lightweight it is. It manages to shed 25g off the weight of the 700D, weighing 555g on the scales without a lens. It doesn't have the same heavy-duty quality as the prestigious EOS 7D Mark II and EOS 5D Mark III models, but the aluminium alloy chassis and polycarbonate resin with glass fiber finish combine well to give it a convincingly solid feel and the panels neither creak or squeak when the body is gripped tightly.
One way that Canon could have made the 750D's build quality even better would have been to employ weather sealing from its advanced enthusiast and pro models. This is something we've seen Pentax employ into a few of their lower-end DSLRs in the past, but still remains a feature we're yet to see Canon or Nikon filter down into their beginner models.
Operating the 750D out in the field confirmed just how simple a camera it is to use. The mode dial is in easy reach of the thumb, the AF modes are quick to toggle through using the dedicated button on the top plate and though it lacks twin dials as found on the 760D, it's easy enough to hold the exposure compensation button and use the single command dial on the top plate to adjust shutter speed in manual mode.
The pair of zoom buttons are great for zooming in and inspecting image sharpness in playback mode, but how often they'll see use very much depends on the type of user and whether they'd prefer to take advantage of pinch and zoom gestures via the touchscreen.
On the subject of the screen, there's a deep indent to allow it to be pulled out with ease and the articulation mechanism feels positively robust with just the right level of resistance.
Canon EOS 750D Review – Performance
Although the 750D's 19-point AF array might not be as widespread as the 39-point AF system as found on the Nikon D5500, it improves on the 700D's basic 9-point AF arrangement and is superior to the 11-point AF system as featured on another of its rivals – the Pentax K-S2.
The AF points are laid out with five points top to bottom in the centre – reducing to two rows of three – with two single points either side. In Single Point AF and Zone AF there's the choice of repositioning the AF point using the touchscreen or the dpad, but with the camera raised to the eye users will find the latter is more precise and accurate. Entering Zone AF allows you select from five areas, with the central area covering nine AF points as opposed to four at the sides and top and bottom of the frame.
The performance of autofocus in Live View is exemplary. Positioning the AF point around the frame using the touchscreen revealed a fast, silent and smooth focus acquisition paired with our 18-55mm f/3.5-5.6 IS STM lens. The idea of Canon's stepping motor technology (STM) is to ensure fast focusing while eliminating any nasty whirring noises that can disturb audio recording. It's particularly effective and no alarming or off-putting autofocus noises were traced in video footage.
The focus tracking feature also performed well, maintaining focus on the area of the scene I'd specified on the screen whilst panning and it can keep up to speed with most subjects provided they don't move too erratically through the frame.
Loaded with a Lexar Professional 2000x 64GB SDXC UHS-II memory card and set to record in Raw, the 750D had no difficulties rattling out a burst of 8 frames at 5fps before requiring a breather. This figure shot up switching it to record in JPEG where the camera continuously fired at 5fps for as long as I had my finger depressed on the shutter button.
The 750D's capacitive touchscreen is super responsive in use and makes the adjustment of settings and the selection of icons in the menu effortless. There's no option to double tap an image during playback to review it at 100% however, and I found there to be a fraction of a second delay before an image is rendered at full quality when zooming in and flicking through to the next image. Outdoors, the screen rendered scenes and colours accurately, but I did find myself increasing the screen brightness from its default setting of 4 to 6.
The 7560-pixel metering system also demonstrated that it's capable and reliable. In the instance where highlights were clipped in the sky of a high contrast scene, the detail was recoverable from a Raw file using the highlights slider in ACR. To balance highlight and shadows in-camera, users may wish to employ the 750D's Auto Lighting Optimizer, which has three settings – low, standard and high. Alternatively, there's also HDR backlight control available from the scene modes, which works on the principle of combining three exposures to create a more balanced image, but this does require the camera to be locked off on a tripod to resolve optimum sharpness.
For those with a compatible NFC device, pairing it with the 750D couldn't be easier – simply enable Wi-fi/NFC through the menu before touching the devices together to initiate a wireless connection. If like me you own a smartphone that doesn't feature NFC the connection process takes a while longer and you're required to select your desired Wi-fi function before connecting to the network from the smartphone's Wi-fi settings – a process that takes around 30secs.
Canon's Camera Connect application is one of the better apps – it's intuitive to use, lets you transfer individual images quickly and offers AF point adjustment direct from your smartphone's screen as well as control of key exposure settings. Importantly for those who'd like to fire the camera remotely from distance, there's no hesitation between firing the shutter on the smartphone and the camera capturing the shot. It's even possible to delete images, change the drive mode and rate images using a five star rating system straight from the app.
Canon EOS 750D Review – Image Quality
The 24.2-million-pixel sensor the 750D and 760D use bring both models into line with their closest rivals in the market, namely the Nikon D5500, which also features a 24.2-million-pixel chip. The move away from an 18-million-pixel sensor to a 24-million-pixel sensor sees a jump in the output image size too – up from 5184×3456 pixels on the 700D to 6000×4000 pixels on the 750D and 760D. Unlike the Nikon D5500 and some other recent high-resolution APS-C sensors however, the 750D and 760D continue to use an anti-aliasing filter and with this in place it has its work cut out to resolve the same levels of resolution.
As our lab results indicate, the 750D's dynamic range is still a little way off the best results we've recorded from other 24-million-pixel sensors. With a lower dynamic range readout across its sensitivity range this essentially means is that the sensor allows less shadow detail to be pulled back and recovered from its raw files.
Canon EOS 750D Review – Image Quality: Dynamic Range
The 750D's dynamic range results aren't too dissimilar to those recently recorded by Canon's EOS M3 that also features a 24-million-pixel APS-C sensor. At ISO 100, the 750D delivers 11.5 stops of dynamic range – no match for the 13.3EV and 12.5EV readouts from the Nikon D5500 and Pentax K-S2 at the same sensitivity.
Beyond ISO 1600, the dynamic range falls to 7.7EV at ISO 3200, 6.5EV at ISO 6400 and 6.2EV at ISO 12,800. The expanded ISO 25,600 setting sees the dynamic range drop below 6EV and such low readings at high ISO are the tell-tale sign that shadow detail is heavily affected by noise.
Canon EOS 750D Review – Image Quality: Detail and Noise
At ISO 100 the 750D resolves cleanly to 3200l/ph, which is what we'd expect from an APS-C sensor with an anti-aliasing filter. As the sensitivity is increased, the resolution drops gradually to 3000l/ph and then to 2800/lph at ISO 1600. The sensor preserves 2800/lph up to ISO 3200, but from this point onwards detail deteriorates more rapidly as the sensitivity is increased to about 2600l/ph at ISO 6400, reducing to 2400l/ph at ISO 12,800. At the maximum expandable ISO setting of 25,600, the 750D's sensor struggled to resolve more than 2200l/ph.
The 750D produces exceptionally clean images at low ISO settings and it's only as you start to encroach ISO 800 that the first traces of luminance noise become apparent. Noise at ISO 800 is by no means offensive and the noise reduction that's automatically applied by the camera to its JPEG files doesn't have an obvious impact on the level of detail that's captured until you reach ISO 3200.
Pushing beyond ISO 3200 sees an increasing level of noise introduced into JPEG and Raw files, however acceptable results can be achieved at ISO 6400 by shooting in Raw and carefully applying manual noise reduction in post.
ISO 6400 is the upper limit at which we'd want to push too though and I recommended to steer clear of ISO 12,800 and 25,600 – there's particularly garish chroma noise in the latter.
Canon EOS 750D / T6i Review – Our Verdict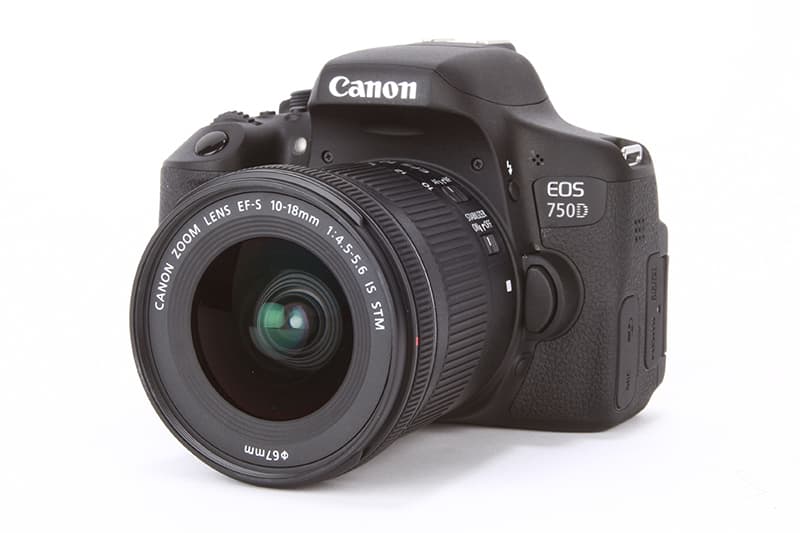 There's a lot the 750D shares with the 760D with regard to its innards, but on the outside it's clear that the 750D's ergonomics are better tailored for beginners who want a DSLR they can pick up and feel comfortable with straight away.
Splashing out an extra £50 to get an LCD panel on the top plate, an extra dial at the rear as well as few other minor gains might seem like a no-brainer, but unless you're an enthusiast who has already invested in the EOS system the extras the 760D brings to the table aren't absolutely essential and there's a lot to like about the 750D's simple layout and controls. The way your left hand doesn't come into play unless you need to access the main menu or hit the info buttons means it can be used virtually single handedly.
Though the detail the sensor resolves doesn't surpass that of the Nikon D5500, there are more than enough pixels on the chip to produce prints up to A2 size and users can feel confident of shooting at up to ISO 3200 and even 6400 at a push, without the fear of noise severely degrading image quality. The slight disappointment is that you can't pull back as much detail out of the shadows from raw files as you can from its APS-C competitors.
In other respects, autofocus both in and out of live view is fast and responsive, the touchscreen's sensitivity is superb and the level of control you're given through Canon's Camera Connect app when the 750D's Wi-fi functionality is deployed puts some other manufacturers apps to shame. It should also be noted, that while the 18-55mm kit lens has a predominately plastic finish, it goes about its business of focusing quickly and silently.
To summarize, the 750D makes a great choice for beginners making their first inroads into DSLR photography. It comes with a complimentary set of features to tempt those away from the competition and as you'd expect from a DSLR it handles particularly well during prolonged spells of shooting.
Given that the 1200D and 100D current cost £370 and £330 less respectively at the time of writing, there are cheaper beginner DSLR's available, however they're not as feature-packed and are unlikely to serve your needs as well in the long term. If your budget can stretch to the 750D, its advanced features and functionality make it worth the extra outlay.
Canon EOS 750D / T6i Review – Full Specification