Canon EF 35mm f/1.4L II USM Review – Introduction
In recent years we've seen Canon steadily update its range of most popular EF lenses. In the last 12 months no less we've seen replacements for the EF 100-400mm f/4.5-5.6L IS USM and the EF 50mm f/1.8, and it's in this review that we're turning our attention to a new recruit – the Canon EF 35mm f/1.4L II USM. When I first heard rumors that Canon would be replacing its 1998-era EF 35mm f/1.4L USM with a Mark II version, I knew the new lens would have big boots to fill.
The original EF 35mm f/1.4L USM has been a popular choice for Canon users after one of the best wideangle primes that money can buy, which naturally asks the question: can the EF 35mm f/1.4L II USM really go one better? Another question worthy of being asked is: can it justify such a high asking price? At the time of this review the difference between the old and new lenses stands at £800 – a price that exceeds what many will be prepared to pay. To find the answers to these questions I requested the EF 35mm f/1.4L USM into the office at the same time as the new EF 35mm f/1.4L II USM to carry out a few side-by-side comparisons. Before revealing my findings, let's first find out how this lens looks to set a new benchmark in image quality.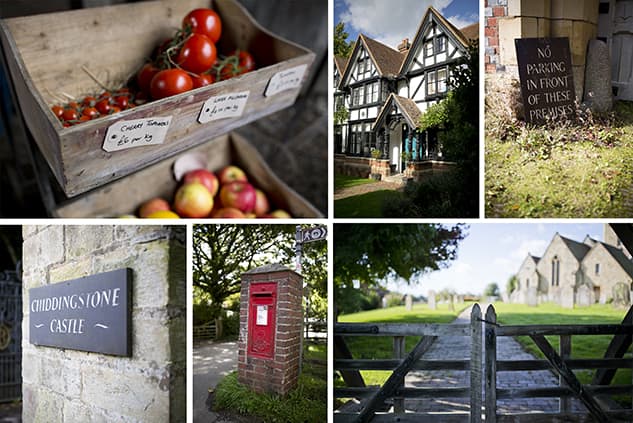 View our Canon EF 35mm f/1.4L II USM Sample Image Gallery

Canon EF 35mm f/1.4L II USM Review – Features
The Canon EF 35mm f/1.4L II USM is rather special in the way it debuts pioneering lens technology that we've never witnessed before. What I refer to more specifically is the introduction of a new Blue Spectrum Refractive optic (also known as a BR optic) that's sandwiched between two glass elements within the lens. Canon says this new innovative optic has the affect of correcting for chromatic aberrations more effectively, while also producing sharper images through its ability to refract blue light – a wavelength that, until now, Canon admits has proven particularly difficult to converge to a specific focal point. If this new BR optic is as effective as it's promised to be we'll no doubt see it introduced into many future Canon lenses from this point forward.
As well as developing the new BR optic, the lens features a totally new optical design. Whereas the older EF 35mm f/1.4L USM incorporated 11 elements in nine groups with eight aperture blades, the newer EF 35mm f/1.4L II USM features a more complex arrangement of 14 elements in 11 groups with nine aperture blades. The result of the new design makes it both larger and heavier than its forerunner, which also plays its part in the way the lens handles.
One of the key attributes of this lens is its maximum aperture that's complementary to capturing natural, reportage-style images that so many photojournalists, sports and wedding photographers like to take. It's likely to see most use at the f/1.4 end of the aperture range in low-light situations, but can be stopped down to a minimum of f/22. In typical Canon fashion it features an ultrasonic motor to ensure autofocus is both fast and quiet and the full-time manual-focusing ring allows users to make fine focusing adjustments on the fly without having to switch to manual mode first.
Unlike Canon's considerably cheaper EF 35mm f/2 IS USM lens (£399), this professional-grade optic doesn't offer optical stabilisation. Though admittedly this makes it more vulnerable to handshake, there's the argument that stabilisation is not entirely necessary on such a wide-angle lens where minor movements of the camera can cause fewer disturbances. Optically stabilised 35mm lenses still remain few and far between (neither the Nikon 35mm f/1.4 G AF-S nor Sigma 35mm f/1.4 DG HSM offer optical stabilisation) and excluding the EF 35mm f/2 IS USM, the only other lens that does is the recently announced Tamron 35mm f/1.8 SP Di VC USD (£579).
The weather sealing has also been improved to ensure the lens meets the high expectations of serious photographers who may find themselves shooting in adverse weather conditions. This ultimately should see it more resistant to damage and water ingress when the going gets tough. Another improvement on the EF 35mm f/1.4L USM is its ability to focus closer and within 28cm of a subject as opposed to 30cm.
Like the older EF 35mm f/1.4L USM, the internal focusing system prevents the front element from rotating, with filters and adapters attaching via a 72mm filter thread. On older Canon lenses the filter thread diameter used to be printed on the barrel, whereas nowadays it's printed around the perimeter of the front element, making it easier to refer to when the lens is stowed away in a bag.
Canon EF 35mm f/1.4L II USM Review – Build & Handling
As already briefly mentioned, the EF 35mm f/1.4L II USM is larger and a heavier lens than its predecessor. The diameter is only fractionally larger (1.4mm to be precise), and the difference in length is obvious when it's viewed side-by-side with the original. Measuring 18.4mm longer, this has allowed Canon to redesign the manual focus ring and make it almost twice the size of the original. It rotates smoothly and precisely but it is quite heavily weighted, requiring a little more effort to turn it across its focus distance range than our well-used, but still pristine example of the EF 35mm f/1.4L USM. Half a turn of the manual focus ring is all that's needed to get from one end of the focusing range to the other.
There are a few other differences worth mentioning too. Compared to the virtually flat front element on its predecessor, this newer lens has a more bulbous element at the front. The smooth finish to the barrel is replaced by a speckled matt black finish, which portrays a better look on Canon DSLRs and gives it a slightly more premium feel in the hand. Elsewhere, the AF/MF switch is larger, though it doesn't protrude from the barrel very far. This made it all the more difficult to find from behind the camera when wearing gloves and on the couple of occasions I found myself pulling my eye away from the viewfinder to locate the switch, which is less than ideal.
The build quality at the rear has also been enhanced by adding rubber around the perimeter of the mount. This helps to create a weather-resistant seal between the camera and lens and could play a vital role if you're vulnerable of being caught out in a torrential downpour or sandstorm.
Canon EF 35mm f/1.4L II USM Review – Image quality
Running a series of tests alongside the older EF 35mm f/1.4L USM revealed some noteworthy differences under close inspection. Though you'll struggle to see it in real world images unless you inspect images at a 100% magnification or closer, our Applied Imaging tests confirm this new lens is superior in terms of sharpness at both the centre and edge of the frame when it's opened to its maximum aperture of at f/1.4. It's much of the same story up to f/4, beyond which point the centre sharpness starts to follow an identical profile and resolve the same sharpness as its predecessor all the way to f/22. As for edge sharpness, this remained consistently higher than the results recorded by the older EF 35mm f/1.4L USM throughout the aperture range. Users can be confident of shooting extremely sharp images between f/2.8-4 with this lens.
A very impressive sharpness performance then, but what about other important image quality criteria such as chromatic aberration, vignetting and curvilinear distortion? Shooting a series of scenes with both lenses and inspecting high contrast edges where chromatic aberrations can often be found confirmed this new lens has considerably improved in the way it controls fringeing. As the images below show there were obvious signs of purple fringeing in images taken on the older lens (image on the left) and virtually none taken with this newer lens (image on the right). We've got the engineers at Canon to thank for developing the innovative Blue Spectrum Refractive optic that has a vital role to play.
As for vignetting, the corners of images appear 1.8EV darker than the centre when the lens is opened to f/1.4, which is fractionally darker than its predecessor at the same aperture setting. Close the lens down to f/2.8 and the corner shading quickly starts to disappear and by the time f/4 is reached there's virtually no sign of vignetting at all.
Not forgetting the way the lens handles curvilinear distortion; this too is another area of improvement on the original, displaying less barrel distortion, which you'll have difficulty scrutinizing in real-world images.
Canon EF 35mm f/1.4L II USM Review – Test results
Resolution
The centre sharpness at f/1.4 improves on its predecessor, which it backs up with a superior level of sharpness in the corners. As our test results below show, optimum sharpness in the centre is found between f/2.8-f/4. Users should note the lens can be closed down as far as f/8-f/11 to create a larger depth of field, though we'd advise to stay clear of f/16 and f/22 where diffraction starts to encumber the finest details in a scene.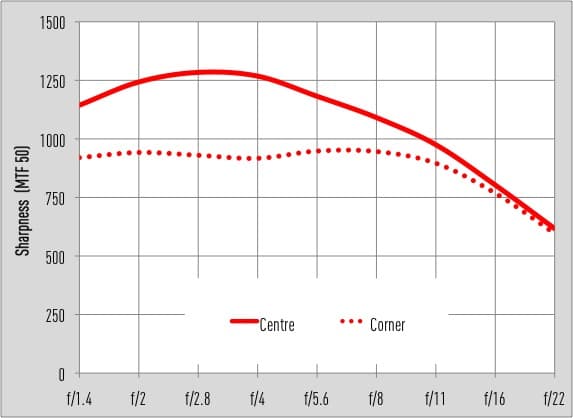 Shading
Vignetting is clearly obvious in real-world images shot at f/1.4, with the corners appearing approximately 1.8EV darker than the centre. As the aperture is closed down the corner shading gradually improves, with edges appearing only 0.6EV darker than the centre at f/2.8. Stop down to f/4 and the vignetting clears up almost completely. At the time of review there was no lens profile available, however we're expecting one to be available as soon as the next update for Lightroom, Photoshop and Camera Raw is released.
Curvilinear distortion
A study of our distortion chart reveals the lens exhibits a negligible amount of barrel distortion, whereby straight lines towards the edge of the frame bow outwards. The level of barrel distortion is less than the original produces and is therefore an improvement. Though our distortion chart made us aware of this, it won't drastically affect real-world images and shouldn't be a cause for concern.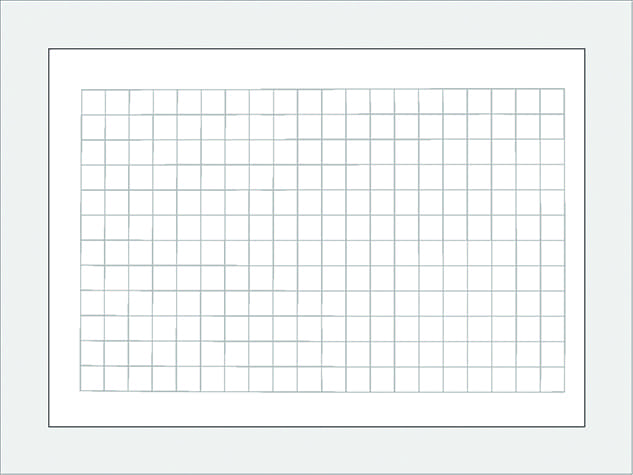 Canon EF 35mm f/1.4L II USM distortion TV SMIA = -0.3%
Canon EF 35mm f/1.4L II USM Review – Verdict
Canon has had its work cut out to produce a lens superior to the original EF 35mm f/1.4L USM, yet the manufacturer has delivered and succeeded on what it set out to do. With serious competition in the market from third-party manufacturers, not to mention the continuing demand from serious photographers who strive for nothing but the best, it's good to see Canon acknowledging the importance of returning to the drawing board with this lens. As well as creating a lens that's sharper in both the centre and at the edges of the frame, it manages to correct for chromatic aberrations more effectively than its predecessor with less barrel distortion in the corners.
The tradeoff for improved image quality is a lens that's slightly larger and heavier, but then again these are compromises most photographers, myself included, would be prepared to make for what is essentially a better lens. The improved weather resistance, fast and accurate autofocus and first-class finish are other reasons to choose this lens if you regularly like to shoot natural, reportage-style images that require you to contain a lot of your surroundings in the frame.
If you want the very best you usually have to be prepared to pay for it and the same applies with this lens. The current price is likely to be more than what most can justify spending on a wideangle prime, which means it's more likely to be found in working pros bags than enthusiasts. We'll undoubtedly see the price fall in the future, but right now it remains a very expensive optic. Canon should be applauded on producing such a fine new addition to its L-series lineup and if it weren't for the intimidating price, as a Canon user, I'd be placing an order straightaway.