Benro Filter Holder Kit Magnetic FH100M3 at a glance:
£130 (kit with filter holder, 82mm and 77mm adapter rings, plus one square and one rectangular frame)
Holder for 100mm-wide filters
Takes three filters and a polariser
Filters are held in plastic frames
Accepts 82mm or 95mm magnetic polariser (£70 or £130 respectively)
Back in 2018 I reviewed Benro's FH100M2 filter holder, which boasts a number of innovative features in a bid to improve the experience of using a square filter system. Firstly, it uses plastic frames for the filters, which minimises light leaks, provides protection against accidental drops, and helps to keep them clean. Secondly, a geared mechanism built into the holder allows graduated filters to be adjusted up and down precisely using a large control knob. Thirdly, the polariser fits onto a rotating mount behind the square filters, that can be easily adjusted from behind the camera. I liked the concept a lot but found that the design had a couple of flaws. In particular, screwing the polariser into its deeply recessed thread is decidedly fiddly, and removing it again is harder still. Meanwhile, moving the adjustment knob between the three filter slots is imprecise.
With the FH100M3 holder that it released last year, Benro has attempted to address these problems. Most importantly, the polariser now clips into position magnetically. Two sizes are available, either 82mm for general use, or 95mm to avoid vignetting with ultra-wideangle lenses (with the FH100M2, switching up to a 95mm polariser required buying a different version of the holder). The filter adjustment control has also been improved, with a push-button lock that holds it in place firmly at each of its positions.
On paper, this sounds like a solid set of updates, and in real-world use there's no doubt that the FH100M3 is an improved design. But it has some foibles of its own that mean it's still not quite perfect.
Benro FH100M3 filter holder: Key features
Benro has made a number of key updates to its geared filter holder system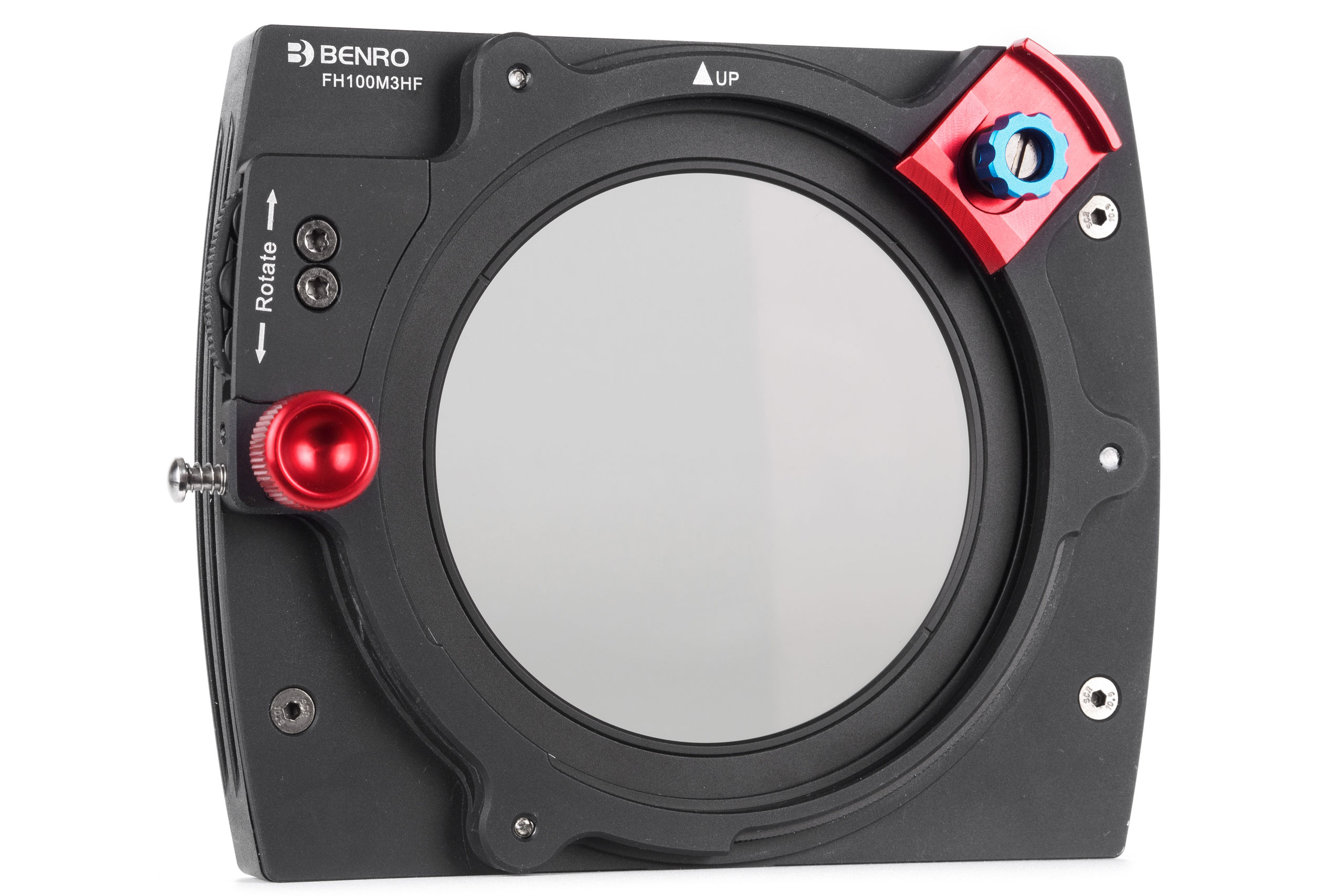 Geared adjustment  Rotating the red knob on the left side precisely adjusts the position of graduated filters. It clicks into four positions, one for each filter slot plus neutral, and has a push-button lock.
Magnetic polariser  The polariser snaps into place magnetically and can be rotated from behind the camera using either a drive belt top left, or a knurled ring at the lower right.
Mounting clip  A large sprung, sliding red tab is used for clipping the filter holder onto the lens adapter ring. Rotating the small blue knob locks it into place.
Benro filter holder kit FH100M3 : what's in the box?
In the box you'll find the FH100M3 holder, a pair of frames (100 x 100mm and 100 x 150mm), and adapter rings for 82mm and 77mm lens threads – all for £130.
You'll also need to budget for a matched magnetic circular polarising filter; the 82mm option costs £70, but users of ultra-wideangle lenses may need the 95mm for £130. Additional filter frames cost £11 each for square, and £12 for rectangular.
How the Benro FH100M3 works
Using the FH100M3 is rather different to conventional holders, where the filters simply slot into place and slide up and down using friction. So perhaps even more than usual, it's important to familiarise yourself with how everything works before taking it out on a shoot for real. You get a well-illustrated instruction manual in the box, which certainly helps, but its rather mangled machine-translated English isn't always very clear.
Firstly, each filter you use will need to be mounted into a plastic frame, as they won't fit into the holder without one. This means that you'll need to budget an extra £11 per square filter, and £12 for rectangular ones; in principle, 2mm-thick filters of any brand should fit. Once you've done this, it makes sense to label the frames for easy identification. The process of fitting the filters into the frames is pretty straightforward, but I wouldn't recommend swapping them over in the field, as this inevitably risks dropping and damaging your precious filters.
To fit the filter holder onto your lens, Benro supplies a pair of adapter rings, 82mm and 77mm. If your lenses have smaller threads, you'll need to use step-up rings. Benro's own are particularly good, as they have textured rims that make them easy to exchange. But unfortunately, they're quite difficult to find. Any generic alternative should also work, but it's best to use the slimmest you can find, to minimise any risk of vignetting.
Once the adapter ring is in place, mounting the holder onto your lens is straightforward; simply pull up the large red clip on the top right corner with your thumb, slot the holder on and release the lever. At this point you can rotate the holder freely, and then when it's angled to your liking, lock it down using the blue screw.
Fitting the polariser is remarkably easy; simply drop it into position, where it's held firmly in place by 16 small magnets. It's equally simple to remove, thanks to a couple of access slots cut into the holder, although you will have to remove any square filters first. This design definitely counts as an improvement over the FH100M2, but unfortunately there's a step backwards in return.
To rotate the polariser from behind the camera, Benro has installed an unusual drive belt system on the top left of the holder. On my review sample this was far too stiff and didn't work well at all, especially in the clockwise direction. I really don't know what the firm was thinking here; a conventional adjustment wheel similar to those used by other brands would have been a much better bet. Thankfully you can also rotate the filter directly from the lower right of the holder, so I resorted to doing that instead. It's just not quite as nice as being able to adjust all the filters using your left hand.
Square and rectangular filters then slot into the holder almost as normal. But first you need to push the red adjustment knob fully forward to its neutral position, so it won't foul them as they slide by. The frames fit equally well either way around; they have no 'front' or 'back'. As usual, it's best practice to place neutral density filters closest to the camera. These simply click into place when they're properly centred, with the frame providing an effective light seal against the holder. Graduated filters then fit into one of the remaining slots. They can be positioned approximately in the usual way, but the geared adjustment system works so well that you'd be mad not to use it. Indeed once you've tried it, you may well be reluctant to go back to a conventional holder.
It still takes a little bit of trial and error to work out how best to use the geared control, though. In principle, you should always start with the knob pushed fully inwards to its neutral position, then pull it back towards you to engage with your graduated filter. But it often takes a bit of juggling to get the adjustment cog to mesh with the teeth that are moulded into the filter frame, and it's not immediately obvious from behind the camera which filter slot it's engaged with, either.
It's also rather too easy to move the control straight past the middle position, where your grad will often be placed. With practice I got used to setting it reasonably quickly, but there's still some room for improvement in the design. A push-button control that clicked through the three filter positions would be ideal.
What's the Benro FH100M3 filter holder like to use?
When you take the Benro FH100M3 kit out and actually use it to take photographs, its practical strengths and weaknesses quickly reveal themselves. I'm a huge fan of its core concept of using a geared control to position graduated filters; it's a really intuitive way of working, and more precise than sliding them.
Likewise, filters are easier to handle when they're in frames, so you're less likely to drop or scratch them, or cover them in fingerprints. The magnetic polariser is simple to pop on or off, making it a vastly better solution than the FH100M2's fiddly screw-in design, which was almost impossible to remove in the field. But you still have to take the other filters off the holder before you can remove it, which isn't ideal.
Turning our attention to lens compatibility, I found very little to worry about in terms of vignetting. I tested the FH100M3 and 82mm polariser with lenses as wide as the Laowa 15mm f/2 on full-frame and the Laowa 9mm f/2.8 on APS-C, which gives a massive 13.5mm equivalent rectilinear view. At no point did the holder itself impinge on the image area, regardless of how I angled it. This is the biggest advantage of 100mm systems over smaller, cheaper 85mm alternatives.
I did observe a little corner darkening when shooting with the Sony FE 16-35mm F4 ZA on the full-frame Sony A7 III, which I traced to vignetting from the 82mm polariser. But I had no other problems with a wide range of wideangle and standard zooms. As it happens, similar vignetting doesn't occur with the FH100M2, presumably because the polariser sits slightly closer to the lens.
This vignetting disappears on zooming in to 17mm, or alternatively can be cropped out or cloned away, and using the 95mm polariser would surely fix it completely. On balance, I think the benefits of the new magnetic design outweigh this small drawback.
Benro Filter Holder Kit Magnetic FH100M3: Our Verdict
All things considered, the Benro FH100M3 is one of the best filter holders I've used. Putting fragile, expensive glass filters into frames simply feels like good idea, and the geared system for adjusting graduated filters works really well. The magnetic polariser mount is also a considerable improvement over the previous version.
However, the design still has a few flaws, most obviously the fussy and ineffective adjustment belt for the polariser. Even so, for serious landscape photographers who would like a more precise method of adjusting filters, it's a really strong option.