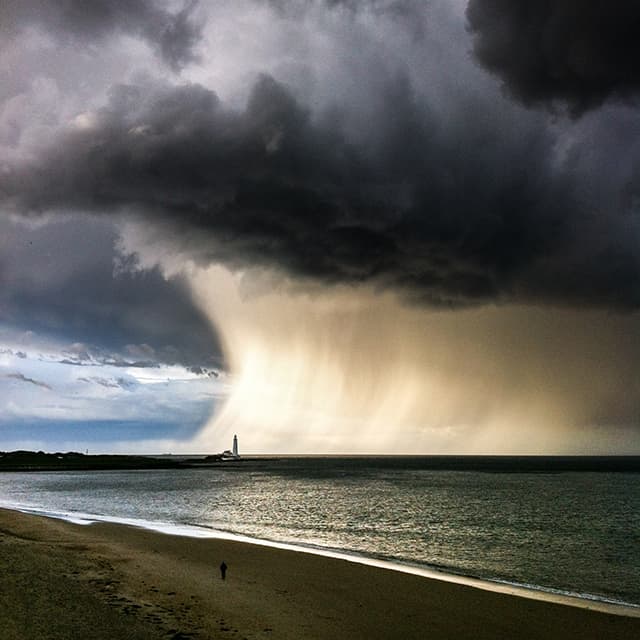 [Photo credit: Anita Nicholson]
Anita Nicholson's incredible image of a storm breaking over North Tyneside on Tuesday – described by the Newcastle Chronicle as 'apocalyptic' – has attracted thousands of likes on Facebook.
Amateur Photographer caught up with Anita to find out more.
'I could see that the sky to the north and east, over the coast, was looking very dark,' said the commercial photographer, who was on her way home from a conference in Newcastle, just after 7pm.
'My partner texted me to say they had just had an intense hailstorm at home.
'So, as soon as I reached my metro stop at West Monkseaton, I ran to my car and drove straight to the nearest stretch of coast.
'I parked up in the first car park I came to and dashed out of the car to the edge of the small cliffs overlooking the beach at Whitley Bay.
'From there I could see the storm front coming in from the north as it approached St Mary's Lighthouse, a favourite photographic location.'
Anita – who has spent the past five years capturing images that 'convey a sense of wonder at nature's beauty' – added: 'The storm clouds were like nothing I'd seen before – the sheet of rain and hail overwhelmed St Mary's Lighthouse and looked superb as the storm swept out to sea.
'I quickly grabbed my iPhone 4 mobile phone and took a shot.
'There were also several others there taking pictures of the storm with their mobiles – we were all grinning from ear to ear at how fantastic the storm looked!'
Anita quickly edited the photo using Snapseed, before sharing it on Instagram and Twitter. The image shown above has also been processed in Lightroom.
'We get some spectacular storms off the north-east coast, but this one was quite a sight – it was great to be there and catch a shot of it!'
For more of Anita's Northumberland landscapes visit www.anitanicholsonphotography.com