Championing the diversity of models, young British photographer Nadine Ijewere's new book is a visual record of an already remarkable career.
---
Drawing from her roots in Nigeria and Jamaica, as well as her experience of being a young black woman in south-east London – whose skin colour, hair, and body type were nowhere to be found in the pages of magazines – Nadine Ijewere's approach to photography has led to some groundbreaking – and stunning – work.
We see dazzling colours, dreamlike backgrounds and the fierce gazes of beautiful women. Her first book showcases Ijewere's signature hallmarks, and it's also clear to see her passion for challenging traditional concepts of beauty. She's keen to embrace diversity both behind and in front of the lens. We asked her for more details.
AP: What are your biggest inspirations?
NI: There is nothing more powerful than the love that resides within close communities. An important journey for me was going to both Nigeria and Jamaica: one similarity I found on my many trips to these places was a strong sense of community, a warm welcoming energy.
I embody this positivity and togetherness in my work because it's beautiful to see this type of love. I admire these people very much. I am who I am because of the people around me.
AP: You speak about the pressure to be a representative for your community. How do you find it impacts your work?
NI: It's important to be able to dictate the narrative. Which is another reason I hope more people of colour take up photography and film. For many years, imagery has been used to spread hate and negativity, primarily against people of colour.
It's important for us to tell our own stories the way we want them to be told. Capturing the true beauty of these people is important to me. If I am documenting people outside of my immediate community, it's important for me to have people from that community involved within the process.
When shooting people of colour, I ensure they are captured at their best. It is fundamental that I work with hair and makeup teams that understand how to work with black hair and skin. There are still so many hair and make-up artists that only know how to work with European features.
The lighting has to be right, there is lots to consider. Most importantly of all: the message. My work celebrates my community, and communities that are not often represented. There is definitely pressure. But the end result is worth it.
AP: How can we encourage more women, and more women of colour, to enter the photography industry?
NI: Being a woman of colour in any industry comes with its challenges. We live in a male-dominated world; it is also a white-dominated world. Navigating this world as a black woman is not easy.
All of that said, my message to women, women of colour in particular: keep pushing. Even if you have to work five times harder, keep pushing. It is possible, just don't be discouraged by the disappointments along the way. The more of us that push through, the better.
Once we push through the door, one can only hope that it will eventually be held open. It is equally problematic and important in other genres. There are countless examples where women struggle to get the same recognition and reward as their male counterparts.
There are countless examples where women of colour struggle to get the same recognition and reward as their white female counterparts. Hopes for the future… an even playing field, as I have said time and time again.
AP: How do you approach personal projects differently?
NI: I try to approach them the same if a client allows me complete freedom to do so. I understand there are specific requirements and deliverables for commercial work and I am more than happy to find a middle ground. My personal projects are all me, complete freedom to do what I want with no set objective other than representing the people I capture properly.
Sometimes the project finds itself within the process. I am happiest with my photography when I see the people's reaction to being seen. There is nothing more powerful than a young black girl seeing herself within my work and feeling happy to be who she is.
AP: It must have felt amazing to get that first Vogue cover. How do you match that buzz?
NI: Surreal is the perfect word to describe the experience. It was an honour to be asked to shoot a cover by Edward Enninful. I didn't realise the extent of what it would mean at the time.
Shooting a Vogue cover is huge within this industry; but being a black woman and making history with my cover was a whole different level. So much more to come from it than just the cover. I hope it encourages more people of colour to pick up a camera, women in particular.
Shooting a Vogue cover was definitely a dream of mine; I continue to work with the publication and I love doing it. I don't seek to match that buzz, but it happens randomly at different moments. It often comes from seeing people grow within the industry.
It often comes from seeing a young black girl's reaction to the picture I took of her. This is what it's about. I am grateful for all of the opportunities I have and everything that comes as a result of doing them.
AP: How important is it for you to fight for better representation and diversity?
NI: There is nothing more important. It's important to me to fight for better representation and diversity because for so long there hasn't been enough representation and diversity within the industry.
When there has been inclusivity it hasn't always been positive. Growing up I always wanted to see pictures of people that looked like myself and the women I grew up around, within fashion imagery. I have always wanted to see people of colour celebrated.
I'm so glad that I have been able to document what I see as beautiful. For so long we have been fed one standard of beauty. It is important that people of colour from all places have a platform to tell their stories. It brings me joy to see more and more people from different backgrounds behind the camera. That said, the industry is still dominated by white men. I believe this will continue to gradually change. At least I hope so.
AP: Do you think being a woman, and being a woman of colour, brings a different dynamic to shooting?
NI: 100%. For as long as I can remember, white men have been documenting black stories and the stories of other people of colour. White men have been capturing and defining the standard of beauty which for so long has mostly only looked one way.
Women capturing women is powerful, black women capturing black women is that of another perspective. There is the connection and understanding, there are the small details that come as first nature where if a photographer is non-black, one may not ever pick up on.
AP: Your images are so joyful, vibrant and fun. What's it like to be photographed by you?
NI: I would like to believe it's fun. Finding different ways to capture a person's beauty appeals to me very much. I'm not massively into straight ups, I like to approach my subjects from different angles the whole time, paying attention to how they look from these numerous perspectives.
It is a search for many different beautiful moments. I work handheld and I like a lot of movement, especially within my group shots. Group shots are my favourite because I find them to be more dynamic, a sense of movement can be captured in group imagery.
AP: Do commercial clients give you the freedom to photograph however you want to?
NI: Most of the time clients are inclined to work with a particular artist because they love that individual's creativity and style. All of that said, they might have particular deliverables that can restrict your creative freedom. With that, you find yourself negotiating to offer up something that can meet in the middle.
It's a mix – sometimes I have complete freedom, sometimes it can be quite rigid, and the rest of the time it's a collaborative effort with me always pushing for my take on things. I push for my take not only to retain my signature within the work but to also ensure my client is getting the best possible end product.
It's important to understand people have restrictions, and it's equally as important to make sure you don't dilute yourself in the process. After all, they have chosen to work with you for a reason. From the start to the finish of the project I always aim to be involved in all areas; typically clients give me the freedom to choose my teams and be heavily involved in casting etc.
AP: How did the idea for the book come about?
NI: I was contacted by the publisher. I wasn't actually thinking of doing a book at the time. I've always wanted to do one but I thought it would be way into the future, perhaps a retrospective or something.
Initially, I thought I couldn't do it because I didn't feel like I'd had enough of a career yet, but I was also excited. I wanted to include projects I have loved working on and projects that for me celebrated beauty and identity and displayed the underlying themes of my best work.
AP: It's unusual for someone of your age to have started with film. How do you think this early approach shaped you as a photographer?
NI: I think it's important to learn the foundations and where it all came from. Film is magical, the whole process of developing and printing is so special, I think everyone should try to experience it.
I love the colours and softness that you get with it, hence why film is always my first option. It has also impacted the way I also shoot on digital. I'm used to having ten frames per roll so I really take my time with my composition on each shot.
AP: What's your typical kit?
NI: I primarily shoot on a Mamiya RZ67 Pro II. I have shot on other medium format cameras before but this is my go-to. It's big, heavy and clunky but I love it. I mostly shoot with the waist-level viewfinder – it's bright and amazing for composition, if you can get over the inverse. I occasionally use the prism but not that often.
I have a range of lenses but the 50mm is the one I use most often, and second-most is the 65mm. I love the 50mm because of its wide angle, it's great for playing with perspective.
AP: Lots of photographers aren't formally trained as such.[Nadine has a BA in Fashion Photography from the London College of Fashion]. Why was it important for you?
NI: It wasn't necessarily important for me to train formally. It was definitely beneficial to have access to equipment and labs. But I think anyone can learn the craft, you don't need to go to university to study it. I wanted to go to fashion school to learn more about the industry.
AP: What are you proudest of from your career? What are you still hoping to achieve?
NI: In 2019 I shot a campaign for Nina Ricci. I went to the Dominican Republic, somewhere I've never been before. On arrival and throughout the trip, although being so far away from home, I felt like I was at home the entire time.
That familiar feeling of love within the communities was so powerful. I shot a mixture of models and street casted people all from DR. I had so much creative freedom with this shoot, I just immersed myself within it and found my references along the way.
I wanted to translate the love and energy within the community while also focusing on the fashion. The end result felt almost like a documentary-style editorial rather than an ad campaign. I absolutely loved and adored all the people I met. Everyone should go to the Dominican Republic. Right now I'm not hoping to achieve anything in particular – I just want to continue shooting and enjoying what I'm doing.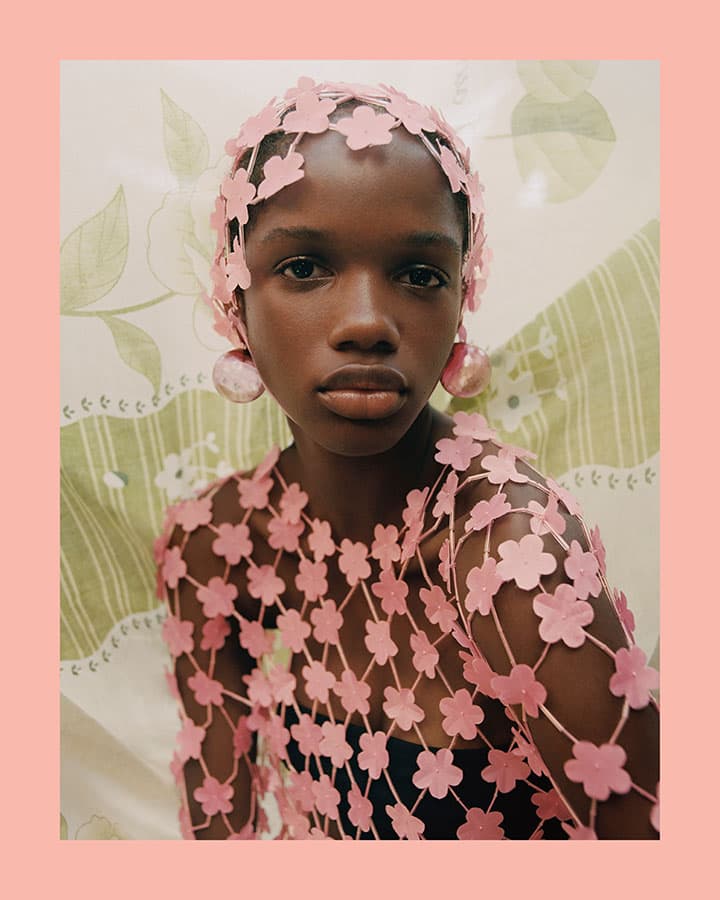 Nadine Ijewere's first monograph will be published by Prestel on 5 October 2021. Visit www.nadineijewere.co.uk to see more of her work.
---
Further reading
Celebrating young photographers making a difference
A day in the life of a fashion photographer