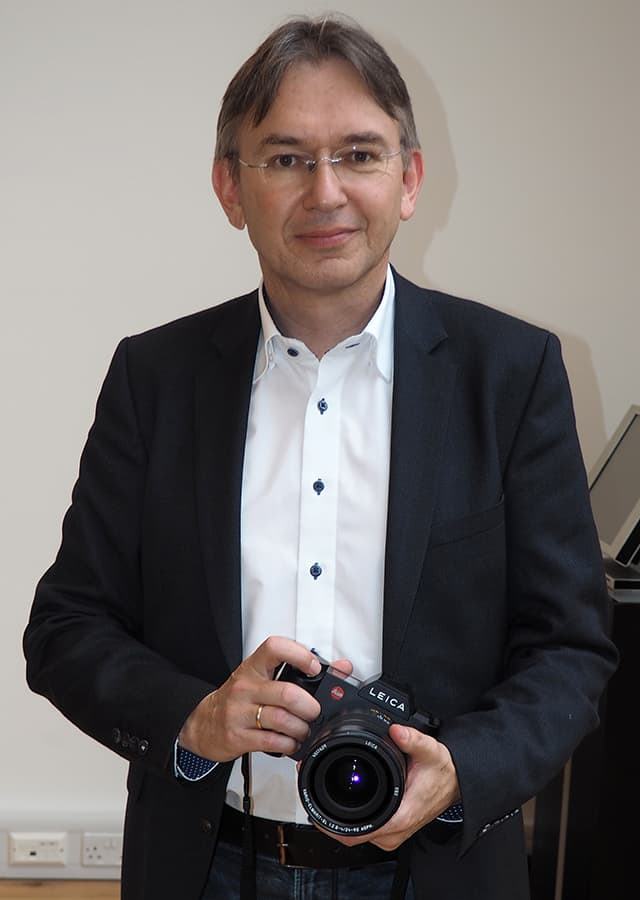 Stephan Schulz with the Leica SL, pictured at Leica's UK headquarters in Mayfair, London [Photo credit: C Cheesman]
See our Leica SL (Typ 601) Hands-on First Look
Leica unveils 24MP full-frame mirrorless Leica SL
Dedicated Leica fans could also drool over the prospect of an AF-enabled digital camera capable of accepting manual-focus R-system lenses.
Any 'R10' excitement soon evaporated, though, when Leica quietly ditched the project.
Fast-forward to 2015. Amid swirling rumours of an imminent AF-equipped mirrorless system camera, the Leica SL, AP's news and technical teams were all ears when they descended on Leica UK's Mayfair base to meet Stephan Schulz, Leica Camera AG's head of project management for professional camera systems.
Schulz pointed out that, not only will the SL be compatible with S and R lenses, but it will also accept M lenses, also via an adapter, using an external light sensor to optimise image performance.
The SL, Schulz enthused, will be the 'second best camera for Leica M lenses in the world market' (quickly adding that the Leica M remains king).
So why is 2015 the decisive moment for such a full-frame mirrorless camera?
'We think we have… in [recent] years built up our roadmap in order to target more potential [Leica users],' explained Shultz.
'What we have seen is that we have targeted the top professional market with the Leica S, a special group of people with the full-frame Leica M and the, more or less, entry-level for system cameras with the Leica T… But we think the big market is still full-frame.
'The Leica M is a special target group. But many people have, besides their Leica M, a DSLR system – for when they need telephoto lenses, extremely wideangle lenses and autofocus.
'We thought we should offer something that gives them the opportunity to stay in the brand.'
Schulz admitted that the camera has been in the pipeline for some time, ever since, it seems, the 'R10' that never was.
'We started to work on the concept just after the phase-out of the R system. It was a long-term concept,' said Schulz.
'When we stopped the [film-based] R system, many people were hoping for a successor and… many people were looking for [an] R10 DSLR…'
However, the time just wasn't right for a DSLR launch in a market in which mirrorless technology was advancing to the point that existing DSLR technology would be quickly rendered outdated.
So, Leica waited until technology advances would make it feasible to launch the SL, a mirrorless model.
The upshot appears to be a robust camera aimed at the demanding photographer, milled from solid blocks of aluminium and sporting a 4.4-million-pixel electronic viewfinder with an AF trumpeted as the fastest for full-frame system cameras.
Maybe it was worth the seven-year wait.