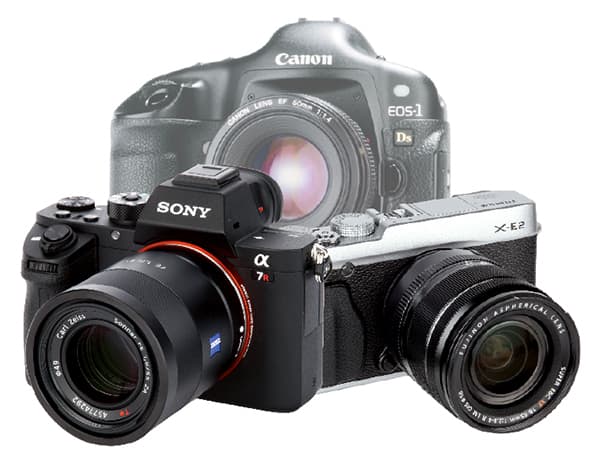 Most advanced digital cameras evolved from traditional film camera body designs. For example, my first professional DSLR was the Canon EOS-1Ds, which was based on a Canon 35mm film camera body. Since then, I have purchased successive models of full-frame as well as APS-C-sensor Canon cameras. I have also shot using medium-format cameras such as the Hasselblad and Pentax 645 systems, and these too are based on SLR designs dating back to the era of film.
During the past eight years or so, we have seen camera manufacturers break free from the constraints of placing the sensor inside the body of what is essentially a 35mm SLR film camera, and choose instead to rethink their digital camera designs from the ground up. A number of manufacturers have produced brand new systems based on a mirrorless design with dedicated lenses. There are clear benefits to be had from this approach. If cameras no longer need to have optical viewfinders and you can do away with mirror-shutter mechanisms, then the digital sensor plane doesn't have to be set so far back from the lens and the camera body doesn't have to be so deep, or heavy. With fewer mechanical parts, there is less to go wrong and camera body updates are less expensive.
It was a big decision for me to move from a camera system with an optical viewfinder to one with an EVF. Improvements in the quality of the latest electronic viewfinders, as well as my trust in autofocus systems, helped me make that transition. Most of all, I wanted a camera system that was less bulky and less heavy, but didn't sacrifice image quality. There was a time when I could take a full-frame DSLR plus lenses in a camera bag onto a flight without exceeding the cabin baggage allowance. However, as a result of tighter weight restrictions, I have sometimes had to take lighter APS-C bodies with me instead. Even the prospect of carrying around a full-frame digital SLR kit has been a disincentive to going out and enjoying my photography.
What clinched it for me was an experience I had last summer, when after a long, tiring journey I had to lug a camera bag plus laptop up seven flights of stairs. Owning large, full-frame digital SLRs was fine when I shot mainly in the studio, but as I have become more interested in shooting landscapes, portability has become an important issue. Getting older certainly hasn't helped!
Sony Alpha 7R II
Neither Canon nor Nikon has so far shown any interest in designing professional mirrorless camera systems. Therefore, in looking for an alternative to my Canon digital SLRs, the camera I felt best suited my current needs was the Sony Alpha 7R II. In terms of weight, the Sony system offers significant savings compared to a full-frame digital SLR kit. Because the camera and Zeiss Sony E-fit lenses are less bulky, the camera bag does not need to be so large and that too can be lighter. I was able to save further weight by purchasing a slightly lighter carbon-fibre tripod.
From a technical viewpoint, the Sony Alpha 7R II system sensor is the same size as a full-frame DSLR and there is the same opportunity to shoot with shallow focus. In recent years, Sony has established a good reputation for developing high-resolution CMOS sensors for the professional market.
The Nikon D800 and D810 both use the same Sony sensor as the Sony Alpha 7R. The Sony 50MP medium-format-sized CMOS sensor is used in the Hasselblad H5D-50c, the Phase One IQ250 back and Pentax 645Z camera. I have tested the above Hasselblad and Pentax cameras, and been impressed with the sensor image quality. The Alpha 7R II sensor has 42MP, making it higher than the 36.3MP Nikon D810, but slightly lower than the 50MP Canon EOS 5DS.
However, at this level it is more important to focus on the sharpness of the lenses rather than the absolute megapixel count. For this reason, I decided to purchase a Metabones IV Canon EF to Sony E-mount converter so I could continue to use my favourite Canon lenses.
Shooting with the Sony Alpha 7R II takes a little while to get used to. The default settings let you review your shots immediately after taking a picture. I found this distracting and especially annoying when photographing people or following a moving subject, so I chose to disable this. The autofocus system includes face recognition that ensures faces are captured as sharply as possible, and this calculates the optimum focus distance when photographing groups of people.
When using an EVF, it is important that you can rely on the autofocus to work accurately, and for the most part it does this really well. Manual-focus mode is accessed by lightly depressing the shutter while adjusting the manual-focus ring. This briefly magnifies the viewfinder/LCD display view, allowing you to see a close-up view and fine-tune the focus accordingly. It is a lot quicker compared to the steps that have to be taken using a regular DSLR in Live View mode.
The battery consumption
of the Sony Alpha 7R II is higher compared to an APS-C-sensor camera using similar-sized batteries and is most likely due to the EVF draining more power. In practice, I found I needed to switch batteries after taking around 200 shots. This meant carrying a few spares when going on location. The high megapixel size should also require a rethink when estimating the optimum minimum shutter speed for handheld photography. When shooting with a non-stabilised lens, the shutter speed should be at least double the focal length of the lens. So when shooting with a 50mm lens, the shutter speed should be at least 1/100sec. When photographing with a high-resolution sensor, you'll want to think about doubling that again. This is an important consideration for all high-resolution sensor cameras. However, the Sony Alpha 7R II body has a built-in 5-axis optical-stabilisation system, which is enabled for all its system lenses. Consequently, I found it was possible to shoot handheld at slower shutter speeds and achieve sharp results, thanks to the internal camera stabilisation.
Movie capture
The Canon EOS 5D Mark II was the first digital SLR to offer movie recording, so photographers and videographers had the opportunity to shoot video to a full-frame-sized sensor, giving the footage shot a cinematic look. I have shot video using both a Canon EOS 650D and EOS-1Ds Mark II, but have always been frustrated by the limited capture rates on these cameras.
Now, it is possible to use a free Magic Lantern firmware update to override this on the Canon cameras, but doing so invalidates the camera warranty. Serious moviemakers will want to use something like the Canon EOS C100, which does offer broadcast-quality capture rates. Meanwhile, the mirrorless Panasonic Lumix DMC-GH3, which was launched in 2012, offered HD recording at video bit rates of up to 72 Mbps, and its successor, the GH4, has a maximum video bit rate of 200 Mbps in HD mode plus 4K recording.
The ability to record good-quality video is also about the codecs and recording format used, but the latest Lumix cameras are without doubt capable of capturing professional-quality video. In fact, a friend recently used a GH3 with a Metabones speed adapter and Canon lenses to shoot a documentary for BBC Four. The Sony Alpha 7R II provides HD recording at 24Mbps using AVHCD and 4K recording at 100Mbps using XAVC S. Early tests show a noticeable improvement in the image quality of video recordings.
APS-C alternatives
APS-C-sized sensor mirrorless cameras can offer even bigger weight savings. Around the same time I purchased the Sony Alpha 7R II, I was given a Fujifilm X-E2 camera in order to evaluate the performance of the X-Trans sensor. The Fuji X-Trans sensor has been a remarkable success story. As a reviewer of Amateur Photographer reader photographs, I have always been impressed by the sharpness and colour rendition of photos shot using Fuji X-series cameras. Despite being only 16MP, photographs shot using this sensor have always stood out, while the latest Fuji X-Pro2 sees the sensor megapixel size increased to 24MP.
Fuji's philosophy has been to make its mirrorless cameras as compact as possible. This is why Fuji favoured basing its system on an APS-C sensor, with lenses designed specifically for the APS-C sensor size within a mirrorless body. As a result, the Fuji system lenses are mostly smaller compared to the lenses designed for digital SLR APS-C-sensor cameras.
The weight difference can be dramatic. For example, the X-E2 camera body plus a 15-55mm kit lens weighs just under 700g. The Pro versions plus Fuji system lenses have proved popular with demanding professional photographers, and I was pleased with the quality of the photographs taken with the X-E2.
I found the electronic viewfinder to be fast and responsive, and the images acceptably sharp using the standard kit lens.
When processing Fuji X-Trans photos in Camera Raw or Lightroom, you may notice a slowdown in the time it takes to render the full-size previews. This is because the demosaic process with this particular type of sensor is more complex. However, once rendered, the previews can be accessed without incurring extra delays.
Conclusions
I don't see all photographers ditching their digital SLRs and replacing them with mirrorless cameras. On professional shoots, there is still the expectation you need a big-looking camera to take big shots. If you shoot sports or wildlife photography and use huge telephoto lenses, does it really make much difference if the camera body is a few grams lighter? Also, to follow fast-moving action, an optical viewfinder would still be preferable.
Without doubt, full-frame DSLR cameras such as the Canon EOS 5DS or Nikon D810 can capture sharp images with a good dynamic range. The Sony Alpha 7R II is just as capable, giving you the option to shoot with your favourite Canon, Nikon or third-party lenses, or with the more compact Sony system lenses.
So did I save as much in weight as I had expected? After adding up the weight of the camera bag plus camera system and tripod, the total weight of my 'on-the-road' Sony Alpha 7R II kit came to just over 5kg, compared to 7kg for the APS-C Canon kit. This wasn't quite as big a saving as I had hoped for, but even so, it is certainly lighter than a full-frame Canon kit. In the end, I was reluctant to get rid of all my digital SLR equipment, but overall, the Sony Alpha 7R II feels like a good fit not only for the type of photography that interests me now, but also my desire to travel light.
Above all, it is the quality of the captures that matters most and on that score I have been very happy with the results from the Sony Alpha 7R II. All in all, I have been won over by the ease of use of this camera as well as its video-shooting capabilities.